Traversing the sea looking for treasure, weapons, and ways to survive is always grounds for a great game. As such, pirate games began to become popular as soon as there was hardware that could support the large open worlds.
The vast majority of pirate games tend to be open-world, simply because exploration is a huge part of being a pirate. However, while most other open-world games tend to take place over land, pirate games have you playing most of the game on the seas.
Nowadays, you see two distinct kinds of pirate games. You either have pirate games that require you to play through a story, or you have games that leave you to do whatever you want. As long as you are a fan of the pirate theme, you should be able to find something good to play regardless of what your preference is.
Here, we have listed the 10 best pirate games for Xbox Series X / S. All of these games have some form of naval warfare coupled with other activities that you may do with your 'mateys'.
Sea of Thieves
We are pretty sure this is the most unsurprising game we could have had on this list. We often tend to think that games that end up becoming extremely popular are often overrated or have latched onto a trend. However, that is not the case with the Sea of Thieves.
Sea of Thieves plays out as a pirate-themed survival game. Just like many other games of its nature, it drops you into the world without really guiding you on what it is that you have to do. Still, most of the initial quests and guidelines that are provided to you are enough to get you going.
Just to be clear, there is a significant learning curve to the game, and chances are that better players will make your life extremely difficult in the beginning. Still, sticking through the harder parts is more than worth it. What we especially love about the game is the naval combat, and that is why we had Sea of Thieves on our list of the best action games for Xbox.
We have said it before whenever we have talked about Sea of Thieves, and we must say it again too. While Sea of Thieves is a great game, it is better when played with friends as opposed to alone.
Assassin's Creed Odyssey
Just like Sea of Thieves, this is another game that you probably knew was going to make our list. The AC franchise has a long history of putting the player at different points in time. For Odyssey, you get to play as a Spartan hero.
Now, just to be clear, the Spartans were a lot more than just pirates. As such, you get to spend time both on land and in the sea. Still, the naval combat ends up being a huge part of the game, and that is why you should give Odyssey a try.
When in the sea, you have the option to customize your ship so that it caters to your playstyle. You also have the option of hiring crew members, all of whom have different strengths and weaknesses. If combat is the main reason you want to play pirate games, we would advise you to go for AC Odyssey over Sea of Thieves. For players more into the survival aspect of pirate games, Sea of Thieves is as good as it gets.
Assassin's Creed IV Black Flag
Odyssey is not the only entry in the Assassin's Creed franchise that is based around pirates. In fact, while Odyssey deals with the Greeks and has naval warfare as a component of the game, Black Flag is almost completely about the pirate culture as we know it.
The game is set in the eighteenth century, and you are in control of a young captain called Edward Kenway. There are multiple storylines running within the game, and you will get to experience them all through the eyes of Edward.
Compared to Odyssey, Black Flag is a game that is more about the story than the fighting and survival aspect. However, the pirate themes are also a lot clear within Black Flag, and fans of pirate culture will find a lot of references to famous pirates such as Blackbeard.
Pillars of Eternity II: Deadfire – Ultimate Edition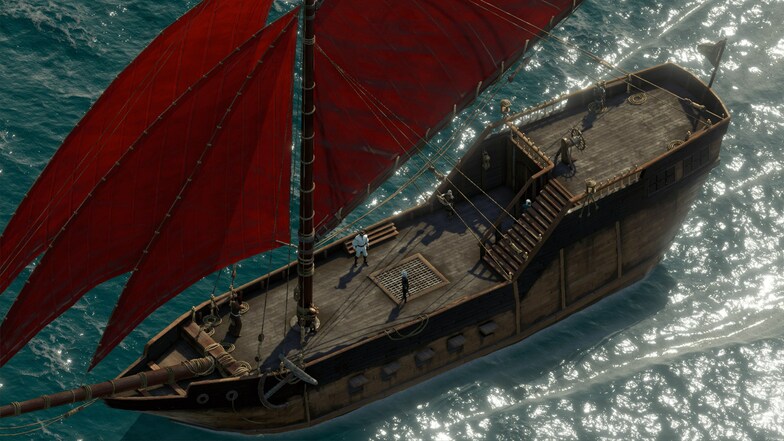 Up until now, our list of the best pirate games for Xbox has been about games with action combat. Pillars of Eternity II changes that by going the RPG route. The title is based around a board game but changes enough elements to make it entertaining on the console.
You have the option of going for real-time combat or turn-based combat. We found the real-time combat to be the better option of the two, as the turn-based combat felt like it was ruining the flow of the game. This was one of the reasons why the game was not on our list of the best turn-based games for Xbox Series X / S.
The developers claim that it is possible to get over 100 hours of game time per playthrough, and each playthrough is different. With over 1000 permutations of classes and endless character customizations, this is a game that will have you faring the seas for a long time.
Sid Meier's Pirates!
Sid Meier's Pirates is perhaps the most unique pirate game on this list. It was originally released for the Xbox 360 all the way back in 2005, but can be played on both the Series X and S due to backward compatibility.
This is a simulation game about pirates on the Spanish Main between the 16th and 18th centuries. This means that there are a lot of activities that you can undertake in the game, ranging from completing small quests for people on the ports to looking for treasures and enemies in the sea.
The visuals look outdated, the leaderboards and all online features no longer work, and you may find an occasional glitch that they have failed to patch. Despite that, this is one of the most unique pirate games you can play and is worth a try if you are interested in how the lives of the pirates actually were centuries ago.
King of Seas
King of Seas is another pirate-themed RPG that is a bit different from some of the more combat-focused games on this list. The major element that makes the game unique is that the world is procedurally generated. As such, no two playthroughs are going to be the same.
The story unfolds through quests and the characters that you meet, and the combat is more than good enough for you to not get bored while playing the game to the end. While there is no multiplayer, the procedurally generated world allows you to have as many tries at the single-player experience as you want.
Your end goal is two-fold. First, you want to avenge the death of your father. Secondly, you want to become the king of the pirates. Luckily, both of these activities overlap, with the vast majority of your time spent fighting other pirates for treasure and information. Lastly, the world reacts to your decisions in King of Seas, and you will find yourself intrigued by the consequences that each action has on the world in the game.
ATLAS
ATLAS is made by the same people that were involved in the making of ARK: Survival Evolved. ARK: Survival Evolved made our list of the most underrated games for Xbox, and it is obvious that the developers know what they are doing.
ATLAS is basically like a fantasy version of Sea of Thieves. You are responsible for surviving out in the sea, and there are a lot of activities that you can do to help yourself. You can build your own settlements, raid other players, look for treasure, and fight against epic monsters straight out of pirate lore.
The only thing to remember is that at the time of writing, ATLAS is still in early access. As such, chances are that unless you are playing the game way out in the future, you should expect minor bugs and an unfinished product. Still, ATLAS is more than playable in its current state, and it does a great job of bringing the ARK formula to the sea.
LEGO Pirates of the Caribbean: The Video Game
This is a list of the best pirate games for Xbox Series X and S. Chances are that one of the biggest reasons why you are looking at this list is because you were a fan of the Pirates of the Caribbean franchise when growing up.
While there isn't a fully-fledged game of the series available on the Series X just yet, there is a LEGO version of it. To be clear, this is a game that was originally released for the Xbox 360 and has been re-released for the newer generation, but it is still a game worth playing.
The good thing about the game is that it will allow you to relive some of your favorite moments from the first four movies in the franchise. While there isn't a lot of additional depth to the game apart from allowing you to enjoy captain Jack Sparrow's exploits, we would definitely recommend playing it if you have seen the films.
Age of Booty
Age of Booty is named after the classical hit Age of Empires. It is essentially a strategy game where you control a bunch of pirates and try to take out all of the other players on the map to win the game.
There is no real story to the game, so chances are that you will get bored of the game quickly unless you are engaging in multiplayer. You have the option of playing the game with three other players locally, or seven other players online.
With 25 maps provided by the developers and countless others that have been made by players, there is a lot of content for you to consume. While the visuals look extremely outdated due to the age of the game, Age of Booty is pretty much your only option if you are looking for a pirate-themed strategy game.
Port Royale 4 – Buccaneers
Port Royale 4 – Buccaneers is the last game on our list of the best pirate games for Xbox Series X / S. Port Royale 4 is a game that is based around naval warfare, where you can compete with multiple other players over the sea in simulation-based combat that can get quite intense.
Buccaneers is an expansion pack for the game that can be purchased on top of the base game. With the pack, you get access to a number of pirate ships and the Buccaneer mode, which allows you to become a pirate and use force to do your bidding.
There isn't a lot of depth to the Buccaneer mode, but Port Royale 4 does provide some of the best combat out of all of the games on this list. If you are looking for a game that has some pirate-themed action but is generally about naval warfare, this is it.