14 Best Zombie Games for Xbox Series X / S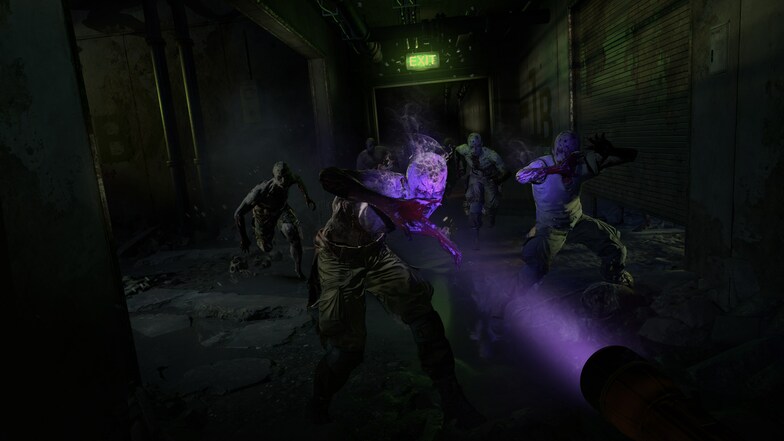 Image credit: Techland / Microsoft Store
Zombie games have existed for as long as consoles have. Considering how much influence the concept of undead entities has had on modern pop culture, it should come as no surprise that there are a lot of games that have zombies in them.
The good thing about zombie games is that while everyone has a general idea of what zombies look like, it is up to the writers to decide how they will behave. This means that there can be a lot of variety when it comes to zombie games, with each game making the zombies act a certain way.
With consoles providing higher visual fidelity with each new generation, it is also amazing to see just how detailed the zombies are beginning to look in games. While zombie games are not usually considered to be a part of the horror genre, some of them do make you shudder with fear simply due to the way the undead look.
With a decent amount of zombie games out there, it can be a bit difficult to separate the good ones from the rest. As such, we have gone ahead and listed the 14 best zombie games for Xbox Series X / S.
Dying Light 2 Stay Human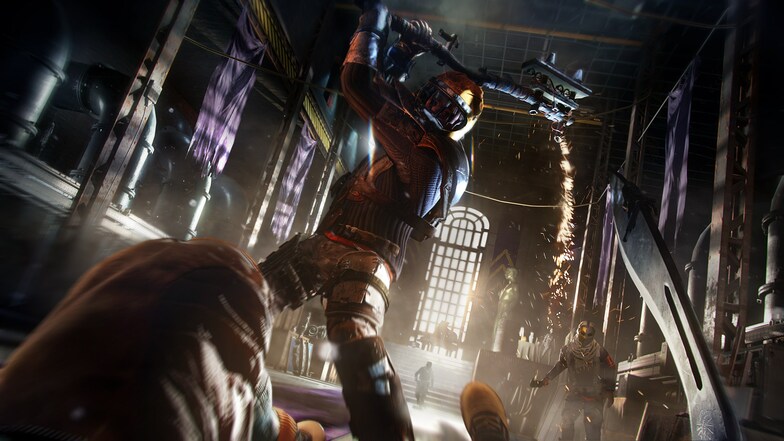 We begin our list with Dying Light 2 Stay Human, a game that was also on our list of the best single-player campaign games for Xbox. The original Dying Light was considered to be a good game when it came to the fighting and movement mechanics. However, it lacked polish and did not have a story that was particularly satisfying.
Dying Light 2 solves that by keeping the core gameplay exactly the same, but adding new mechanics to make it a bit more complex and engaging. On top of that, there is a very good story where you are not only trying to save your city from the infected but trying to battle your own demons at the same time.
The story plays differently depending on the choices you make, and it is possible to play it in co-op mode with three other players. With day and night cycles and stunning visuals, Dying Light 2 is a zombie experience unlike any other.
7 Days to Die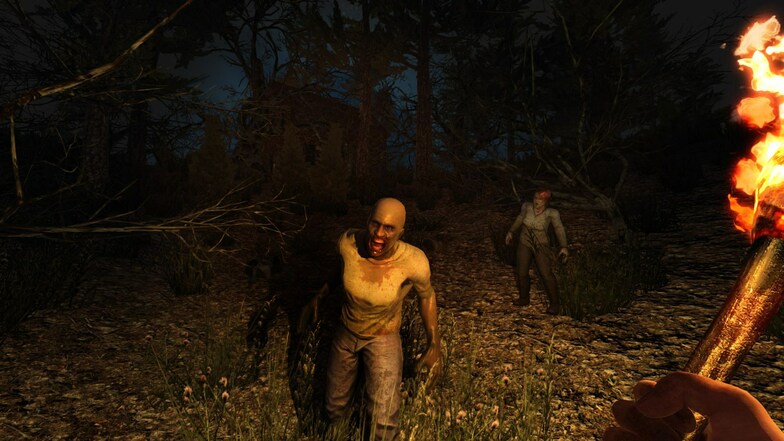 7 Days to Die is one of those games that enjoy a large player base on the PC, but the console version is relatively unknown. That is a shame because 7 Days to Die has a really unique take on the survival genre.
7 Days to Die is equal parts exploration, crafting, base-building, and tower defense. You can play with friends or try to survive alone. It is also possible to team up with random players on the server. Of course, you can also attack the other players and try to take their resources from them.
Unfortunately, the graphics of the game not only look outdated but are actually bad. However, those who are willing to stomach that will find 7 Days to Die to be a zombie game unlike any other.
Back 4 Blood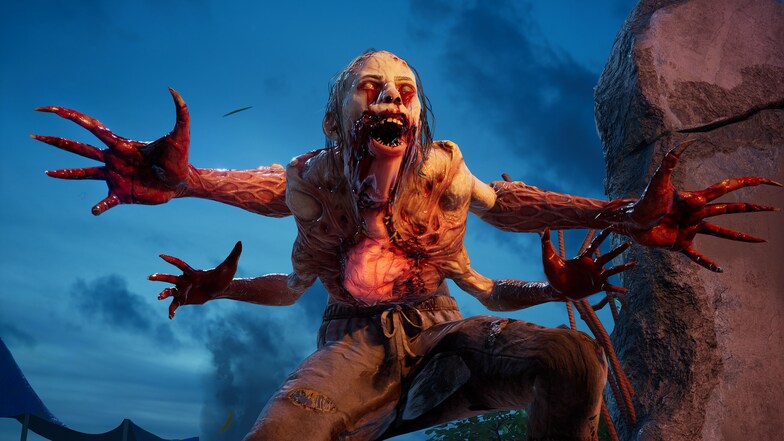 The next game on our list of the best zombie games for Xbox Series X and S is Back 4 Blood. This is a game made by the same people who developed the Left 4 Dead series, and it largely plays the same way.
In the campaign, you and your friends will need to fight off zombies and make sure that you can survive until you get to the next level. Every single playthrough will be different due to the random elements introduced into the game. On top of that, there are multiple locations where you will be fighting off the zombies (known as the Ridden in Back 4 Blood), and you will be able to use elements of the environment to fend them off.
Apart from that, there is also a horde mode where you face an endless wave of enemies and have to survive for as long as possible. Back 4 Blood was on our list of the best horde mode games for Xbox. Lastly, there is also a PvP multiplayer for when you want to try something different from the main game.
Call of Duty: Black Ops Zombies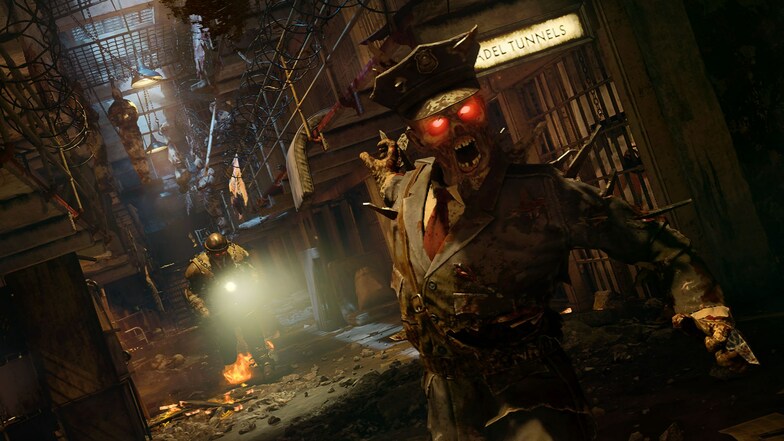 Just like the horde mode in Back 4 Blood, Black Ops Zombies has you survive against wave after wave of zombies with increasing strength. You can fortify your base, upgrade your weapons, and acquire perks to try and fend them off.
All of the Black Ops games have a zombie mode in them. The zombie mode is also present in a few other Call of Duty games, but we have found the one in the Black Ops series to be the best one by far.
Just like Back 4 Blood, Black Ops Zombies is best enjoyed when played with friends. With other players, it is possible for you to strategize and acquire upgrades that complement each other. Fighting and surviving alone can be a bit tough once you are past the first few levels.
Dead Island: Riptide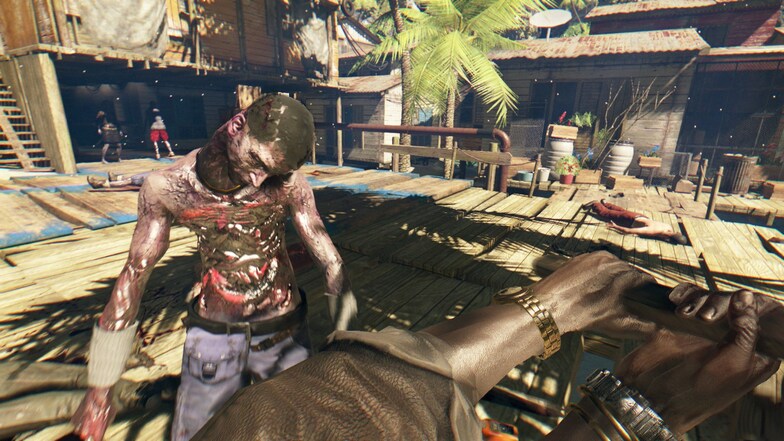 Dead Island Riptide continues the story of the original Dead Island. While you may feel a bit lost if you have not played the first game in the series, we would recommend avoiding that and playing Riptide instead due to the better gameplay mechanics.
In Riptide, you are caught on an island and have to fight your way out. The story-based adventure can be played with up to three other players, and there is a lot of depth to the narrative compared to some of the other games on this list.
Unfortunately, the graphics are something that we are not satisfied with. Although it is understandable because the game came out in 2016, there are games that look much better out there by now.
The Evil Within 2
It is well-known by this point that most zombie games do not try to be that scary. Instead, they focus on providing action and require you to take out as many zombies as quickly as possible.
The Evil Within 2 is different, in that it is primarily a survival horror game that has zombies. Killing zombies is not the focal point of the game. Instead, you need to avoid them. The first iteration of the game is also quite good, although it does look outdated due to its age. Still, we would recommend playing both of the games in the series if you are a fan of survival horror.
The best part of the game is the story, where you are trying to save your daughter from the creatures found in STEM. The majority of the story is spent avoiding and running away from the horrifying creatures found in the world as you slowly inch closer to your daughter. There also are a few intense fights where you have to try to kill the monsters with limited ammo. All of this adds up to a thrillingly horrifying adventure.
World War Z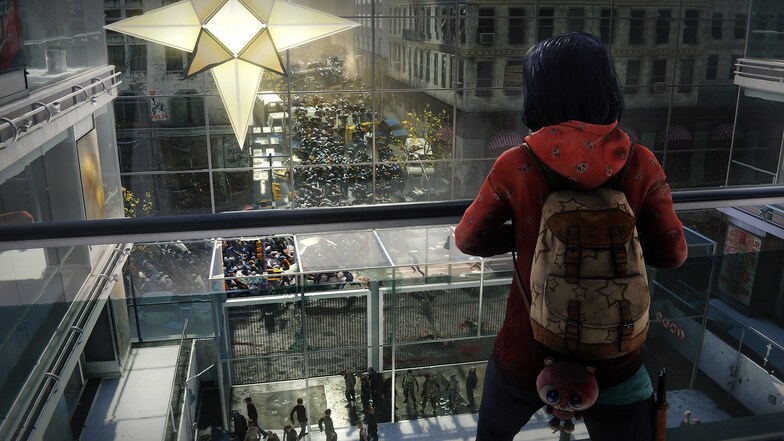 World War Z is the next game on our list of the best zombie Xbox games. As the name suggests, this is a game that prioritizes mayhem and scale over everything else. The game is set in places across the world, with a zombie outbreak slowly taking over everything and threatening to end the human race.
In order to fight this, a small number of people have decided to band together and face the zombies head-on. As such, you get to fight thousands of zombies throughout the game's campaign, slowly edging towards ending the prospect of a zombie apocalypse.
World War Z can also be played in co-op with three other players. However, we would only recommend that you give the game a try only if you want to kill a lot of zombies and don't care a lot about much else. This is because there isn't a lot of depth to the game, and it begins to feel repetitive rather quickly.
Death Road to Canada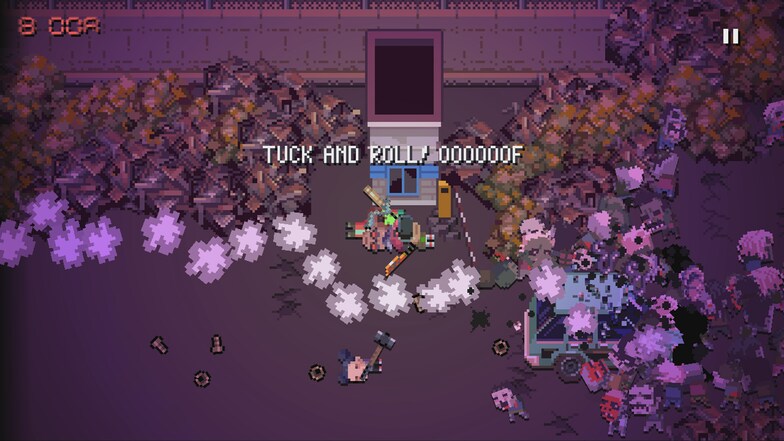 Death Road to Canada is a top-down game where you are relentlessly and endlessly chased by zombies. Your objective is to kill them all and survive. The game allows you to play the game in co-op and control up to four different characters.
While Death Road to Canada has a non-serious vibe, it also prioritizes replayability. The scenarios are randomly generated every single time you start the game, which means that each playthrough is completely different from the previous one.
Despite that, Death Road to Canada is once again a game that does not have a lot of depth. As such, you will probably get bored of the game at some point. However, you and your friends will be able to experience a lot of laughs before that happens.
Dead Rising 4
Dead Rising 4 plays in quite a similar manner to World War Z. There are a lot of zombies for you to take down, and a huge arsenal of weapons with which to do it.
However, there is a little more story to the game. On top of that, there are a few more survival elements as well. Weapons and ammo are not nearly as easy to come by, and you will need to scavenge a lot of resources if you are to survive.
There are also a few laughs along with the campaign. You have the ability to take photos, and it is possible to find angles that make it seem like you are having fun with the zombies rather than trying to stay alive.
State of Decay 2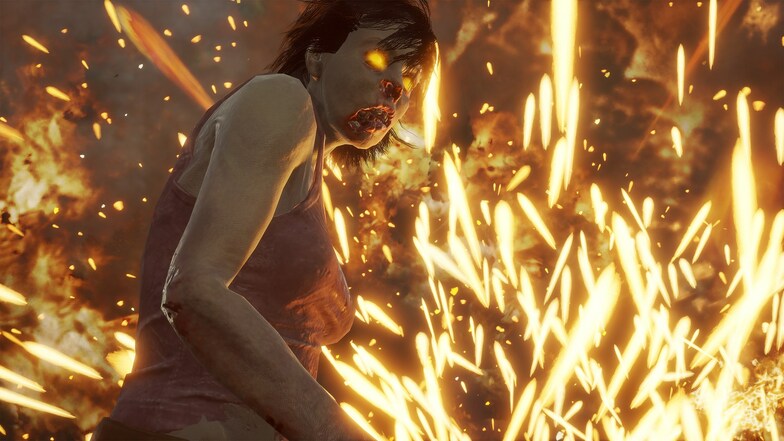 The reason why we have State of Decay 2 in our list of the best zombie games for Xbox is due to it experimenting with various features not found in other games.
You and up to three of your friends are tasked with making sure that the human race can survive even when the military has failed against the outbreak. You will need to not only find survivors to join you, but also make sure that you can provide them with adequate provisions.
In a lot of ways, State of Decay 2 manages to find the perfect balance between combat and survival. Certain moments in the game are extremely fast-paced and require lightning-fast reflexes, while others require thought and strategy.
Resident Evil Village
Resident Evil Village is a game that bought the series back into the mainstream. Although the Resident Evil series has always enjoyed a faithful following, the last few games failed to have a sizable impact in terms of sales and hype.
Resident Evil Village changed all that by providing a story that captivates and horrifies you right from the very beginning. It is set to follow the events of Resident Evil 7, but you need not have played the game in order to understand what is going on in Resident Evil Village.
While zombies do not form a large part of the game, there are a lot of the undead that you will need to survive through in order to make it to the end. Lastly, this is one of the best zombie games for Xbox when it comes to the story.
DayZ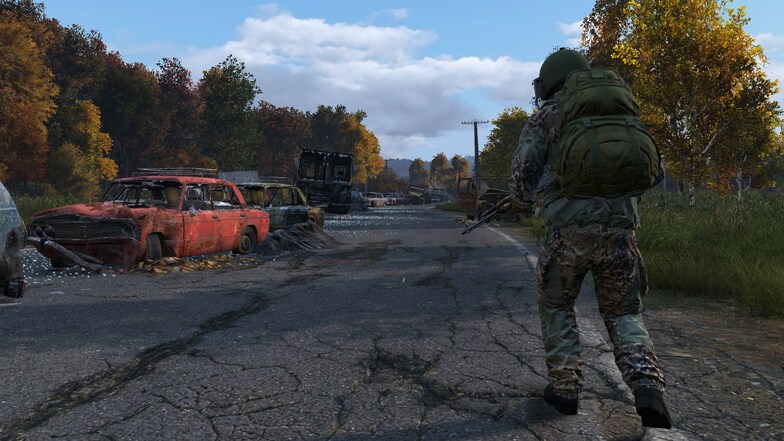 DayZ is best known for the hype it created when it was first released as a mod for ARMA 2. Since then, the standalone game has received more mixed reviews. If you are looking for a sandbox-like experience where you can do whatever you want as long as you avoid the zombies, DayZ is it.
In DayZ, you have one purpose: To survive for as long as possible. You can work both with other players or against them. Not only will you have to make sure that you get enough food and water, but you will also have to avoid diseases, build shelter, and craft materials. Of course, combat also plays a central role in the game. However, the zombies are more of a backdrop here, with other players being your main target.
DayZ has no plot. It is a game that is best enjoyed either in a small group of players or a large clan. In the end, it really is the perfect game for someone who wants to both mess around and seriously pursue a challenge.
The Walking Dead
The Walking Dead series is developed by Telltale Games. If you are a fan of zombies, chances are that you have seen (or at least heard of) The Walking Dead.
When it comes to The Walking Dead the video game, it is set in the same universe, although it presents a story that is quite different from what you see in the TV show. You will have to navigate through the world of The Walking Dead and make sure that you stay alive in the face of adversity.
The game is an episodic adventure, and we recommend that you play through all of the episodes. However, it is important that you play them in order as they comprise a complete, cohesive narrative.
Minecraft
Minecraft is the last game on our list of the best zombie games for Xbox Series X / S. As you will know unless you have been living under a rock, Minecraft is a sandbox game that basically allows you to do anything.
There are a lot of monsters and creatures in the game, with zombies being one of them. While it is possible to play the game without any zombies, there is the survival mode where you will have to tend to them.
To be fair, zombies do not end up being nearly as big a hassle in Minecraft as they do in some of the other games on this list. Still, there are mods and settings that can make them more of a threat. While not a zombie game in the truest sense, Minecraft is, in general, a game that you absolutely have to try.