Games do not have to be all serious and full of action scenes. There are a lot of games that can provide entertainment while simultaneously making a bunch of people laugh, talk to each other, and compete, all at the same time.
On top of that, there are many people who are completely adamant about not leaving their house unless absolutely necessary. For them, party games represent a great way to have fun while simultaneously socializing with people they know.
This list contains the 22 best party games for Xbox Series X / S. In order to make the list, the game must be something that at least two people can play at once, and it should have features that would make the game fun for people not only playing but also for those huddled around them that are watching.
Monopoly Madness
Monopoly Madness is the first game on this list. It takes the monopoly formula and augments it just enough to make the video game appear more interesting than its board counterpart. The biggest difference is the fact that the game no longer makes use of a board. Instead, you can walk the streets of monopoly to collect the rent and beat other players.
You get to walk all of the streets and properties that are a part of the classic monopoly board. What's more, you can also select your character based on the tokens that have been used by monopoly players in different variations of the game.
Apart from that, the game is pretty much the standard monopoly that you would expect. The only other major difference is that the Community Chest has new powerups that can be used to cause damage to other players. With up to 6-player local play, you will be laughing your way around the board as you send your friends to jail and charge rent on Mayfair.
Golf With Your Friends
Gold With Your Friends truly is one of the best golf games ever made, which is why it was near the top of our list of the best golf games for Xbox. The game manages to take the arcade golf formula and basically turn it on its head.
Even when we have talked about the game previously, we have always remarked just how much fun it is to play the game with friends. This is because, unlike other games where the competition revolves around completing the hole in the fewest shots, it is also possible to stall someone else's progress in this game.
There are options for both online and local play available, and up to 12 different players can play on both of these modes. If you have a few friends around and would like to play the game that would be equal parts fun and frustrating, we would recommend giving Golf With Your Friends a shot.
The Jackbox Party Pack 8
If you are a fan of party games, then you will almost certainly have heard of the Jackbox Party Pack. Each iteration of the pack includes a few games that can be played by a bunch of people huddled around the TV. The best part? You do not need to have a controller connected for everyone. All of the other players can simply use their phones to participate in the games.
There are a total of 5 different games for you to try in the eighth iteration of the pack. All of these games are based on traditional party games in one way or the other. What's more, all of them also have a lot of jokes that will have you and your friends in stitches one way or the other.
All Other Jackbox Party Packs
Now, we did not want to clog up our list by mentioning every single Jackbox Party Pack that has ever been released. The eighth is by far the best one, as it makes use of the newest features to allow for the best party gaming experience.
However, all of the other packs that have been released by the same studio are also worth a try. They may lack some of the features found in the eighth version, but they have games that are completely unique and should allow for something new if you are sick of playing the same games over and over.
One of the best things about the Jackbox Party Packs series is that all of the games in the pack are extremely easy to pick up. As such, these games are perfect for when you have people over that do not play a lot of games.
Mad Streets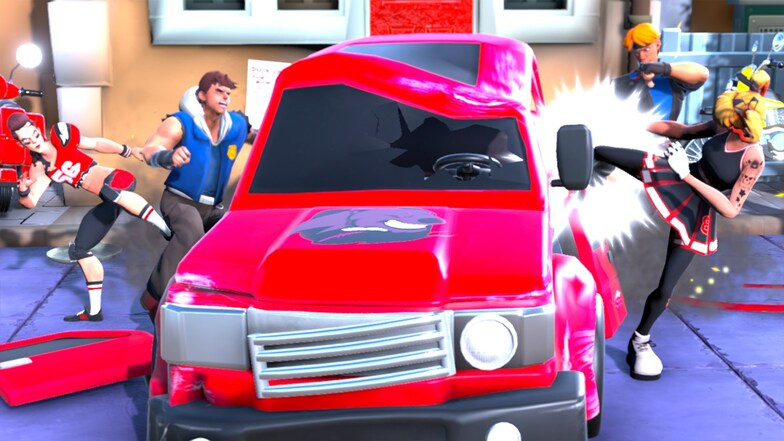 Let's face it, there are going to be a lot of fighting games on our list of the best party games for Xbox Series X and S. We begin by talking about Mad Streets, which is perhaps the easiest game to pick up for someone who does not play a lot of fighting games.
Mad Streets was designed to be a party game. This means that it combines the fighting mechanics with an over-the-top art style, simple controls (that still have a significant learning curve once you get in the thick of it), and a lot of jokes.
Mad Streets somehow manages to provide a great fighting game without taking itself seriously. While we wouldn't recommend it for solo play, it is one of the best party fighting games out there.
Minecraft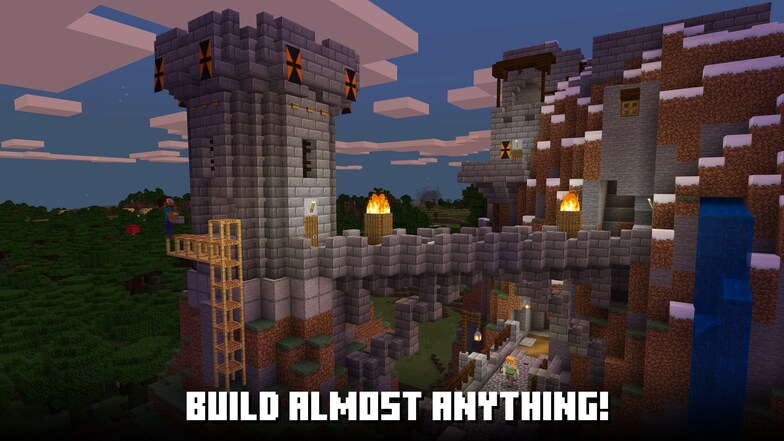 Minecraft is mentioned fairly regularly when we talk about the best games on Xbox. It was on our list of the best open-world games for Xbox Series X / S, and it makes this one too!
While Minecraft is not a game that anyone can pick up and play, it is one of the best party games if all of you know what you are doing. With split-screen mode, it is possible for people to play the game together on a single TV.
As is the case with the game, you can basically do whatever you want in Minecraft. Try to build the biggest building possible in the time you have, or simply hang out in Survival mode and see how long you can make it. The choice is up to you and your friends.
Injustice 2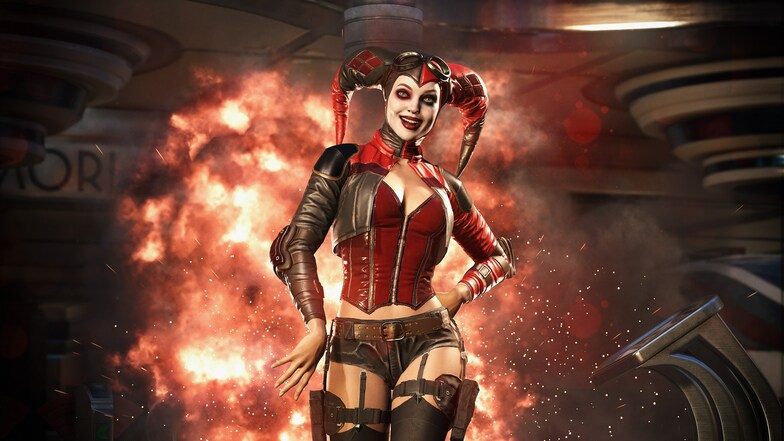 Injustice 2 is the second fighting game that we have on our list of the best Xbox party games. There is no doubt that compared to Mad Streets, this is a game that has a much more serious vibe to it.
However, we do not think that is a bad thing. If you and your friends are competitive people, we are almost certain you guys would enjoy tinkering with your characters and seeing which strategies work. Of course, playing for bragging rights is often more fun than playing just for laughs too.
The other main reason to play Injustice 2 is that it uses characters from the DC universe. If you are a fan of the comics or the movies, chances are that you would love playing some of your favorite heroes.
Just Dance 2022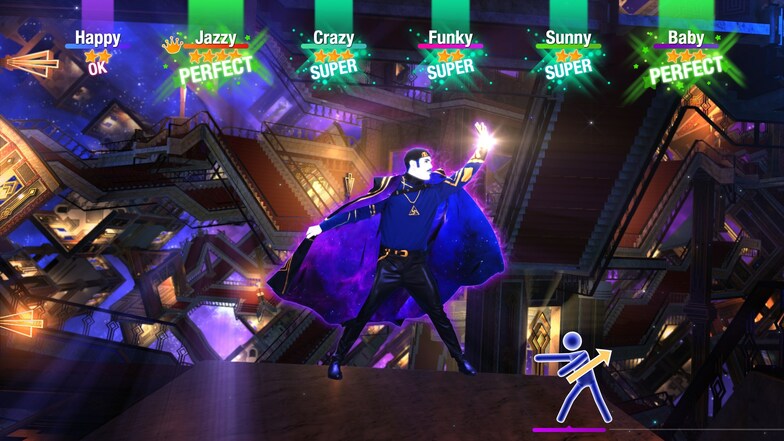 If you are in the mood of working up a sweat while you play a game, then Just Dance 2022 is the game for you. Just like some of the other games on this list, Just Dance 2022 does not require you to purchase additional accessories that can track your movement. All you need is your phone and you are good to go.
The game has over 40 tracks from the get-go, although there are in-app purchases that can be used to unlock additional content. While you won't find a lot of niche genres in the game, you will find songs of every tempo. So regardless of whether you want to dance with your significant other to something slow and romantic or just want to let some steam out, Just Dance 2022 has got your back.
One last thing to remember is that the game also has 8 child-friendly tracks, so you can finally have something that the kids and the adults can play together (or the kids can play them alone).
Overcooked 2
Overcooked 2 is the sequel to the extremely popular party game Overcooked. The basic premise of the game is still the same: You and your friends have to hop into the kitchen and complete challenges to satisfy the hunger of your guests.
However, the amount of teamwork and coordination that is required to complete those challenges means that it is only a matter of time before chaos ensues. It is possible for up to four players to play the game in co-op mode, and chances are that the more people you have, the more hilariously things will go wrong.
Just to be clear, the game can be incredibly rewarding if all the players work together to solve the puzzles. As such, it is up to you if you and your guests want to test their teamwork or just have a bit of fun.
Rock Band 4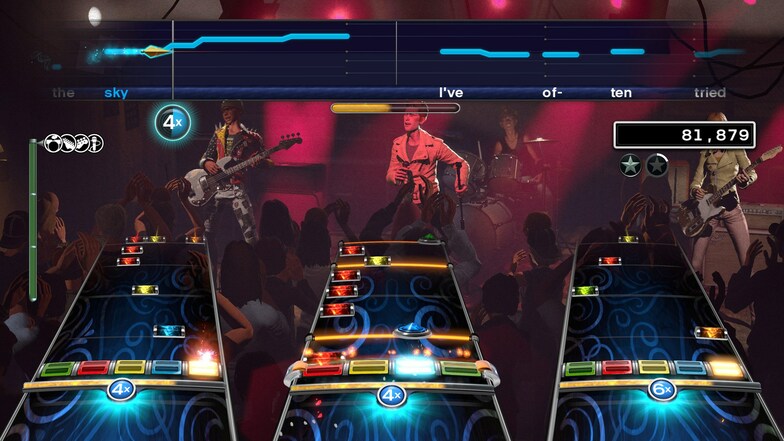 Rock Band 4 is a game that is best played by attaching additional accessories. However, you can still get the job done with just a controller. As long as you think you have what it takes to mash those buttons in perfect harmony with the tracks, you are good to go.
The game has over 1500 tracks for you and your friends to play through. If you are a fan of rock and metal music, chances are that you will have heard a lot of the material that is on the game. In order to best enjoy the game, however, we would recommend purchasing all the additional accessories that come with the game.
The last thing we would advise you to do is to make sure that you actually like the music before purchasing the game. Rock music can be quite a niche, and you don't want to invest a lot of money in the equipment and the game only to realize that the music just isn't for you.
Fall Guys: Ultimate Knockout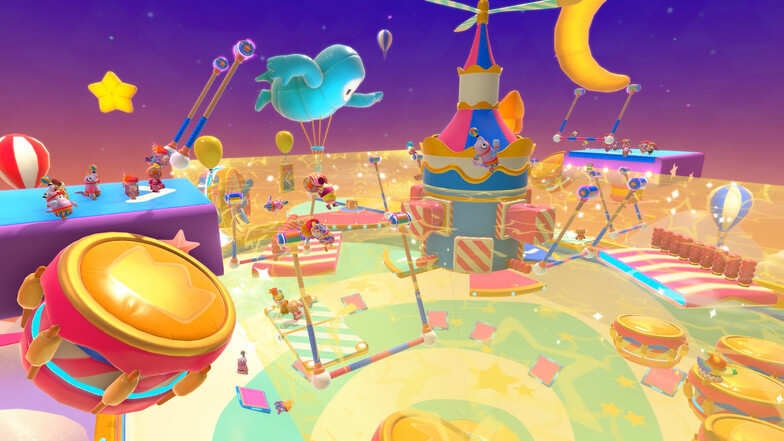 Fall Guys is one of those games that became an instant hit on game streaming platforms when it was released. This is because it is perhaps one of the most fun casual multiplayer games that you can play with your friends.
Players have to play through a number of rounds with escalating chaos until there is only one person left standing on the playground. Think of it like Squid Game, but only funnier. It is possible for you to sabotage the progress of your friends if you wish, and there are a lot of additional mini-games for you and your friends to try.
Tekken 7
When it comes to fighting games, there is perhaps no series that has managed to cultivate as much of a cult following as Tekken. Although Tekken is generally considered to be a very serious game with an intense competitive ladder, it also has a casual component to it.
Basically, it is the perfect game for people to play when sitting on the couch. While mastering a character can take hundreds of hours, the basic mechanics can be learned in little more than a few minutes.
The only negative aspect of the game is the fact that the people that have played the game a lot will have a huge edge over the people that have never played it.
Among Us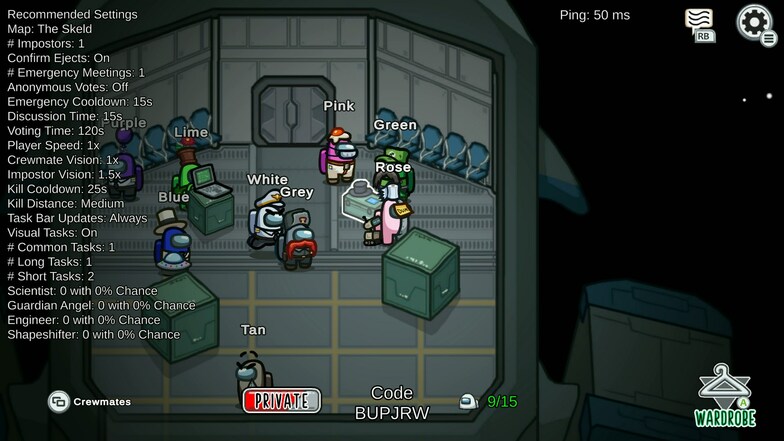 We are almost certain there is no reason to explain what Among Us is about and what it does. The game had one of the most explosive launches ever, with millions of people playing the game on almost every single platform that it was available.
Simply put, there are two teams. The first team has to prepare the spaceship for takeoff, while the other team has to prevent them from doing so. Without going too much into the mechanics of how the game plays, Among Us allows for up to 15 players to basically wreak havoc on the voice chat as each of them tries to make sure their team wins.
Lastly, this is one of the few games that has crossplay between mobile phones, PCs, and consoles. As such, you and all of your friends can play it while sitting in the same room no matter which device you have.
Speedrunners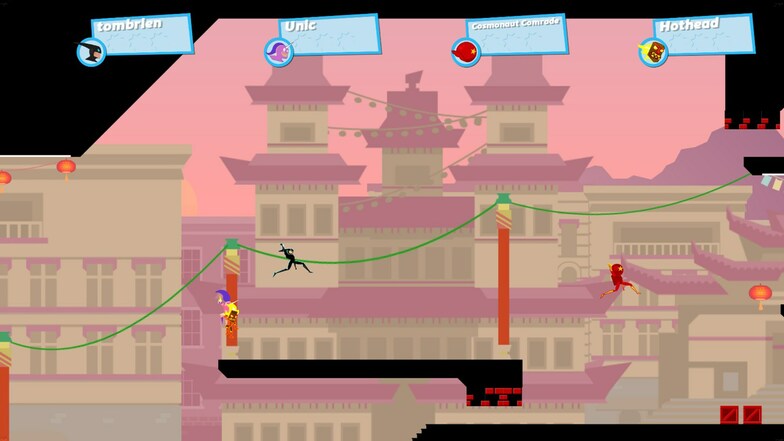 Speedrunners is a game that has four superheroes competing against each other. All of them live in the same city, so they want to get to the crime before the others. This means that they will be using their superpowers to propel themselves forward and their competition backward.
Speedrunners is a game that is best played if you have three other people playing with you. This way, there are moments when players might team up with each other to stop someone else from progressing too far ahead. At other times, you may have everyone fending for themselves until the end. Whatever the case may be, Speedrunners is the ideal party game for both the players and the audience.
Guitar Hero Live
Guitar Hero Live is one of those games that you cannot purchase without an accompanying guitar. However, while the cost of the game is a bit higher than others on our list of best party games for Xbox, it is worth it.
As long as you have your hands on a couple of guitars, you can have two players competing against each other to see who can play the song better. With a large catalog of tracks, there is bound to be something that everyone enjoys in the game.
Guitar Hero Live also has two modes. You can either play the music in a virtual concert, or you can have the music video playing in the background and jam the songs with your favorite artists.
Gang Beasts
We like to think of Gang Beasts as the original Fall Guys. The premise of the game is quite similar: A group of players enter the map and must be the last one standing. However, there is no obstacle course this time around. Instead, the players must fight each other.
This can lead to some downright hilarious scenarios, especially if you have more than two players playing the game. Alliances will form and break in mere minutes, and those watching will get to hear equal parts screaming and laughter. On top of that, this is also a great game to play online, as the games can get quite competitive when there are strangers on the other end.
Cake Bash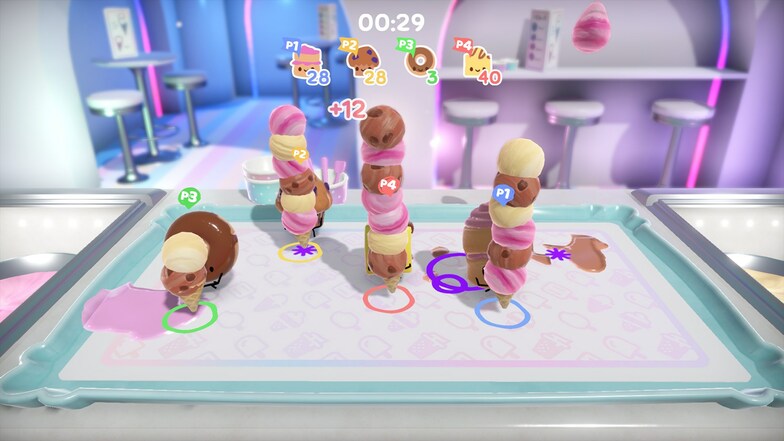 It is impossible to accurately describe all the things you can do in Cake Bash. To put it simply, this is designed to be a party game from the ground up. There are a lot of game modes that you can try, and all of them revolve around you making pastries and cakes of some kind.
The game can be played by up to four people. There are certain game modes that encourage the players to work together, and others that encourage them to stall each other's progress. With an art style that can only be described as adorable, Cake Bash may very well be one of the games on this list that parents can also play with their kids.
Party Golf
Party Golf is another golf game that was included in our list of the best golf games. Just like Golf With Your Friends, Party Golf was designed to be played by a bunch of people sitting together.
However, Party Golf is quite different from almost every other golf game currently on the market. The game takes place in a 2D world that has a lot of psychedelic effects. With over 100 game modes for you and your friends to try, there are endless possibilities for what you can do within the game.
The best part? This may be one of the only few games that allow eight people to play in a local setting using only four controllers. There is a controller sharing mode that allows two players to use the same controller, allowing for humorous antics as the game progresses.
Tricky Towers
There are a lot of games that have taken the basic Tetris formula and gone overboard with it. Tricky Towers is one such game, and it has managed to enhance Tetris in a way that would be perfect for people at a party.
Tricky Towers is a simple game where you have to use physics to build the biggest towers. There are three game modes, all of which can have anywhere between two to four players competing against each other.
While there is a solo-play mode and leaderboards that you can climb, the game is most fun when played in race mode with other people. With all the players scrambling to build their towers, the action can get very chaotic very quickly.
It's Quiz Time
It would be criminal for us to make a list of the best party games for Xbox Series X and S and not have at least one quiz game on there. It's Quiz Time is a game that manages to keep itself interesting no matter how many times you play it. This is because it has more questions than pretty much every other quiz game currently available on the Xbox.
With over 25,000 questions for players to answer, chances are that this one game will last you many a night of quizzing. It is possible for up to eight different people to play against each other. You can also play it in solo mode to compete against the AI, although we wouldn't recommend that unless you are a huge fan of Trivia.
There are literally thousands of categories available to pick from, so this is a game that is appropriate for all ages. On top of that, players can use their phones as controllers as well, so you won't have to invest in purchasing additional equipment for your guests.
Ultimate Chicken Horse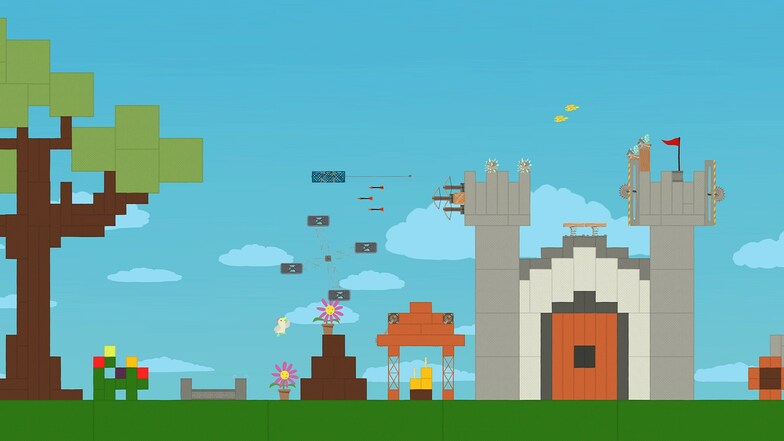 While we have heard a lot of funky names when it comes to games developed by indie studios, we must say that Ultimate Chicken Horse is right up there with the very best of them.
What's even more surprising is that the title is an actual representation of what the game is about. Players get to control a chicken horse (although we are not sure if it is the ultimate one) and go around an obstacle course. The person that manages to get through the course first is the winner.
Players get to create the world around them as they progress through the level. Your goal will not only be to progress as fast as you can but to make sure that no one can keep up with you. This makes for a game where no two playthroughs are ever the same. Simply put, Ultimate Chicken Horse is one of the simplest yet most creative games we have ever seen.
Brawlhalla
Brawlhalla is the last game on our list of the best party games for Xbox. It is a game that was quite popular when it first launched but has since faded into relative obscurity. That is why it was on our list of the most underrated Xbox games too.
The concept of the game is simple: Players fight each other and the last one standing wins the game. However, you would be surprised by just how much depth the game has. If you and your friends are going to play games regularly and are looking for something where you can be competitive, Brawlhalla might be the best option for you.
What's more, the game is free to play. You only get access to a rotating selection of legends (characters) to play within the free version, but you will still be able to access the full game. There is also no pay to win, so you won't be at a disadvantage if you just stick with the base game.