12 Best Horde Mode Games for Xbox Series X / S
Image credit: id Software / Microsoft Store
Horde Mode games are a niche within the gaming community, but there are a lot of people out there who love the co-op nature of such games. Once you couple that with the intense action that you can experience in a good horde mode, the reasons behind its popularity become obvious.
To be clear, horde mode games usually pit you (sometimes with a few other players) to face an onslaught of enemies. The enemies usually never stop coming, and the objective of the game is to survive for as long as you possibly can.
Unfortunately, there aren't that many games that have a horde mode. The concept was first made popular by DOOM 2, but there only have been a few games that have based themselves around the concept of continuously shooting enemies. That said, there are many games that have a horde mode (albeit under a different name) that is separate from the main features of the game.
Many of these horde modes are quite good. In rare cases, some of the horde modes are amazing even when the other aspects of the game are not up to par. Here, we have listed the 12 best horde mode games for Xbox Series X / S.
Quake Remastered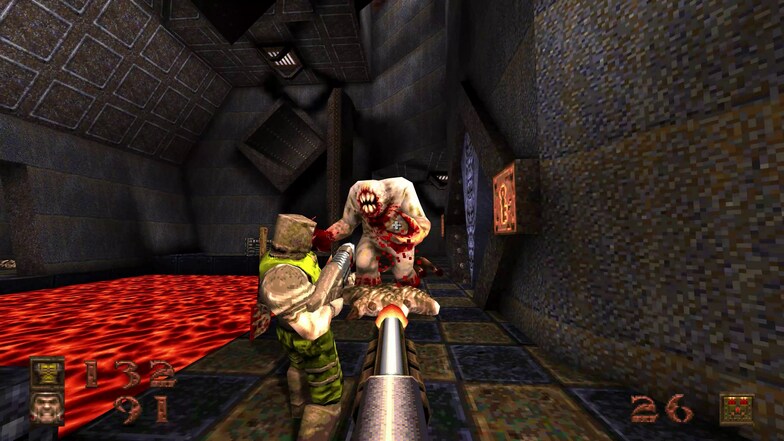 We begin our list with Quake Remastered. The original game basically paved the way for the modern FPS genre, and the remastered version stays true to its roots. However, the developers have also been slowly adding content to the game. One of the main additions to the game is the horde mode.
The horde mode allows you to face an endless number of enemies. Harkening back to the original horde mode in DOOM 2, you will have to use all the weapons and skills at your disposal in order to clear the enemies. The horde mode can be played solo, on a local split-screen, or in an online co-op.
To be fair, the visuals of the game still look outdated despite the remaster. However, the graphics are good enough for you to place your main focus on the gameplay. When it comes to the gunplay and movement mechanics, there really is no other FPS that has a skill ceiling as high as Quake. As such, this is the best game to play if you are looking for horde mode in its purest form.
Call of Duty: Advanced Warfare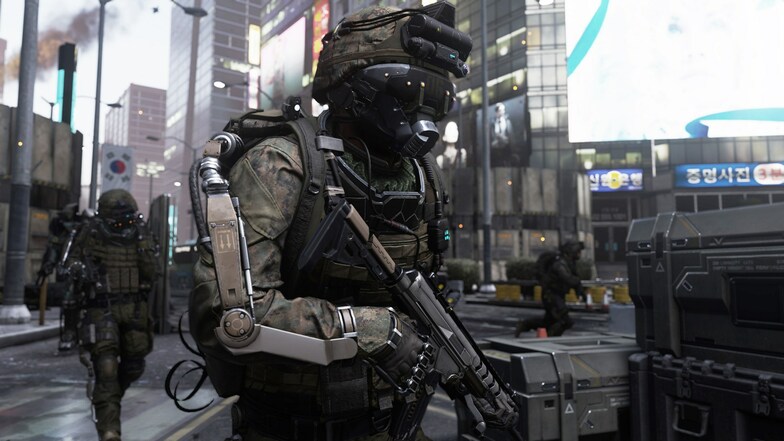 Advanced Warfare took the Call of Duty franchise in a brand new direction. Although a lot of people were angry at some of the new mechanics introduced, there are a couple of game modes that almost all the players enjoyed. In fact, Advanced Warfare has two horde modes for you to play.
The first is known as survival mode. You (and your friends if you want) take on 25 rounds of enemies, with each round having enemies of a higher difficulty. Once the 25 rounds are finished, you get to begin again from the first round, with the difficulty of all the enemies going up a notch. You play the game until you and everyone else is dead.
Throughout the survival mode, it is possible for you and other players around you to upgrade your weapons and perks. If you are aiming to survive for the longest period, you will probably need to communicate with other players and make sure that you have complementary strengths.
Advanced Warfare also has a zombies mode. However, this mode can only be unlocked through the purchase of additional DLC at the time of writing. On top of that, there are other games in the Call of Duty series that have a more fleshed-out zombies mode.
Call of Duty: Black Ops Series
The Zombies mode was first introduced in Call of Duty: World at War. Since then, all of the games developed by Treyarch have had a zombies mode. The Black Ops series is worth a try even if you do not want to play the horde mode. That is why one of the games from the series made our list of the best action games for Xbox.
While the mode has changed in many ways since its inception, the fundamental idea is still the same. You and your friends will face an endless horde of zombies. The game only ends once everyone is dead.
Throughout the game, it is possible for you to fortify your base, upgrade weapons, and earn additional power-ups. There are also a lot of easter eggs hidden in some of the Black Ops games, many of which allude to the lore of the campaign.
It is difficult to say which game in the Black Ops series has the best zombies mode. What we would recommend is to explore some of the earlier entries if you are looking for a simplified version of the horde mode. If you are instead looking for a bit more complication in your game, then the newer entries will be better for you.
Sunset Overdrive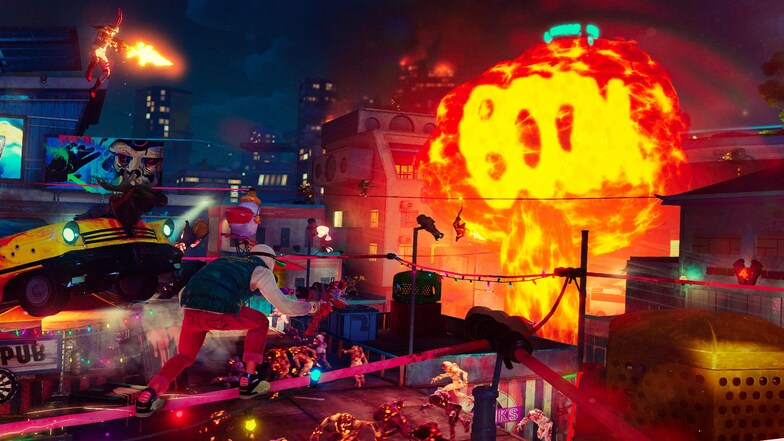 Sunset Overdrive truly is a game like no other. With the world under attack, it is up to you to use your massive arsenal to save it. What's more, you can basically move in any way you want.
The horde mode allows you to face an endless swarm of mutants, with you and your friends collaborating to take them out. Just like the Black Ops series, we would recommend that you give Sunset Overdrive a try even if you do not want to play the horde mode. Its overall polish, slick gameplay, and optimized fighting meant that the game made our list of the best action-adventure games for Xbox.
Back 4 Blood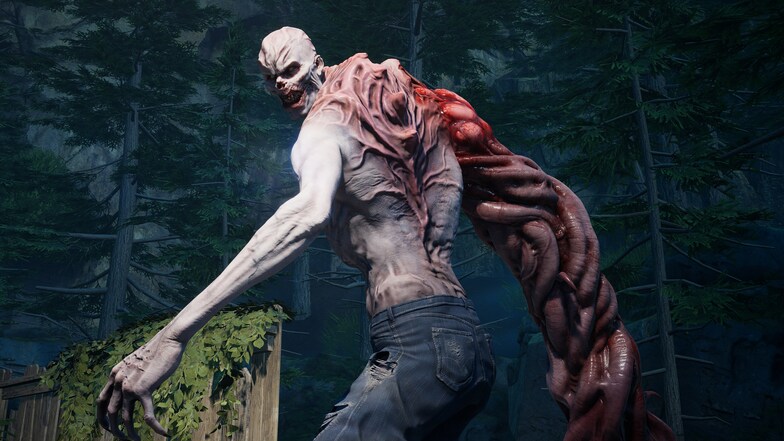 Perhaps the most famous horde mode game of all time is Left 4 Dead. Well, Back 4 Blood is made by the same people that worked on the Left 4 Dead franchise. The fundamental concept of the game is the same: You need to fight an endless wave of zombies (known as the Ridden here).
However, the developers have made certain changes to make sure that each game is unique. With random elements coming into play every single time, chances are that you and your friends will not get bored of the game anytime soon.
Apart from the standard campaign, you also have access to PvP multiplayer. While not as good as the horde mode campaign, it does provide a welcome break during times when you do finally get bored of shooting endless enemies.
Titanfall 2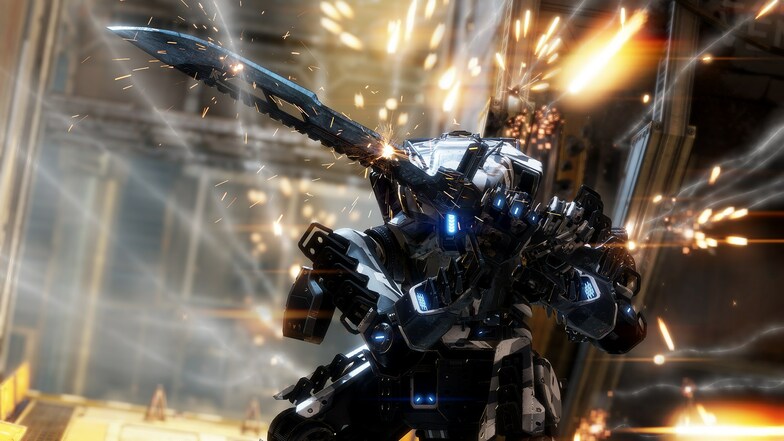 Titanfall 2 has become a mainstay on our lists, also appearing on the best sci-fi games for Xbox. It is absolutely insane how the developers have managed to pack so much content into one game, basically making sure that everyone has something to enjoy.
Well, you will be pleased to discover that the game also has a horde mode. In the mode, you get to face an endless swarm of enemies. Like other horde modes, the first few levels are relatively easy to get through. However, you will soon have to make full use of your titan's abilities if you are to clear the waves of enemies that come at later stages.
Just like many of the other games on this list, we would also recommend that you try out some of the other game modes in Titanfall 2. Namely, the game has one of the best multiplayer modes we have ever seen, although the player base is not as large as some of the bigger names in the shooter genre.
Warframe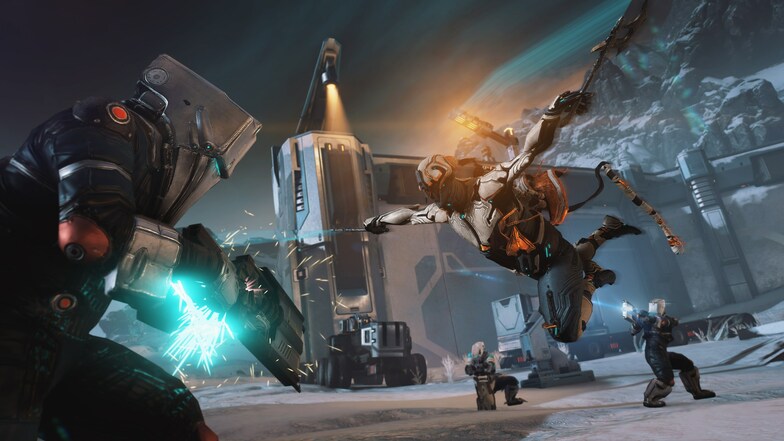 When it comes to free games, Warframe is one of our favorites. Although the game has some pay-to-win elements, there are a lot of things for you to do.
Just like Titanfall 2, it is surprising how much content you can access in this one game. That said, the game has been out since 2014, so the developers have had ample time to add new features. Due to the game's age, the graphics are also not that great. But considering the fact that it is completely free to play, we had to include it on this list.
Just to be clear, Warframe does not have a dedicated horde mode. However, there are multiple game modes that are quite similar, meaning that you get to face wave after wave of enemies in them. These modes can be played both solo and in co-op mode, but they only really become fun once you have managed to perform a few basic upgrades on your Warframe.
Zombie Army Trilogy
Zombie Army Trilogy is the next game on our list of the best horde mode games for Xbox Series X and S. Despite its name and its obvious references to the zombies mode in Call of Duty, Zombie Army Trilogy is not a game that has a horde mode for its campaign.
Instead, there is a separate horde mode where you can play co-op with up to three other players. The mode is quite standard, with you and your friends shooting down an endless number of zombies. There are a total of five maps for you to choose from, with each of them offering a unique setting for you to satisfy your bloodlust.
To be honest, we would recommend that opt for the zombies mode in Black Ops over Zombie Army Trilogy. Not only are the base games in the Black Ops series much better, but the zombies mode is also a bit more fleshed out than the horde mode in this game.
Gears of War 3
Gears of War 3 came out all the way back in 2012. As such, its graphics are quite outdated, and even some of the gameplay mechanics feel cumbersome by modern standards. While the newer entries in the series have solved a lot of those problems, they lack one thing that Gears of War 3 had: A horde mode.
The main reason to play the horde mode in Gears of War 3 is if you are a fan of the Gears franchise and want to make use of its weapons and characters. Apart from that, the horde mode plays out like most of the other games on this list. While it is nothing to write home about, it will satisfy your cravings for killing an endless number of enemies.
Halo: Master Chief Collection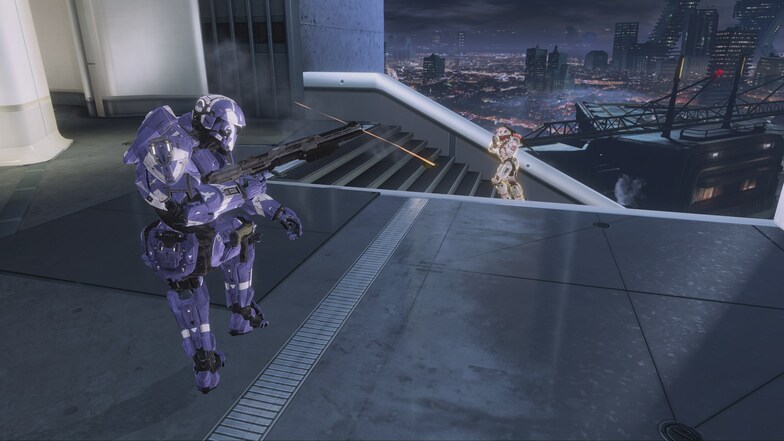 While the Master Chief Collection does not have a horde mode in every game, we have included it on our list of the best horde mode Xbox games because of Halo: Reach.
Halo: Reach was one of the few games of its time to include a horde mode. Just like Gears of War 3, the main reason to play it is if you want to experience the dynamics of a horde mode in the Halo universe. The visuals look quite outdated, and you will struggle to find a lot of people in the multiplayer mode.
That said, there are other reasons to play the Master Chief Collection. Not only will you get to play some of the greatest games of all time, but the overall price of the bundle makes this a great value-for-money purchase.
Resident Evil 5
It seems that classical titles are going to form the majority of our list. This is not a surprise, as horde modes were more popular back in the day than they are now. Luckily, Resident Evil 5 not only has a surprisingly in-depth horde mode but also a great campaign for you to try out.
When purchased on the Xbox, Resident Evil 5 comes with all of the DLCs that were made for the game, allowing for a lot of additional content. Once you factor in the replayability of its horde mode, you will find that it may take you a long time to get bored from playing the game.
What we were particularly surprised by was the fact that the horde mode can get very intense, very fast. You are casually taking down enemies one minute, and you are suddenly stretched completely thin trying to deal with them the next.
Plants vs. Zombies: Garden Warfare 2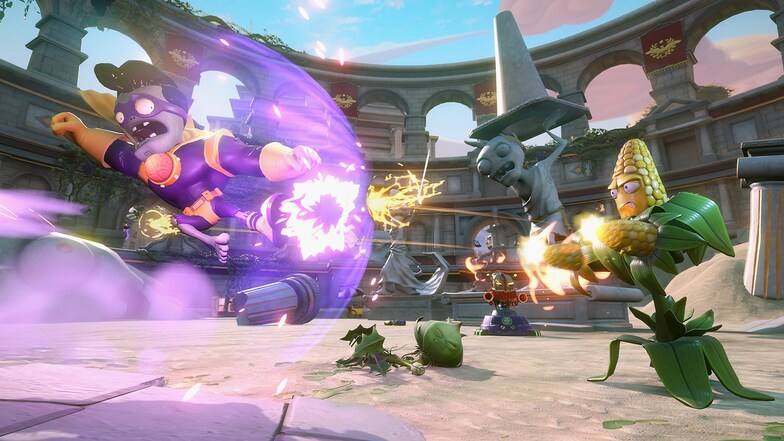 Plants vs. Zombies: Garden Warfare 2 is the last game on our list of the best horde mode games for Xbox Series X / S. While the original Plants vs. Zombies came out in 2010, the developers have been constantly making newer versions based on the same concept.
Garden Warfare 2 came out in 2016 and has two main game modes. The first one stays quite true to the original game, with 24-player multiplayer battles. Apart from that, there is also a four-player co-op mode that has you and your friends play as the plants and take on never-ending swathes of zombies.
There is a lot of content in the game, but we personally found ourselves returning to the horde mode time and time again. If you are looking for something that is a bit more laid back compared to other games on this list, you should try Garden Warfare 2.