While racing games are fairly common on the Xbox and have been for a long time, there is one element that does not seem to be as focused upon: Drifting.
This could be due to one of two reasons: The first is that drift mania only became a part of the American culture during the tuner years, and as sad as it is for someone who grew up on NFS Underground 2 to say, the 2000s are long over.
The second reason might simply be the fact that drifting has always enjoyed more popularity in Japan, an area where the Xbox has always struggled. Of course, this does not mean that there aren't any racing aficionados on Xbox that want to drift, and the developers realize that.
As such, there are still a handful of modern games out there that focus on drifting or have drifting as an integral part of the experience. While pure drift games are not that high in number, it is not that difficult to find a few titles that any fan of sliding around can enjoy.
Here, we have gone ahead and listed a few of those titles. This is our list of the 6 best drifting games for Xbox Series X / S.
Forza Horizon 5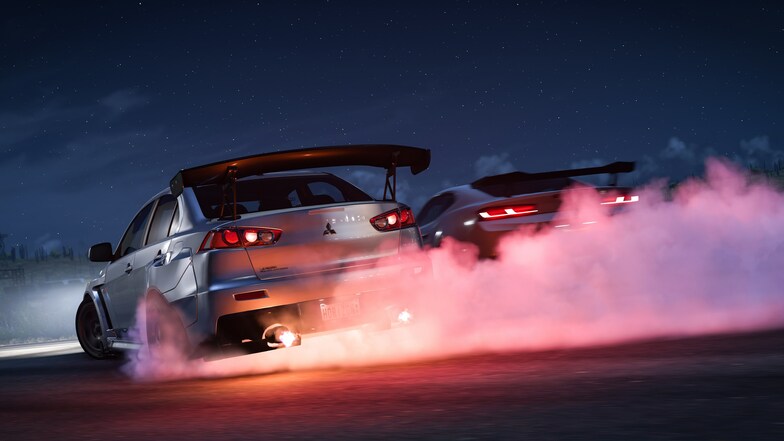 We begin our list with Forza Horizon 5, a game that was also on our list of the best racing games for Xbox. Compared to games in the original Forza Motorsport series, Horizon takes on an approach that is a bit more arcade-like, prioritizing the fun part of driving cars over realism.
There truly is a wealth of content for players to discover. The large open world based in Mexico has endless secrets and the innumerable cars allow you to drive however you want. This means that you can also drift if you have the right car.
While there are games on our list that completely focus on drifting, Horizon 5 tops the list due to the tuning options available. It is absolutely insane just how much you can modify each car to your liking. As such, it is possible to drift with a large number of vehicles and tweak the settings until you find what works best for you.
We would also be remiss if we did not mention just how great the game is, in general. Chances are that if you like drifting, you are also a fan of racing. If that is the case, this is a game that you must try.
CarX Drift Racing Online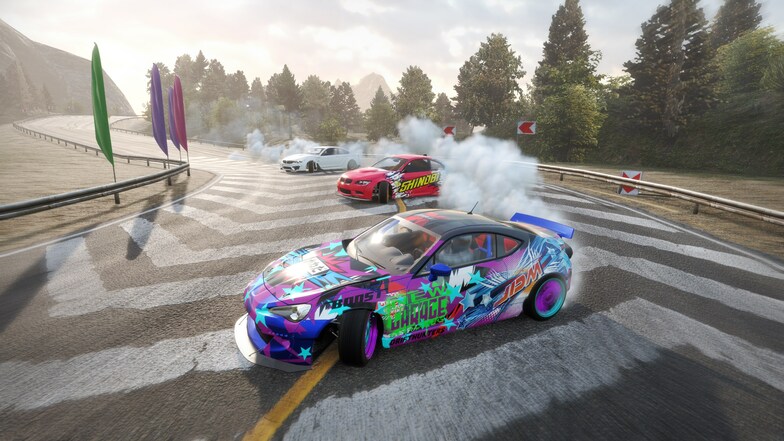 CarX Drift Racing Online is a game that is available on multiple platforms. While it is generally considered to be a mobile game, we have to say that it plays surprisingly well on the Xbox.
The title is a sequel to the game of the same name, adding only the 'online' component along with more content. While the game brands itself as a simulator, it definitely isn't as realistic as some of the other games on our list.
Still, the driving mechanics are tight enough that it is possible for you to have a lot of fun as you slowly level up your skills. Mind you, the skill ceiling here is quite high. In online modes, chances are that you will have a lot of trouble trying to compete with some of the more experienced players.
It should come as no surprise due to the roots of the game that the visuals fail to compete with most AAA titles. But there are over 50 cars that can be customized visually to a large extent. As for the performance customization, players are limited to five modes.
Absolute Drift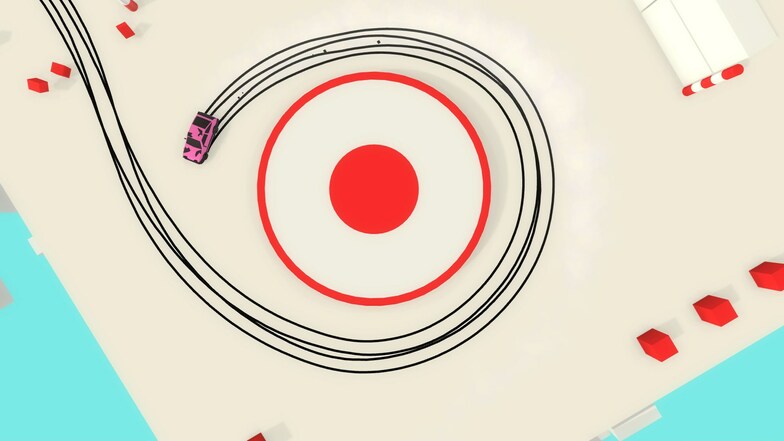 If all you care about is having fun while sliding a car around, Absolute Drift is the perfect game for you. Using a top-down view, the game is all about perfecting the art of drifting in various locations.
Don't let the cartoonish art style and the top-down view fool you into thinking that this is an easy game, though. Some of the levels are extremely hard to complete, and you will probably be frustrated to no end as you try again and again to clear them.
Another thing that must be said about the game is that the music pairs perfectly with the nature of the driving. The only thing is that you will probably hear a lot of repetition before you are done with all of the levels, which can be a bit annoying. Also, keep in mind that this is a single-player-only experience.
Hot Wheels Unleashed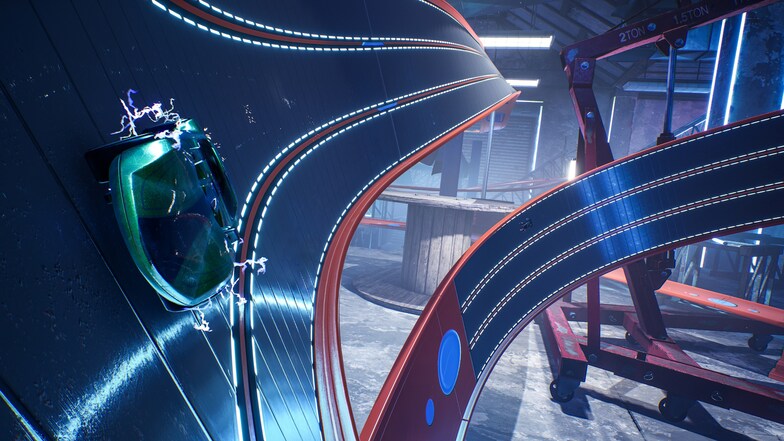 The next game on our list of the best Xbox drifting games is Hot Wheels Unleashed. Anyone who has played a Hot Wheels game in their life will know what to expect from Unleashed. You drive around wickedly strange and exciting tracks and try to do as many stunts as you can.
A lot of people have often thought of Hot Wheels as Trackmania lite, and they would have been right until about now. Unleashed is no longer a game that focuses on kids, as some of the levels are quite difficult to complete and require an absolute mastery of the car.
One of the things that every single player will need to master in Unleashed is drifting. While the drifting mechanics are obviously not realistic, they are quite fun and have a high skill-ceiling.
Considering how tight some of the bends are, it is virtually impossible to not drift if you want to hit a perfect lap time or win a race against someone who is good at the game. Lastly, remember that while the online races are not as competitive as CarX Drift, they can still be a great source of fun with a lot of capable drivers.
Assetto Corsa
If you are looking for the most realistic depiction of drifting on the Xbox, Assetto Corsa is it. The game is considered to be one of the most realistic driving simulators overall, and the freedom that you get when it comes to tweaking the cars is on the same level as Forza Horizon 5.
Since Assetto Corsa tries to be as realistic as possible, we understand that it can only appeal to a niche audience. This is why we didn't include it on our list of the most underrated Xbox games. However, those who want to experience what actual drifting is like or even want to practice for an actual drift event can make good use of this game.
The only problem here is that in order to properly experience what the game has to offer, you will need a racing wheel. And if you cheap out on one, that will basically be like playing the game with a controller anyway. As such, you should be prepared to invest a bit if you want to play the game correctly.
There is a lot of additional content like cars and tracks that can be purchased for Assetto Corsa for a small fee. While the PC version also has a gigantic modding community, this is something that the Xbox players can unfortunately not enjoy.
Need for Speed Heat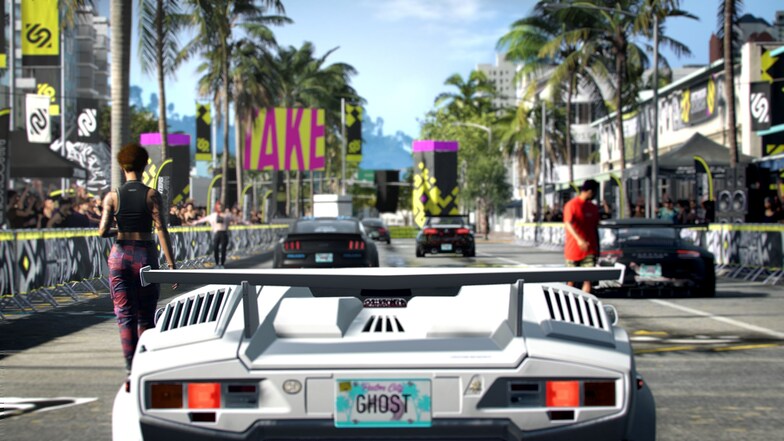 It is true that Need for Speed has struggled for its identity ever since the days of Carbon came to an end. We can't say that Heat is the answer that fans of the franchise have been looking for, but what we can say is that the game is ideal for fans of arcade drifting.
NFS Heat is the last game on our list of the best drifting games for Xbox Series X / S. The game tries to follow the traditional formula of racers vs. police where you have to climb the racing ladder while avoiding arrest.
We won't really delve into the story too much, as some people seem to like it and others seem to hate it. However, drifting in the game truly is one of the smoothest experiences out there. There are a total of 35 drift zones where you will be trying to hit the high score on various surfaces.
Some challenges are easy to complete, while others will require you to literally master drifting in the game and maybe even change the setup of your car. Overall, this is the perfect title for someone who wants an arcade racer that also has a small but significant drift component to it.