Although racing games are generally considered to be a genre of their own, there are many ways they can be classified amongst themselves. This includes simulators, open-wheelers, open-world, and off-road games.
Of all of them, off-road games generally tend to be the ones with the largest variety. It is very easy to find off-road games that are all about destruction and arcade fun. On the other hand, you have some of the most realistic driving games available when it comes to certain rally titles.
As such, it can be very difficult to decide which off-road games are better than the others. It can be quite difficult to compare an ATV game with a rally title and vice versa. However, we have done our best to come up with a comprehensive list that has a bit of everything.
Here is our list of the 19 best off-road games for Xbox Series X / S.
Forza Horizon 5
Forza Horizon 5 is a game that is basically going to be on any list that includes the word 'vehicle'. This is because there is no game out there that is as expansive in terms of scope (except maybe GTA V) and makes use of cars.
Forza Horizon 5 follows the same concept as the previous four games in the series. There is a vast open world for you to explore, and there are many kinds of races to take part in, vehicles to collect, and customizations to make. Forza Horizon 5 made our list of the best open-world games for Xbox.
As you can tell by the title, there are a huge number of off-road vehicles and tracks where the races can take place. Just like Dirt Rally, there are numerous assists that can be turned on and off to tweak the difficulty and the realism of the game.
Dirt Rally 2.0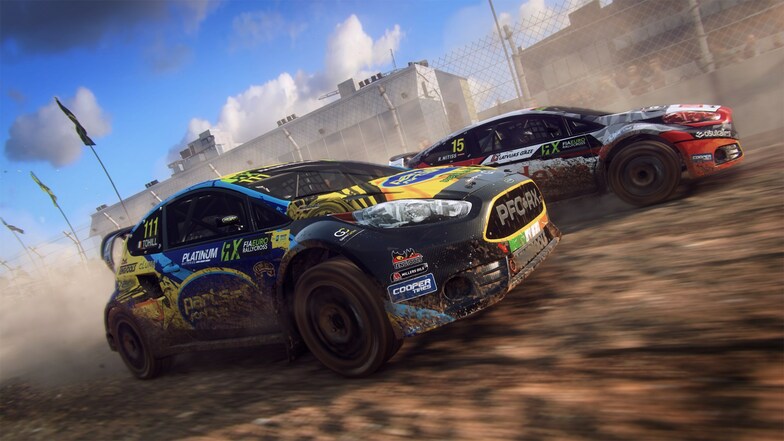 Dirt Rally 2 was released quite a bit later in 2019 than the first game, which means that it does enjoy better visuals.
However, we have to give it to the original Dirt Rally when it comes to gameplay. The problem is something that we have seen quite commonly with games. Developers try to make the game more accessible in order to tap a larger audience, but end up alienating their core audience in the process.
Despite that, there is a lot to like here if you end up enjoying the original game. The best part is that Dirt Rally 2.0 has a slightly larger player base, so finding online games should not be as hard.
When it comes to content, both of the games are pretty similar. As such, the decision should be made based on whether you prefer gameplay or graphics and online capabilities. Just remember that Dirt Rally 2.0 is actually not a bad game when it comes to gameplay, as it made our list of the best racing games for Xbox.
DAKAR 18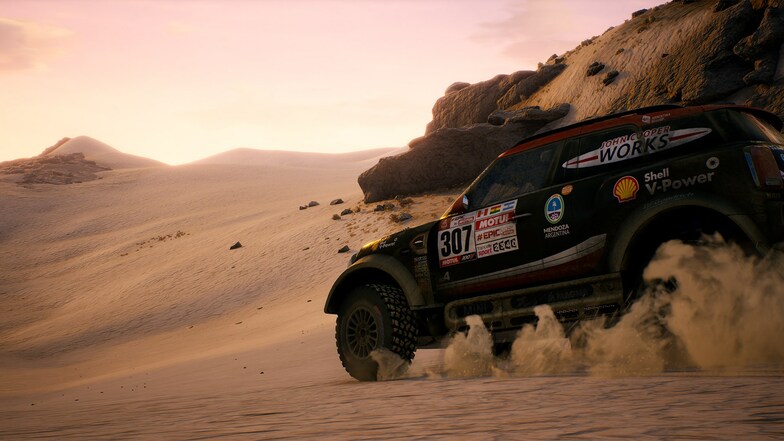 DAKAR 18 truly is one of the most underrated off-road games currently available on the Xbox. The low popularity of the game has unfortunately meant that the game has not received a sequel since 2018, but the game itself is quite solid.
The DAKAR rally takes place every year in Africa and is known for being one of the most extreme rallies out there, The game tries its best to capture its spirit while also allowing for realistic driving mechanics.
Apart from its physics system, the best part about the game is the weather. You will need to read the weather simulations and take them into account if you are to get through the rally in the shortest time possible.
Unfortunately, DAKAR 18 is another one of those games where online play is not possible. This is due to there being no players online. However, local multiplayer is still possible.
SnowRunner
We have had multiple games set on driving in the dirt. The next game on our list of the best Xbox off-road games is SnowRunner.
This is not a racing game. Instead, your focus is on conquering the environment. You get to control over 40 powerful vehicles, and it is your job to get them through some of the harshest terrains on this earth. Some of the additional content is also unlocked with your purchase, so it will be a while before you get bored of SnowRunner.
While the vehicles themselves are not completely realistic, Snowrunner does have one of the best terrain physics and simulation of any other game.
As there is no racing, there is no multiplayer mode. However, co-op is possible for up to four other players, so this is a great game to play with friends if you want to complete extremely difficult challenges together.
Burnout Paradise Remastered
Burnout games were extremely popular back in the days of the PS2 and the Xbox 360. In 2018, EA decided to remaster perhaps the most iconic Burnout title out there: Paradise.
The game does a great job of staying true to its core. The biggest changes made have been in the visual department. Although we won't go so far as to say that the game looks great. However, it does look modern enough that the graphics should not stand in the way of you enjoying the game.
Although most of the game takes place on the road, there are quite a few dirt tracks and areas that you can explore. What's more, it is possible to explore the city and race with friends due to the online multiplayer.
Burnout Paradise Remastered also has all of the additional content that was released as a DLC for the game. This means that it should be a while before you are done playing everything that the game has to offer.
Riders Republic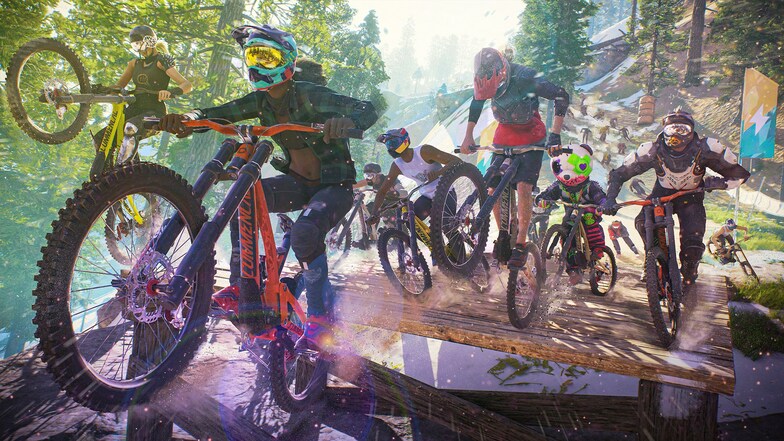 Riders Republic is quite a bit like Burnout Paradise. It is possible to crash into anything you want, and the outcome of the race depends as much on sabotaging your opponents as it does around driving as fast as you can.
There are two major differences in the games. The first is that Riders Republic is a game exclusively based on bikes, skis, and other extreme sporting equipment. The second is that the terrain is almost completely made up of dirt and obstacles.
The most interesting feature of the game is its MMO nature. There can be up to 50 players on a map. You can race, or you can just go about doing anything else. At its core, Riders Republic rewards being as extreme as you can. Realism is thrown out the window in favor of showboating and doing tricks.
WRC 10 FIA World Rally Championship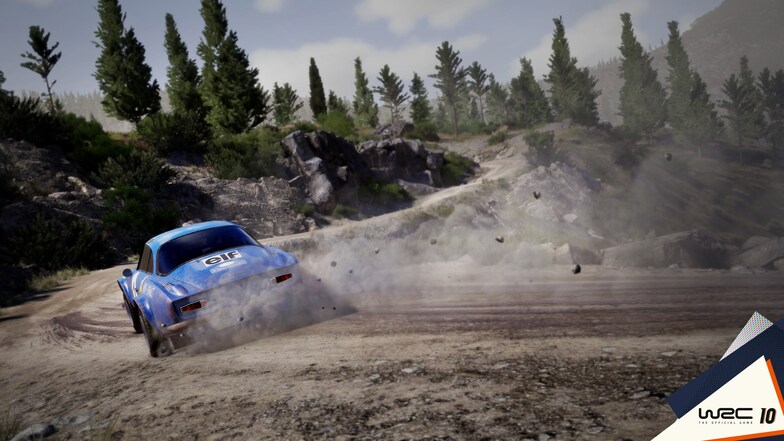 WRC has always been in a weird place. Even though we are talking about the tenth iteration of the game, there haven't been many games in the series that have enjoyed stellar reputations. At best, the developers manage to do an above-average job.
However, WRC is also the only option that fans of the World Rally Championship have if they want to play licensed content from their favorite championship. As such, the games manage to do reasonably well and have a fairly large player base.
WRC does a good job of adding elements that make the game appear more realistic. Everything from a brand new physics engine to tweaks on the handling model makes it seem like you are driving on the edge. While we won't say that this is as good as Dirt Rally, it is still a great option if you want to race on your favorite tracks from the WRC calendar.
MX vs. ATV All Out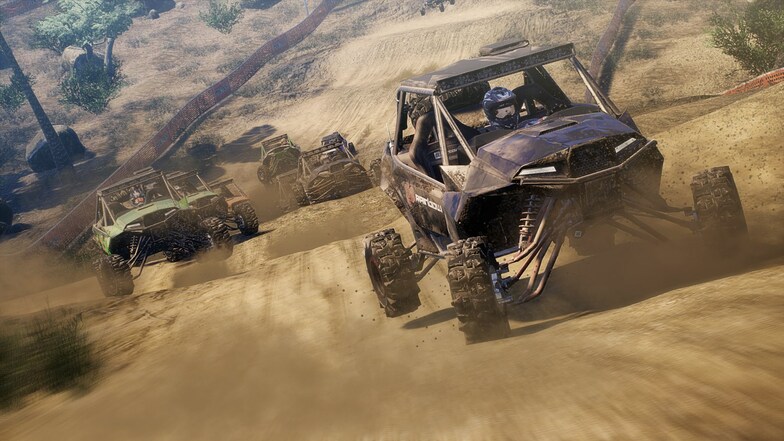 There were numerous games that we could have included on this list. These games include the individual series of MX and ATV. However, we have decided to go with All Out because it is recent enough to have good graphics but also has decent gameplay at the same time.
In the game, you have a lot of choices when it comes to vehicles. All Out features ATVs, UTVs, and bikes. There is a split-screen multiplayer for up to two players and an online mode that allows for up to 16 players.
A large number of game modes allow for a lot of fun when it comes to multiplayer. However, the lack of a proper career mode does mean that the game gets boring quite quickly if you are playing alone.
One thing we especially like about All Out is the freestyle mode. All you need to do here is do tricks in various compounds and try to show off your skills as much as you can. The crazier the stunt, the greater the chance of you winning.
Mad Max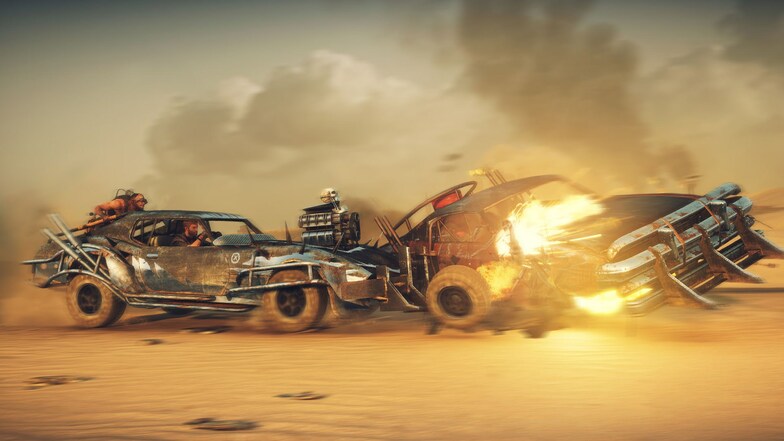 This is a list of the best off-road games for Xbox, but that does not have to mean that we only include games that are about racing and doing stunts.
Mad Max is equally about driving and about combat. It takes place in various deserts and extreme terrains around the Plains of Silence. The primary aim of the game is to survive by scavenging for various items and fighting off enemies.
In order to escape the world around him, Max needs to build the ultimate combat vehicle. This means that you will be slowly upgrading your ride and adding mods that increase both its speed and its lethality.
Most of the combat is vehicular, meaning that Mad Max is one of the most unique games out there. If you are looking for something that focuses on both the driving experience and on fighting enemy after enemy, Mad Max will scratch your itch.
The Crew 2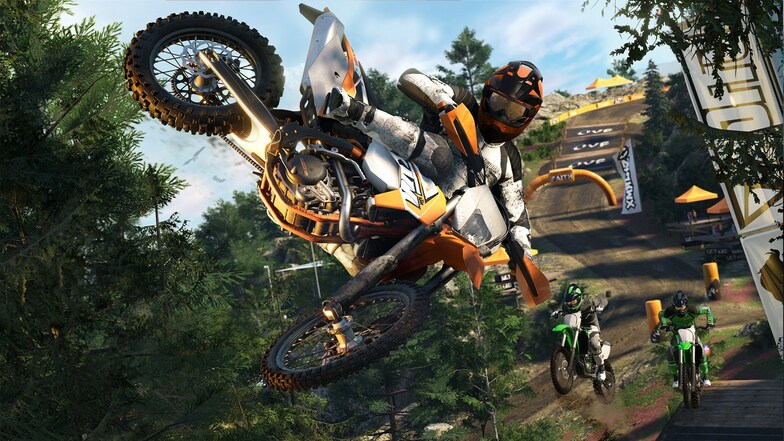 We have had a lot of games on our list that do not specifically focus on off-roading but have off-road gameplay mixed in with standard road racing. The Crew 2 is one such game.
Following in the footsteps of its predecessor, The Crew 2 tries to offer the most complete racing experience possible. This means that you can do everything from racing supercars on a mountain to driving monster trucks on dirt roads.
The best part is that due to the large community, it is very easy to find other players to race against. However, do remember that most players tend to race on a select few tracks, almost none of which involve off-roading.
What's more, The Crew 2 is fundamentally an arcade racer. This means that those who are looking for a game with realistic driving will not appreciate how the cars handle, especially on muddy roads.
Need for Speed Hot Pursuit Remastered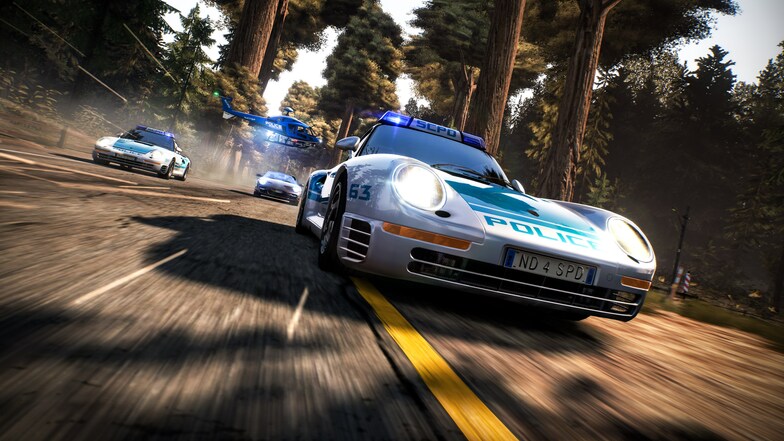 To be clear, this game is a remaster of the reboot of the original Need for Speed Hot Pursuit. If that is too confusing for you, just understand this: This is a great game to play.
As someone who played a lot of NFS when he was young, I have found the recent releases to be lacking in most respects. However, this is the one game that still allows you to get the classic feel of NFS games.
You can play either as a racer or as a cop. As a cop, you need to chase down racers and bust them. As a racer, you need to win the race while avoiding the police. Just like some of the earlier NFS titles, the police play an important but not too significant part in the races. This way, you get to experience the best of both worlds.
Of course, it has to be mentioned that most of the racing here is done on roads. However, there are a handful of off-road races. Not to mention that most of the shortcuts that exist in the races are built up of dirt tracks.
Forza Horizon 4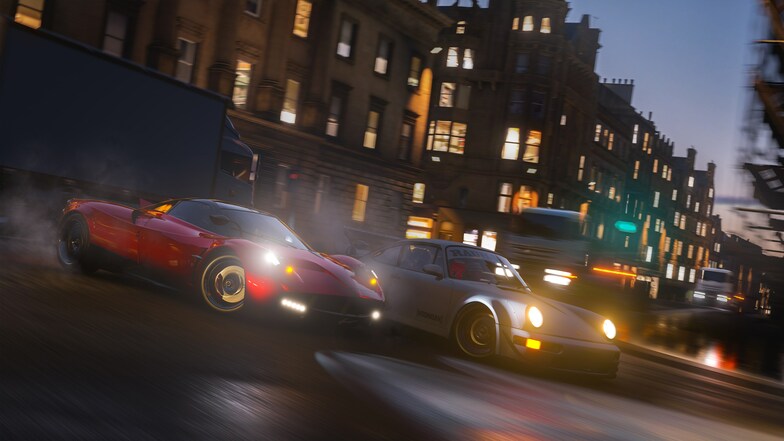 Unlike the Dirt Series which has positives and negatives between releases, Forza Horizon 5 eclipses its predecessor in pretty much every way. The gameplay is better, there is more content, and the graphics offer a very large improvement.
However, there is one reason to pick Forza Horizon 4 over 5: If you just want a good racer with both on and off-road racing options for a cheaper price.
Due to its age, Forza Horizon 4 is likely to go on sale much more frequently. This offers you the chance to scoop it up for a much lower price than you would have to pay for Forza Horizon 5.
FlatOut 4: Total Insanity
FlatOut 4: Total Insanity is a demolition derby game. If you know what that is, you already know what to expect. You race other people around a track, and the races are as much about destroying your opponent's vehicle as they are about reaching the finishing line.
There are numerous game modes, including a lot of unconventional ones such as deathmatch and capture the flag. The game has 20 tracks and 27 cars, which are enough for you to have a lot of fun in online games.
When it comes to local multiplayer, all you can do is compete against your friends in a series of stunts. This really is the ideal game for having a laugh in split-screen multiplayer, so it really is a travesty that they have not added that option.
Mudrunner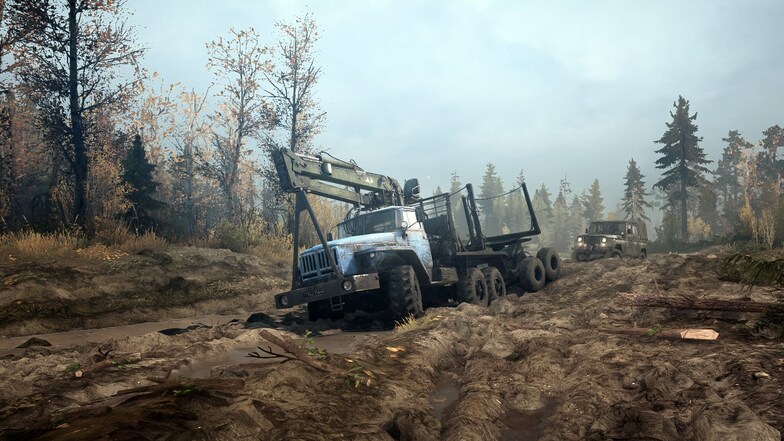 SnowRunner is mentioned a bit higher up in our list of the best off-road games for Xbox Series X & S. Mudrunner is exactly the same concept. The only difference is plainly obvious: Instead of driving in snow-based terrains, now you are driving in the thick of the mud.
Apart from having a new world, the other major change is the vehicles. They are now designed with traversing the mud in mind. As such, they have different characteristics and upgrades.
The fact is that despite their similar nature, the two games feel completely different due to the way the physics engine works. Those who like one of these games are bound to like the other because it presents an entirely new challenge.
That said, all of the supporting features are still the same. The UI feels eerily similar, and so does the way you customize your vehicles. Even the option to play a four-player co-op is present.
Wreckfest
We mentioned Flatout 4 just a couple of entries ago. Well, Wreckfest is exactly that, but with a damage model that is much more realistic. It was also on our list of the best action games for Xbox Series X & S.
As a game that was designed with vehicular destruction in mind, it is astounding how Wreckfest manages to simulate the impact and the damage of a crash so vividly. There are also various kinds of vehicles, all of which behave differently when crashing.
You can customize your vehicles to a great degree to protect yourself against crashes and impacts, and all of those customizations will have a meaningful impact when you collide with someone else.
With both single-player and multiplayer options, Wreckfest is a great game for any fan of demolition derbies to try out. The only thing we will say is that the overall racing experience is slightly better on Flatout 4.
Art of Rally
Art of Rally continues our list of the best off-road games for Xbox. It is a top-down rally racing game that has a very 'cutesy' art style, but serious gameplay to back it up.
While the gameplay mechanics are not realistic, they definitely do make it seem like you are driving on the edge. One mistake and your car could go off the track and into an obstacle.
There is no multiplayer of any kind, but there are over 70 stages that you can have a go at. The assists can be tweaked to make the experience easier or harder. There are also leaderboards for each level, so those who fancy a bit of competition at least have something to look forward to.
When it comes to rally cars, there are a lot of options here including the legendary but extremely dangerous Group B cars. Despite how it looks, this is a game designed with the rally enthusiast in mind. If you like any of the rally car racing games on our list, you should give Art of Rally a shot as well.
Lonely Mountains: Downhill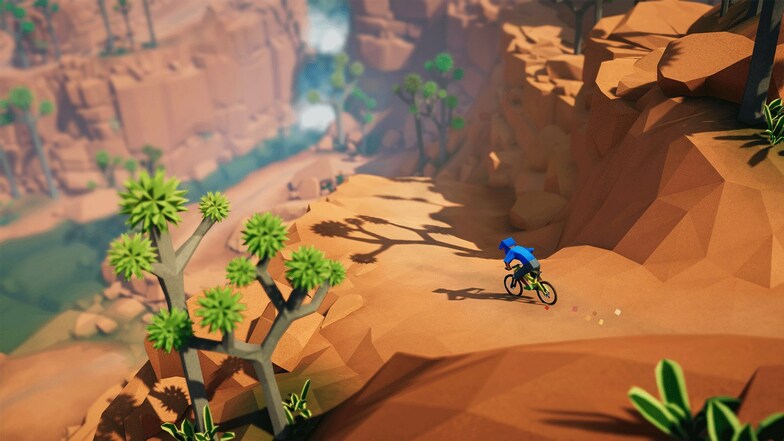 Lonely Mountains: Downhill is a game that is quite similar to art of rally in its art style. The concept is quite different though. The game is more about providing players with a peaceful environment where all you need to do is make your way down the hill.
The physics here are very well-designed, just like art of rally. There are multiple paths for you to take, with the off-road path providing a more challenging route while the main path providing a more peaceful environment.
There are multiple bikes to pick from, all of which are unique and offer a different playstyle. While there is no multiplayer, there are leaderboards and you can compete against your friends in the form of setting the fastest time.
WRC 9 FIA World Rally Championship
The last game on our list of the best Xbox Series X off-road games is WRC 9. Although WRC 10 is a much better game overall, the main reason we have WRC 9 on this list is because of its classic cars.
There are a total of 15 classic cars in the game. They can be driven around 100 special stages. All of them handle uniquely, although we will only classify WRC 9 as a simcade rather than a simulation.
The gameplay improvements made in WRC 10 do mean that if you have to pick one game from the two, you should go with the sequel. However, WRC 9 is still a good game for those who end up liking WRC 10 and want something similar to it.