Unfortunately, real-time strategy games have always been a staple of the PC. Whether it be due to the cumbersome control schemes or the lack of interest from a slightly casual-oriented player base, RTS has never been a genre that has enjoyed particular success on consoles.
However, a small number of games have always managed to filter in through the cracks. These games not only provide well-balanced gameplay but also manage to come up with innovative control schemes that allow console users to adequately and quickly control a large number of units.
Xbox is especially helped when it comes to RTS games because of its backward compatibility features. There are a lot of amazing RTS Xbox One games that are available to play on the Series X and S, with some of them even having been optimized for the newer generation of consoles.
Despite being small in number, the RTS games on Xbox also manage to encompass a variety of themes and settings. As such, our list of the best RTS games for Xbox Series X / S is actually quite diverse. If you are a fan of the RTS genre, you are bound to like at least a few of the following games.
Sudden Strike 4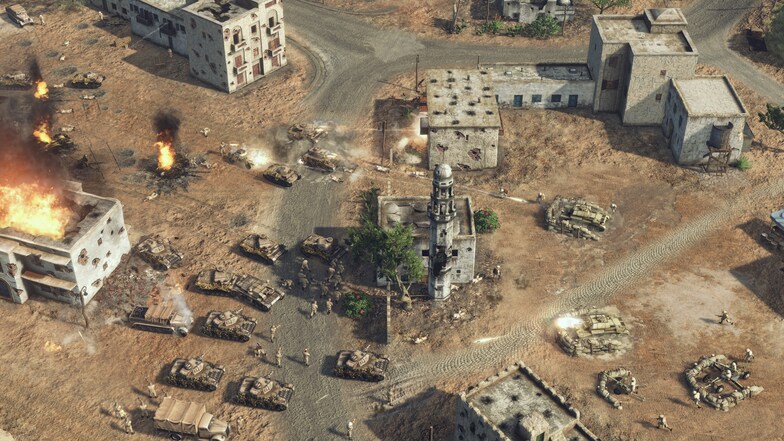 Sudden Strike 4 is the first game on our list. It is by far the closest you can come to a fully-fledged RTS experience, something similar to the one you would experience on a PC.
The game is set in World War 2, and there are numerous campaigns for you to play through. There is a complete edition available that has all of the DLCs that were released after the game. With the complete edition, you have access to 11 campaigns with 45 missions, something that is bound to keep you busy for a long time.
Once you are done with the single-player, you can move on to the multiplayer and take on other players in battles that involve up to eight people. Although RTS games tend to be multiplayer-focused, Sudden Strike 4 has one of the best single-player modes we have seen. It really is the complete package when it comes to military-based RTS games, which is why it was on our list of the best Xbox military and war games too.
Frostpunk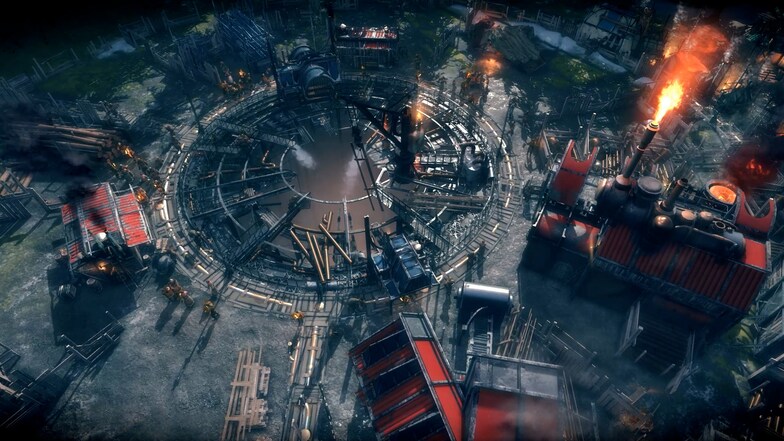 Frostpunk is another game that was originally designed with the PC in mind but has made its way onto consoles. Like most RTS games of this type, the console version is lacking when it comes to a few features. However, that was necessary in order to make sure the game could be played easily with a controller instead of a keyboard and mouse.
Frostpunk is an RTS game like no other. This is because unlike almost every other game in its genre, there is no combat in the game. Instead, you have to fight against human nature and the environment itself. Think of it as a survival RTS game rather than a combat one, and you will get a rough idea of what you are in for.
Just like Sudden Strike 4, Frostpunk also has a complete collection with additional DLCs. The DLCs are particularly interesting in Frostpunk's case, as they end up adding brand new gameplay mechanics. The only negative of the game is that it is only a single-player experience, and does not even have a co-op mode.
Bad North
Bad North is an RTS roguelite. Since the game is designed with consoles in mind, it has one of the best and most intuitive control schemes of all the games on this list.
You get to control an island kingdom, with you having to make sure that not only are all your subjects adequately provisioned but also that you have protections in place against an invasion. Throughout the game, you will have to fend off Viking hordes.
Since every single game has a world that is procedurally generated, each game is completely different from the last one. The terrain plays a key role in your survival as you have to make sure that you can use it to its fullest advantage. There isn't something for you to attack here, with the chief aim of your island being to survive in the hope of peace.
Just like Frostpunk, Bad North is also a single-player experience. However, the procedurally generated worlds do provide a lot of replayability.
Halo Wars 2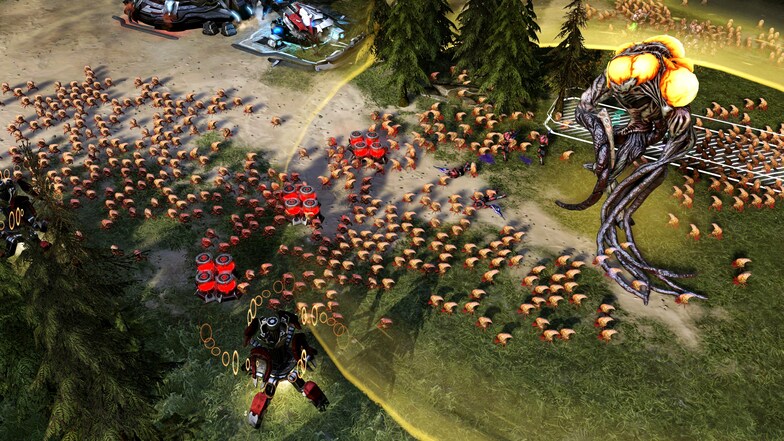 Almost all of the Halo games have been liked by at least a small percentage of the franchise's fanbase. The Halo Wars series attempted to present the Halo universe in a completely different manner, with you being the commander rather than a soldier. While the first game did not manage to get everything right, Halo Wars 2 is definitely a game that is worth playing.
The game follows the events of Halo 5, and there is a lot of single-player content for you to play through. Even if you haven't played any previous Halo games, the story does a good job of explaining why things are happening the way they are. There is also the option of a co-op mode where you can play with one other player.
Once you are done with the campaign, you can engage in multiplayer battles with up to five other players. Halo Wars 2 also has a complete edition that packages all the DLCs that were released with the game into one product. The edition includes additional campaign missions and heroes that can be used in multiplayer.
Evil Genius 2: World Domination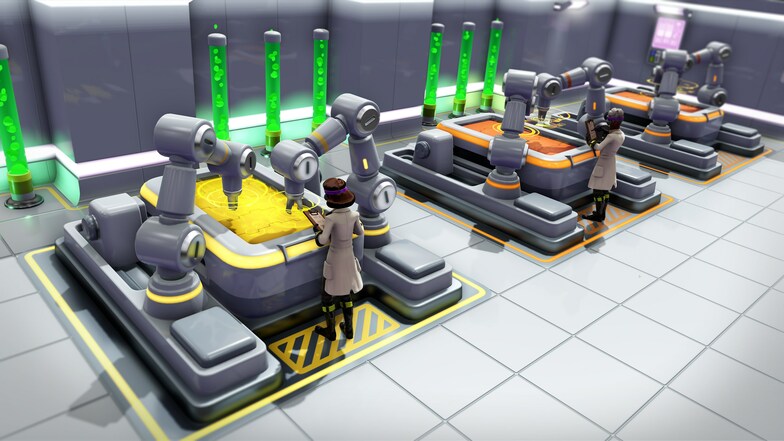 Evil Genius 2 pits you in a bid to dominate the world. You are a genius who only has evil intentions in mind, and you will be taking on the forces of justice as you slowly try to enslave the world. You will be responsible for building your island lair, training minions to fight for you, and slowly coming up with evil plots to take over the world.
This is perhaps the only game on our list of the best Xbox RTS games that does not take itself too seriously. There is an aspect of dark humor in the game, and you will find yourself laughing at the game's absurdity at many points during the campaign. Unfortunately, Evil Genius 2 also does not have a multiplayer or co-op mode.
Iron Harvest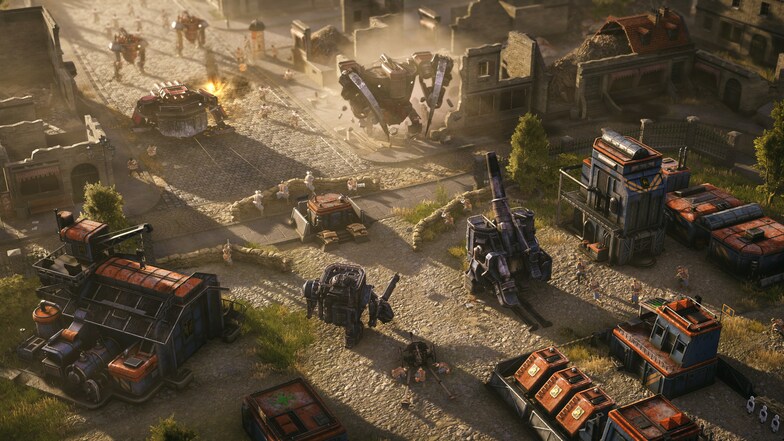 Until now, our list has not had any games that are based on warfare before the World War II era. Iron Harvest is set in the 1920s, although it is set in an alternate reality that combines some of the machinery from our world with science fiction concepts of that time.
Whether you are controlling an army of soldiers or a mech, Iron Harvest will make you feel like you are right in the middle of the 1920s. The campaign can be played in co-op mode with up to three other players. The multiplayer supports six players, although finding matches can be a bit hard due to the dwindling player base.
Since the game has been optimized for the Series X, it is one of the best-looking games on this list. It is also available in a complete edition with additional campaigns and units.
Crusader Kings 3
Crusader Kings 3 plays a bit like Civilization games, but it has more RTS elements compared to the turn-based game that is loved by so many.
In Crusader Kings 3, you are not only responsible for the combat, but also for all diplomatic relations of your house. You get to pick a house at the beginning of the game and lead it through multiple generations. During this time, you forge alliances and break them at will, but your actions will have direct consequences for years to come.
What we love about Crusader Kings 3 is that it allows the player to utilize whichever method they find best. If you want, you can constantly train your army and war your way through the game. Alternatively, you can focus on other aspects of ruling and slowly build your empire.
Stellaris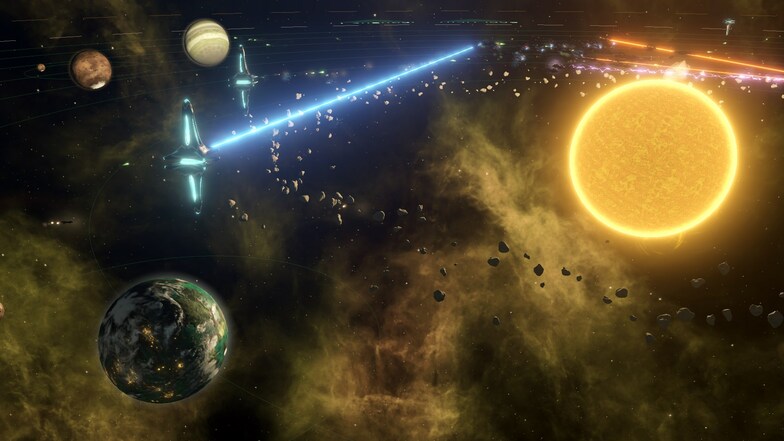 Stellaris is truly unique in both its scope and its setting. It is an RTS game that is set in space. With procedurally generated galaxies, no playthrough of the game is ever going to be the same. It also made our list of the best sci-fi games for Xbox Series X and S.
During your adventures, you meet a lot of alien forces. Some of them will be looking to establish trade partnerships with you, while others will be completely hostile. How you choose to react to each is completely up to you.
You are not only responsible for exploration and warfare, but also for managing the internal affairs of your population. You can only hold onto power if you keep dissent within your own population low, making Stellaris similar to Crusader Kings 3 in this regard.
You also have access to multiplayer where you can play against up to three other players. However, we found the single-player component to be a lot more worthwhile. The virtually endless replayability coupled with a high skill ceiling makes this a great choice for RTS fans who want to only play one game and master its mechanics.
The Colonists
The last game on our list of the best RTS games for Xbox Series X / S is The Colonists. This is more of a city-builder where you can take things at your own pace.
You get to control a race of robots, and it is up to you to assign roles, build the city, and advance the technology. There are a total of three ages for you to lead the robots through, each with its own challenges.
Unfortunately, The Colonists does not have a lot of replayability. With only a single-player mode, a single playthrough of the game basically does not leave anything else for you to experience. Still, the game is not bad for its price, and its relaxing pace and environment provide a welcome change from other games on this list.