Games, just like many other forms of art, represent the imagination of their writers. Sci-fi elements have been present in various forms of art for as long as art has existed. In the last few centuries, sci-fi elements have mostly come to revolve around space. However, that is not all that sci-fi is about, as fans of the genre will be quick to point out.
Sci-fi stands for science fiction, which means that these games tend to borrow a select few elements from current scientific facts and expand upon them to imagine how the world could be either in the future or in an alternate reality.
As such, there are tons of sci-fi games that are available on the Xbox. Not all of them are good (obviously), but many of them manage to provide an experience that is not only engaging but also thought-provoking.
With so many games out there, it can be a bit difficult to pick the one that you are going to enjoy the most. To aid you in this, we have gone ahead and listed the 32 best sci-fi games for Xbox Series X / S.
Titanfall 2
We begin with a game that is often overlooked on consoles. Despite its popularity on PC, Titanfall 2 has simply never taken off the same way on consoles. That is a shame, as it is truly a great game. That is why it made our list of the most underrated games on Xbox.
Titanfall is a game based on warfare, with you taking control of a titan and fighting other titans. There is a single-player campaign that does a good job of acquainting you with all the game's mechanics. The gameplay also makes the campaign worth playing, although the story leaves something to be desired.
The multiplayer is where the game truly comes into its own. All of the features of your titan allow you to adopt various different playstyles, and the large-scale battles allow for Battlefield-like mayhem. With a lot of customization options at your disposal, you can basically play this game for as long as you like without getting bored.
The Outer Worlds
The Outer Worlds is a sci-fi RPG that has you explore the edges of space. The factions out there are battling each other for power, and it is up to you to come up with a solution that would save the world.
This is a single-player-only game, meaning that the game focuses on its story and character progression a lot more than most other games on this list. That shows in the game, as the story is quite fun to play through and there are endless options available for you for customizing your character. Your character will even pick up flaws based on your in-game experiences, leading to different outcomes in alternate playthroughs.
With a lot of exploration and fighting for you to do, The Outer Worlds is one of the best single-player sci-fi games for the Xbox.
Star Wars Jedi: Fallen Order
There have been Star Wars games that are been loved and Star Wars games that have been hated. Fallen Order falls somewhere on the positive side, being praised for both its story and its gameplay.
It should be obvious that this is a game that is best enjoyed by fans of the Star Wars series. However, the game itself is also a coherent product. There is a vast galaxy for you to explore, and there are a lot of fights using weapons found throughout the Star Wars universe.
The story of the game is brand new, meaning that you will find something completely new that is based on some of the characters in the films. A lot of combat that feels like you are right inside the film, with lightsabers clashing against each other and cutting through your enemies. Once you factor in the fact that the game has been enhanced for the Series X and looks gorgeous, this is a Star Wars game that you have to try.
Chorus
Chorus was also a part of our list of the best space games for Xbox. Once you play the game, you realize just how good it is. You get to take control of Nara, who is being threatened by a dark cult. Your job is not only to ensure that you survive but to take out the cult that is out to get you.
The main aspect of Chorus that separates it from the rest of the space combat games is the combat. Not only do you get to wield a lot of different weapons in the game, but you have access to mind-bending abilities that can be used to take out enemies creatively.
Apart from combat, exploration also plays a huge part in Chorus. You get to explore a galaxy you have never been to before. Here, you will have to unite various forces against the cult and their leader, known only as The Great Prophet. While there isn't any multiplayer combat for you to explore, the story and combat mechanics make the game worth a purchase.
Gears 5
Gears 5 is one of the most well-known games made for the Xbox Series X. Not only that, but it has been optimized to run on both the Series X and the Series X perfectly, opting for better graphics on the X and smoother gameplay on the S.
Having both an amazing multiplayer and an amazing story, Gears 5 is the first game in the series that makes use of an open-world approach. This allows for a lot of exploration and side content that can be accessed once the main story is complete. This is why we included Gears 5 on our list of the best single-player campaign games for Xbox.
Gears 5 is still a cover-based shooter, but new mechanics have been added to make sure that the fighting is more streamlined. With Gears 5, you feel more in control over your character than in any other game in the series. Players that did not like the last couple of entries in the series will find Gears 5 to be the game that gets them back into the Gears of War universe.
No Man's Sky
It was hard for us to imagine when No Man's Sky came out that it would be on so many of our "best game" lists. However, No Man's Sky is now a regular entry, and it also makes the list of the best sci-fi games for Xbox Series X and S.
No Man's Sky is the perfect space sandbox. You can do whatever you wish from exploring, mining, fighting, and building. If you want, No Man's Sky can be the perfect game for you and your friends to play together. Otherwise, you can go through it solo.
The scope of the game is now as big as the developers had originally promised. With various galaxies to explore and creatures to hunt, the game basically has endless replayability. Oh, and new content is still periodically added to the game.
The Artful Escape
The Artful Escape is not really a sci-fi game in its truest nature. However, it is so far out beyond the ordinary world that not including it on this list would be a crime.
In the Artful Escape, you play the role of Francis Vendetti. Francis is a young musician struggling to get out of his uncle's shadow. As such, you will embark on a trip full of psychedelics and music to discover your own identity and music.
With one of the most awe-inspiring art styles you can imagine, The Artful Escape is a game unlike anything else you can imagine.
Necromunda: Hired Gun
If you are a fan of shooter games but do not want to trudge about in space ships shooting other ships, Necromunda: Hired Gun is for you. In the game, you play the role of a contract killer. It is up to you to select which contracts you want to take on, and how you wish to execute them.
You have a huge arsenal of weapons at your disposal, and your body can be upgraded throughout the game. If you are a fan of Warhammer 40,000's universe, then you will find Hired Gun to be a true representation of Hive City.
When it comes to combat, Necromunda almost seems as fast-paced as the earlier Quake games. Although the game can only be played in single-player mode, you will need lightning-fast reactions to get through some of the contracts. As such, while the game may not be for everyone, it will be great fun for those who like full-blown action.
DOOM
When it comes to full-blown action, Hired Gun is not the only game on this list that will be right for you. The DOOM series was one of the most popular on Earth, and the 2016 return was met with as much fanfare as some of the earlier games.
There isn't a lot of story, or a lot of anything else apart from one thing: Killing stuff. You embark upon a journey as the DOOM guy. Your mission? To kill everyone and everything in your path until you get to the end.
This title, however is the classic or vanilla version of the game. It is definitely a timeless classic.
Cyberpunk 2077
Cyberpunk has always enjoyed a niche but an important spot in the world of science fiction. Cyberpunk 2077 attempted to bring that world alive in the most detailed manner yet, and it is safe to say that it has succeeded, somewhat.
To be very clear, there are a lot of areas where the game is lacking. The story seems like a jumbled mess, and there are still a few bugs here and there (despite all the attempts to remove them).
At the same time, Cyberpunk 2077 is almost unmatched in its scale. It is difficult to determine whether the game is more like GTA or The Witcher, but we can confirm that it is worth it for any sci-fi fan to give it a shot.
Surviving Mars
Let's move on to a different kind of game on our list of the best sci-fi games for Xbox. Surviving Mars is a city builder that has you build and manage a colony on Mars.
In the game, you are responsible for everything. You not only need to make sure that the residents are happy, but you also need to expand the colony and prevent any threats from destroying it.
There are a lot of different paths you can take, and chances are that each playthrough of the game will be different. While the game is not as detailed as some of the other city builders, it is the only game in its genre that leans this heavily to the sci-fi side.
Beyond a Steel Sky
The next game on our list of the best Xbox sci-fi games is Beyond a Steel Sky. The game is set in a post-apocalyptic world where a few mega-cities and small dwellings remain. You play the role of Robert Foster, and it is your job to bring back a child who has been abducted from your city.
In order to bring the child back, you need to head to one of the largest cities currently standing and investigate. There is a very dystopian feel to the game, with all of the things in the city being kept under intense watch. As such, you will need to be very careful in what you choose to do, and avoid being seen if you are doing something that may be regarded as suspicious.
Beyond a Steel Sky is a game that makes you think and strategize before you take action. Some of the moments really have you gripping the edge of your seat, and that is what makes the game worth playing.
Halo: Master Chief Collection
There are newer Halo games, many of which are amazing in their own right. However, we find ourselves reverting to the Master Chief Collection in a lot of our lists. For example, it made the list of the best action games for Xbox.
The collection features some of the earlier Halo games and is ideal for players that are too young or simply haven't had an Xbox for long enough to play those games. While many of those games have been remastered or the visuals have been updated, they still look a little outdated. Still, they have the classic Halo gameplay which we doubt will ever get old.
Kerbal Space Program
Kerbal Space Program is an indie game that does a great job of focusing on the right things. You get to be in charge of the space program of a race known as the Kerbals. You begin with barebones equipment and are tasked with expanding the space program to learn about the universe.
Eventually, you will be able to set up bases on other plants to learn about them and improve life for the Kerbals back home. This is the main career mode of the game, but there are also others. There is a sandbox mode where you are basically free to do anything. There is also a science mode where you can perform various experiments to advance the Kerbal race.
Call of Duty: Black Ops III
If you have played any of the earlier Call of Duty games, you will be a bit amused by the fact that we now have an entry in the series that can be considered science fiction. But the Black Ops series by Treyarch has always been a bit out there, experimenting with both scientific and psychological concepts.
With a story that is almost impossible to grasp, there are multiple endings for you to explore. The game is set in 2065, and the developers have used that as an excuse to introduce all sorts of new weapons and technology. The campaign can be played alone or in co-op mode with up to three other players.
Of course, this game also has the famous (or infamous) Zombies mode, along with the classic multiplayer that we have come to expect from Call of Duty.
Alien: Isolation
Alien: Isolation was released back in 2014, but we have not seen many games that manage to capture what the survival horror genre is about so well. In fact, we will say that this is the best horror sci-fi game for Xbox Series X and S.
Despite its outdated visuals, Alien: Isolation provides a terrifying experience where you must avoid the alien until you are in a place to deal damage. Not only does your survival depend on it, but so does the survival of the entire human race.
Throughout the game, you will have to manage the population and deal with the Alien. This two-pronged approach makes for a very intriguing story, and all the scary moments in the game keep you terrified right until the end.
Stellaris
If you are looking for a sci-fi-based strategy game, Stellaris will whet your appetite. With procedurally generated galaxies and a plethora of alien races for you to choose from, Stellaris makes for a game where each match is almost completely different from the last one.
There also have been a lot of games that are only good for solo play on this list, so including Stellaris was a no-brainer. You basically get to build an empire in space, managing not only the warfare side of things but also the resources and the expansion.
There are more than a few ways to win at Stellaris, with combat only being one of them. It is up to you whether you want to engage in battle or diplomacy to conquer the galaxy, and this makes for long but extremely enjoyable multiplayer battles.
The Surge 2
Even though those who religiously play the series often prefer the original Surge over the second one, we found The Surge 2 to be slightly better of the two, owing mainly to the amazing visual fidelity that the game provides despite not being optimized for the Series X.
At its core, The Surge 2 is an action RPG that places you in and around the fictional Jericho city. After your plane is shot down, you wake up in a prison and have to fight your way out to get to your destination.
On your way there, you will engage in melee combat, loot body parts of your enemies, and slowly develop your character. The original Surge may have had a better storyline, but The Surge 2 has endless customizability and character progression, making it the better of the two games in our opinion.
Destiny 2
Destiny 2 is an MMO RPG that is perhaps one of the most demanding games out there. This is because the game requires you to grind endless hours to upgrade your character and get your hands on rare items and gear.
Despite that, there are a lot of players who are still grinding Destiny 2 years after its release. The thrill of unlocking an item that none of your friends have is too great to resist, and the tight combat mechanics make the entire experience feel not even a little bit monotonous.
Destiny 2 has been enhanced for the Xbox Series X, allowing you to enjoy its large and rich world in incredible detail.
The Turing Test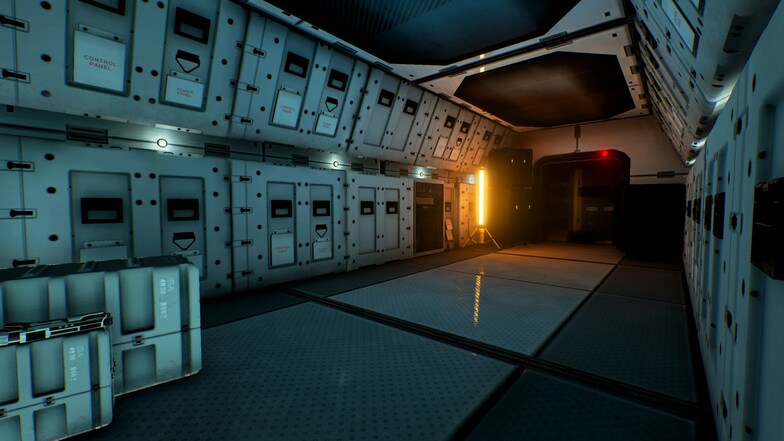 The Turing Test is a puzzle game that requires you to not only solve the problems presented but also to think about what it means to be a conscious human being.
The tests in the game are designed in a way that a machine could not solve, no matter how intelligent the machine was. Each subsequent puzzle not only increases in difficulty but also makes you further interested in just how far machines and AI could take us.
There are very few games out there, even in the sci-fi genre, that can invoke similar emotions as The Turing Test can. Unless you are someone who just wants to experience all-out action when gaming, we would recommend giving The Turing Test a try.
Foreclosed
We have already had one Cyberpunk game on this list, but why not have another that has an entirely different take on the aesthetic? Foreclosed is a game that takes you on an adventure in a world that is completely unique from any other.
While Cyberpunk 2077 does a good job of portraying what Cyberpunk is all about, Foreclosed takes a different approach, with the art style of the game looking more like a comic book than the real world.
Staying true to its aesthetic, the game plays more like a graphic novel. The story is the main focus of the game, and it is the journey of a man trying to discover his identity. Considering how complex the story is, chances are that you will have to play through it multiple times to grasp it.
DOOM Eternal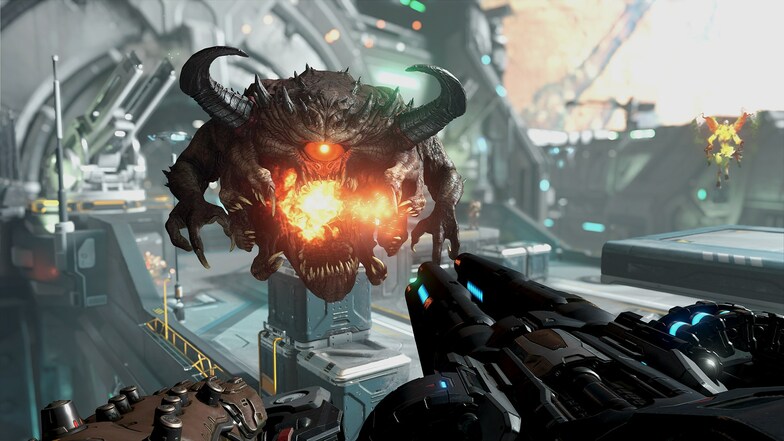 We said that there would be another DOOM game on our list, and it is the direct sequel to the 2016 reboot of the series. Once again, the main part of the game is the fighting and the gore. The story still takes a backseat, and the game does a good job of providing different kinds of enemies to make sure the single-player campaign does not become boring.
DOOM Eternal adds a couple of new mechanics, makes the graphics look a lot better (and a lot bloodier), and adds a brand new soundtrack that is just as thumping and just as appropriate as the one in the first game.
The multiplayer largely remains the same, but fans of the DOOM series just won't care. If you have played DOOM and liked it, it is almost guaranteed that you will like DOOM Eternal.
Chernobylite
The next game on our list of the best sci-fi games for Xbox is Chernobylite. The game is set in the Chernobyl Exclusion Zone, with you playing the role of a physicist who has returned to the area where you once worked.
You have returned to investigate the disappearance of your fiancee over 30 years ago, but what you will soon discover lurking in the zone will have you seeking answers to much bigger questions.
The game draws extensively from the S.T.A.K.L.E.R series, and you see a lot of elements of those games here. You even get to meet other Stalkers in the game, which can be quite nostalgic for players who have played the series.
However, there are a lot of other features that were not present in the S.T.A.L.K.E.R series, including base building. Chernobylite has a lot more survival elements, with combat taking a backseat.
Strike Suit Zero
If there could ever be a poster child for sci-fi games, Strike Suit Zero would be it. The game is set in the year 2299, and there is an interstellar war going on. Your job? To save the earth from whatever forces are attacking it.
You have a Strike Suit, which is a spacecraft that can transform into armor to protect you during fights. The story is extremely simple, and all you need to do is to play through the 13 long missions.
While the fighting mechanics are quite on point, we did find the game to get a bit boring after a few missions. Unfortunately, most of the missions are quite similar, so you may not like the game after a while. However, if you are looking for a straight-up space shooter, this is as close as you can get.
Rebel Galaxy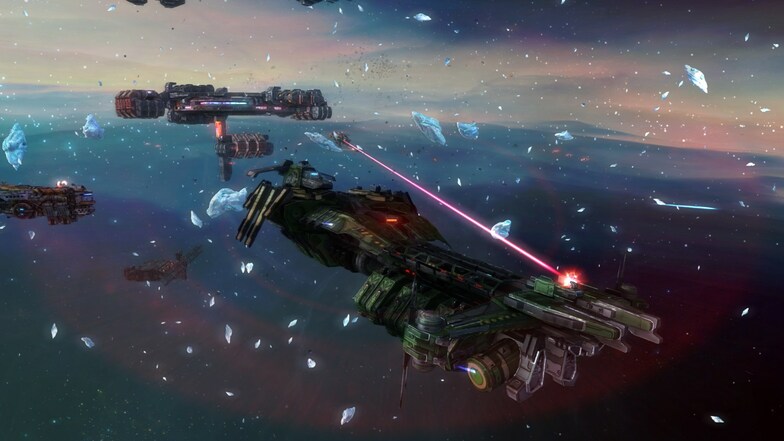 If Strike Suit Zero is the space shooter shown in the most basic form, then Rebel Galaxy is that but with more of a narrative and exploration elements built-in.
There is no real way Rebel Galaxy tries to stand out from the swathes of games that have a similar concept. However, it does a good job of executing everything properly. The story keeps you intrigued, the combat is mixed with exploration to never let it get boring, and there is a lot of negotiation and other elements mixed in to keep the game interesting.
If you are looking for a space exploration sci-fi game that does all the basics correctly, chances are that you will like Rebel Galaxy.
Prey
In Prey, you are someone who is being experimented with to discover the future of humanity in the year 2032. Living in a space station, numerous experiments are being performed on you. However, you run into a huge hiccup when the space station is invaded by Aliens.
Now, it is up to you to stop the aliens from taking over the space station and killing you. In fact, you are their main target, which leads you to look into your past and discover what exactly is it that makes you unique.
Prey is a single-player game from Bethesda Softworks but plays unlike any other game released by the studio. Unfortunately, it does look a little outdated as it has not been enhanced for the Series X. However, that is not something that should stand between you and a great game.
Overwatch 2
Overwatch is not a game that has been designed with the sci-fi community in mind. It is, of course, a competitive multiplayer shooter that is meant to be played by people who want to compete and win at all costs.
However, there are a lot of sci-fi elements in the game. While we understand that this is not what fans of the genre may be looking for, Overwatch is still a great game with well-balanced heroes.
When it comes to the skill ceiling, Overwatch has one of the highest of all the games currently available on the Xbox. While the game is easy to pick up, there really is no limit to how good you can become at it.
Warframe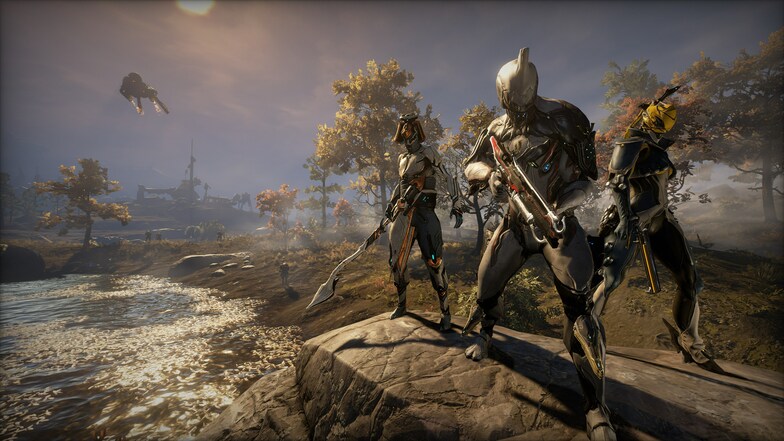 Warframe is a game that has been around for a long time. It is basically a first-person shooter where you control a Warframe and try to fight and win against other Warframes.
Despite its online nature, there is an element of story to the game. As you play through it, you can level up your Warframe, get better weapons, and engage in thrilling open-world combat. The concept is actually quite basic, and chances are that you will struggle at the beginning as you come up against players much better than you.
However, it is important to remember that the game is completely free. While there are micro-transactions and even a certain amount of pay-to-win elements, Warframe is a great sci-fi shooter if you are not looking to spend any money.
MechWarrior 5: Mercenaries
MechWarrior 5 is the next game on our list of the best sci-fi games for Xbox. MechWarrior is set in the year 3015 when humans have colonized large portions of space. However, humans will behave as humans do, and there are a lot of factions vying for control of the known universe.
Amidst it all, you are a mercenary who is ready to take advantage of this scenario. You get to control your mech and take out enemies that you have been tasked to do. Once again, this is a very common story in sci-fi games and films, but the execution and the combat make MechWarrior 5 a game that many will enjoy.
Lastly, although there is no multiplayer, you can play the campaign in co-op mode with up to three other players.
Ghostrunner
Ghostrunner is the third Cyberpunk game on our list. Just like the previous two entries, it has a completely unique approach to the Cyberpunk concept.
Humanity now lives in a single giant tower known as the Dharma Tower. After you have been wronged by the keymaster, you now need to make your way from the bottom of the tower to the very top and exact your revenge.
Ghostrunner is played in the first-person perspective and primarily features melee combat. The combat truly is what makes the game special, with you exercising your mobility to slash through enemies and execute one-hit kills. You will at the same time need to dodge your enemy's bullets and avoid getting hit as you slowly work your way to the top.
Star Wars: Squadrons
If you are looking for a space combat game but are also a huge fan of the Star Wars series, Squadrons will give you what you need. You play the role of a pilot, and the story unfolds right after The Return of the Jedi ends.
Featuring some of the most renowned starfighters from the series, you can play through the story alone or in co-op mode. Once you are done, you can then move to multiplayer mode where you and your squadron can engage in 5v5 battles.
Squadrons does a very good job of creating a completely unique Star Wars experience. Even if you are not a huge fan of the franchise, you will still find a lot to love on the multiplayer side of things.
Fallout 4
We end our list of the best sci-fi games for Xbox Series X / S with a classic of the genre. The Fallout series has always had very dedicated fans (at least it did until Fallout 76), and Fallout 4 is considered to be the best game in the series by many.
Set in a world where nuclear wars have ravaged everything, Fallout 4 is a survival shooter with surprising depth. Despite having been released in 2015, the game still looks quite modern. It even manages to look better than some of the AAA games that came out over 5 years after its release.
In Fallout 4, it is up to you to rebuild the wasteland left about by nuclear war. How you choose to do that is entirely up to you. If you want, you can rush through the story in the quickest way possible. On the other hand, you can take your time to explore the derelict landscape and discover all of its secrets.