Combat games are one of the most common kinds of games that you can purchase.
Of course, 'combat games' is a ridiculously broad term. The combat could happen through guns, fists, robots, or a plethora of other ways.
One of the ways in which the combat could happen would be through swords, daggers, knives, and other melee weapons. This specific genre of combat is known as 'hack and slash' and has been responsible for some of the greatest games ever released.
People that prefer to play hack and slash games do so because of how fast-paced they tend to be.
Not only will you need to have on-point reflexes, but you will also need to keep up with everything that is going around you as you will almost surely face multiple enemies at some point.
Here, we have listed the 26 best hack and slash games for Xbox Series X / S.
Devil May Cry 5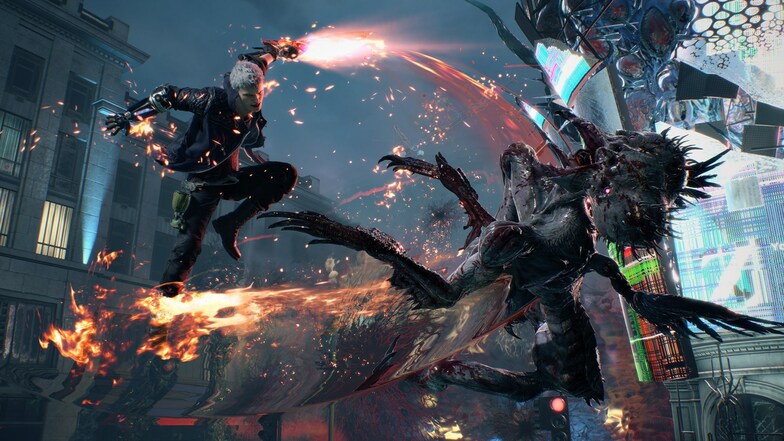 For those that have played hack and slash games on the Xbox before and are experienced with the genre, it should come as no surprise that we begin our list with Devil May Cry 5.
Devil May Cry 5 is generally considered to be the holy grail of hack and slash games. While the series has always enjoyed good combat, the fifth iteration truly takes things up a notch. The combat is now more optimized than ever, and you get to make use of all the new mechanics that come with the game. This is why DMC 5 was also on our list of the best action games for Xbox Series X and S.
The other area where Devil May Cry 5 is mightily impressive is the graphics department. Everything from the character models to the environments was enhanced for the Series X, which means that this is easily one of the most good-looking games currently available for the console.
Blackwind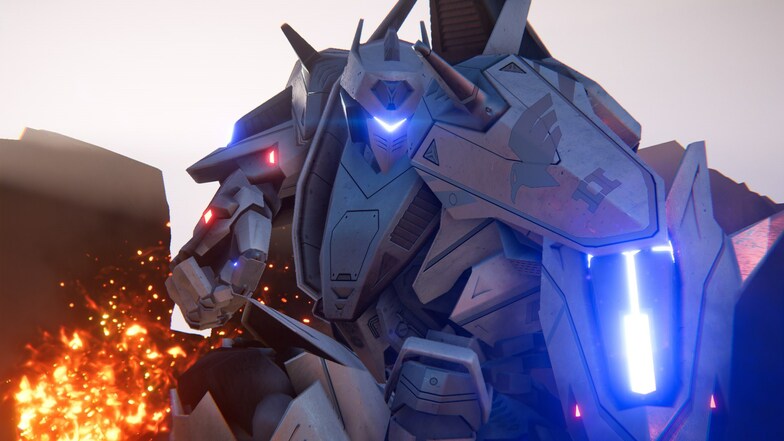 Now, Blackwind is not specifically a hack and slash game. However, there is a lot of hacking and slashing involved in the story mode, which is why we have put it on our list. The fact that is is a great game overall is why it also made our list of the best action-adventure games for Xbox.
Although the game largely slipped under the radar after its release, it has extremely well-optimized combat and a genuinely impressive story to back it all up. When an alien invasion occurs, you have to use your Battle Frame (a robot used for fighting) to repel the invasion and find your father.
Battle Frames generally have a lot of weapons at their disposal. Still, you will have to go up close quite often and fight enemies face-to-face. It is amazing just how immersive the developers have managed to make the combat, despite the top-down view that Blackwind uses. If you want a game that has hack and slash elements but isn't all about swords and shields, this is it!
Chivalry 2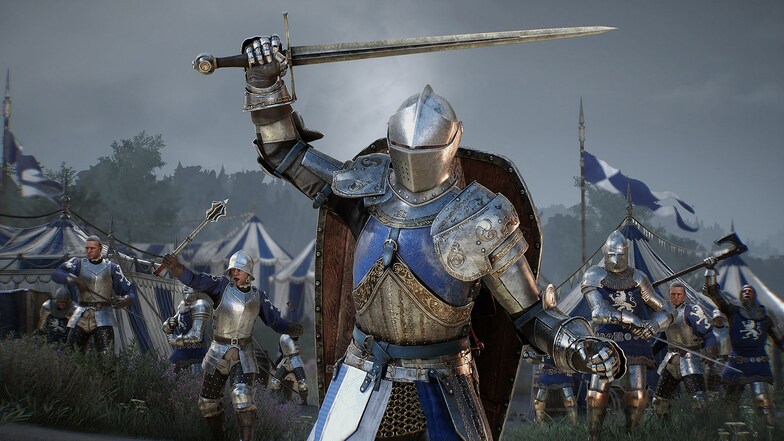 Chivalry 2 is a game that attempts to mimic all of the great battles of the middle-ages. It does not try to be too historically accurate. Instead, it attempts to recreate some of the most epic moments from medieval films and places you right in the middle of them.
This is a first-person slasher game, meaning that you get to be completely immersed in everything that goes on. There are certain moments when you get a bit of peace and quiet (meaning only one guy is trying to kill you). At other times, there will be swathes of people around you, arrows flying over your head, and unbearable levels of noise as you try to survive and win.
Chivalry 2 is the perfect game for someone who wants to play a hack and slash game in a military setting. While the realistic nature of the game does mean that the pace of the combat is slow, it also allows for more strategy and teamwork.
Diablo II: Resurrected
Obviously, we are going to have a Diablo game on a list of the best hack and slash games for Xbox Series X and S. In fact, we have two Diablo games on this list, with the next one coming a bit later.
Diablo II is rightly considered to be one of the best RPGs of all time. Although the game came out on the PC in 2000, it has since been remastered with updated visuals. A lot of additional content that originally came as a DLC is also included in the Resurrected edition, making sure that fans of the game will be able to spend a lot of time on the campaign.
The game also has robust multiplayer features. Not only can the main campaign be played in co-op mode with up to seven other players, but you can also play PvP multiplayer.
Ghostrunner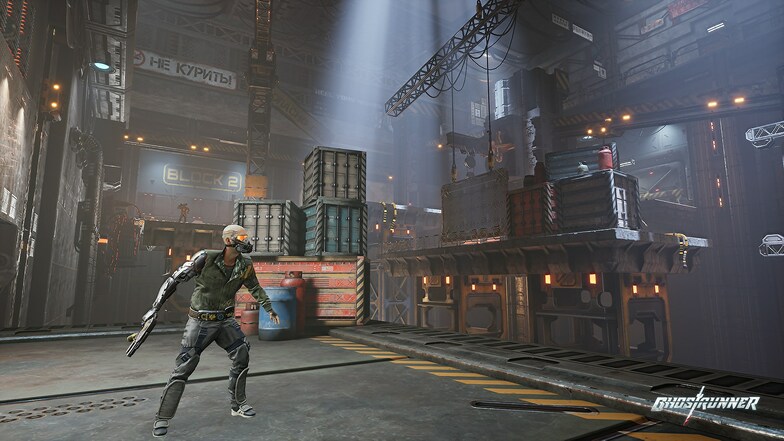 If you want to take a look at what Cyberpunk 2077 would look like if it was a hack and slash game (and a bit more toned down), Ghostrunner is it. Set in a dystopian land where the rulers do not care about human life at all, it is up to you to liberate the world of their chokehold.
With one-hit-kill mechanics and waves of enemies always rushing at you, Ghostrunner is one of the most fast-paced games on this list. You possess superhuman abilities that allow you to take out multiple enemies within mere seconds, dodge bullets, and much more.
The story provides an interesting backdrop to the gameplay, although there isn't a lot of depth to it. The main reason to play Ghostrunner is the combat, But be warned that your thumbs will probably hurt from constantly mashing the buttons.
Bayonetta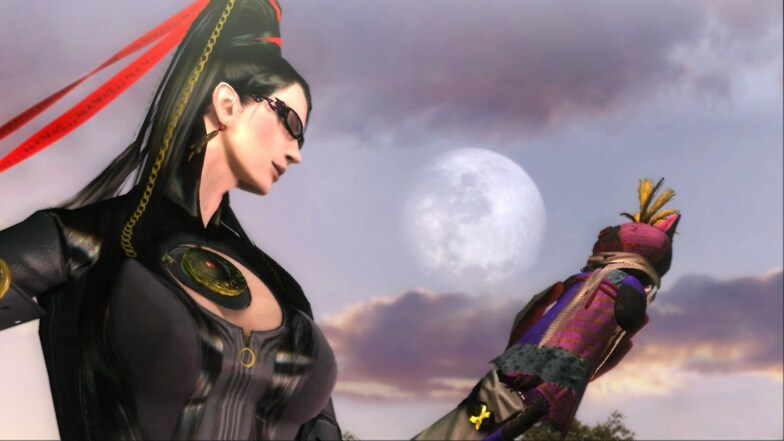 Xbox 360 had some of the best hack and slash games ever seen, and many of them have been either remastered or simply re-released for the newer generation of consoles. A few of them also make our list of the best hack and slash games for Xbox, with Bayonetta being the first.
Bayonetta has you play the role of a witch who has been asleep for millennia. As soon as you wake from your slumber, a horde of enemies charge at you and you must fight them. You have no idea why you are being targeted at the beginning, but you will be able to piece together the story bit by bit.
Hacking and slashing are not the only two mechanics used by Bayonetta. However, the bulk of the game primarily deals with melee combat, making this a great choice for fans of the genre who are also into classics.
Hellblade: Senua's Sacrifice
Hellblade: Senua's Sacrifice is a regular part of our lists, and for good reason. The game manages to simultaneously provide great action and open a thought-provoking dialogue on what it is like to live with mental illnesses.
You play the role of Senua. Your husband has been condemned to life in Viking hell, and now you will fight to get him to Valhalla. However, you suffer from a lot of psychological issues yourself, and they will play a key role in the story.
Although developed by a small indie studio, Senua's Sacrifice provides some of the best combat out of all the games on this list. The only mark the game has against it is that once you are done with the main story, there is nothing else to do.
Dark Alliance
Dark Alliance is a game that is set in the Dungeons and Dragons universe. The game takes place in Icewind Dale, and you have the option to pick your hero from a possible four.
The game does a good job of keeping true to the D&D lore but also providing enough of a story that someone unfamiliar with the universe can still understand what is going on. The combat, while nothing to write home about, employs classic hack and slash mechanics to deliver a compelling game for fans of the franchise.
It is also possible to play the game with up to three other players in co-op mode. If you and your friends are fans of the D&D universe, Dark Alliance is a game that you absolutely have to play.
METAL GEAR RISING: REVENGEANCE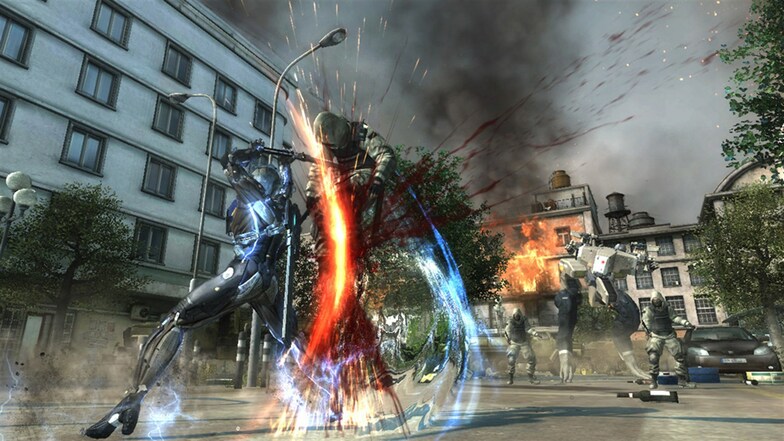 REVENGEANCE is the second Xbox 360 game on our list that can be played on the newer generation of consoles. The game is set in the Metal Gear universe but uses combat mechanics that are distinctly different from the main series.
Instead of employing stealth and using force only when necessary, you will be going in with brute force and attempting to dismember all of your enemies.
Mind you, the visuals of the game look quite outdated. In fact, it is possible that your TV may not even be able to play the game in its native resolution. However, those who are able to get past that will get to play one of the best storylines out of all the games on this list.
Yakuza 0
Yakuza 0 takes the series back to the 1980s. This is still a Yakuza game and feels like one, but the change in the time period leads to a completely different Tokyo from the one that you see in Yakuza games set in modern times.
When it comes to combat, we have to state that Yakuza 0 is not a pure hack and slash game. In fact, it is more of a beat 'em up style game. Still, there is a little bit of hacking and slashing to do here, and the developers must be commended for doing an outstanding job on the melee combat.
If you have played a Yakuza game before, you will know what to expect when it comes to the story. It is a serious tale of suffering, revenge, and crime. However, it is told with humorous overtones. We are always appreciative of how well the writers manage to balance the funny with the serious in Yakuza games, and 0 is no exception.
Skeletal Avenger
Skeletal Avenger is a roguelite game where you have the power to reanimate skulls. On top of that, there are numerous perks through which you can customize your character.
This means that each run that you do in the game has the potential to be completely different from the last. You will need to try out different things and experiment with different playstyles to find the one that suits you the best. With special moves and countless combos waiting to be discovered, this is a game that you can have a lot of fun with.
The only problem is that beyond a certain point, the game does begin to appear a little boring. There isn't much in terms of a story, and that creates a huge problem with replayability.
Streets of Rage 4
Streets of Rage 4 is the second game on our list of the best hack and slash games for Xbox Series X / S that is actually more of a standard fighting game. However, we included it on the list due to the smooth combat provided by the game, and the fact that it might provide a huge hit of nostalgia to some players.
Streets of Rage was all the rage back in the 90s, and this game remasters the title for modern times. The gameplay and the art style are still the same, but the graphics and textures have been updated for the Series X and S. On top of that, you also get to play with characters from other Streets of Rage games.
We will admit that those who haven't played the original Streets of Rage games may not end up liking this one. However, this is a game that had a huge impact on its genre, and we find its melee combat to be right up there with other games on the list despite its simplicity.
Diablo III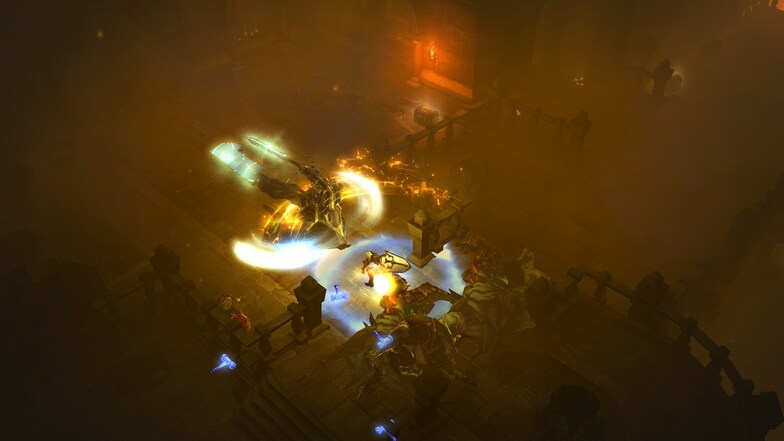 This is the second Diablo game on our list. While we don't think that the third iteration of the Diablo series can hold a candle to just how amazing Diablo II was, it is still a great hack and slash RPG with a lot of content.
At its core, Diablo III plays just like Diablo II. The major differences lie in the optimization, balancing, and visual upgrades. Blizzard has also released numerous expansion packs for the game, all of which add a lot of additional content.
If you have not dabbled in the series before, we would recommend that you play Diablo II first and then play Diablo III. Over the two games and all of their expansion packs, you have at least a few hundred hours of gameplay awaiting.
Battletoads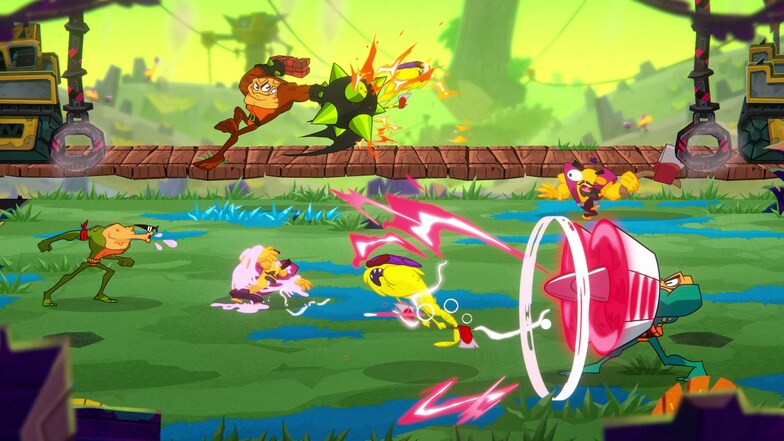 Battletoads is a series that has been around for a long time. However, the series appeared to be largely defunct until a meme catapulted the series back into fame in the late 2010s. Thus, the developers decided to create a new game in the franchise.
Games that are born out of meme fame rarely tend to be good, but Battletoads is the exception. You get to control one of three toads, and your friends can control the other two if you wish to play co-op. Throughout the game, you will get to take part in numerous challenges, many of whom require you to fight through waves of enemies.
What we love about Battletoads is that the gameplay changes at different stages of the game. As such, you never know what to expect next. This makes the game very interesting and unpredictable. Also, since this is a Battletoads game, the story is interlaced with jokes and over-the-top action that will have you and your friends laughing all the way to the end.
DYNASTY WARRIORS 9
DYNASTY WARRIORS is a franchise that has been built upon the idea of one person taking on thousands of enemies, and the ninth entry in the franchise is no different. While the game does not stand out in any major way, it does provide slick hack and slash combat that will keep you engaged with its difficulty.
There are a total of 90 characters that you can play in the game, and you will tackle the story mode with three of those. There is also an online multiplayer feature where two players can battle each other to see who is better.
DYNASTY WARRIORS 9 also has an 'Empires' edition of the game. This edition allows you to experience both the one against thousands philosophy of the game and the strategic aspect of castle sieges.
There are very few games on Xbox that allow you to delve into Chinese culture, and the DYNASTY WARRIORS franchise is one of your only options when it comes to ancient Chinese battles.
Torchlight II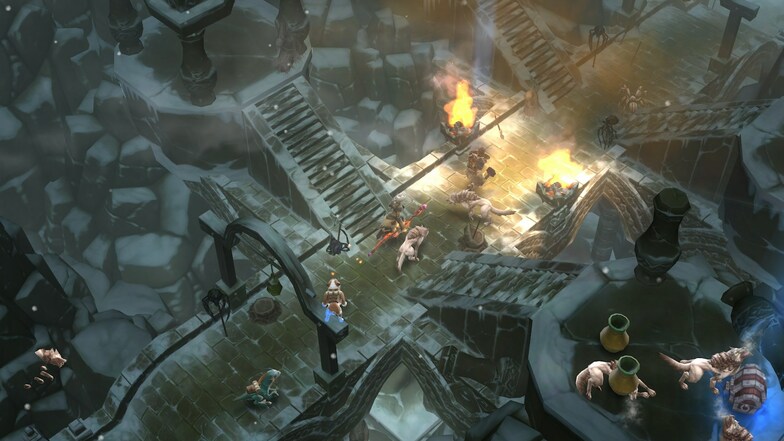 Torchlight II was one of the most acclaimed and well-loved RPGs of its time. In fact, the game is so good that we would say it is still worth a play right now.
Since the release of Torchlight II, we have seen a new game in the Torchlight series. However, neither the critics nor the player base had a lot of positive things to say about the game, and Torchlight II still remains the go-to game for fans of the series.
This is not exactly a hack and slash game, but it has a lot of hack and slash elements. Considering the fact that there are literally hundreds of hours of content within this looter-style RPG, chances are that you will be spending a significant time hacking and slashing through stuff.
NieR Replicant ver.1.22474487139…
After the success of Nier: Automata, Square Enix released an updated and modernized version of their 2010 release NieR Replicant. The game serves as a prequel to Automata, providing a lot of insight into why the events in Automata took place.
Replicant has almost exactly the same combat mechanics as Automata. However, the story feels a lot more immersive and personal in Replicant compared to the other NieR game. This is why it also made our list of the best Japanese games on Xbox.
If you have the time, we would recommend that you try out both of the NieR games. However, we would advise you to pick Replicant over Automata (mainly due to the story) if you can only play one of them.
Undead Horde
Undead Horde is the next game on our list of the best hack and slash Xbox games. The game is a mix of a number of genres and borrows heavily from other games. However, the main thing that you need to know is that the combat is classical hack and slash.
Once you have killed an enemy, you can reanimate them and use them to your advantage. This allows for a lot of interesting tactics. You will need to loot and slash your way to victory. Victory, in this case, means to destroy your fellow humans and their king.
While there is a lot of depth to the game from a strategic point of view, the main reason we love Undead Horde is because of its simple combat. This is slash and hack at its finest, and thus any fan of the genre should give the game a shot.
Within the Blade
Within the Blade is a game that combines a bunch of different genres just like Undead Horde. For the most part, the game is an RPG. However, it also has a lot of platforming and stealth elements to it. And when it comes to combat, it is a hack and slash game.
While the game has a retro art style and graphics that look at least a couple of generations old, Within the Blade does a good job in terms of the number of things it allows the player to do.
Apart from the combat, there are over 200 crafting options available for you. There are also 10 bosses in the game, with each of them providing a completely unique challenge. As long as you are on board with the visuals, Within the Blade is a great game to play.
Grim Dawn: Definitive Edition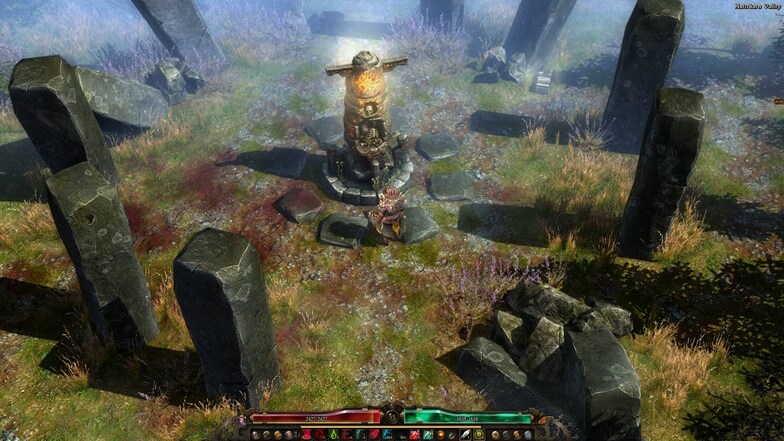 Grim Dawn is a game where you have to fight for the survival of humanity. It is an ARPG that has you travel through a large open-world area, exploring for items and making sure that you find enough loot to win the fights that you are going to take part in.
On the Microsoft Store, Grim Dawn is available as its Definitive Edition. This edition is what we would advise you to go for, as it also has three expansion packs that were released after the game. These packs not only have a lot of new quests, but they also have a lot of new items that can be used to engage in combat in a more creative way.
Nobody Saves the World
Nobody Saves the World is the last game on our list of the best hack and slash games for Xbox Series X / S. In the game, you play the role of Nobody, a creature that can transform into multiple things.
Throughout the game, you will be able to swap between over 15 forms, ranging from a slug to a dragon. Different quests will require you to shift to different forms, and many of them will allow you to hack and slash your way through the game.
Nobody Saves the World can be played alone or in co-op mode with one other person. It is a very unique game and manages to stand out with both its story and its melee combat.