When it comes to games set in olden times, the medieval era has been a favorite of both developers and gamers for a long time. The 2000s were full of games set in the medieval era, with titles like Age of Empires 2 getting remasters over a decade after their release.
While the interest in the medieval era has waned slightly in modern times, there are still a lot of games that base themselves around that time. The advancement in technology has also led to the games being a lot more detailed than they were in the past.
There are more than a handful of games available on the Xbox Series X and S. Some of them try to stay true to history and recreate what life was like in those times (or at least how the combat was), while others introduce new ideas and even fantasy elements into the mix.
Having taken a look at a lot of those games, we have gone ahead and compiled a list of the 17 best medieval games for Xbox Series X / S.
Chivalry 2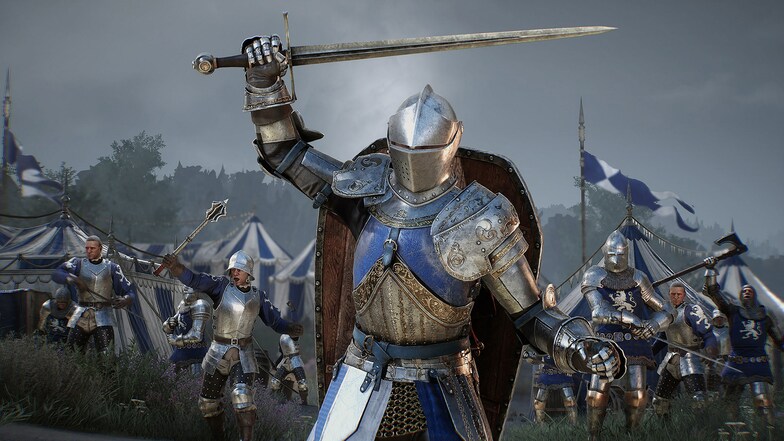 If you have read the introduction, you will have noticed that we said the nature of medieval games has changed in recent years. Well, the biggest change that has occurred is that we are seeing a lot more medieval games making use of the first-person view.
Chivalry 2 is a melee combat game, and it is based on some of the most epic battles that took place during the middle ages. To be honest, the game tries to recreate the movie versions of these battles, most of which had taken a liberal approach with accuracy.
Despite the battles not being a completely accurate representation, the game is extremely fun to play. There are four classes and 12 subclasses, leading to a lot of diverse playstyles that players need to account for when fighting. There is also crossplay between all platforms, leading to populated servers and large battles.
Chivalry 2 has some of the best combat mechanics from all the melee games on the list. This is why it was also on our list of the best hack and slash games for Xbox.
For Honor
For Honor is another game that allows you to get up close and personal to engage in combat that can only be described as thrilling. Just like Chivalry 2, it has amazing combat mechanics that are not only extremely deep but also allow for a lot of experimentation. That is why we included For Honor on the list of the best fighting games for Xbox.
The major thing going on for For Honor is that despite it having a fairly satisfactory multiplayer experience, it is its story that is the prime reason to play the game. There are three different types of warriors to choose from, and the combat styles of all three of them are completely different.
The only problem as far as we can see is that the online multiplayer is limited to 8 players. When compared to the massive 64-player battles that take place in Chivalry 2, this does feel like a slight letdown.
Mount and Blade: Warband
For players that like the idea of Chivalry 2 but want a more structured and strategical approach to the combat, we have Mount and Blade: Warband.
Just like in Chivalry 2, it is possible to have large-scale battles in the game. However, this is a sandbox game, meaning that you can go anywhere and do anything within the laws of the game. This leads to spread-out fights where going all-in is not always the best option.
The only problem is that the game does not look particularly good. Even though it was released in 2016, it already looked outdated for its time. However, we have to say that the game does have AI that is better than even some of the newer releases.
A Plague Tale: Innocence
We have had three games that are primarily based on melee combat by now. Thankfully, the next entry on our list of the best medieval games for Xbox is something almost completely different.
A Plague Tale: Innocence has you take the role of Alicia and Hugo, two siblings who are trying to survive during the Inquisition. With enemy soldiers hunting you down, it is going to take all of your skills at deception and stealth if you are to survive.
The game has been optimized for the Series X, meaning that you can play the game at 4K resolution with 60 FPS. The visuals truly do look beautiful and do a good job of taking some attention away from the downright abject nature of the game.
Divinity: Original Sin 2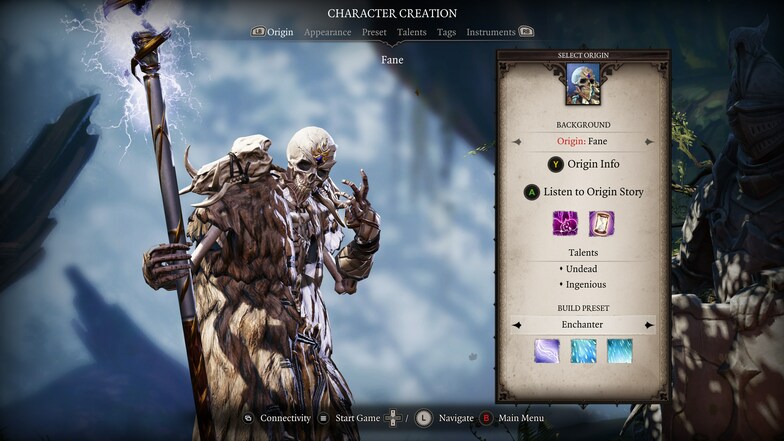 Divinity: Original Sin 2 can best be explained by the fact that the game has been ported to almost every single platform imaginable. It even has a version that can be played on the iPad in its entirety.
Being an Action RPG, Original Sin 2 takes everything from the first game and just increases it up a notch. Even the story is a bit more interesting and engaging compared to how it was before. On top of that, the larger scale of the world and the fact that it is more lively allows for more exploration.
The combat is not something that can be considered too special when compared to other RPGs, but it does not disappoint in any major way either.
One thing to remember is that while Original Sin 2 has a lot of medieval themes, it is technically set in a fantasy world. As such, sticklers for playing games set in the middle ages may want to look elsewhere.
Rustler
Rustler is a game that fully embraces the medieval theme, and is actually almost completely inspired by Grand Theft Auto.
The GTA game that Rustler is closest to is Chinatown Wars. It is played from a top-down perspective and does not try to take itself too seriously. Obviously, the cars have been replaced by horses and the guns have been replaced with swords (and turds, for some reason). Still, this is as close to a medieval GTA as you will get.
There is a very good story in the game, along with numerous side quests that you can complete as well. Being a sandbox, you can also spend your time just ducking around and destroying stuff. Just remember that this is a single-player-only experience.
Kingdom Come: Deliverance
Kingdom Come: Deliverance does a perfect job of having a great story that describes the austere life during the middle ages. On top of that, it has great combat that is supported by a perk system and equipment.
While there isn't any multiplayer combat for you to experience, the campaign is historically accurate in most aspects. In fact, you get to meet a lot of real-life people from that time.
As for the campaign's gameplay, it is played in a non-linear fashion where you have to pick your battles. Fighting is not your only option either, as you can steal and threaten your way to the end.
The story is based on you slowly trying to avenge your friends and family after they have been murdered in a brutal civil war. As such, it has more than its fair share of sad and angry moments, something that medieval games usually fail to capture.
Ancestors Legacy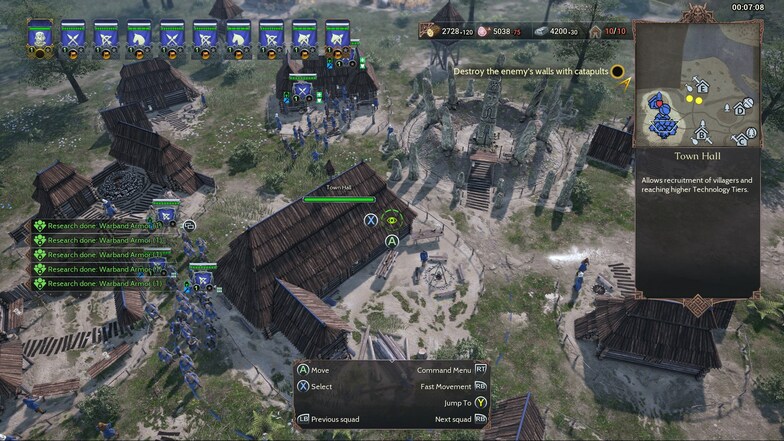 As we talk about the next game on our list of the best Xbox medieval games, we once again have to reference the introduction. The strategy genre is basically what bought the medieval games to the mainstream.
Nowadays, there are few games of the sort, but Ancestors Legacy is a great choice for players looking to scratch that itch. Ancestors Legacy is an RTS game that is historically accurate. There are four different nations for you to choose from, and you will be responsible for leading them through multiple campaigns.
Once you begin fighting, there is an action camera that allows you to witness the battle firsthand. You can, of course, revert to the classic camera that has a view similar to any other RTS game.
The Witcher 3
Unless you have been living under a rock for the last few years, you almost certainly know what The Witcher 3 is about. Even if you haven't played the game, you have almost certainly heard about the books or the TV Series.
The game is set in a fantasy world but has a distinct medieval theme to it. The non-linear campaign is supplemented by literally hundreds of other things that you can do. While the graphics are now beginning to look a little outdated, the gameplay is still some of the best you can find.
Remember that while the game has no multiplayer, there really is enough single-player content here to keep you occupied for a long time.
The Elder Scrolls V: Skyrim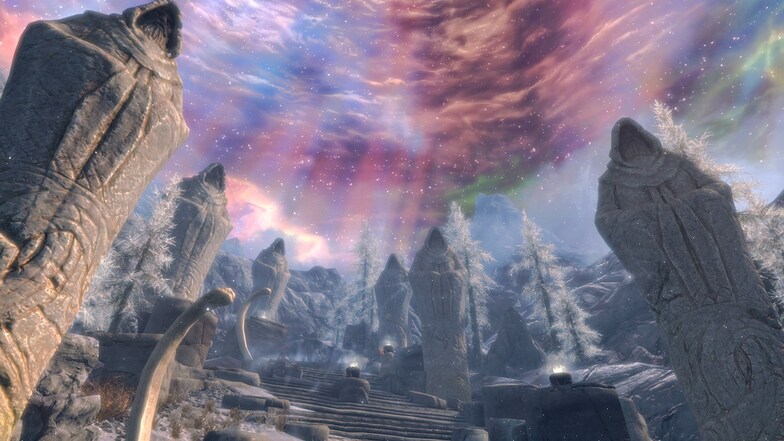 Skyrim was one of the most popular games when it first came out, and it still has a significant fanbase to this day. On the PC, there is a huge modding community for the game that has basically kept the scene alive.
On the Xbox, there have been numerous editions of the game, each of which adds new content. The edition that you decide to purchase will depend on what you want, but remember that the more content you have, the more bang for your buck your purchase will have (there is no multiplayer).
As for the story, it is set in a fantasy world where you can fight and utilize dragons. The progression system is very tight, with each hour spent in the game being meaningful in some way. While the medieval themes take a backseat here, this is a great game to play nonetheless. This is why it was on our list of the best loot games for Xbox.
Dark Souls III
Dark Souls III is the next game on our list of the best medieval games for Xbox. We say the best, but I think it is safe to say that this is the hardest medieval game on the Xbox.
Continuing the tradition of games that are set in the medieval world but have a fantasy setting, Dark Souls III takes you on a journey that can only be described as fascinatingly frustrating.
For most of the game, you will be shouting or slamming your controller with anger. This is because succeeding at this game takes true grit and perseverance. However, this also means that the joy of success is magnified when you finally defeat a boss or clear a difficult level.
Middle-earth: Shadow of Mordor
If you are looking for a game with a great story, even better combat, and visuals that look amazing despite the age of the game, Shadow of Mordor is right up your alley.
The game's story is a bit muddled and layered, with the primary aim being to find out more about the spirit that has control over you. In the simplest of terms, you are the good guy and you have to take on a ton of bad guys in order to protect yourself from evil.
We personally really enjoyed the combat system of the game. As such, it is a crying shame that we do not have any multiplayer component here. Even a simple mode where you could engage in PvP battles would have been ideal.
Hood: Outlaws and Legends
It is about time that we have a game that is primarily based on battling other players. Hood: Outlaws and Legends is a heisting game set in the middle ages.
The lore of the game is quite interesting: In a land ruled only by lawlessness, rival gangs try to win the favor of the poor by taking from the rich. The game has two teams of four players trying to heist and steal as much as they can.
This means that your team will not only have to battle the swarms of AI that are protecting your target, but also other players who are trying to do the same. In the end, there can only be one winner.
One last thing we have to mention here is just how amazing the graphics look. Released in 2021, the game has been optimized for the Series X, and it runs smoothly despite the amazing detail. In fact, we believe this is the medieval game with the best graphics for Xbox.
Dragon Age: Inquisition
As the title suggests, this is a game set in the age of dragons. However, you would be surprised by how advanced the world is. In fact, we would say it is roughly as advanced as the world was in the 16th century.
When all-out war breaks out and dragons roam the sky freely, it is up to you and others in your party to stop the forces who are responsible for breaking the peace. The world reacts to all of the decisions made by you and your party, and no playthrough of the game is likely to be the same.
Dragon Age: Inquisition is also one of the few games on this list that has an online co-op mode. The game can be played with up to three other players, although it is just as fun to play alone.
Chivalry: Medieval Warfare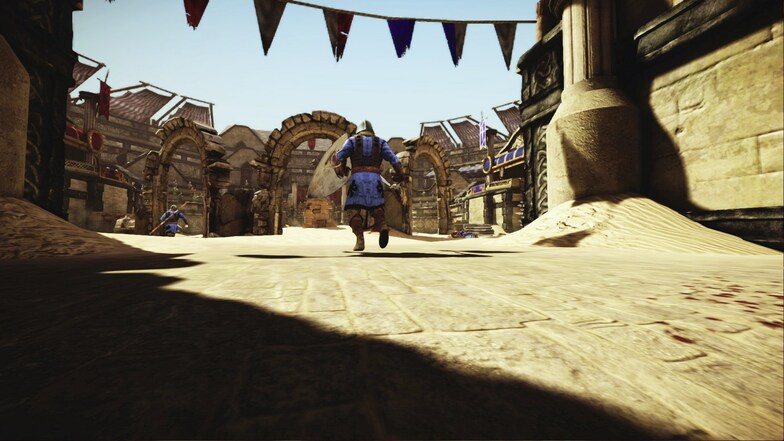 We already mentioned how amazing Chivalry 2 is, but the first game in the series isn't too bad either. If you liked Chivalry 2, we would recommend that you also play Medieval Warfare.
The major difference between the two games is that the first is a lot simpler. The basic combat mechanics are still the same, but the first game is more about bare-bones combat rather than the bells and whistles.
The multiplayer battles are much smaller, capping out at 24 players. That said, the siege weapons feel a lot better here, and the game itself is a bit more teamwork-oriented than its sequel. However, do remember that due to the age of the game, it can be a bit difficult to find servers to play in at times.
Yes, Your Grace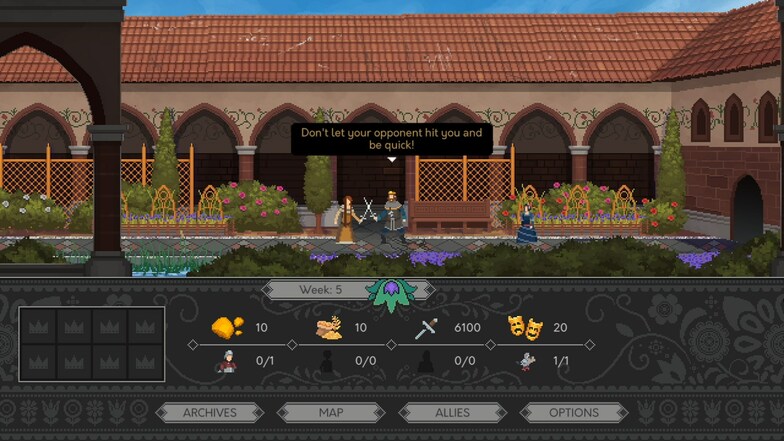 Yes, Your Grace is by far the most unique game on this list. Not since the glory days of Nintendo have we seen a lot of good medieval RPGs, but this title actually does manage to deliver a solid experience.
To add further depth to the game, the RPG elements are combined with kingdom management and strategy. You play the role of a king, and you have petitioners coming with their requests for your assistance.
Since you only have limited resources at your disposal, you cannot help each and every one of them. As such, you need to decide who deserves your help and who will need to go their own way.
Yes, Your Grace has you manage the peasants, lords, and members of your court. The combination of politics and combat leads to this being a game where you really need to use your head. If you like slower-paced games where every decision has an impact on the eventual outcome of the story, you will love Yes, Your Grace.
Northgard
Northgard is the last game on our list of the best medieval games for Xbox Series X / S. This is an indie game that was originally released on the PC but was ported to consoles once its popularity became apparent.
When the Vikings discover a new land rich with resources, numerous clans venture onto the area in search of glory and wealth. But with wolves and the undead inhabiting the land, and giants that could be both friendly or hostile, that is easier said than done.
Northgard is a strategy game that has both co-op and multiplayer modes. While not exactly designed to play like the medieval games of old, Northgard has enough modern concepts in the game to make sure that everyone will find something new here.