Famous detectives like Sherlock Holmes and Poirot are known for being masters of deduction, reasoning, and logic. These super-detectives are challenged with seemingly impossible cases over and over again, and manage to always come out on top.
If you fancy yourself as a bit of a sleuth, chances are you've been looking for detective and mystery video games to get stuck into. Luckily, there's lots out there.
The detective fantasy lends itself perfectly to video games, especially when paired with a compelling atmosphere, tricky puzzles, and memorable characters.
Here are the 19 best detective games on Nintendo Switch to pick up today.
Overboard!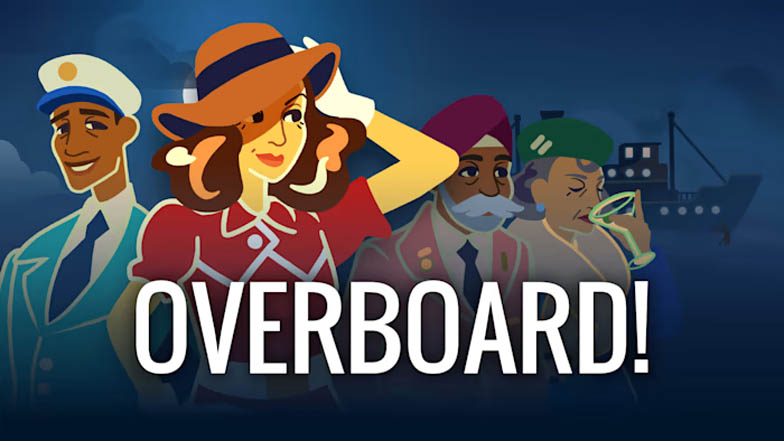 Overboard! is a very unique addition to the world of detective games. It takes a lot of popular tropes from the genre and flips them on their head.
Think Agatha Christie's Death on the Nile- but turn it around.
Instead of being a detective with a fantastic moustache, you're the murderer trying to escape the detective's inquisitive eyes. It's a brilliant twist on the classic whodunnit premise.
As with death on the Nile, Overboard! puts players aboard a ship where, lo and behold, there's been a murder. As the culprit, you'll need to make smart choices, evade suspicion, and ultimately frame another passenger for the murder.
You have 8 hours to frame another passenger for the murder you committed, which is roughly about 40 minutes of in-game time. This is done by interacting with the ship's passengers and exploring your options.
Overboard! is infinitely replayable. The gameplay loop is addictive, and it's possible to get different outcomes each time you play.
This is a must-play for any fans of classic detective novels.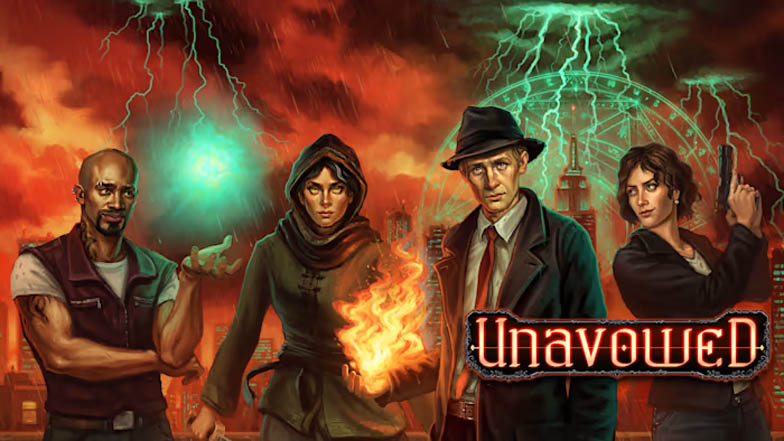 Unavowed is one of the best detective games on the Nintendo Switch with a supernatural flair. It's an urban fantasy point-and-click adventure, full to the brim with unique characters.
You play as an amnesiac who was formerly possessed by a demon. This demon caused you to go on a bloody rampage all throughout New York City, and the story begins with a team of supernatural protectors called the Unavowed offering you a chance at redemption.
The story is utterly compelling, with multiple planes of existence, demonic presences, and ghosts. The supernatural elements work perfectly with the human elements, creating a deeply emotional and powerful narrative.
Each character has something unique to say. As you can only bring two party members at a time, the game is worth replaying just to see other outcomes.
This game has a lot of replay value and it's worth picking up for your Switch library today.
If you're the type of player that's a sucker for story-telling then Unavowed is an easy recommend. Branching dialogue, choices, and story beats will keep you coming back for more.
Disco Elysium: The Final Cut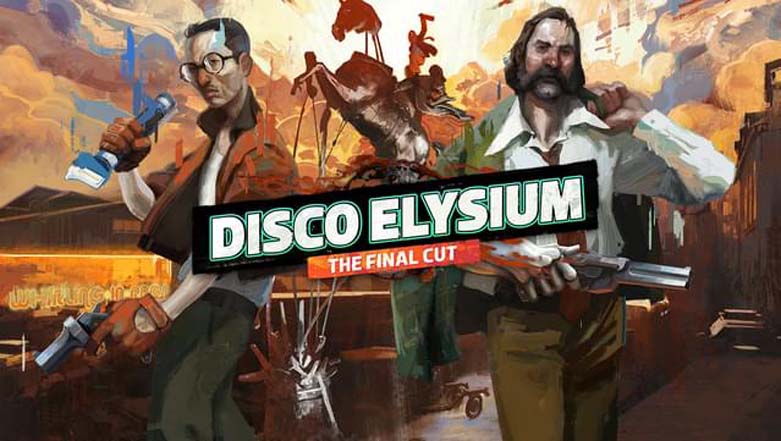 Disco Elysium is a game that will stay with you long after you finish playing it.
It combines elements from tabletop games, classic RPGs, and detective stories. It's a multi-layered murder mystery marvel, with plenty of freedom in terms of character customization and player choices.
The story places you in the shoes of an amnesiac main character who wakes up and remembers that he's meant to be investigating a homicide case. You'll get to travel all around Revachol to solve the case, accompanied by your partner Kim Kitsuragi.
Instead of traditional skills, you'll be leveling up personality and character traits, like Authority and Logic. It's a unique spin on regular level and skill systems.
This game is truly beautiful and the story will take you on a wild ride, full of emotion and hidden twists. It's one of the most memorable detective games around, and this particular edition includes even more content and some fantastic voice acting, too.
Paradise Killer
Everything about Paradise Killer exudes style. It's a mix of the whodunnit and sci-fi genres, with a little cultish flair added for good measure.
In the game, Paradise is a living island that appears every few thousand years. The Council is a group that is in charge of creating this landmass, with the aim of reviving fallen gods.
However, things have not gone to plan. You'll play as Lady Love Dies, a formerly exiled character, and you'll need to figure out what's gone wrong in this mysterious and mystical world.
The open world environments in this game are truly impressive. You'll need to scavenge for clues and interrogate characters to get to the bottom of the story.
While there are some amazing fantasy elements in this game, it is still an immersive detective story at its core. This game does not hold your hand, and you'll need to work hard if you want to find all the secrets and solve the mysteries in Paradise.
Paradise Killer is refreshingly non-linear, but it will keep you hooked until the very end.
Return of the Obra Dinn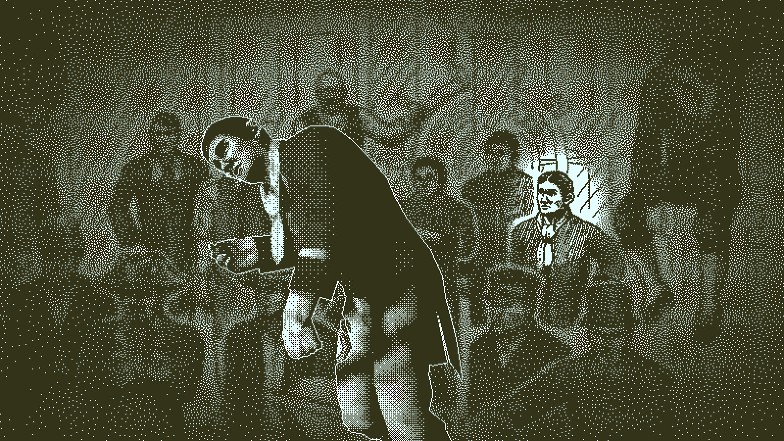 Return of the Obra Dinn is an incredibly memorable game. It's a monochromatic game with a retro feel, and the atmosphere it offers is second to none.
The Obra Dinn is a merchant ship that was thought to be lost at sea. It mysteriously comes back into port without a crew, and something appears to be very wrong.
You play as an insurance investigator and you'll need to get to the bottom of what happened to the ship and the crew. With your trusty journal and time-altering pocket watch, you'll need to piece together each section of the sea-soaked puzzle.
Much like the previous entry in this list, this game does not hold your hand or offer you an easy solution. It's one of the most challenging – yet most rewarding – detective games out there.
Famicom Detective Club: The Girl Who Stands Behind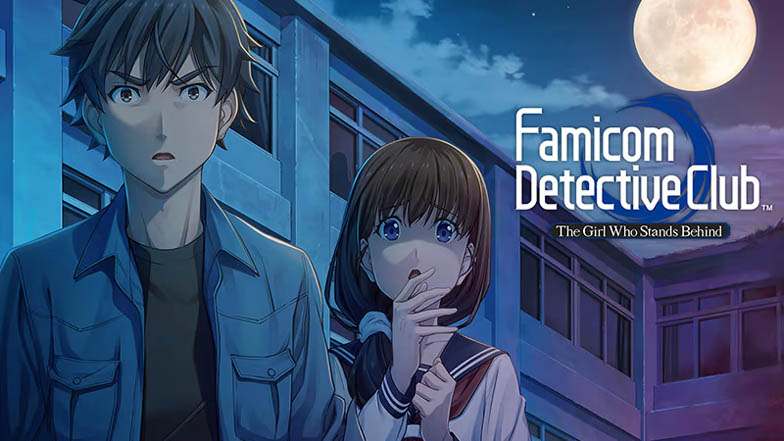 The Girl Who Stands Behind is the second entry in the Famicom Detective Club series, and it acts as a prequel to the first game.
These visual novels are a real treat for anyone who enjoys chill, story-driven games that don't require much for you to do other than point, click, and read.
The Girl Who Stands Behind is set in a school and the story focuses on a homicide investigation. A student's body has washed up on the nearby riverbanks and it's up to you to investigate, interrogating teachers and students to find the killer.
The story seems simple at first but it quickly unfolds as you start to play. There are horror elements in this game, with several genuinely frightening or gory moments.
It's worth checking out the entire Famicom Detective Club series if you're a detective game fan, and this game is the best one to start with. It's impactful and gripping, and you won't be able to put it down.
AI: Somnium Files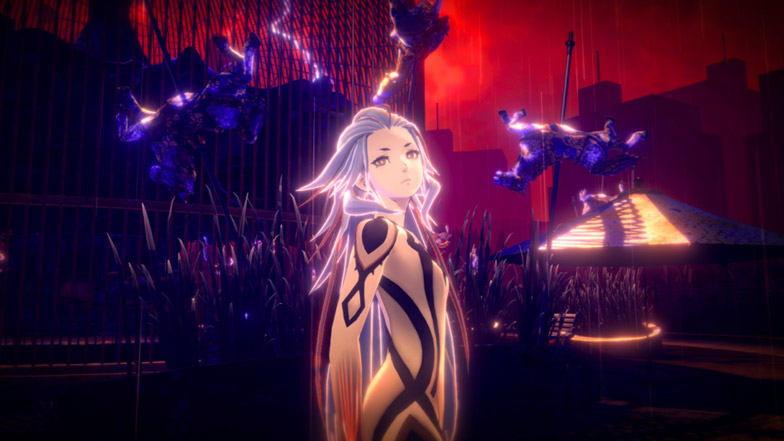 AI: Somnium Files is a futuristic, neo-noir detective game that highlights how detectives can use technology to get to the bottom of crimes.
You play as Detective Kaname Date, who has a virtual assistant named Aiba living in his mechanical eyeball. Aiba acts as support during investigations, with abilities like x-ray vision and night vision goggles.
The story starts with Kaname and Aiba heading to a futuristic version of Tokyo.
One of the most interesting features in this game is the Psync System. This allows Kaname and Aiba to enter other people's psyches (which is also called the Somnium) and learn more about them, removing any mental blocks.
The psyches are like mini escape rooms, and each escape room is complete with different puzzles and a time limit.
Somnium Files is one of the best detective games on Nintendo Switch because of its branching storyline and alternate paths. There's even an in-game flow chart to help you keep track of the story paths you've seen so far.
Rainswept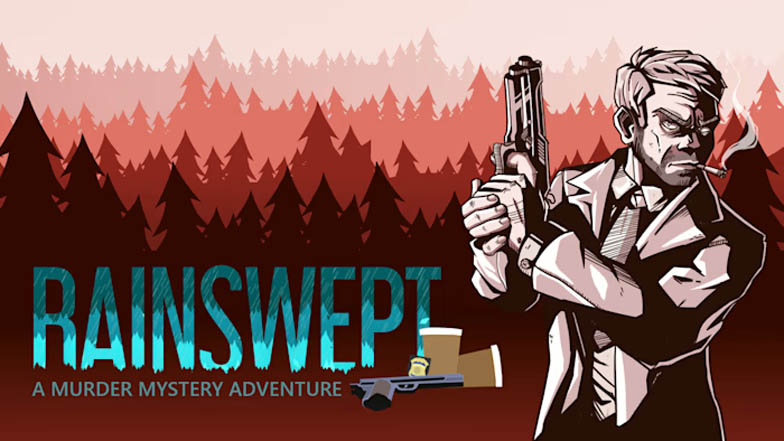 If you think that a game with the title Rainswept is going to be gloomy, you'd be correct- for the most part, anyway.
This game follows the story of a dead couple and a detective who is being haunted by ghosts of his past. This eerie story is made even more compelling with constant, heavy rain and melancholic background music.
The story starts with the protagonist, Detective Michael Stone, joining the Pineview Police to help investigate a rumored murder-suicide of a couple named Chris and Diane.
You'll need to accompany Detective Stone as he interviews the townspeople of Pineview in order to learn more about Chris and Diane's deaths.
As you progress, you also get to play as Chris in flashbacks of the couple's important moments. You'll learn more about Detective Stone's past relationships and unresolved trauma, too.
There are some light-hearted moments in the game, so there's a good balance of emotions and gameplay styles. That being said, it's still one of the most emotional detective games on the Switch and it's criminally underrated.
The Darkside Detective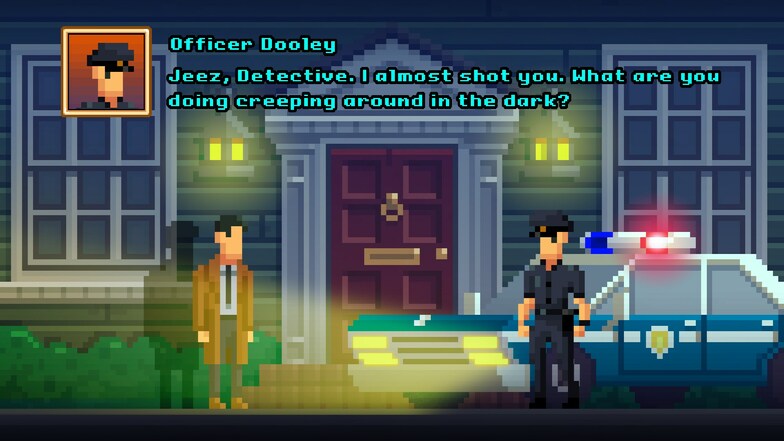 The next on this list is a light-hearted and self-dubbed "micro-adventure" that takes you around the city of Twin Lakes. If you've ever wondered who has to deal with everyday supernatural shenanigans then look no further than the Darkside Division.
In the city, you'll get to meet the Darkside Division and the lead investigator, Detective Francis McQueen. He's the lead investigator for crimes related to the supernatural mirror version of the city.
In Darkside Detective, you get to solve nine light-hearted and satirical cases in a point-and-click adventure. Contrary to the setting, there's no drama involved, and it is full of pop culture references.
The game's website even promises that there are "at least three jokes" in the game.
If you're looking for a solid detective game on the Switch that doesn't require mental gymnastics, this is the one for you. It's a fantastic game, and the sequel – The Darkside Detective: A Fumble in the Dark – is also worth checking out on the Nintendo Switch.
Sherlock Holmes: Crimes and Punishments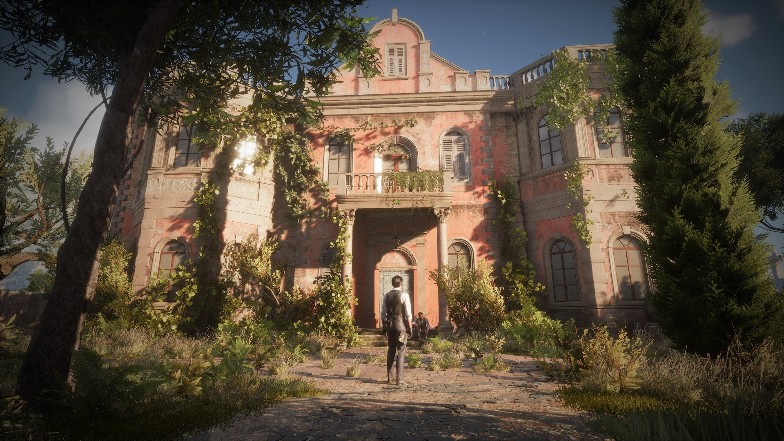 If you ask someone to think of a detective, chances are that the first one they'll think of is Sherlock Holmes- and with good reason.
This game features the famous detective, and it's a lot of fun. There isn't really a main storyline in Sherlock Holmes: Crimes and Punishments, but it gives you six interesting cases to solve with Holmes and Watson.
The gameplay loop is a lot of fun, letting you use Sherlock Holmes's iconic deductive reasoning to gather clues and evidence. You'll have to interrogate suspects, question everything, and examine the environment for leads.
The clues you pick up will be tacked onto a deduction board. From there, you'll have to interpret the clues and link them together.
Getting it wrong can affect Holmes's credibility.
Crimes and Punishments also offers a variety of mini-challenges within each case, like picking locks. Each mini-challenge differs in difficulty, with some being a walk in the park and others being considerably more complex.
Solving the crime is not only the end goal of the game. You can also choose to absolve the culprit from the crime if it fits your moral compass. There's plenty of replay value here, and it's a delightful game to play through.
Chinatown Detective Agency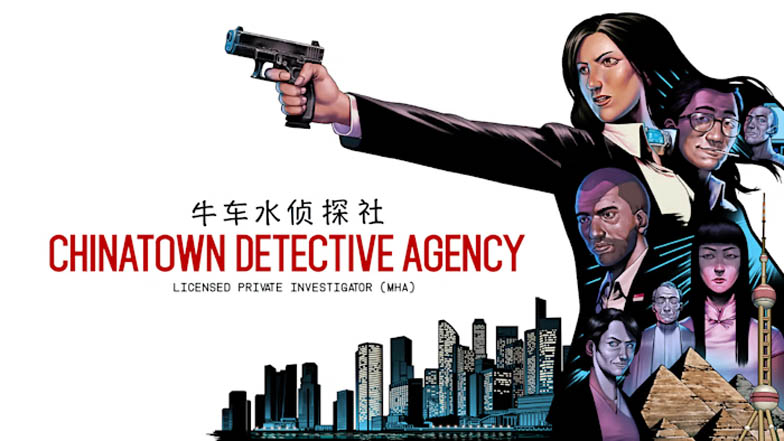 This next game is set in a futuristic version of Singapore.
The year is 2037 and ex-INTERPOL agent Amira Darma is trying to set up her own private investigation's company.
You play as Amira, and you'll take on a variety of cases that range from finding missing books and solving murders, to stopping someone making explosives out of drones.
The game is a cyberpunk point-and-click adventure, dripping with neon colors.
Chinatown Detective Agency can be likened to others in this list in terms of its replay value. It has three distinct paths that you can choose from at the early stages of the game.
The gameplay loop is satisfying and challenging, as the game never gives you all of the answers. Sometimes, you have to search for clues using real-world search engines. For example, you'll have to resort to external research to find out the origins of a particular item.
Solving crimes is half of Amira's problems.
She's on the brink of bankruptcy, and you'll need to manage precious resources to keep her afloat. Unfortunately, traveling isn't cheap, and the money is coming from your pockets.
There's a light business management to the game too, like expanding your company.
This is one of the most impressive detective games on the Nintendo Switch and it stands out from the other games in the genre. It flawlessly combines elements from other subgenres and styles with classic detective work, and the end result is amazing.
Telltale Batman: Shadows Edition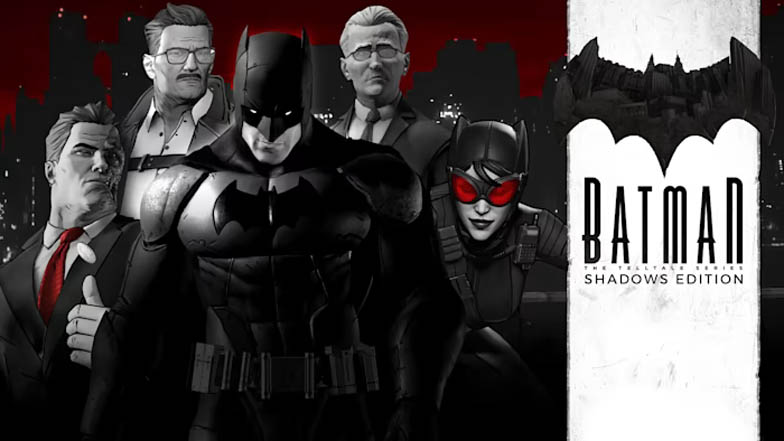 From the innovative minds of Telltale Games comes a game that focuses on one of the most famous superheroes – Batman. Bruce Wayne is portrayed in a gritter light than usual, making this a unique detective-themed superhero game.
This definitive edition includes all the episodes from the past two seasons of the game.
The story is brooding and mysterious, and it focuses on the aspect of Batman that he's well-known for in the comics. He's a truly talented detective.
As with Telltale's Walking Dead, this game tells a captivating story and presents you with multiple choices to make that will change how the story progresses.
The game manages to make every choice feel impactful. Your decisions will change how characters view you and how cases end up going. So even though it's an essentially cinematic game, you'll really feel the weight of your decisions.
Shadows Edition also includes Shadows Mode, which takes away most colors to make primary colors pop. This mode makes it feel like it came straight from a graphic novel.
Sam & Max Save the World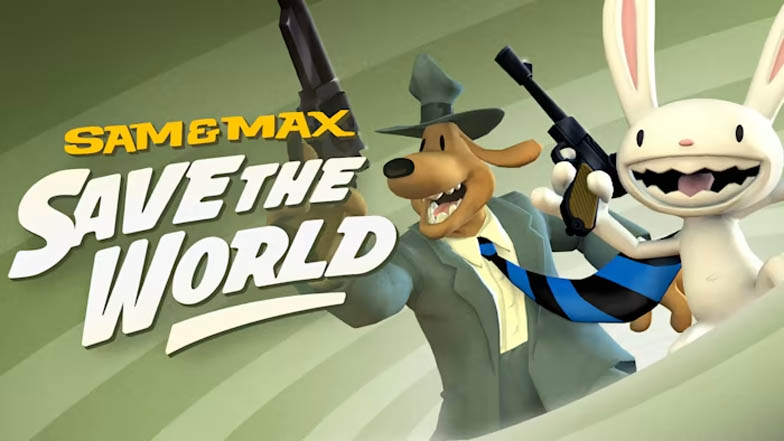 The original version of Sam & Max Save the World is another game by Telltale Games.
As with other Telltale Games, this game is episodic in nature, with a story that spans six episodes. In these episodes of Sam & Max Save the World, Telltale manages to showcase six different cases that seem to be unrelated.
What sets this game apart from other detective games is the humor tied into the game's puzzles, which tend to have comedic solutions to them.
Even with that being the case, the solutions to the puzzles aren't too absurd as to seem illogical or improbable. 
This game is light-hearted and funny, yet it can still be challenging in places. It's a good alternative to the standard dark, gritty detective game that you'll find heaps of in this genre.
Thimbleweed Park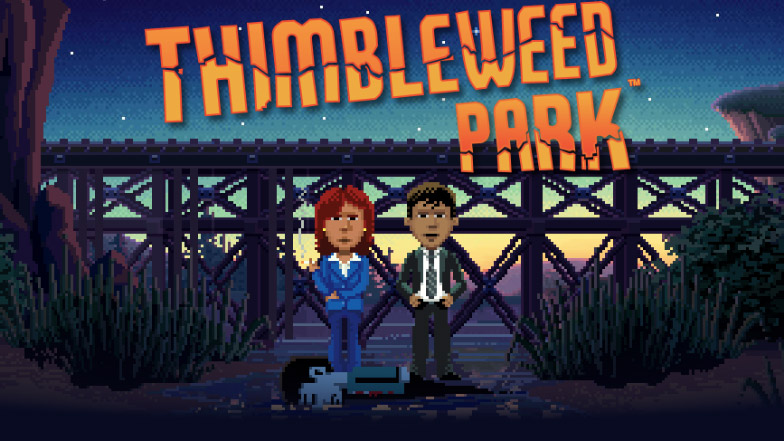 If you have played classic point-and-click games like Maniac Mansion or The Secret of Monkey Island, then Thimbleweed Park might just be your cup of tea.
Thimbleweed Park is chock full of self-referential material with the occasional call-backs from its predecessors. It's incredibly compelling and beautifully made, too.
Thimbleweed Park is set in the titular town with two federal agents investigating a murder that no one seems to be aware of.
The agents are just two out of the five bizarre characters that you can freely switch to as you enjoy the game. Each of these characters has their own mini-objectives that you can explore all at your own pace.
Additionally, there are lots of wacky NPCs to talk to which help to make the world feel alive.
The puzzles that exist within the game are truly elaborate and often have a bit of humor attached to them. This adds to the overall likability of the game as it sets an atmosphere that doesn't take itself too seriously. 
Phoenix Wright: Ace Attorney Trilogy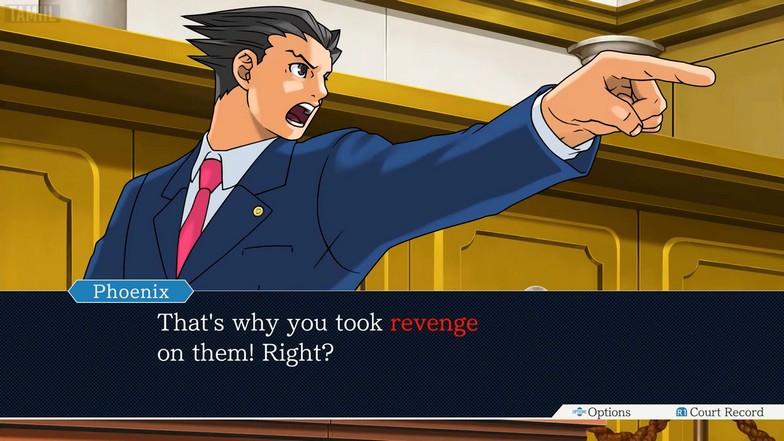 The detective visual novel, Ace Attorney Trilogy, feels right at home on the Switch.
There's not much for older fans of the game here, as this is a pixel-for-pixel remake with a few graphical improvements and adjustments. It's a bundle of iconic games that's worth picking up if you've never played an Ace Attorney game, though.
Ace Attorney follows the lawyer Phoenix Wright's journey as he takes on a number of increasingly difficult cases.
The game doesn't just focus on the court room. You'll also need to investigate crimse scenes and build a strong case each time.
During trials, you'll need to showcase your evidence and battle the opposition. It's incredibly satisfying to object to contradictions, and the whole experience is quite immersive.
Aviary Attorney: Definitive Edition
Just as the title suggests, this game is about an anthropomorphic Falcon who acts as a defense lawyer for other anthropomorphized citizens in this fictional universe.
With a barrage of pop culture references and groan-inducing bird puns, this Ace Attorney-inspired game will surely entertain you.    
Aviary Attorney is set in Paris in the year 1848 and begins with the murder of a frog.
You play as Attorney Jayjay Falcon and you'll need to make your case by gathering evidence and cross-examining witnesses in court, along with your sidekick Sparrowson.
The game will get you hooked on its loveable characters and witty writing from the get-go.
There are even three possible endings, which give this game a lot of replay value. Aviary Attorney is one of the most charming detective Switch games out there and it's worth playing.
Jenny LeClue Detectivu
This game kicks off with a murder, where the main suspect seems to be the main character's mother. It's an intriguing premise and it leads to a fascinating story.
You play as aspiring detective Jenny LeClue, and you must get to the bottom of the case in order to prove your mother's innocence.
The story takes you all around the town of Arthurton, which is pleasant at first. Things quickly unravel, and the town isn't quite what it appears to be on the surface.
The choices that Jenny makes in this game will affect the type of detective that she becomes.
There are some interesting puzzle mechanics in this game that manage to increase in difficulty steadily without feeling overwhelming. It's humorous at times, and charming throughout.
With a compelling story, smooth mechanics, and brilliant voice acting, what's not to love? This is a must-play for any detective game fans.
The Sinking City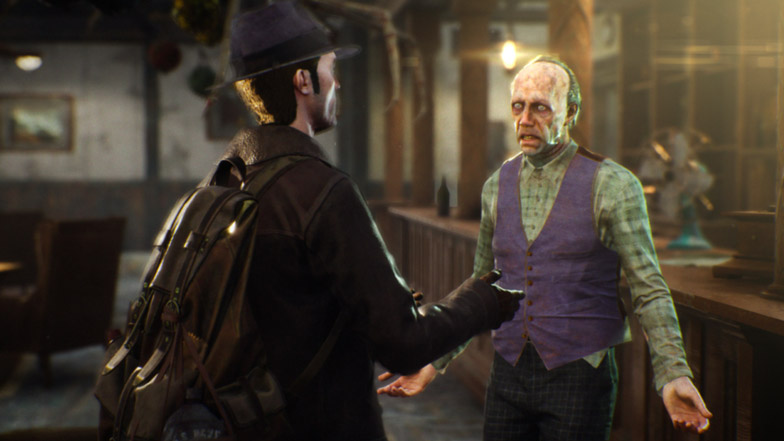 The Sinking City is a detective game that pits you against real Lovecraftian horrors.
In this game, you'll explore the almost-underwater city of Oakmont. The city is full of menacing secrets, and the protagonist, Charles Reed, has been led there by visions.
You play as Charles, and must learn more about the city and get more information about what your visions could mean.
The city is dangerous, and full of all sorts of eldritch horrors. You'll need to find weapons to help you defeat these beasts and hold on to the last threads of your sanity.
There's a light RPG skill tree in this game, focusing on your sanity and abilities. You'll be able to complete quests and solve mysteries in order to gain experience.
The crafting mechanics in this game are surprisingly rich, too, with Reed being able to find useful items and craft weapons or tools to help him progress further. Preparing yourself with the right tools will help you uncover more secrets in this intriguing, mystery-filled game.
Chicken Police Paint It RED!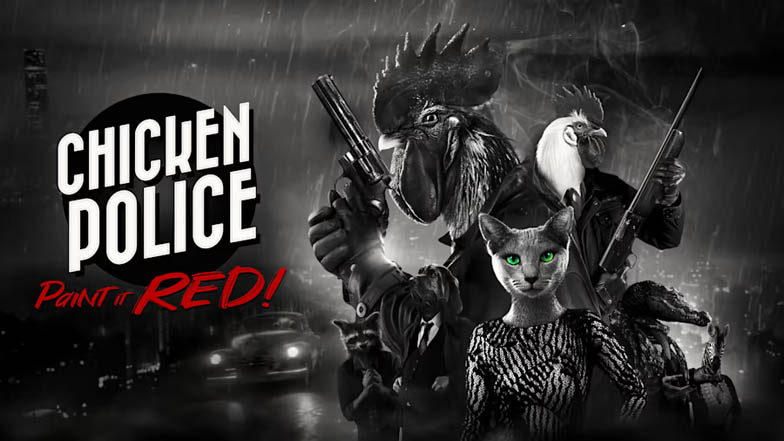 Much like Aviary Attorney, this entry is full of anthropomorphic animals and both have a bird as their protagonist.
What makes the two different is that Chicken Police Paint It RED! is made for the enjoyment of a more mature audience.        
The story follows two formerly-estranged chicken police that have come together to work on one last case. They're called Sonny Featherland and Marty MacChicken.
This is a point-and-click adventure game that manages to deliver a powerful story with a visual novel approach. It has a striking art style, and some truly interesting characters.
Sonny and Marty will need to work together to figure out who is sending threats to Natasha Catzenko, the NPC at the heart of their final case.
You'll need to go around the city of Clawville, interacting with citizens and scouring the world for clues. There are minigames to complete when you interrogate potential suspects, which adds to the immersion of the game.
The story is captivating and all the voice actors gave it their all. This is a fantastic detective game and it's perfect for visual novel fans, too.