Video games might not be everyone's first thought when it comes to educational tools, but they can be a great way to help people learn about new concepts and push themselves.
They're not just for kids, either.
If you're looking to learn about a new topic or concept, picking up an educational game could be a great move, especially if you're someone who's no longer in the education system.
To help you sort through the massive amount of games available on the Nintendo Switch store, I've handpicked the 10 best educational Switch games for you to download and try today. I've picked a wide range, to suit multiple age groups and subjects.
Game Builder Garage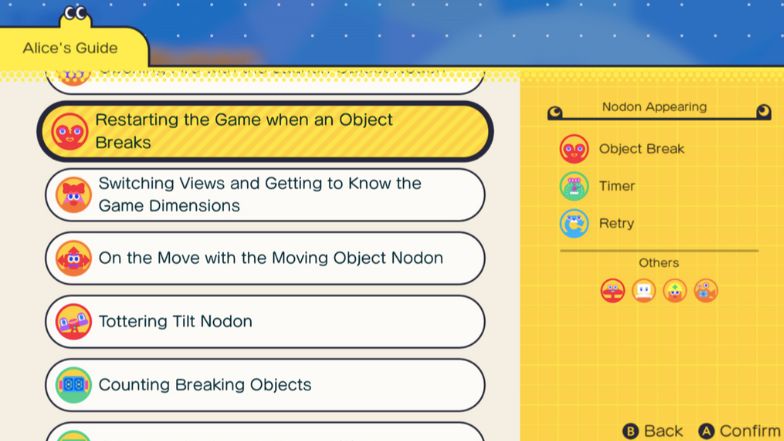 If you have any younger family members that are looking to get into game development and coding, this is a fantastic game to pick up for them.
Game Builder Garage is a brilliant addition to the world of educational games on the Switch. In this game, you can work your way through a handful of lessons to make structured games and projects, or play through in a free play mode to make your own projects.
This is a game that's geared towards younger players, so it's great to see that it's been made accessible and easy to engage with. There's clear and consistent guidance throughout the lessons, a log to help keep people on track, and no penalties for making any mistakes.
It's also very colorful and visually engaging.
Game Builder Garage plays well on the Switch, with a pleasant user interface and decent controls. There's the option to use a USB mouse and keyboard, too. There are no performance issues to note, and the audio pairs well with the visual style.
While some elements of this game could have done with a little fleshing out (like the ability to browse other people's creations or change the theme of your game drastically), this is still a superb entry into the world of game development.
It's unique, fun, and a great way to help younger gamers learn a new skill.
Big Brain Academy: Brain vs Brain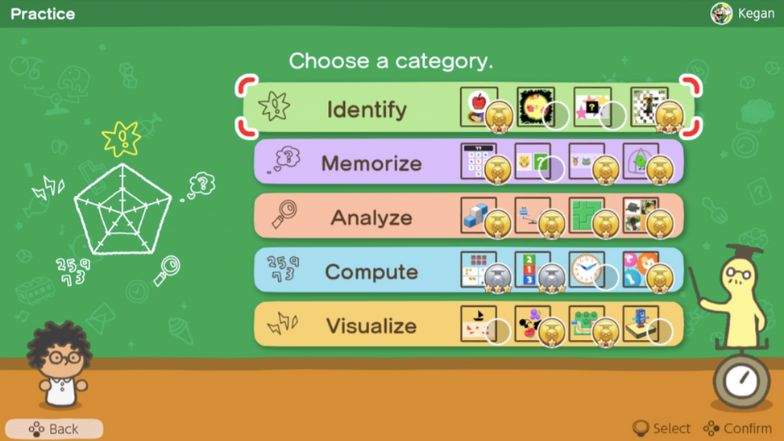 Big Brain Academy: Brain vs Brain is a fun game with an educational theme that's suitable for players of all experience levels and ages.
This game offers both a single player and a multiplayer mode, with single player consisting of 5 different disciplines to train your brain in. Each discipline has a series of mini games, and you can progress through them in ascending difficulty using the league system in the game.
The single player mode is a lot of fun and genuinely challenging in places, but multiplayer mode is where this game truly shines.
There's a great local multiplayer option for up to four players at a time, making for an excellent quiz-style party game, and an online mode where you can go against the ghost data of other players from around the world.
This game is a budget-friendly gem and it offers plenty of value for money. It might not be the most complex educational game on the Nintendo Switch, but it certainly is interesting and there's a handful of accessibility tools to make it suitable for players of all levels.
Trancelation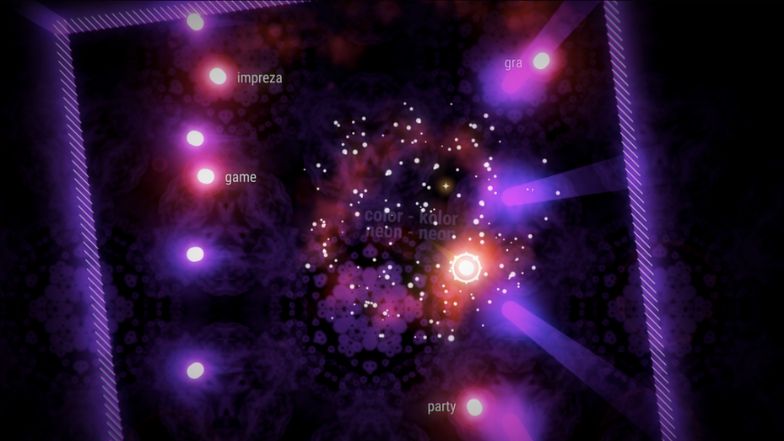 If you're working on learning a language at the moment, Trancelation is a fun game that could be a great supporting tool for your studies. It's not the most complex language learning game or app on the market, but it is a great way to brush up on basic vocabulary and sentences.
This game has an arcade style of play where you have to match up words from your chosen languages and complete objectives like matching a few words successfully in a row. It's a dazzling, neon-soaked game, complete with techno music in the background.
There are modes available in Trancelation, including some wicked challenge modes. The game is simple to pick up, and it plays well on the Nintendo Switch too. The music is fun and matches the neon vibe nicely, and I could not find any issues to report.
While you're almost certainly not going to learn a new language just by playing Trancelation alone, you may be able to boost your skills and get in some practice in a new, exciting way by checking it out. It's a fun and unique language tool, and it stands out from lots of the other educational games on the Nintendo Switch.
While True: Learn ()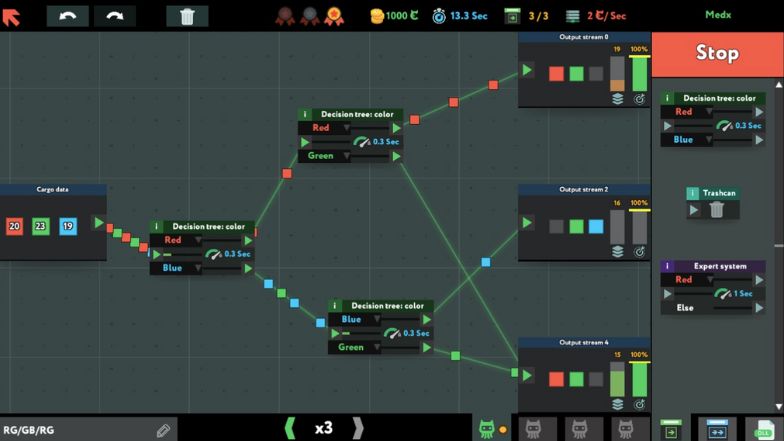 As noted in the introduction, educational games on the Switch aren't just for kids.
'While True: Learn ()' is one of the most interesting puzzle games on the Switch, and it's also one of the most effective tools for helping people to learn about coding.
The general premise in this game is that you're a fairly mediocre programmer with a cat who happens to be a programming genius. Your character sets out on an adventure to translate cat-speak into English, and the game unfolds from there.
The story is very entertaining and it's packed full of great coding puzzles to solve. They ramp up in difficulty steadily, giving you a chance to learn the mechanics in time but still pushing you to try your best and develop your skills.
There are a few technical quirks in this game when it comes to screen size and lag, but there's nothing game-breaking. The game looks good and combines entertainment with education nicely.
If you can look past a few hiccups with regards to performance, you're sure to get a lot out of this game. It's creative and offers a lot of intriguing content.
BodyQuest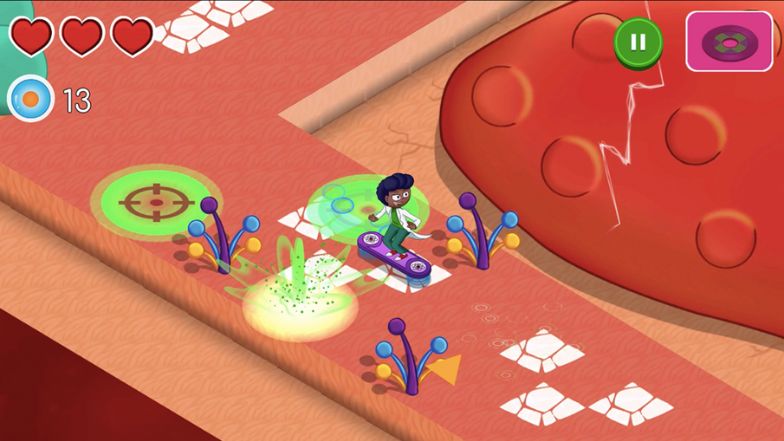 This game is an educational, science-themed title aimed at helping younger players learn more about the human body. It's simplistic and easy to pick up, and packed full of content to help young people expand their knowledge in a fun and laid back way.
In BodyQuest, you play as a medical team trying to combat an evil virus that has stolen a nanobot and infected one of your patients. You'll need to shrink down to the same size and pursue the virus in order to save the patient. The game gets you to chase the virus, while doing quizzes throughout the body in order to repair each part.
The gameplay and quiz elements are well balanced, making for a fun and educational experience. The quiz difficulty ramps up steadily and fairly, and the controls are easy to get to grips with. It looks great on the Switch, and there are no performance issues to report.
Something that I was not happy to see in this game was a spelling mistake in one of the quizzes. It's a small thing for sure, but disappointing nonetheless.
BodyQuest is a fun, informative game for kids that helps to break down topics like the nervous system and human anatomy in digestible chunks. It has a decent amount of content in it, including collectibles to hunt down, and it's worth having a look at.
7 Billion Humans
7 Billion Humans is a game that's ideal for gamers who are looking to learn more about coding. In a similar fashion to While True: Learn (), this game uses an interesting story and aesthetic to help people learn more about coding basics.
The general premise here is that you're an office manager working with robots and data cubes. You'll have to use coding exercises and techniques to solve the puzzles and carry out office tasks, using your robotic colleagues as vessels for your programming genius. There are over 60 puzzles to work through, each ascending in difficulty.
The writing here is fantastic, and it's admirable to see how the developers have managed to remove a lot of the frustration from learning a new skill without losing any of the challenge. The controls work without a hitch on the Switch and the overall art style looks amazing too.
7 Billion Humans is a brilliant addition to the roster of educational games on the Nintendo Switch and I highly recommend checking out. It's an approachable and enjoyable title, packed full of equal measures education and entertainment.
Little Mouse's Encyclopedia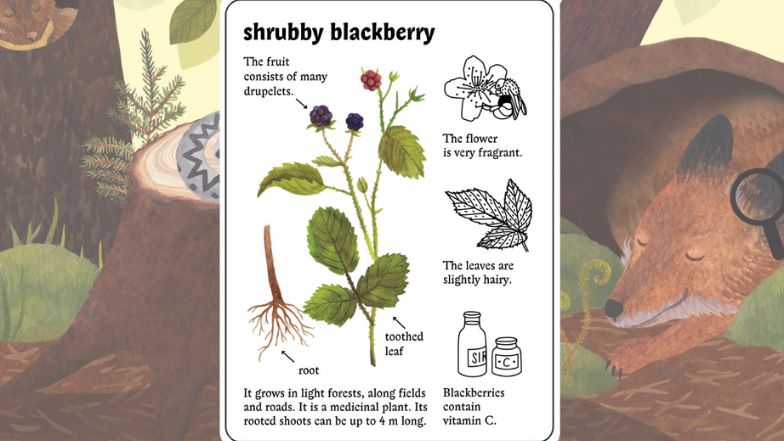 Little Mouse's Encyclopedia is a beautiful game that helps to teach people about different kinds of plants and creatures in the world. It's more of an interactive tool than a game admittedly, but it's absolutely worth including on this list for the value and style alone.
In this game, you control a watercolor mouse as she explores the world around her. You'll be able to check out different areas of the world and learn about the different plants and fauna that you come across as you go by accessing their Encyclopedia entries.
The art style for this game is stunning and it feels right at home on the Nintendo Switch. The game itself plays well, with no performance issues to note. The mechanics are very simple to pick up, and they work with both the touchscreen and regular controls.
Little Mouse's Encyclopedia is a great educational Switch game for younger players to look through with an older sibling or parent. There aren't too many gameplay elements to it, but it's educational and has plenty of content to keep people busy.
MathLand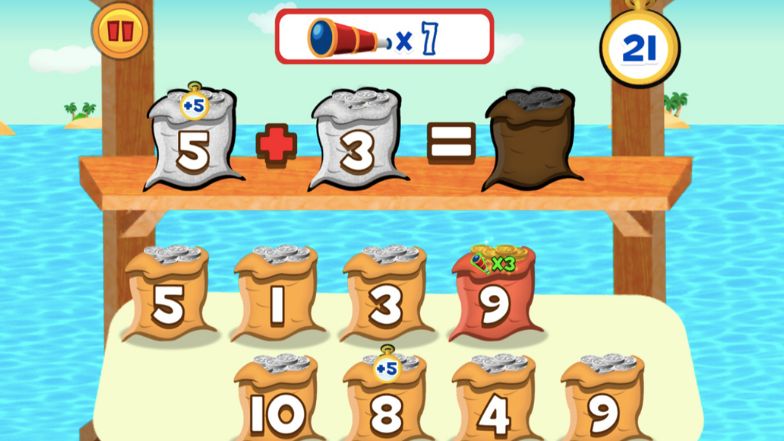 MathLand is a simple, colorful platformer game with an isometric style that aims to help younger gamers get to grips with math.
In MathLand, you'll need to work your way through colorful platformer levels and collect telescopes to be able to progress to later stages. Collecting telescopes is simply a case of solving math problems, which are all scaled appropriately to suit the player's age.
MathLand has a very child-friendly aesthetic and it looks decent on the Switch. It plays well, with no technical issues to note.
The controls and user interface are simple, although much younger players may struggle a little with the isometric style of play instead of a standard 2D platformer.
If you're on the hunt for a Switch game to teach younger people in your life about math and how to solve problems, MathLand could be the perfect pick for you. It may not be the most enthralling for older gamers but the simplistic setup and scaled difficulty for the problems makes this one of the best educational games on the Switch.
Scribblenauts Mega Pack
Searching for an educational Switch game to help with problem solving and spelling? Scribblenauts Mega Pack combines two great games (Scribblenauts Unlimited and Scribblenauts Unmasked: A DC Comics Adventure) and offers up one handy collection.
Both Scribblenauts games are puzzle games which follow the character Maxwell and his magical notebook. His sister, Lily, has an equally magical globe and tags along for a lot of the adventures. Players will need to help Maxwell and Lily solve various puzzles using the notebook to scribble things into existence and the globe to travel.
There's not just one solution for a puzzle in Scribblenauts, either. The game encourages you to try out different strategies for the puzzles, and pushes you to solve problems creatively. There is a hint system in place for younger players if they get stuck, though.
Visually, this game is a gem. The cartoonish art style is charming and fits the console well, and there are no performance issues to note. The controls are easy enough to pick up and there's touchscreen support in place.
This game offers great value for money and it's a great way for younger gamers to improve their spelling and problem solving skills without feeling like they're under too much pressure.
Letter Quest Remastered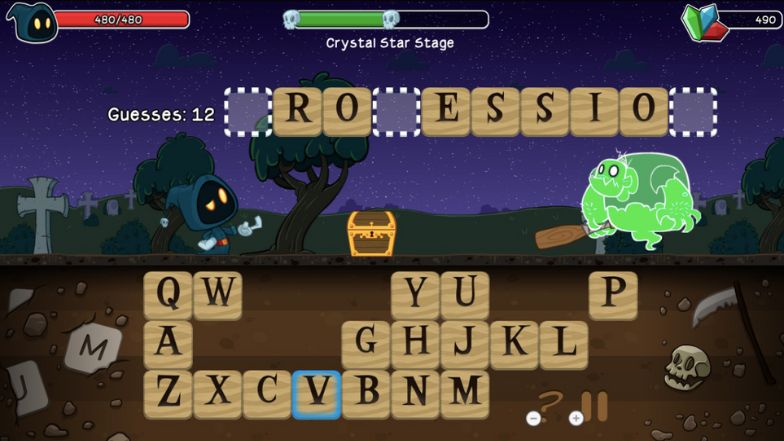 Letter Quest Remastered is a combination of an educational spelling themed game and a fun, fantasy oriented RPG. It's a unique addition to the world of educational games on the Nintendo Switch, and it's worth checking out.
In this game, players will need to battle opponents and traverse dungeons, using their spelling skills to deal damage to their foes. It's a fun and whimsical take on a spelling game, and there's plenty of variety to the levels and enemies on offer. There's multiple game modes to work through too, offering plenty of content to tackle.
The game looks great on the Switch, and you can pick between two different soundtracks to use during the game too. There are no technical issues or quirks to note, other than a few minor issues with button sensitivity. Nothing game breaking, but worth noting regardless.
Letter Quest Remastered is a stylish addition to the educational genre on the Switch, and it's suitable for learners of all ages and skill levels too.