The 7 Best Wrestling Games on Switch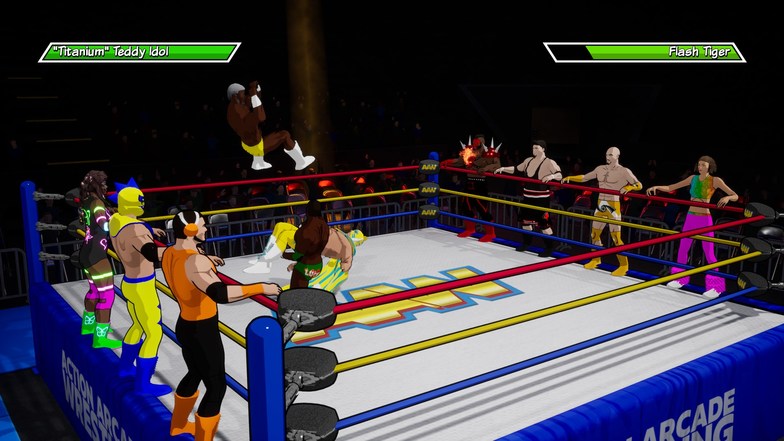 Image credit: Reverb Communications
With wrestling being in the 'Sports Entertainment' genre, it naturally translates very well into video games. There's plenty of incredible games that you can enjoy as a wrestling fan that feature fast-paced action, iconic characters, and some compelling stories.
Even if you're not a wrestling fan, there's plenty to love about it in the world of video games. It's inherently dramatic and features lots of larger-than-life characters, so wrestling games are some of the most approachable sports games around.
If you're looking for more wrestling games on the Nintendo Switch, we've got you covered. Here are the best 7 wrestling games on Switch to check out today.
Action Arcade Wrestling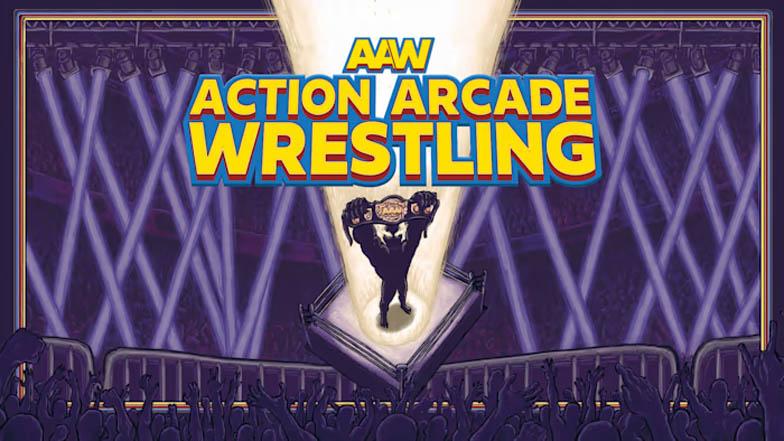 Starting things off, we have Action Arcade Wrestling, which is a small indie game that has a lot of heart.
This game uses a Manga art style with great visuals and sound effects. It certainly isn't a realistic emulation of the sport, but it's a bunch of fun to play.
You begin the game with 30 playable characters made up of generic wrestlers who each have their own move set and gimmick. They're good fun, but unrealistic in places.
However, with the extremely expansive creation options available in AAW, you can create or download any real life wrestler or wrestling ring you like. From Kenny Omega to Doink the Clown, you can find anyone you can think of in the community creations.
The gameplay is pretty basic and simple to engage with. You can strike, grapple and throw, but not much else. One thing that makes the gameplay unique though is the inclusion of 'spot calling' and power ups that appear during the match.
AAW may not have cutting edge gameplay, but between the vast creation options, unique art style and mechanics, it's well worth giving a go. It's one of the best indie games on the Switch for wrestling fans to check out.
Wrestling Empire
Moving onto the next title, we have Wrestling Empire, which is a brilliant indie game. It has heaps of customization options to make the game more immersive.
You have access to 350 playable wrestlers, with some of them being usable immediately and others needing you to complete tasks in order to unlock them. From there, you can customise just about everything in the game's Exhibition mode.
You can select where the match happens, whether it be in a stadium of backstage and also select the amount of wrestlers you wish to be in the match, which can go up to a ridiculous 30.
There are other options too, such as various weapons to select from which will be in the ring from the start and pre match promos, where specific wrestlers will call others out and create drama.
Due to the sheer amount of options available, it's unlikely you'll ever get bored of Wrestling Empire. It is one of the best wrestling games on Switch for people who like to switch up their gameplay and keep things fresh.
The gameplay itself is a throwback to the old 64 bit wrestling titles on the Nintendo 64 and PlayStation 1, with the animations being a little clunky, but this style is beloved by most wrestling fans due to titles such as Smackdown! Here Comes the Pain. This makes the game both a ton of fun and also somewhat nostalgic.
On top of all this, there's a pretty in-depth career mode for you to play through as well. In this, you'll go on a journey from wrestling on the independent scene, all the way to the top.
This game is definitely one for the more hardcore fans, as while it doesn't have the smooth and realistic gameplay of others on our list, it encompasses everything that's amazing about professional wrestling.
Arcade Archives MAT MANIA EXCITING HOUR
If you thought the last entry was retro, Arcade Archives MAT MANIA EXCITING HOUR takes it to another level.
This game was initially released in October of 1985 and was an extremely popular arcade game, but has since been remastered for the PlayStation 4 and, of course, the Nintendo Switch.
With it being 8-bit, it doesn't boast the most extravagant gameplay, as you'd imagine, but it's actually surprisingly intricate. You're fairly limited to strikes and basic grapples, but you are able to run around and bounce off the ropes to add some power to your clotheslines.
If you played this game back in the 80's, or just like its old fashioned style, you should definitely give it a go on the Nintendo Switch. It's a direct, untouched remake.
That being said, seeing as it is the exact same game that you could play for pennies in arcades, younger fans of the genre may want to stay away, as it might not be the best fit.
So if you're looking for a nostalgia trip and a game that will kill a few hours with casual gameplay, MAT MANIA EXCITING HOUR is the perfect blend of the two.
RetroMania Wrestling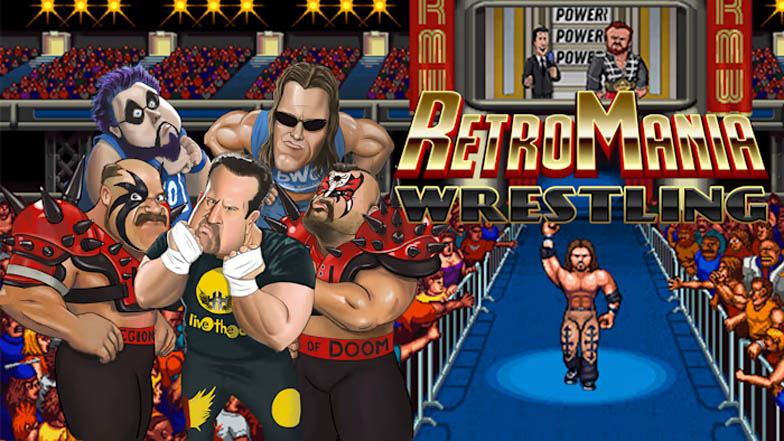 RetroMania Wrestling is the sequel to WWF WrestleFest back in the 90s, and came out in February 2021. Fans of the original game will be happy to know that RetroMania still has its arcade-like charm despite being released 30 years after Wrestlefest, with the 16 playable characters being a mix of old and new stars from all walks of the Wrestling world.
Not only that, but the arenas that you wrestle in add a lot to the experience. Whether you're in a gym, a wrestling convention, or one of many iconic venues from wrestling history, there's always a lot going on around you and they all look amazing.
Like a lot of Wrestling games throughout history, RetroMania is 2D, which may make some people think twice about giving it a try, but trust me, it's well worth it.
The gameplay features a system where you need to fill up a momentum bar in order to hit your finisher. To do this you first need to use light grapple moves until you unlock medium grapple moves, then you can unlock hard grapple moves.
Once you've maxed out the meter fully, you can then hit your signature move and win the match. This makes the game feel a lot more authentic, as in a real wrestling match, both competitors will start off slower with the aim being to build the match up to a big finish at the end.
Along with it feeling like a true wrestling game, RetroMania also boasts a number of different match stipulations including cage matches, tag-teams and 'Retro Rumbles', so you'll never run out of things to do while playing.
The game's story mode has you playing as 'Johnny Retro' – also known as John Morrison in WWE – with your overall goal being to get revenge on Zack Sabre Jr. for injuring you. You enlist the help of Stevie Richards to help get you back in shape and end up wrestling all over the world while meeting each of the characters at various points.
Overall, RetroMania is a brilliant representation of the wrestling game genre and is well worthy of a spot on our list of the best wrestling games on the Nintendo Switch.
BIG BANG PRO WRESTLING
Big Bang Pro Wrestling originally came out in Japan for the Neo Geo Pocket Color in the year 2000, but has since been made available to download and play on the Nintendo Switch.
Whilst Big Bang has kept its original gameplay and graphics, it's still a lot of fun to play. There are 10 playable characters, each with their own gimmick and fighting style, which is impressive for a game released over 20 years ago.
As far as the gameplay goes, it's fairly similar to other 2D wrestling titles on our list, but is incredibly easy to pick up for new players. Seeing as the Neo Geo Pocket Color only had two buttons, this game only uses two as well, meaning all you can do after grappling is either use a move, or whip the opponent off the ropes.
Even though it has its limitations, it's still a fun experience nonetheless and is well worth picking up if you're a fan of retro wrestling games.
What makes this game shine though are its game modes. You can play tournaments, coffin matches, 'reward' matches (which are similar to WWE's Money in the Bank format) and even a fairly in depth story mode where you go up against every other character in the game's roster and eventually challenge the champion.
For an old game released on a limited platform, Big Bang Pro Wrestling actually offers the player a lot to do and is definitely worth a try if you're looking for a new wrestling game to play.
3 Count Bout
Up next we have another arcade wrestling game which originally came out in 1993, 3 Count Bout.
This title is a lot more storyline focused, as it actually has lore. SWF – which stands for SNK Wrestling Federation – decided to host a tournament for the best wrestlers in the world to compete in, regardless of weight class or height.
This results in some pretty insane match ups and stipulations, as you'll find yourself fighting opponents that can breathe fire and will need to overcome them in a death match. The gameplay, as you'd expect, is arcade-like, with there being basic strikes and grapple attacks, but that really isn't the focus of 3 Count Bout.
There are 10 wrestlers to chose from overall, with each of them being a fictional character with their own unique looks and move sets. You can fight in an array of different areas including your standard pro wrestling rings and then more extreme locations like factories.
3 Count Bout feels like a cross over between wrestling games and fighting games like Tekken and Mortal Kombat, making it perhaps the most unique game on our list, but also one of the most fun.
If you're into a more over the top anime style wrestling game, then go ahead and pick up 3 Count Bout for the Nintendo Switch. It's one of the best fighting games on the Nintendo Switch by a mile if you're a wrestling fan.
WWE 2K Battlegrounds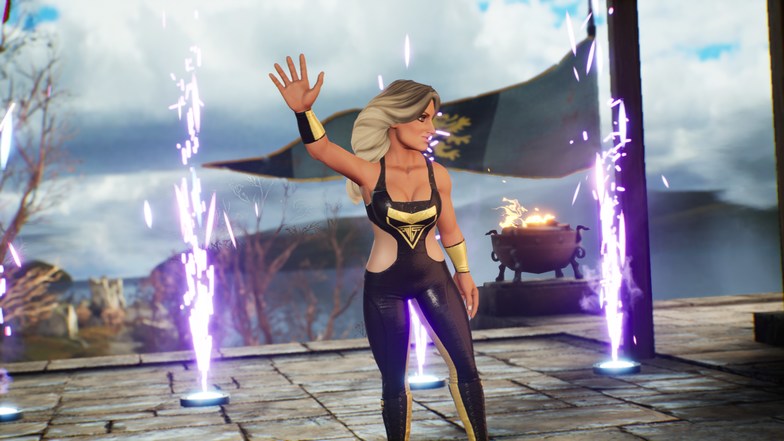 Finally, we have the only WWE game on our list – WWE 2K Battlegrounds. You might be wondering where other WWE 2K titles are, but in all honesty, they have all transitioned horribly to the Nintendo Switch, with countless bugs and frame rate problems, so we don't advise paying to play any of them.
Battlegrounds, on the other hand, is a much smoother experience that allows you to play a full-on, cartoon style wrestling game. The gameplay is somewhat limited, but features multiple different styles of wrestler, from Powerhouses to Strikers and High-Flyers, each having their own move sets.
It's a little disappointing that each fighting style has the same moves, regardless of which wrestler you're playing as, but this game is a much more casual experience than others we've mentioned, so for what it is, it's fine.
The story uses a comic book theme to guide you through a sequence of matches against all sorts of stars. Along the way you can unlock new power ups, battlegrounds and even wrestlers to use in game. It's not the most in depth storyline, but again, for a casual player who just wants to mindlessly button mash for a few hours, it gets the job done.
The reason why Battlegrounds makes our list is due to it's licensing capabilities and roster size. You're able to play as over 130 officially licensed wrestlers in some really aesthetically pleasing locations, which makes the somewhat repetitive gameplay a lot more manageable.
Out of all the button mashers we've talked about, WWE 2K Battlegrounds is right up there with the best of them, and would definitely be the best choice for a more casual pro wrestling fan.
If you're looking for more wrestling game goodness, make sure to check out our list for the best wrestling video games of all time linked below.