If you're a fan of racing games, chances are that one of the main things you enjoy about your favorite titles is the way the vehicles handle and how it feels racing around a map.
Drifting in games is a hell of a lot of fun, especially on portable consoles like the Nintendo Switch. There's a lot of drifting games out there though, and it can be hard to pick out a title to fit exactly what you're looking for.
To help you hit the asphalt running, I've handpicked the 10 best drifting games for Nintendo Switch, including games from different niches to suit as many preferences as possible.
CarX Drift Racing Online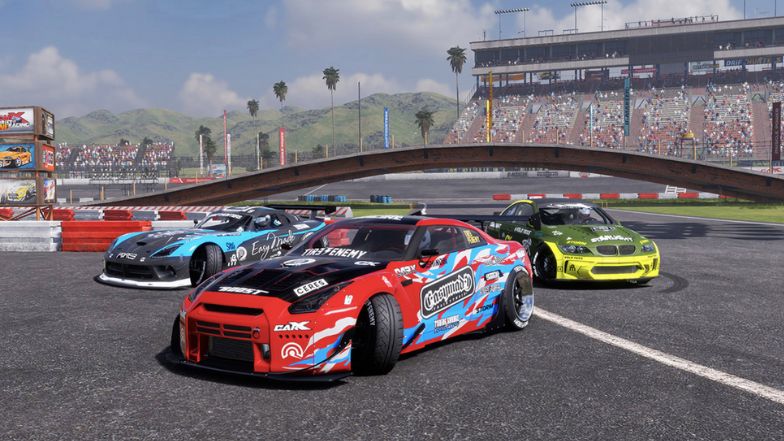 CarX Drift Racing Online is one of the best drifting games on the Nintendo Switch, and it's perfect for both new players and seasoned racing game fans alike.
Starting off as a mobile game, this title is a must-play for anyone who wants a fast-paced, immersive drifting experience. There's a decent single player campaign on offer, with lots of maps and a levelling system, and a multiplayer option as well.
It's not just drifting tracks and challenges in the game, either, there's some standard racing too.
The game looks decent on the Switch, and the soundtrack fits it well. The controls can take a moment to pick up, but once you do, the cars handle well when drifting and alright when racing. Other than that, the game plays well and has no performance issues.
The customization options in this game are immense, giving players the option to change almost everything about their cars and create some truly interesting setups.
CarX Drift Racing Online is a fun, action-packed drifting Switch game and I highly recommend checking it out. If you're willing to spend some time learning the controls, this can be a truly rewarding game to sink your time into.
Inertial Drift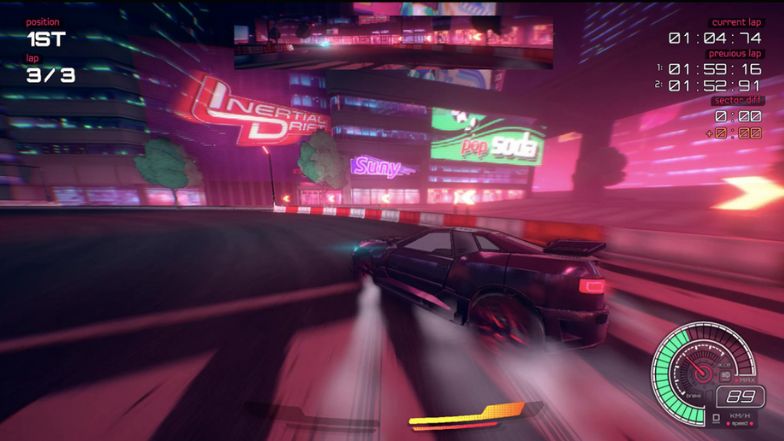 Inertial Drift is one of the most aesthetically pleasing games on this list. This game flips standard drift controls on their head, getting players to use the right stick to drift and the left stick to change the angle.
This is a stylish and fast-paced game, and it's sure to appeal to racing fans who are looking to test their skills. There are multiple game modes that require you to know your car incredibly well, pitting you against specific timers, other players, and other challenges.
There's a story mode in this game too, but if I'm honest, it's not the best. The writing is a little lackluster and there's a lot more fun to be had with the challenge modes and the multiplayer options too. It's worth trying, but I'd definitely recommend playing the other modes first.
Inertial Drift looks great on the Switch, with a smooth, colorful aesthetic. The performance is decent enough, with the only notable issue being that objects in the distance render at a much lower quality.
I chose this game for my list as I feel that it offers something truly unique when compared to other drifting games on the Nintendo Switch. It requires patience and practice, and it feels utterly rewarding when you nail a challenge.
JDM Racing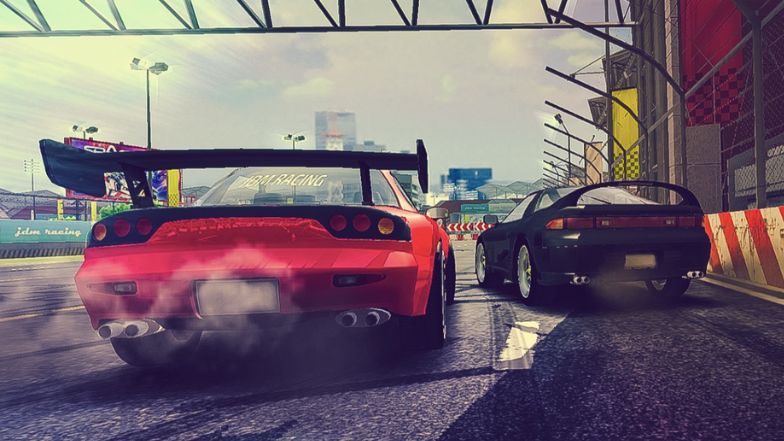 JDM Racing is a simple, budget-friendly racing game that offers some of the best drifting and handling on the Switch. It's not predominantly a drifting game, but the handling alone warrants it a place on this list.
In JDM Racing, there's a decent career mode and plenty of cars to race with and customize. There are also daily events, where you can try out different challenges like drag racing or time trials. The customization system is simple yet immersive and it's easy to pick up as you progress throughout the game.
The controls in this game do take a while to pick up, but once you've nailed them it feels very rewarding. Drifting in JDM Racing feels satisfying and realistic, and the style of play pairs well with the controls.
Visually, the game looks fine and it offers a decent amount of variety with the maps and tracks on offer. The audio isn't brilliant, but it works with the overall style of the game.
This is a great solo player option for drifting fans and it's ideal for those looking for a more budget-friendly option. JDM Racing has a decent amount of content and customization on offer, with a great user experience and plenty of cars to play with.
Hot Lap League: Deluxe Edition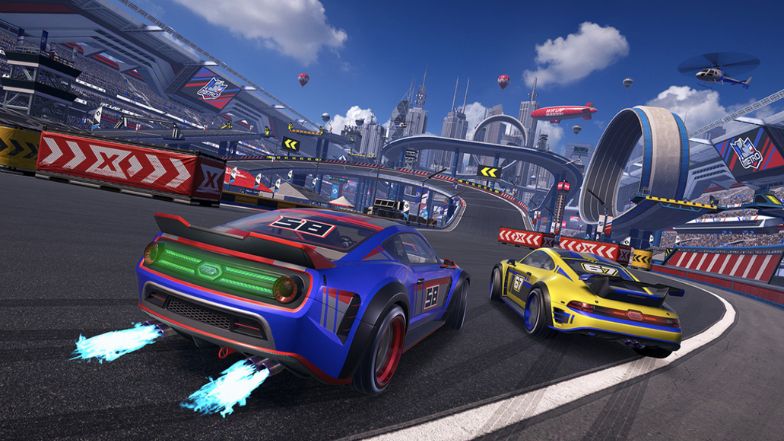 While this is not exclusively a drifting game, it's got one of the best drifting systems on the Switch. Hot Lap League: Deluxe Edition is a simple yet effective addition to the world of Switch drifting games, and it's worth checking out.
This game follows a simple arcade racing setup, offering over 150 tracks, heaps of vehicles, and plenty of game modes to keep things interesting. There's a great single player offering and lots of multiplayer content too, both in the local and global sense.
Hot Lap League: Deluxe Edition looks decent on the Switch, with some creative level design choices and interesting cars. It plays well mostly, although it does chuck up a few hiccups with frame rate here and there.
One thing that I must note is that this game requires you to have wi-fi at all times when playing. It is disappointing to see this on such a portable console, but it's certainly not gamebreaking by any means.
If you're ok with a few visual quirks and the requirement for internet access, this is one of the most exciting and rewarding drifting games on the Switch. The arcade style of play means it's easy to get into but difficult to master, and there's heaps of content to keep you busy.
Hashiriya Drifter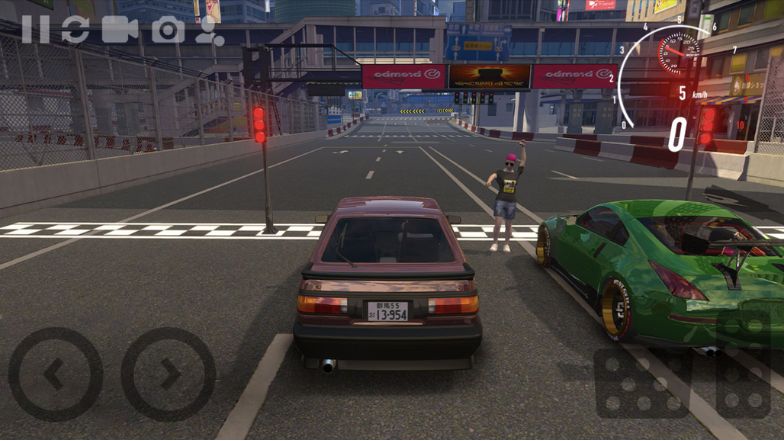 This game pays homage to the 80s/90s racing scenes in Japan, and it offers a vibrant, fast-paced experience. This is my personal favorite out of all the titles in this list.
Hashiriya Drifter is a detailed, immersive game that offers both single player content and multiplayer content. You can race with up to 20 people at once. The game also gives you the ability to build your own car from scratch, offering an immense amount of customization.
The aesthetic for this game is wonderful. It's clear that the developers had a lot of fun putting this together and it looks great on the Switch. The audio is cool too, and the controls feel intuitive and smooth to use.
Whether you're brand new to drifting games or a seasoned pro, this is a must-play. The sheer scale of the customization and PVP content that this game offers is astounding, and I highly recommend checking it out.
Cruis'n Blast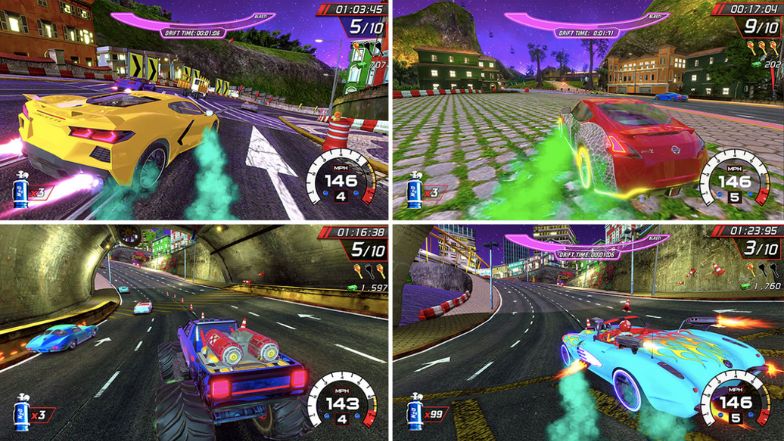 As you may have noticed from this list, arcade racing games tend to cross over into drift game territory very quickly. Cruis'n Blast is an iconic arcade racer that promises fiendishly fast fun for drifting fans, complete with goofy maps and a bucket load of cool cars.
The maps in Cruis'n Blast are fantastically silly, featuring quirks like giant yetis and dinosaurs.
There are over 20 unique maps to tear through in this game, with plenty of interesting cars to keep things fresh. There are multiple game modes, a trophy system, difficulty levels, and even local multiplayer options.
The drift mechanic in this game is brilliant. Each vehicle handles well (yet still manages to feel unique) and the game displays a gauge to tie into the drift mechanic, allowing you to access a speed boost that becomes necessary to clear more difficult maps.
Cruis'n Blast has smooth controls and a pleasant user interface. It performs decently on the Nintendo Switch with no notable hiccups, and supports both single players and multiplayer groups nicely. It's a worthwhile investment for new players and experienced racers alike.
Drift Legends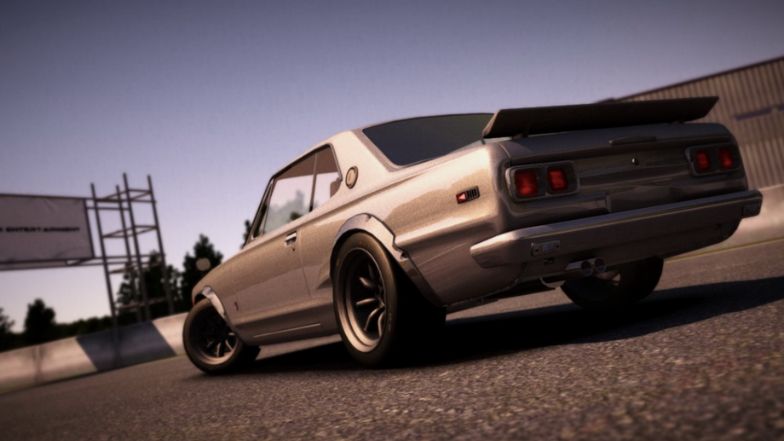 Drift Legends is the best option on this list if you're on the hunt for a budget-friendly drifting game on the Nintendo Switch. It's a pared back drifting experience, aimed predominantly at solo players who want to test their drifting skills.
In Drift Legends, the majority of the gameplay can be found in the career mode section of the game. You'll be able to test out different cars on different tracks, and push yourself to beat different challenges.
There is a little bit of currency grinding involved as you progress throughout the game, but it's not too overwhelming.
This game started off as a mobile game, which you can see in the aesthetic and design choices. It's colorful and bright, and the controls feel very intuitive. The menus can be a little clunky in places, but the game plays well on the Switch overall.
While Drift Legends certainly isn't the most complex drifting game on the Nintendo Switch, it is one of the best budget-friendly, solo player options. It's a great pick if you're someone who's new to drifting games.
Hotshot Racing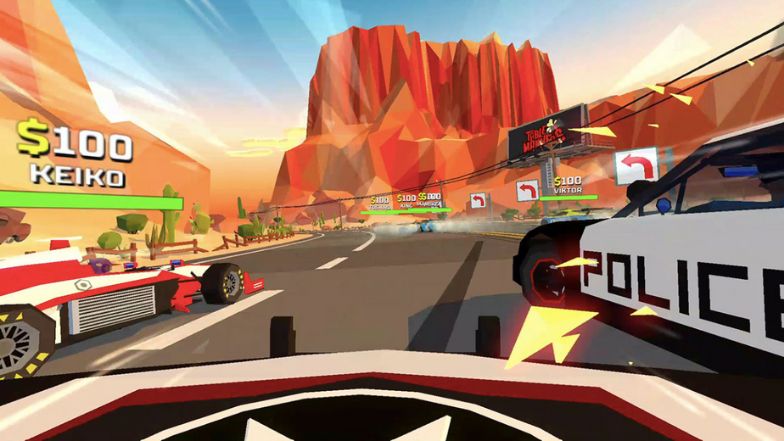 Inspired by old-school racing games like Virtua Racing, Hotshot Racing is a retro racing experience that drifting fans can't miss out on.
In Hotshot Racing, you'll be able to play in a variety of modes, ranging from the standard Grand Prix mode to the Cops & Robbers mode. There are plenty of maps to keep things interesting, and the options for multiplayer sessions as well.
Something that I really like about Hotshot Racing is that it offers multiple characters to pick from, each with their own car and backstory. It's a small detail, but it makes nailing a challenge or winning a race feel more special when you connect with a character.
Hotshot Racing has a wonderful old-school aesthetic and it looks great on the Nintendo Switch. In terms of performance, it plays well and the cars handle fantastically, allowing for some truly impressive drifting and tricks.
If you're a racing fan or drifting nerd looking for something new to try out, I highly recommend taking a look at Hotshot Racing. This game has plenty on offer, and it's a brilliant nod to the older arcade games that came before it.
Horizon Chase Turbo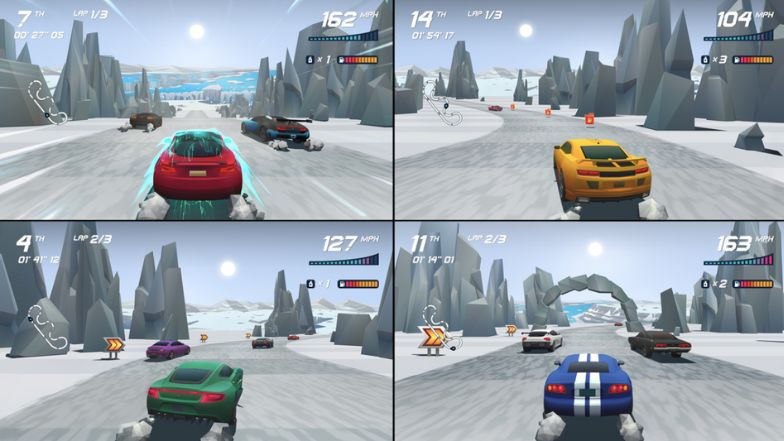 Horizon Chase Turbo is more of an arcade racer than a purely drifting game, but it offers some of the best drifting and handling on the Switch. This game is fast-paced and fun, with a charming retro aesthetic.
There are heaps of maps and game modes to sink your teeth into in Horizon Chase Turbo. There's a solid World Tour mode with plenty of maps, a Championship mode to test your skills, and a Playground mode with frequently updated content and leaderboards.
Horizon Chase Turbo looks wonderful and it nails the retro aesthetic perfectly. The soundtrack pairs with the style nicely, creating an immersive and memorable experience.
With a mountain of content, stylish aesthetic, and gameplay to die for, what's not to love? The cars in Horizon Chase Turbo handle like a dream and the controls are easy to pick up when playing. This is a must-have for any racing and drifting game fans, I highly recommend it.
Super Pixel Racers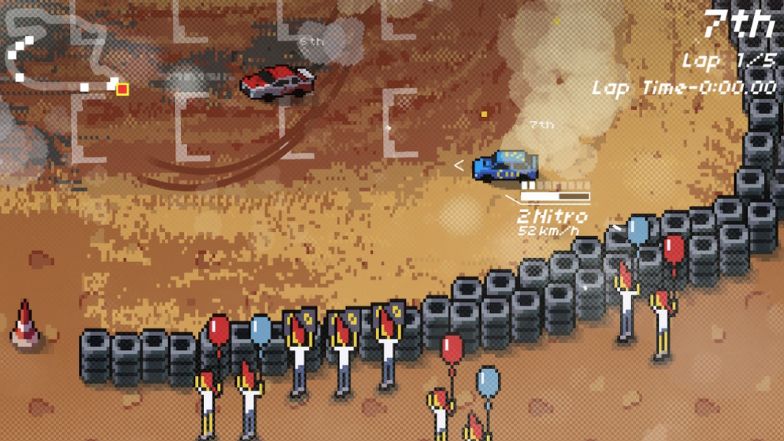 There are mountains of incredible games on the Switch with indie developers, and Super Pixel Racers is one of the best ones if you're looking for a fun, lighthearted drifting experience.
With a charming aesthetic and a top-down perspective, Super Pixel Racers certainly stands out from the other games on this list. It's not strictly a drifting game, but drifting makes up such a large chunk of the gameplay that I would've felt wrong if I didn't include it.
There are plenty of game modes to explore with Super Pixel Racers, including standard races, unique challenges, and even a drift challenge mode. There are 13 different classes/cars to drive, and each one feels satisfying and handles well.
The controls for Super Pixel Racers are very pared back but they work perfectly with the style of play. There are no performance issues to note, and it performs well on the console.
Super Pixel Racers might not look like your standard drifting game, but I highly encourage all of you reading to check it out. It's silly and fun, and contains plenty of content for both single players and multiplayer groups alike.