In gaming, horde mode (also known as survival mode) refers to a game mode that lets you battle an endless wave of enemies, usually until you die.
Horde mode can be found as a part of other games alongside other modes, but there are some incredible games out there that exclusively offer horde-style content.
One of the best things about battling hordes in games is the constantly ramping difficulty. Horde games push players to constantly improve weapons and abilities, strategize more effectively, and learn the game mechanics quickly.
With an intense style of play, minimal lore and cutscenes, and a constant sense of challenge, what's not to love? If you're a Switch fan, you'll be happy to know there's plenty of horde games out there for you to check out.
Here are the 15 best horde mode games on Nintendo Switch.
Earthfall: Alien Horde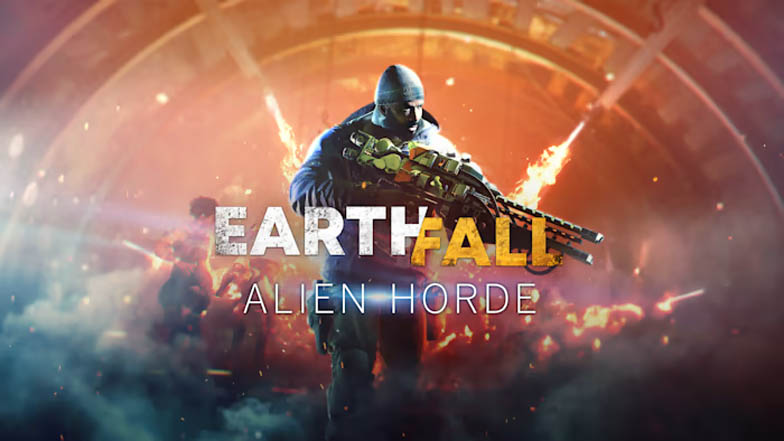 An excellent way to start off this list is with Earthfall: Alien Horde.
This game is a first-person, action-filled shooter that tasks you with surviving an onslaught of ferocious aliens. The Earth has been invaded, and it's your job to take out as many aliens as possible on your way to the next safe house.
This L4D2-inspired formula and addictive gameplay loop makes it ideal for your next games night with your partner.
There are multiple modes to enjoy in this game, including a solid campaign mode and a high-stakes invasion mode.
Invasion mode will test your survival abilities, as the amount of enemies that you'll be facing off against will be overwhelming. You'll need to manage your supplies and equipment well if you want to thrive in this mode.
There are lots of types of aliens to contend with, each of which have their own abilities and skills. One of the most difficult types to tackle is the Enrager, which has the ability to empower other aliens and make them stronger.
This makes defeating hordes very tricky.
Earthfall is a thrilling horde-style game and it's worth adding to your Switch library today.
DOOM Eternal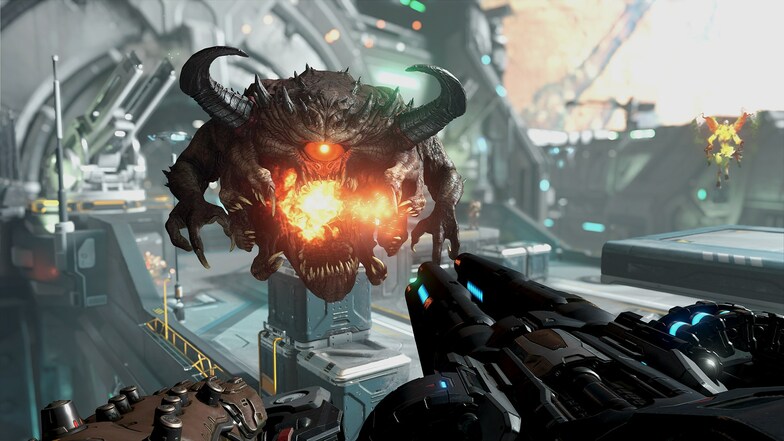 DOOM Eternal is a modern spin on the original FPS gem. It's a sci-fi horror classic, with a high-octane style of combat.
You play as the infamous Doom Slayer, who has to fight off countless hordes of demons. Playing as him feels like you're in an old-school action film, with plenty of tricky battles, fearsome enemies, and a level of gore and flashy combat that's almost ridiculous.
The main highlight of this game is the horde mode, which is similar to the main campaign but has a few extra elements.
The horde mode has several different areas which are split up into rounds, like Arena, Blitz, Traversal, and a bonus round. It's frantic and fast-paced, and each round requires different skills like platforming or combat.
Taking down enemies will also give you points, especially if you take down a bounty demon.
Bounty demons fall into gold, silver, and bronze categories. Their value gradually decreases and taking them out will reward you with new weapons.
DOOM Eternal is a legendary game and it stands out from the other horde mode games on Nintendo Switch. It's well worth picking up and checking out today.
World War Z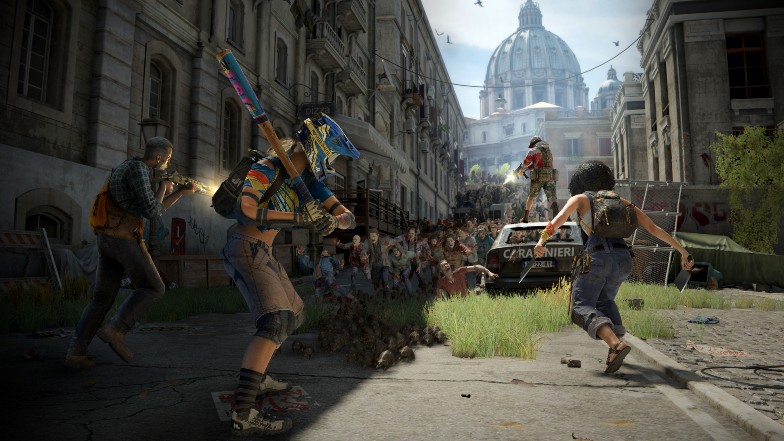 World War Z is a video game adaptation of a film with the same name. It's a third-person zombie shooter that runs like a dream on the Switch.
The game starts off with standard campaign missions, with a handful of different characters and classes to pick from.
You can customize your characters with a variety of cosmetics and unique weapons, as there are plenty to collect and pick up throughout the game.
It's possible to pick up interesting upgrades and attachments for weapons, too. These upgrades are handy in the game's horde mode, with the spotlight being particularly useful.
The horde mode in World War Z is chaotic and fast-paced, with endless crowds of zombies and some unique monsters to take down alongside them. For example, you'll need to battle Boosters. Boosters emit toxic fumes which act as a buff for nearby zombies.
One of the best things about horde mode in this game is the fact that it is, quite literally, endless. The challenge is in seeing how far you can get through the game and doing your best to reach the highest wave possible.
With a solid single player offering and plenty of choice for multiplayer sessions, what's not to love here? This game has a spectacular horde mode and it's worth getting for your Switch today.
Crimsonland
Crimsonland is a game that looks ridiculous on the surface, but is actually a lot of fun. The game combines arena shooter elements and RPG features in one package.
This game takes inspiration from older top-down shooters, such as the famous Alien shooter that came out in 2003. It's a thrilling addition to the selection of horde-style games on the Switch and sci-fi fans are sure to love it.
Crimsonland pits you against seemingly endless swarms of enemies in different modes.
The RPG elements are small but mighty in this game, letting players pick from different perks after finishing specific levels. These perks can give you a huge advantage while playing.
There are lots of creative weapons to pick up in this game, too. You can use an ion shotgun or a blade gun, for example. There are plenty of power-ups to upgrade with too.
Overall, Crimsonland is charming and engaging. If you enjoy top-down shooters with a retro feel, this is the perfect horde Switch game for you.
Son of a Witch
Son of a Witch is a game that blends fantasy and cartoonish violence. It's a roguelike ARPG which manages to be funny yet challenging at the same time.
This game gives you a variety of classes to pick from, and they all fall into different playstyles and have different specialities. For example, rouge classes can sneak behind enemies to finish them off.
One of the most interesting game modes in Son of a Witch is the endless arena mode. Each time you complete a wave in this mode, you'll get another wave of tough enemies to contend with immediately.
You can also choose which room to go in after a boss in this mode. Bosses spawn every 5th wave, and defeating them will give you time and resources to pick up power-ups and purchase weapons from the merchant.
Son of a Witch isn't exclusively a horde mode game, but it still manages to be one of the best horde-style games on the Nintendo Switch. The endless arena mode is immensely satisfying to play through and it offers just the right level of challenge.
DEADCRAFT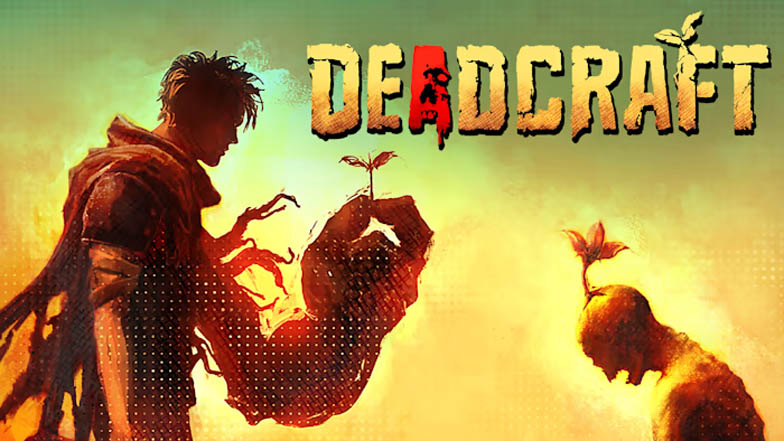 DEADCRAFT is a premium example of a survival game. It's an ARPG with a top-down style, and it blends zombie-slaying action with unique simulation elements.
One of the things that sets this game apart from the competition is the gameplay loop. Alongside the punchy combat, you can take on side quests, gather resources, tend to crops, and craft useful items and weapons.
The combat system in this game takes hack-and-slash mechanics and mixes them with typical strategy features. For example, you can build turrets or barricades to protect your base from zombies while trading blows with the undead.
As you fight, hordes of zombies will keep spawning and coming to try and eat your brain. You'll need to stay on your toes and manage stats like energy and hunger, too.
DEADCRAFT is another game that doesn't just focus on a horde mode experience, yet it still manages to be one of the best horde mode games out there. It's worth checking out.
Akane
Another great game to check out is Akane. This top-down action game has a cult following thanks to its challenging gameplay and stylized action sequences.
Something that makes Akane stand out from the other horde-style games on the Switch is its one-hit death mechanic.
Bosses and swarms of enemies can die in one hit – but so can you.
Combat in this game is rich, with hack-and-slash style mechanics. You'll need to manage your stamina well in order to progress.
To progress through the rounds, you'll need to defeat 100 enemies apiece and win some tricky boss battles, too.
There are some extra challenges that you can complete while progressing, which will reward you with a nice variety of powerful weapons.
Overall, Akane is an incredible hack and slash title and one of the best horde mode games on Switch. It's worth picking up no matter your experience with horde-style games as it's approachable yet ramps in difficulty steadily.
Risk of Rain 2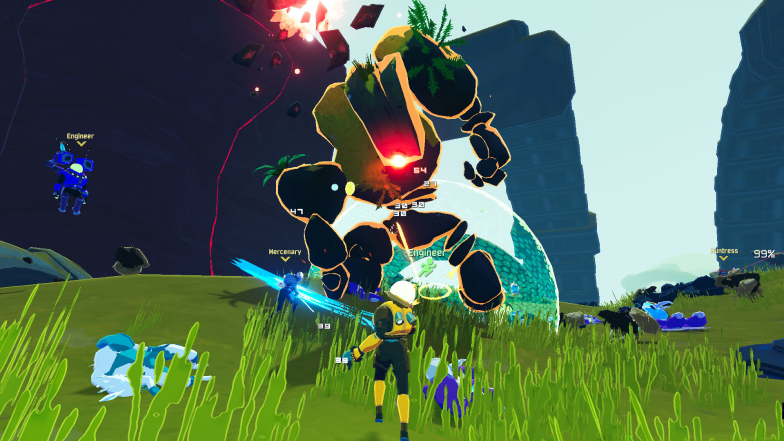 In Risk of Rain 2, every choice you make could come back to bite you.
It's a third-person action shooter with challenging hordes of enemies to defeat.
The game is full to the brim with enemies, and it's utterly exhilarating to travel around the map during a round. Every class has significant abilities and methods of getting from A to B, which add plenty of replay value.
There are lots of incredible items that can help you take down your enemies with ease in this game. Some of them can boost your stats or even modify your equipment.
The difficulty in this game ramps up steadily, with the game getting harder and harder the longer you stay and fight.
Make sure to keep an eye out for treasure chests when battling, and look out for teleporters too. Activating a teleporter means that you can spawn a boss and travel to a new area once you've managed to defeat it.
Risk of Rain 2 is a great introduction to the trickier side of horde-style games. If you want a game with an addictive gameplay loop that'll test your skills, this is the game for you.
Zombie Army Trilogy
Zombie Army Trilogy is a third-person action shooter game with an eerie soundtrack and plenty of hordes of zombies to tackle.
The game is set in an alternate timeline where nazi zombies are reigning supreme in WWII. You play as the only remaining survivor trying to survive a horde of zombie soldiers.
Every game mode in Zombie Army Trilogy is enjoyable, but the horde mode stands out as the best. You'll need to overcome as many waves as possible, and each wave will be significantly more difficult than the last.
Armored zombies will start showing up after you beat a few waves, and these can be incredibly difficult to take down.
You can even enjoy the horde mode with friends. The multiplayer option is a lot of fun.
This game requires you to think on your feet, and you'll need to consider your positioning as well. There are plenty of unique weapons to use in this game, each of which with their own advantages and disadvantages.
Zombie Army Trilogy is a fast-paced, gory game that fans of zombie titles and war games will get a kick out of.
DUSK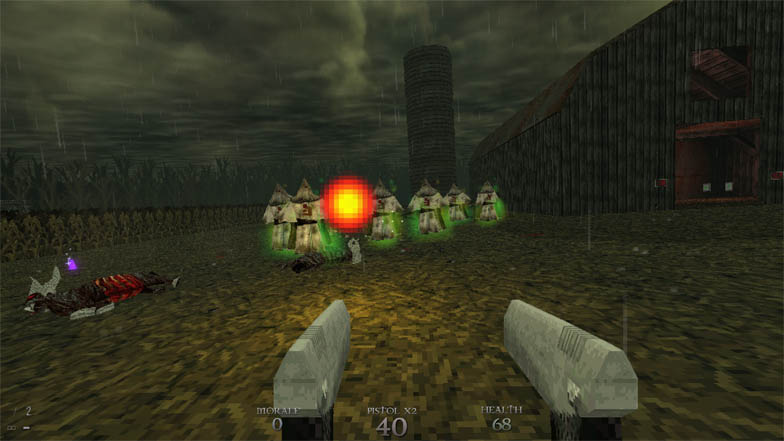 DUSK is a great example of a retro-styled title that still holds up today.
It's a first-person shooter that takes a lot of inspiration from classic titles and has a rocking soundtrack to match the frantic action.
The game feels like you're living through a classic horror title like Evil Dead, pitting you against demons, cults, and otherworldly creatures.
There is a solid campaign in this game, but the real highlight (and the reason the game is in this list) is the survival mode.
Playing in the endless survival mode will keep you on the edge of your seat. You'll have an arsenal of powerful weapons at your disposal, like mortars or dual shotguns, and will need to battle your way to the highest wave possible.
DUSK is one of the most interesting games on the Switch for horde mode fans to check out, and it's a worthwhile pick for old-school action and horror fans, too.
Resident Evil 6
Resident Evil 6 is a criminally underrated part of the Resident Evil franchise, and it offers a perfect mix of heart-stopping horror and fast-paced action.
This game is a third-person survival action game and it has a truly compelling story. You get to pick from three campaigns, and choose characters from these campaigns to accompany you on your zombie-slaying adventures.
The reason this game is in this list is the mercenary mode, though.
Mercenary mode is RE6's answer to horde mode, and it's a hell of a lot of fun. You'll face off against endless hordes of the undead, with certain objectives to complete in order to unlock characters and summon bosses.
There are 8 characters to pick from in this game, including fan favorites Chris, Leon, and Ada. These characters can be edited and they all have their own sets of weapons.
You'll need to manage your ammunition well in order to survive each wave, and one of the best ways to do this is to stagger them. You can shoot them in the head or the legs to stagger them, then use a move like a drop-kick to finish them.
Resident Evil 6 is a truly impressive combination of survival horror, action, and horde-style combat. It's worth playing if you haven't already.
Saints Row The Third Full Package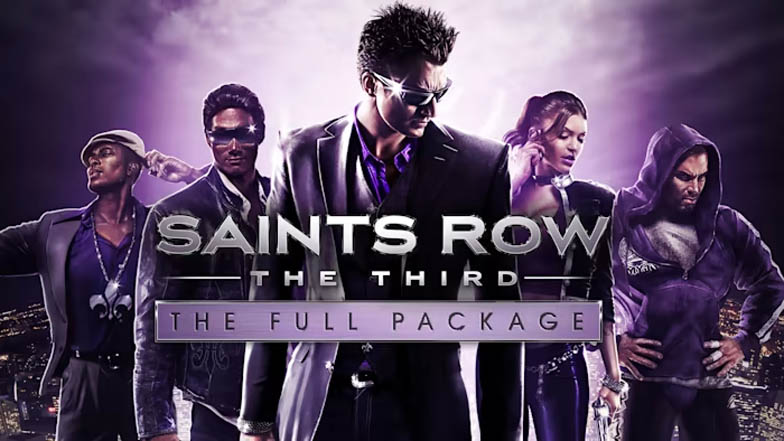 If you're looking for something hilarious and over-the-top, Saints Row The Third: The Full Package is the game for you. It's an open world, third-person shooter game with fast-paced action, multiple game modes, and an iconic (if inappropriate) comedic style.
Most of the game involves exploring the map and finding ways to entertain yourself. There are heaps of activities and challenges that you can complete to get money and respect, and there are lots of side-quests, missions, and alternate objectives too.
One of the most popular modes is the survival mode, which has over 26 missions.
You need to answer a call in order to start a survival mode mission. These missions are wave-based, which means you'll need to take down hordes of different enemies and survive a certain number of waves in order to win.
The horde mode content in this game is silly and inappropriate at times, yet absolutely engaging and quite difficult in places. It's one of the most unique horde Switch games out there, and it's worth checking out.
Quake
Quake is a remake of a timeless classic, and it's an absolute must-have for any horde game fans. It's a punchy FPS that takes inspiration from gothic horror, and it's full of fast-paced, ultra-violent action.
Quake blends maze-like puzzles and bloodthirsty action into an addictive gameplay loop.
You'll need to battle hordes of undead knights and demons, while looking for secrets and keys to unlock the doors to the next levels.
The remastered version of Quake introduced a dedicated horde mode, and it's incredibly fun.
This mode sends constant waves of enemies after you, along with bosses appearing in every third wave. Defeating a boss will reward you with a silver key, which you can use to obtain locked weapons and power-ups.
The original Quake is a blast, but this particular version stands out as one of the best horde mode games on Nintendo Switch. Whether you've played the original or not, it's worth picking up Quake and adding it to your library today.
Splatoon 2
Splatoon 2 is a fun and vibrant action-shooter with a colorful art style and a heavy emphasis on competitive gameplay.
It's not exclusively a horde-style game, as it focuses on competitive shooter gameplay, but it does have an exceptional horde mode which made it a worthwhile contender for this list.
This mode is called Salmon Run, and it's just as silly as it sounds.
In this mode, you'll need to take down waves of corrupted salmon called Salmonids. These Salmonids are trying to steal golden eggs, and your team will need to capture these eggs while defeating bosses and finishing each wave.
There'll be specific objectives for each round, relating to how many golden eggs you need to collect and keep.   
Splatoon 2 is one of the best multiplayer games on the Switch and it has an exceptional horde-style mode.
Resident Evil Revelations 2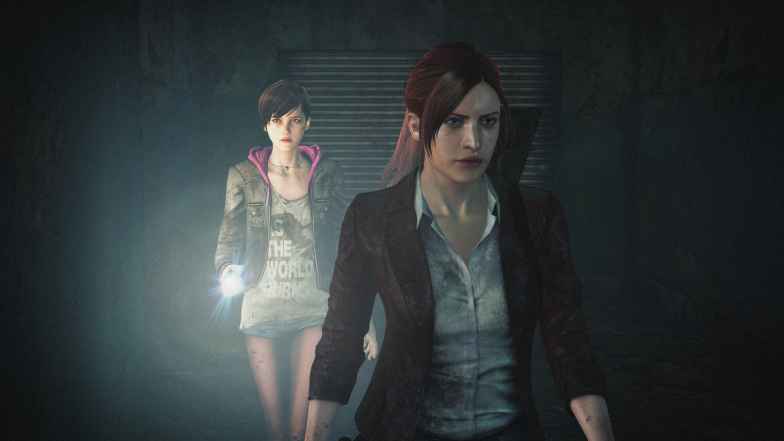 Resident Evil Revelations 2 is a sequel to the original Revelations and it acts as a stepping stone between Resident Evil 5 and Resident Evil 6.
It's a third-person game with an equal mix of action and survival horror, and it brings back fan favorite Claire Redfield as the main protagonist. Barry Burton is also a playable character in this game.
This game's campaign is engaging, but a little shorter than the original. The reason this game is in this list is the Raid mode, which is Resident Evil's answer to horde mode.
In Raid mode, you'll get to look around the hub room for important skills to pick up, weapons, and even additional skins. The level of customisation is great and adds to the replay value.
The main gameplay loop is smooth, using run-and-gun mechanics to take down a specified number of enemies. It's simple but fun, and the movement feels impactful.
You'll get skill points after a Raid mode round, which will help you strengthen your character and prepare yourself for even more intense enemies.
In general, the Resident Evil franchise is a solid bet for horde-style game fans. This particular game is a delight to play and it's a must-have for your Switch.