If you're a boxing fan, you'll know that it can be quite difficult to find a good boxing game on platforms like the Nintendo Switch.
No matter whether you're a casual fan looking for a laidback experience or a boxing enthusiast looking for something to mimic the thrill of watching a good match, there's a lot of mediocre games to sift through.
To lend you a hand, I've handpicked the 8 best boxing games for Nintendo Switch and put them together in this list. There's all sorts of game styles here, covering everything from simulation games and action games, to a great arcade game at the end of the article.
My personal favorite is number 5 – just a heads up if you wanted a recommendation from yours truly.
Pato Box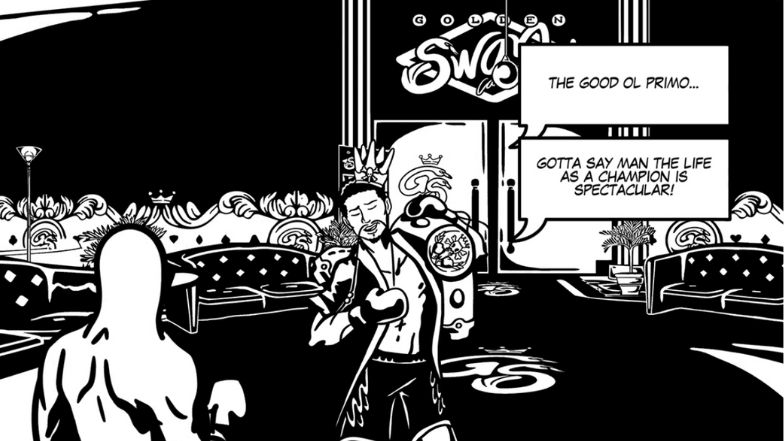 This game is a truly unique addition to the world of boxing games. Pato Box is an action-adventure game with an arcade feel, and it works perfectly on the Nintendo Switch.
Pato Box follows a superstar boxer as he recovers from having his water spiked during a match by the crime syndicate Deathflock. Playing as the boxer, you'll have to work through each level of the Deathflock HQ and battle the hordes of enemies and bosses.
I was happy to see that there's a surprising amount of depth to this game, hidden underneath the duck heads and silly puns. This mystery game has an intriguing narrative and some fascinating puzzles hidden amongst the battles and brawls.
Visually, the game looks great and it feels at home on the Switch. The controls make sense, and it's easy to sink a decent amount of time into it without realizing. The dramatic, dark aesthetic is an added bonus.
Pato Box is one of the most interesting boxing games that you can get on the Nintendo Switch right now, and I highly recommend checking it out. Even if you're not really a boxing fan, the combat and the narrative make this a truly enjoyable experience for all gamers.
Fitness Boxing
If you've had a look for boxing games on the Nintendo Switch before, chances are that you will have noticed a fair few home workout games with a boxing theme. Fitness Boxing is a great game for anyone who's looking to have a truly hands-on boxing experience.
While workout games might not be everyone's cup of tea, it is great to see one that's been put together with evident thought and care. This game offers enjoyable gameplay meshed with some truly demanding workouts that you can scale up or down in intensity.
Something that I love about this title is that it's an accessible way to incorporate boxing into your everyday life. Unlike other home workout games that demand a lot of time or repetitive sessions, you can pick this game up whenever you need a short burst of activity.
There's decent customization options available in this game, with the ability to pick your animated instructor and edit them. There's unlockable content and daily stamps, too.
Don't worry if you're not a fan of having an instructor speaking to you during your workout – you can mute them if you like.
Fitness Boxing is one of the best home workout games on the Nintendo Switch with a boxing theme. The music is upbeat, it's engaging and it doesn't take itself too seriously.
Creepy Brawlers
If you're looking for something that combines both old-school boxing and horror games, Creepy Brawlers is the perfect pick for you.
In this game, you play as an anonymous boxer who wakes up with no memory in a boxing tournament and has to fight iconic movie monsters. With fatal matches refereed by a disembodied hand, this game puts a spooky spin on classic boxing arcade titles.
I'm a huge fan of games with a retro aesthetic, and this game pulled it off spectacularly. The pixel art is surprisingly detailed, and the macabre artwork looks great on the console. The soundtrack feels authentic and old-school, too.
The controls are decent and feel like a classic fighting arcade title, which could be a pro or a con depending on your preference. There are no elements like stamina to consider here, just how quickly you can punch and whether you can block your opponent's attacks.
Creepy Brawlers nails the old-school vibe and it's ideal for boxing fans who want an arcade brawler to sink their fangs into. If you've ever wanted to sucker punch Dracula in the face, now's your time to shine.
ARMS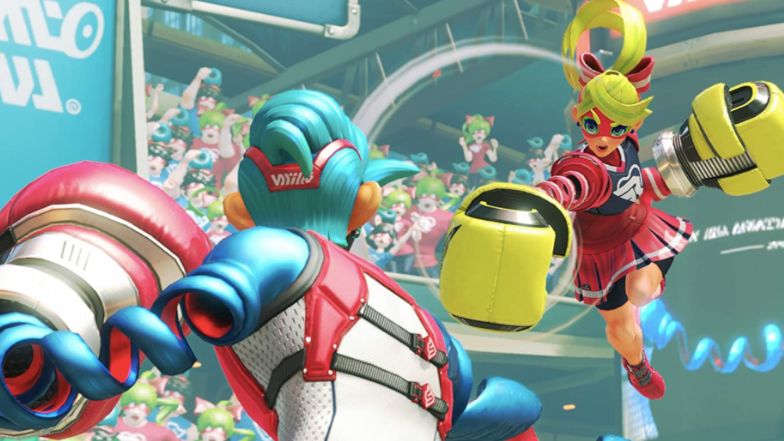 ARMS is a boxing themed brawler with a twist. Each fighter in the game has telescopic arms that aim to keep enemies at bay and do as much damage in the process, too. It's silly, fast-paced and a lot of fun.
There are 10 unique fighters to pick from in ARMS, with each one possessing unique skills like enhanced speed and the ability to take massive hits without flinching. The character design is intricate and creative, and each one of them has their own personalized arena to do battle in.
ARMS offers heaps of content, with a classic Grand Prix mode and a wicked local multiplayer Versus mode. There are team fights too, as well as a volleyball mode, a basketball mode, an accuracy challenge called Skillshot and (my personal favorite) 1-on-100 mode where you have to tackle 100 enemies.
There's plenty of multiplayer content on offer. Alongside the ranked match mode, there's a party mode which is ideal for playing with your partner or at your next games night.
ARMS plays incredibly well on the Nintendo Switch, both in single player and multiplayer game modes. It looks pristine, has a lot of personality and will keep boxing fans of all experience levels happy.
Arcade Archives Super Punch-Out!!
There's lots of brilliant retro fighting games on Switch and Arcade Archives Super Punch-Out is one of the best ones with a boxing spin on it.
There are 5 key opponents to battle in this game, with each one having their own special abilities and moves. You play as Little Mac, fighting to get the top spot in the World Video Boxing Association. It's a standard boxing game format, but it works incredibly well.
This is a port of a much, much older game, and I was happy to see that it's been carried across nicely. The developers haven't changed any key elements or ruined any of the classic quirks, they've just given the game a polish and made sure that it runs decently.
When it comes to the best boxing games on Switch, you're not going to find one with more simplicity.
The controls in this game are simple yet it doesn't get boring too quickly.
You have 4 key punches, and defensive moves which add a nice layer of complexity to the game. The controls can take a while to pick up, especially with the odd placement of the duck button, but as a whole it's fine.
Arcade Archives Super Punch-Out isn't the most complex or intense arcade boxing game on the eShop, but it is a lot of fun. There's multiple interface options, interesting characters and a charming retro aesthetic, complete with shrill music and effects.
Big Rumble Boxing: Creed Champions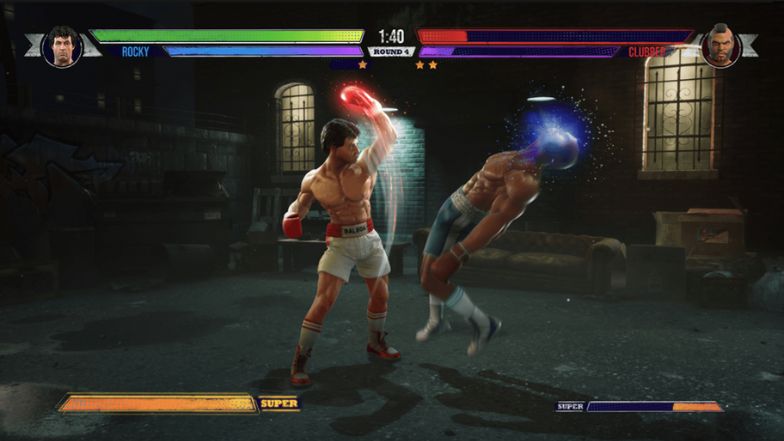 If you're a Rocky fan and you're looking for something simple to pick up and play in short bursts, Big Rumble Boxing: Creed Champions could be a great addition to your Nintendo Switch library.
This game is an arcade title inspired by the Rocky franchise, and it features a handful of characters that fans are sure to love. There's an arcade mode with arcade towers for each character, a versus mode (either against AI or in local multiplayer) and a training mode.
The controls in this game are incredibly simple, and it's an easy title to fall into button mashing with. This certainly isn't the right game for you if you're looking for realism, but if you're looking for a light, simple game with easy controls then this is a good pick for you.
This game was clearly intended to be fan service to some extent, which is interesting as it contains a few elements that Rocky fans are sure to roll their eyes at.
For example, you can play through the third secret fight between Rocky and Apollo in front of a regular crowd. If you know the films, you'll know why that's a bit weird. It's nothing game-breaking but it may ruin your immersion if you love Rocky.
That being said, this is a decent arcade boxing game with recognizable characters and a chunk of content to keep you busy. It looks decent on the Nintendo Switch, is easy to get into and would be ideal for someone with limited time as it's best played in short bursts.
Punch Club
Looking for a boxing management simulation game? Punch Club is a great title for sim fans to get stuck into, and it plays well on the Nintendo Switch.
In Punch Club, you'll be helping a future MMA champion train and get his life together. You'll work on his relationships, his diet, his career and his combat training, all to boost his stats and progress. There's a handful of compelling fights dotted throughout too, giving you the chance to show off your expertise.
The controls for Punch Club are incredibly simple. You want to start a new task? Press A. You want to punch the mutant sewer lizard in the face? Press A. This is a very hands-off game, which could be a pro or a con depending on your personal preferences.
There's a decent storyline hidden amongst the mutant sewer lizards. Your character's father was killed in front of them, so you're training to avenge him and rise in the ranks of the Punch Club. There are branching storylines, and I think it really adds to the style of play.
Punch Club is silly and fun, and it's full of 80s-90s pop culture references and jokes. It plays well on the console, looks great and provides a cohesive view of what goes into a professional boxer's routine.
The gameplay style might not be for everyone, but I'd recommend checking it out for sure.
Arcade Archives Punch-Out!!
I referenced Super Punch-Out earlier on in this article, but I couldn't leave the original out of the list. Even to this day, this legendary title still manages to be one of the most enjoyable arcade boxing games in Nintendo's roster.
Playing as the iconic Little Mac, you'll need to fight to get to the top of the World Video Boxing Association. There's a whole host of big bad boxers standing in your way, and you'll need to figure out their tells and the best combination of moves required to beat them.
The controls here are delightfully simple, and the game plays well on the console. There's no overly complicated move sets or special hidden moves – you can hook, punch, block, weave and uppercut. It's a tried and tested formula.
The sprite work in this game is impressive, especially considering that the game originally came out in the 80s. The soundtrack is enjoyable and authentic too, with the match commentator providing a delightful level of realism to the fights.
Whether you're brand new to boxing games or a seasoned pro, this is a title that I must urge you to check out. It's iconic for a reason.
Is it simple and pared back? Absolutely.
These simple mechanics laid the groundwork for a lot of iconic games in more recent years, and it's worth experiencing this slice of gaming history for yourself.
Many older gamers would certainly describe this as the best boxing game on Switch, but it can find a home with a younger audience too.