Dirt bike (or motocross) racing is an exhilarating extreme sport that translates surprisingly well to video games, with the genre offering surprising amounts of addictive, repeatable enjoyment.
The world of dirt bikes might even be one of the best ways to enjoy sport games on Nintendo Switch.
This list contains the best dirt bike games on Nintendo Switch that are worth checking out.
There is a variety of game styles included, from emulating real-life elements to fun arcade gameplay, each of which will satisfy your cravings for some motocross action.
Here are what I believe to be the 13 best dirt bike games on Switch.
Dirt Bike Insanity
First off on this list is Dirt Bike Insanity. The game embraced an arcade feel that gave players a casual motocross racing experience.
The game has a straightforward approach to the gameplay mechanics, and so does the gameplay loop. Although the game is simple, Dirt Bike Insanity is sure a fun one as the game prevents players from having them confused.
The game offers different modes to explore and experience rather than racing. Playing in free-ride mode lets players roam rough terrains and do incredible stunts without any particular goal in mind.
You can also pick different areas to race in after deciding which mode you want to compete. For example, you can race through underground facilities and dried-up rivers with each different terrain.
Dirt Bike Insanity has decent graphics that gives a dose of nostalgia to those that remember playing the Flash game Trial Bike Pro in the early 2000s.
Bike Jump
As the title says, Bike Jump is a game that makes your character jump into the air using your motorbike. This game is a dirt bike stunt game that centers only on free gaming.
Bike Jump is a straightforward game whose main gameplay loop is to accelerate until you get the top speed and jump as high as you can. In addition, the longer you stay in the air, the more coins you can obtain.
Furthermore, if you hit the bullseye posted in mid-air, you can also gather twice the total of your scores. The game is focused on gathering coins as it serves as the game's currency.
Coins are valuable in this game as you can use them to buy new vehicles with each characteristic. Also, you can use coins to upgrade your current vehicle to accelerate much faster.
The game also provides different levels that you can play in different areas. For example, you can jump through snowy mountains or on a sandy beach.
All in all, Bike Jump is an excellent relaxing game that you can play in just one sitting.
Dirt Bike Retro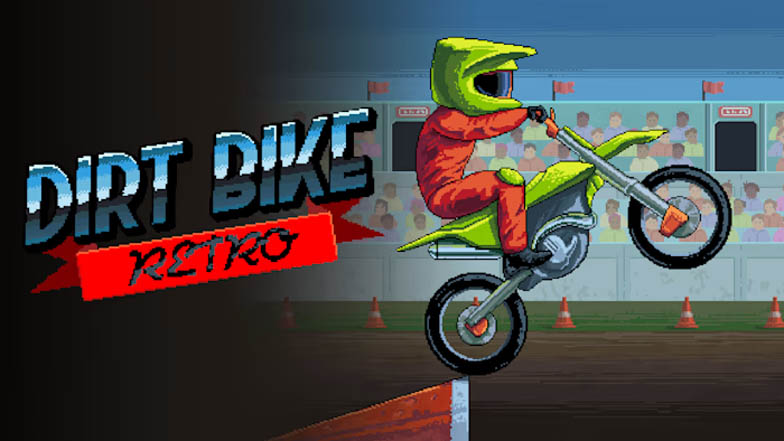 Dirt Bike Retro is one example of retro meets modern to create an amusing game. Dirt Bike Retro is an arcade racing game that displays smooth 3D graphics with a matching 8bit soundtrack.
The game captured the elements of old dirt bike racing games from the 80s as it showcases simple yet slightly addictive gameplay. The game sends a casual feel to the players with little difficulties but is sometimes challenging.
Its core gameplay loop lets you race with other racers on a track full of huge humps and hazards that will affect the race. For example, jumping over using humps will send you flying, giving you a head start.
In addition, the track has scattered rubbles and barriers for an extra challenge. Running through these obstacles can slow you down and put you at the bottom of the race.
Speaking of an extra challenge, you should also check the gauge below as it serves your engine's capacity. For instance, your engine will overheat if you forget to control your acceleration.
That said, Dirt Bike Retro is a game suited for players that avoid prolonged gameplay.
Urban Trial Tricky
Another game to add to this list is this stylish and fun dirt bike racing game, Urban Trial Tricky. As the name suggests, this game highlights the exhibition of tricks using dirt bikes that complements the vibrant design of the game.
Trial Tricky is a non-stop spectacular game that reminds you of racing games that focus on scores based on doing tricks from older games. This game is fun and sets off a ridiculous feel but makes you back for more.
The game core gameplay loop lets you do stunts from obstacles such as trampolines and a roundabout. There showcase your skills by pressing buttons and chain combos to acquire more points.
But, of course, the game lets you perform moves from silly to incredible stunts, such as the 360 spin move and the Tricky Screw. Additionally, you can learn new moves as you play longer in the game.
What's great about this game is the ability to perform special moves in any given place as long as your meter is full. Furthermore, using the special move can further chain your tricks to accumulate an astonishing amount of points.
Overall, the game is a must-have in your library if you're into some spectacle racing, and Urban Trial Tricky well and truly belongs in this list of the best dirt bike games on Switch.
Arcade Archives EXCITEBIKE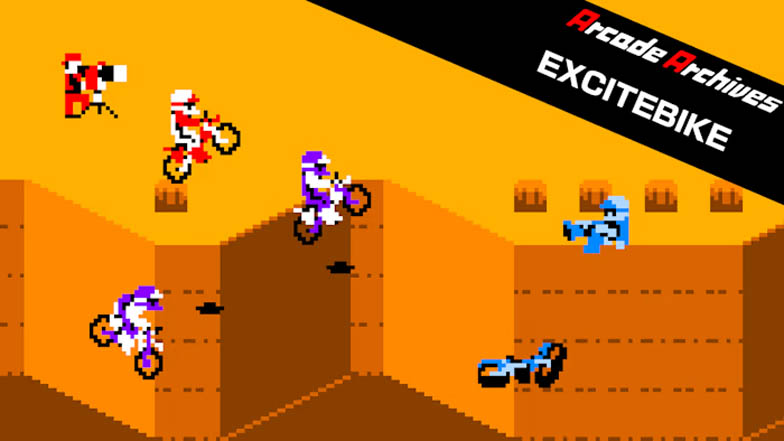 If you are a retro gaming and dirt bike racing fan, then Arcade Archives Excitebike is the game for you. This game is a classic in racing games, giving players a trip down memory lane every time you play it.
The game has decent 8-bit graphics at that time, which the Switch's hardware can absolutely handle. The game also showcases a piece of retro background music that sends off a nostalgic arcade feel.
Excitebike is another casual yet amusing gaming experience as the game offers a simple approach to the gameplay while having difficult obstacles. Not to mention stage hazards that can stall you from making the perfect lap record.
Aside from traps ahead, there are also platforms that you can use as an advantage to head further. For example, jumping through big humps can send you to with having the right speed and running through speed modifiers to advance faster.
With all that being said, Excitebike is a game for players looking for an excellent way to take a trip down memory lane with their Switch dirt bike game of choice.
Road Redemption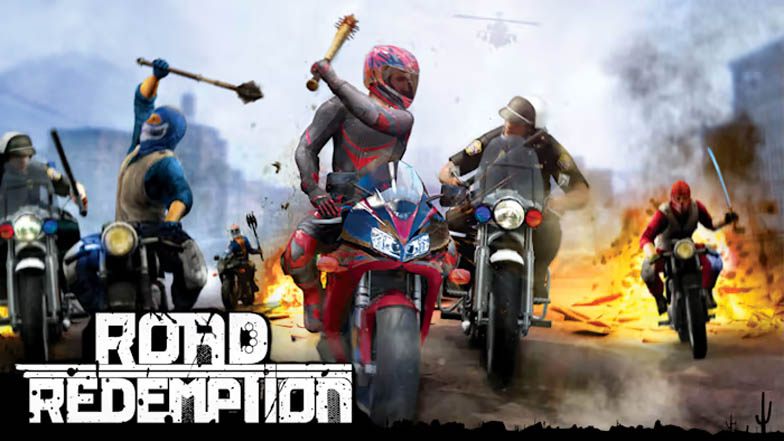 Road Redemption is your game if you want to feel some road action mixed with an exhilarating racing experience. Road Redemption is a unique racing game that displays an adrenaline-fueled road action extravaganza.
This game shows how incredible dirt bike games can be, as the game lets you fight enemies while racing simultaneously. On top of that, there are moments where the race becomes exciting as you get to wreak havoc against reapers and grunts.
Road Redemption embraced a racing game mechanic sprinkled with subtle beat-em-up elements for its incredible fights. Also, a little touch of run and gun experience as you can shoot enemies using available firearms on a dirt bike.
Additionally, you can use different vehicles in the game, offering nine bikes in total with each attribute. For example, the bikes in the game are classified, which they specialize in, such as acceleration, max speed, and steering.
Furthermore, this game has a simple approach regarding mechanics, yet difficulty and challenges are still present. Road Redemption is a clear example of a great dirt bike game on Switch.
MXGP3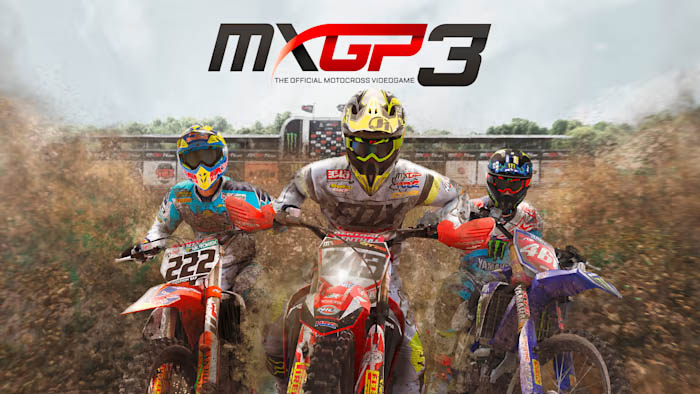 If you love a realistic take on dirt bike racing, then MXGP3 is the one for your needs. This game is a motocross racing gaming experience that takes you to the professional side of this extreme sport.
The game lets you play in career mode, emulating real-life dirt bike racing events as you get to have your own manager and sponsors. In addition, you get to play tournaments as you compete with racers based on your league.
The game's core gameplay is focused on racing and managing your career. However, you can participate in or win competitions to gather credits to purchase player customization and vehicle upgrades.
Aside from that, MXGP3 lets you also choose your manufacturer to customize your vehicle. Pick which manufacturer specializes in every aspect of the mechanical building, such as acceleration, weight, and steering.
Building your vehicle is a vital part of this game as it can adapt to the environment of each map. Maps in the game have different designs and structures, and there are instances where your vehicle cannot do well on rough or flat surfaces.
All in all, MXGP3 is undoubtedly one of the best motocross games on Switch.
Monster Energy Supercross: The Official Game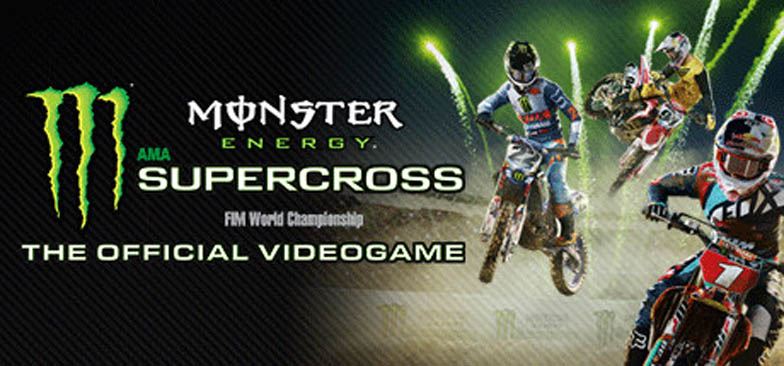 Monster Energy Supercross is a blast for die-hard dirt bike racing fans as the game lays out tremendous fun and excitement. This sports racing game embraced what we know about dirt bike racing from head to toe.
The game reminds you of those shows you can see in every sports media on television. The game showcases impressive stunts and high-octane racing while you're in control.
Its gameplay mechanic is simple, but it gives players a learning curve because the game also provides some intricacies to gameplay. Also, what makes this game challenging is the obstacles you'll encounter along the race.
You will most likely run through huge humps and wide curves that you need to look out for carefully—having no awareness in the game will probably lose your momentum in the race.
Maintaining your speed is one of the most crucial part of this game, as surfaces on the road are inconsistent, so this is definitely a fun one for those looking to race their dirt bike at speed.
MX Nitro: Unleashed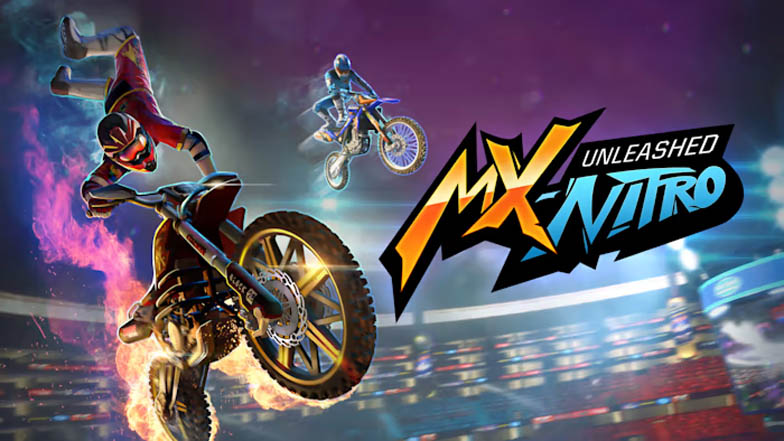 If you're looking for a dirt bike game like any other, then MX Nitro: Unleashed is the one you are looking for. This game is an adrenaline-pumped motocross action racing spectacle that you can play on your Switch.
MX Nitro showcases an easy-going gameplay experience yet gives players an ecstatic feeling because of its fast-paced racing. The game's core gameplay loop is to create impressive stunts to top other racers and move to the next race.
As the title suggests, the game allows you to unleash your skills by doing stunts in extreme areas such as mountains and rivers. Performing stunts is the center of the gameplay, as you need to do tricks to win.
In addition, you can always use the nitro to heat things up during the race. Using this move will give you a boost to achieve great speed.
However, nitro is a limited move that you can use only if you have enough for your nitro meter. But, landing perfectly after a stunt will gain you some nitro based on the tricks you perform mid-air.
Overall, this game is a must-have for players who are crazy in love with dirt bike racing.
MX vs ATV All Out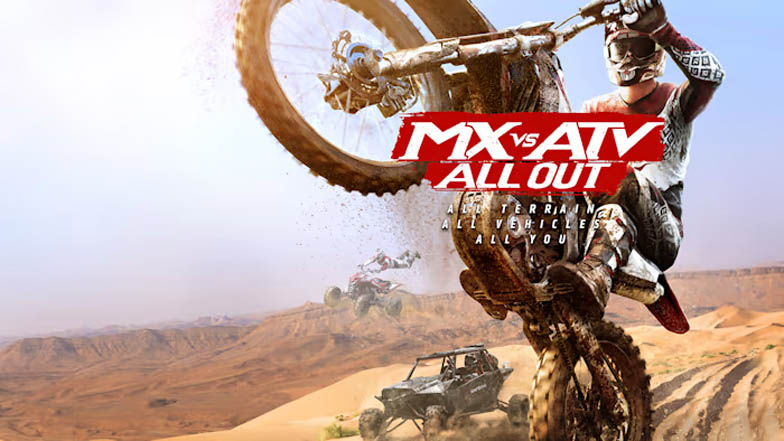 MX vs. ATV All Out is a cross-over between two dirt bike racing games from Rainbow Studios and serves as the 6th entry of the MX vs. ATV series. This game is a nice blend of simulation and arcade elements that emphasizes the world of motocross.
MX vs. ATV shines the most with its simplistic gameplay mechanics but still captures the excitement of extreme sports. In addition, an open-world segment is also available in this game, as you can roam around and do tricks on the map you desire.
As I mentioned, the game feels like a simulation as the game imitates real-life elements of the motocross industry. For instance, you can create your rider and compete in tournaments to get rewards.
You can customize or pick any rough terrain vehicles to your liking by checking out the dealership section. Also, you can tune your breaks and engine, which requires a bit of thinking to balance your bike's attributes.
You can also switch from an over-the-shoulder to a first-person perspective to immerse yourself in the race, giving you multiple options for experiencing the thrill of a dirt bike on your Switch console.
Offroad Racing – Buggy X ATV X Moto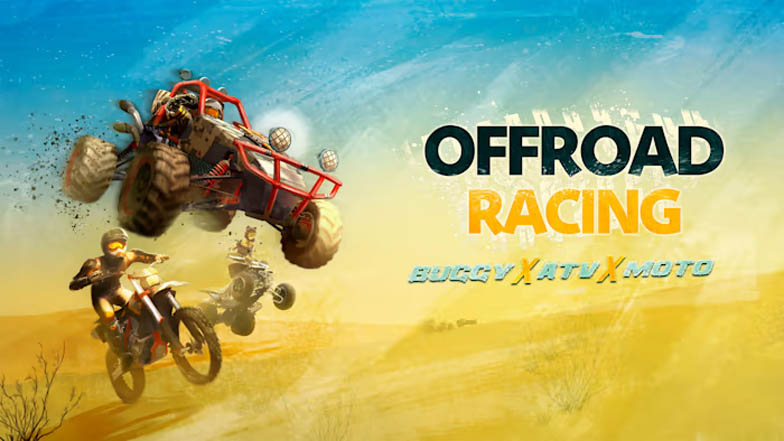 If you're into some incredible off-road racing with a knack for stylish gameplay, then Offroad Racing – Buggy X ATV X Moto is the game for you. It is a 3D racing game showcasing three vehicles with the same functionality on rough terrain.
This game has a fast-paced and almost non-stop racing gameplay that feels like a royal rumble but with automobiles. Each race is a chaotic yet fun experience as you can bash and bump other contenders to pass over them.
The game also lets you compete in several game modes, like the point-based system mode in Championship. However, if you want to play casually and try your newly invented chain of tricks, you can head to a quick game instead.
In addition, Offroad Racing is a game that also can be an excellent couch game to be played with friends. The game has multiple modes that you can play, such as the King of the Road or the challenging yet fun Last Man Standing.
With that being said, Offroad Racing is the game if you are a dirt bike enthusiast or a fan of sports racing games.
Moto Racer 4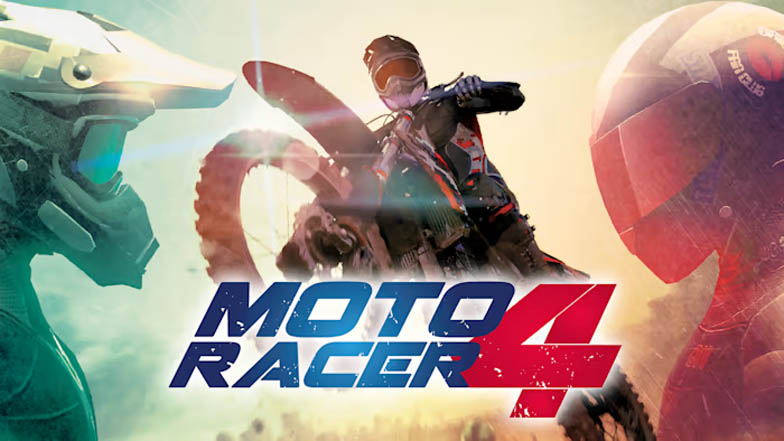 Another game to add to this list is this racing game that gives players the exact amount of dirt bike enthusiasm called Moto Racer 4. It is a high-octane racing game that provides two racing types.
Moto Racer 4 main gameplay loop is slightly addictive as this game showcases exciting races from dirt to asphalt surfaces. Also, you can partake between dirt bike races and motorcycle races.
The game captures the essence of dirt bike racing as it offers a Career mode to start your racing journey. You get to compete in different races with significant objectives to meet and collect stars to win.
In addition, you can always go to Quick race to experience a simple dirt bike experience. Also, you can go there to familiarize maps and practice your motocross skills.
What this game shines the most is you can perform tricks such as wheelie or a long jump while racing. These tricks are not just decorations in the game, but they also help you to boost in the race.
All in all, Moto Racer 4 is a game that will scratch your itch for some dirt bike racing action.
Trials Rising Standard Edition
This is not a proper dirt bike racing list without this game that will give the ultimate dirt bike experience called Trials Rising Standard Edition. This is a spectacle dirt bike racing game that showcases amazing dirt bike physics that matches the game's decent graphics.
Its gameplay mechanic has embraced a traditional racing element but added a few features to make the gameplay more spectacular. In addition, you can customize your racer.
The game also allows you to perform magnificent stunts while racing; these tricks are the backbone of the core gameplay to make it more sparkling. By learning the game's physics, you can perform a perfect flip to impress your opponents.
What also makes this game unique is the inconsistent levels of obstacles along the way. These obstacles can help you execute stunts flashily and boost you when you're not catching up to the race.
Speed is one of the essential keys in this game, as you must maintain and control your acceleration to gain the upper hand. Also, use brakes to control your landing so you cannot fall behind after doing the trick.
With all that being said, Trials Rising is a crazy Nintendo Switch dirt bike game that will easily charm the players with its over-the-top gameplay.