Out of all the characters and interesting people from eras long gone, pirates remain one of the most prominent in the collective imagination. Despite the grizzly reality of pirates, there's lots of fantasy and mystique surrounding them to this day.
Pirate games can be a lot of fun, putting you in control of a majestic ship or plunging you into the midst of ferocious battles. If you're the type to chase after rubies, gold and ale-stained parchment maps, this is the genre for you.
To help you kickstart your next swashbuckling adventure, I've handpicked the 10 best pirate games for Nintendo Switch. I've included everything from platform games and adventure titles, to the best pirate-themed RPGs on the console.
Duel on Board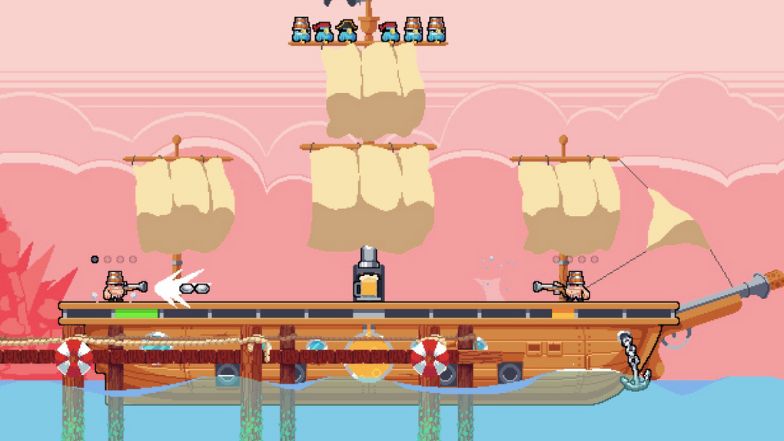 There are piles of fun indie games on the Nintendo Switch, and Duel on Board happens to be one of the most interesting pirate/nautical themed ones. It's a quirky, fast-paced party game with a local multiplayer set-up.
In this vibrant, blocky world, you'll find a handful of 1-on-1 mini games that take place on a pirate ship. Teams of pirates will fight in these mini games, to win a mug of ale. These games include everything from traditional pistol duels to a swashbuckling game of soccer.
In terms of the controls, Duel on Board plays incredibly well. You can dash, double jump, parry and attack. These controls are shared between the different game modes, and make for a speedy game. There's outside obstacles like aliens and the weather to deal with, too.
Visually, Duel on Board is a gem. Pixellated games almost always look lovely on the Nintendo Switch, and this game is vibrant and surprisingly detailed.
If you're looking for a rich, in-depth pirate game that has a deep story and historical content, this isn't the pick for you. If you're looking for a great game to play as a couple or on games night, though, this could be the best pirate game on Switch for you on this list.
Port Royale 4
Port Royale 4 is a stellar example of how to fuse multiple styles of gameplay together. This title includes elements of a city builder, a strategy game, a turn-based combat game and a simulation manager game in one tidy package.
Taking place in the Caribbean, this game is truly beautiful. Offering all of the aforementioned gameplay styles and formats, this game has a lot to offer, yet it manages to provide a relaxing, easygoing user experience.
Despite the Switch often throwing up challenges with graphics, this game still manages to look stunning and play like a dream. The controls make sense and it's easy to pick up, yet there's still a nice difficulty curve as the game progresses.
There's a lot of history in this game, as it takes place in the 'golden age' of piracy.
While there are mentions of politics throughout, I would have hoped to see the game talk about the negative aspects of the era. Pirate games are fun, but a game as realistic as this one would have benefited from offering a more educational POV.
Aside from this, Port Royale 4 is a truly enjoyable game and it's worth picking up a copy for the Switch. There's a mountain of content to unpack, it looks beautiful and there's cool nautical battles, too. What's not to love?
One Piece: Pirate Warriors 3 Deluxe Edition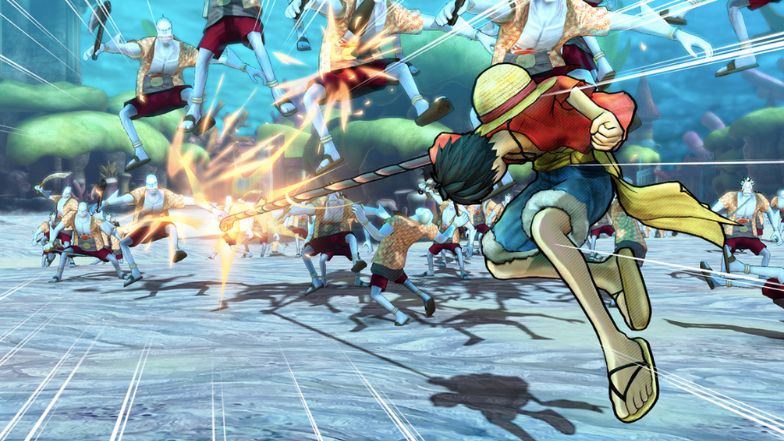 If you've spent some time hunting on the eShop for new games, chances are that you will have noticed that there's lots of anime games on this console. One Piece is a legendary anime (and manga) so it's no surprise to see that it's made a splash in the video game world, too.
One Piece: Pirate Warriors 3 Deluxe Edition is a must-play for any fans of the franchise or action-adventure games in general. This game picks out key elements from the anime, and meshes them with a hack-and-slash style of combat.
There's heaps of content to play through in this game, with a whopping roster of 38 characters to play through once unlocked, new costumes, upgrades and multiple game modes to enjoy.
My favorite is the Dream Log mode, which picks out random characters and locations to make brand new scenarios to play through.
It's worth pointing out that this game looks beautiful and matches the style of the anime perfectly. It nails the anime-meets-pirate aesthetic, and performs incredibly well on the Nintendo Switch too.
If you're someone who enjoys fast paced action games and likes the One Piece anime, this is a game that I'd absolutely recommend checking out.
SteamWorld Heist: Ultimate Edition
SteamWorld Heist: Ultimate Edition is a pirate game with a twist. Space pirates.
This title is a premium example of a hybrid title that meshes elements of action games and strategy games. It follows the story of Captain Faraday Piper as he travels around the ruined universe with a team of mercenaries, trying to find a way to survive after the end of the world.
Something that I love about this game is the variety of characters and crew members that you have to play with.
There's a levelling system in this game, but experience points are only given to the crew members actively on a mission. The game encourages you to swap out characters and try new set-ups, which I appreciate.
There's lots of content to enjoy in this game, with a lengthy campaign mode, the addition of DLC, heaps of characters and most importantly, funny hats.
SteamWorld Heist: Ultimate Edition is arguably one of the best strategy games on the Nintendo Switch. It looks incredible, with a polished and unique aesthetic. The soundtrack fits the style perfectly, and the game itself performs very well on the console.
Space pirates? The idea alone almost guarantees it a place in a list of the best pirate games on Switch, but the gameplay cements its inclusion.
Assassin's Creed: The Rebel Collection
There's a lot of game collections on the Nintendo Switch and if you're looking to get your hands on one, I encourage you to pick this one. Assassin's Creed: The Rebel Collection is a wicked port of two key games that pirate fans are sure to love.
Assassin's Creed: The Rebel Collection contains Assassin's Creed IV: Black Flag, Assassin's Creed: Rogue and all of the associated DLC, too. It's an immense game collection.
I won't dive into the story too much as they're both incredibly story-centric games and it'd be easy to spoil them, but it's important to note that they both contain deeply compelling narratives and enjoyable campaigns. The DLC is an added bonus, and means that there is a heap of content to keep you busy for hours on end.
Visually, both games look great on the Nintendo Switch.
Black Flag performs better than Rogue on the console, with Rogue throwing up a few tiny glitches in docked mode. In general, I was incredibly impressed by how well these games play on the console and how nicely the pirate aesthetic translates too.
The Assassin's Creed franchise contains some incredible RPG and action-adventure titles, and I'd argue that this collection offers two of the best on the console.
Flinthook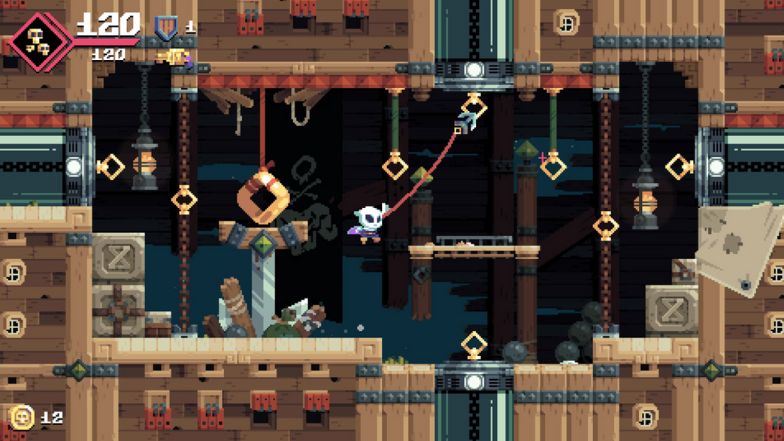 Are you a fan of platform games with roguelike elements? If so, Flinthook could be the perfect game for you. It's another space pirate title, and has an absolutely charming aesthetic to match the fun style of play.
In Flinthook, you play as a space pirate who needs to clear out floating ships packed full of colorful monsters and angry villains. These ships have procedural qualities, and will throw challenges at you like time limits or unique layouts. There are main bosses dotted throughout, each with their own skills and attacks.
This is truly one of the most enjoyable pirate-themed indie games, and it's clear that the developers had a lot of fun making it. The game itself is beautiful, with vibrant level design and interesting characters that make the world feel alive.
I'm a massive fan of games with this particular aesthetic, so I was happy to see that it performs incredibly well on the Nintendo Switch too. This game is challenging in places, yet accessible for new players as well.
If you're a fan of platform games, I'm sure you'll love this celestial gem.
Nelly Cootalot: The Fowl Fleet
Point-and-click games have to have a great story accompanying them if they want to keep gamers entertained, in my opinion. Nelly Cootalot: The Fowl Fleet nails this perfectly. This game is simple yet effective, with a funny story, loveable characters and easy-going gameplay.
The story follows Nelly, who works on a postal ship and considers herself a pirate. She encounters the ghost of the pirate William Bloodbeard and ends up in a race for William's treasure, where she is competing against his evil brother Baron Widebeard. The story unfolds from there, with equal measures pirate and post office shenanigans.
This game is certainly silly, with fun moments like Nelly mailing herself to the island to get a head start on the race. That doesn't mean that the story isn't captivating or interesting, though. The inner world of this game feels alive, and it's easy to lose track of time playing it.
Aesthetically, this game is simple but it works well with the gameplay style. It looks great on the console, and the controls are simple enough to make the user experience pleasant.
If you enjoy puzzle games and point-and-click adventures, this is the ideal Switch pirate game for you. It's enjoyable, comes with great voice acting to boot and is easy to get into. It's not the most demanding game on the market, and is ideal for chilled, laidback gaming sessions.
Shantae and the Pirate's Curse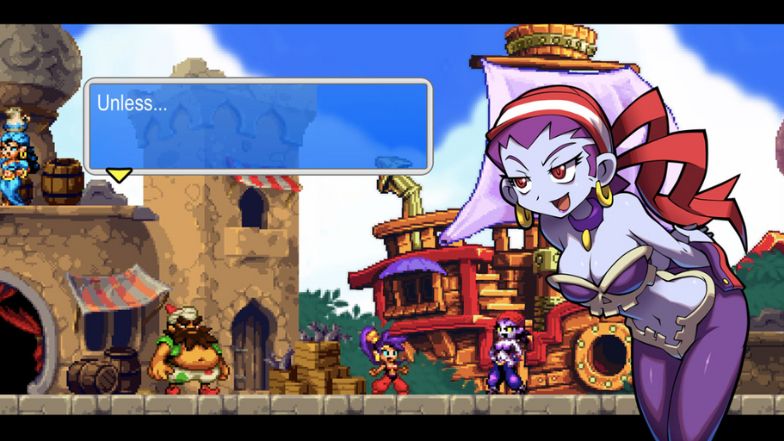 Looking for a Metroidvania game on the Nintendo Switch with a pirate theme? Shantae and the Pirate's Curse is a chaotic, upbeat adventure with plenty of interesting enemies and nautical items to keep things interesting.
While this is not strictly a pirate game (if you've not played any of the Shantae games before, she's a genie) it felt wrong leaving it out of this list. The story follows Shantae as she teams up with her arch rival, Risky Boots, to tackle the nefarious Pirate Master as he attempts to return from the dead using dark magic.
The world that the game has on offer is vast, with buckets of dungeons and interesting levels to work through. Each character and villain feels different, and each battle that you end up in requires you to think on your feet.
The developers put a lot of thought and care into re-releasing this game for the Nintendo Switch, and it's absolutely worth checking out.
The attention to detail with the sprite work for the characters is phenomenal, the writing is lively and the world feels vast – it's a perfect pixel pirate party.
One Piece: Pirate Warriors 4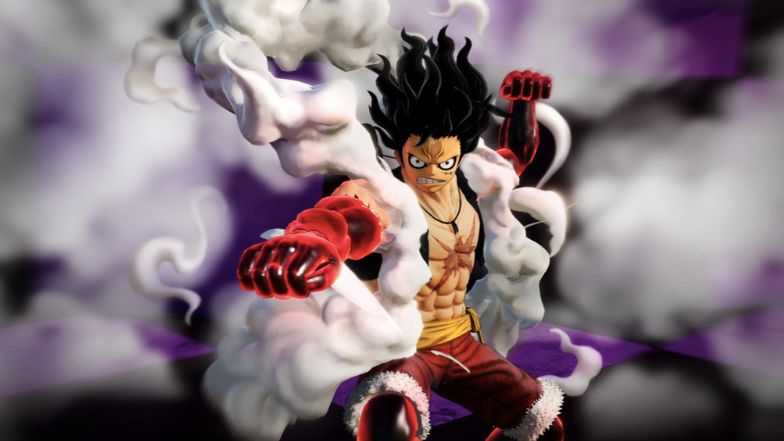 I've already mentioned a One Piece: Pirate Warriors in this title, but I couldn't leave this installment in the franchise out. If you enjoy action-adventure games and hack-and-slash combat, this is another game that's worth checking out today.
In a similar vein to the previous Pirate Warriors title in this list, the majority of the story is a retelling of key elements from the anime. This is less of a story focused addition to the franchise, though, and it's ideal for pirate game fans who are looking for a combat-heavy game with improved mechanics and gameplay options.
This game performs well on the Nintendo Switch, offering intuitive controls that make the speedy style of gameplay accessible yet immensely enjoyable. The graphics are charming and quirky, and look great in both docked and handheld mode.
There is a lot of debate with One Piece: Pirate Warriors 3 and 4, regarding which game is better and which offers more value for money.
From my research, this is the ideal pick if you're looking for smooth, fast-paced combat, heaps of customization options and visually intriguing level design. If you're unsure about whether to buy 3 or 4, I'd suggest checking out some gameplay videos on YouTube and making your decision based on how it looks in action.
Sea King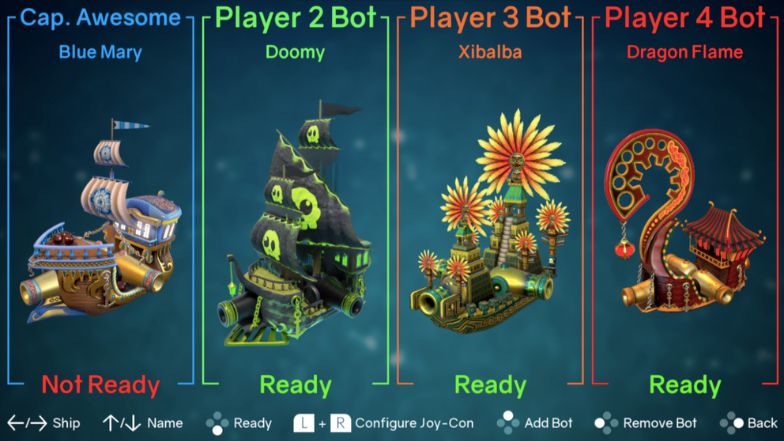 Rounding up our list of the best pirate games on Switch, Sea King is a fun, lighthearted party game with a pirate theme. It's definitely aimed at a younger audience, but could be a budget-friendly addition to a games night, too.
This is a naval combat party game that offers a handful of unique ships to battle with and plenty of game modes to enjoy. There's a standard battle mode, alongside a heap of other gameplay modes like capture the flag, fishing or death matches.
It's a cheery, colorful game with a cartoonish aesthetic and interesting ship designs. I would've loved to have seen more ships in the game, but considering that this is a budget-friendly game option, I think it still does the job.
I was happy to see that there's a surprisingly good AI option in this game, to pad out smaller multiplayer groups or to play solo against. This is certainly a game that has multiplayer gaming sessions in mind, but the AI is incredibly accurate and does provide a relative level of challenge in places.
While this might be a smaller game that you only pick up for a few hours here and there, the end result is clean and a lot of fun no matter who you're playing with. It's a family-friendly option for anyone hunting for a new multiplayer pirate adventure.