Building games have a knack for bringing out the creative side of players, especially when they're given more tools and freedom. In addition, the building genre's fun experience leads players to freedom of choice and world-building.
Also known as a management simulator, the genre allows you to take the role of a leader or the planner responsible for growing your community—of course, starting with limited resources. This way, players can resonate with its premise by experiencing pioneering the world and jumpstarting economic growth with their own hands.
The Nintendo Switch's innate portability works exceptionally well with building games, as players can conveniently open the game with every fresh idea. Additionally, players will appreciate most of these titles' innovative touch screen interfaces.
With all that aside, here are the 14 best building games on Switch that will satisfy your inner architect. From creating bustling metropolis to cozy settlements, there's a suitable game for you below.
Orbit.Industries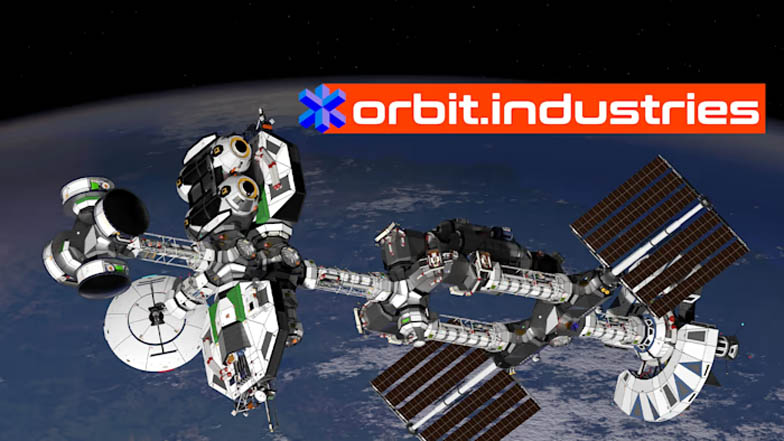 The first one on this list will take you to an out-of-this-world building experience called Orbit.Industries. This space station building game took an orbital turn to the building genre as it highlights a space station's functionality.
Instead of expanding your community or empire, the game lets you build your space station to your liking. In addition, as you build your modules and buildings for your station, you can also gather Kreedits over time based on how many structures you installed.
Kreedits is the game's main currency that you can use to spend on everything from modules to contracts. Buying contracts can also help you acquire enough credits to buy different things to expand your station.
Furthermore, what makes Orbit.Industries unique is its layout segment, in which you can edit the look of your station from its physical to abstract appearance. This way, you can organize all built structures the way you like, making it easy to place newer modules.
All in all, Orbit.Industries is a bullseye for players looking for a newer experience outside the traditional building games. Hence, this game is one of the best building games on Nintendo Switch.
Cities: Skylines – Nintendo Switch™ Edition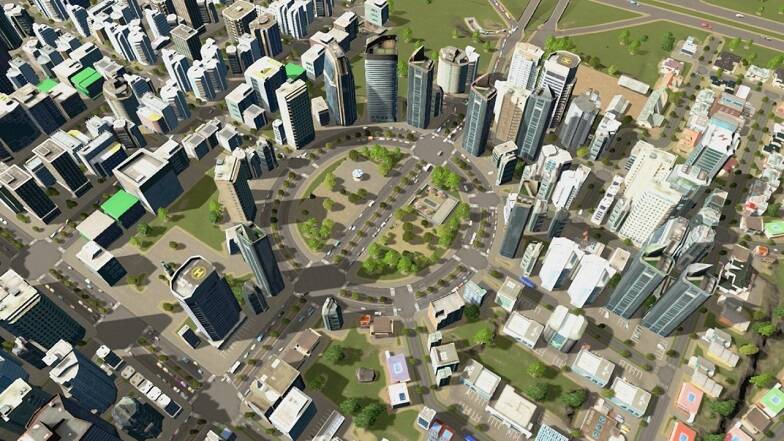 Cities: Skylines has to be the most spacious and vast city building game on Switch, capable of providing a much more in-depth approach to the building genre. This detailed modern city simulator allows you to create the city of your dreams in the palm of your hands.
The game is an excellent sandbox experience because of the astonishing number of details, from managing industries to developing the economic status of your city. However, Skyline's straightforwardness doesn't trample its complexity as it gives players a single goal: to make the best city ever.
As I said, you can do many tasks in the game alone, as it lets you build infrastructure to make your city successful. For instance, you can build roads to make transportation flow smoothly.
Moreover, designing your city is one of the pivotal parts of the game to avoid impractical economic instances that might happen to your city. For example, creating your road system will cause immediate traffic congestion if not handled well.
That said, Skyline does a fantastic job of bringing the fun gameplay from an intricate real-time building to players.
PixArk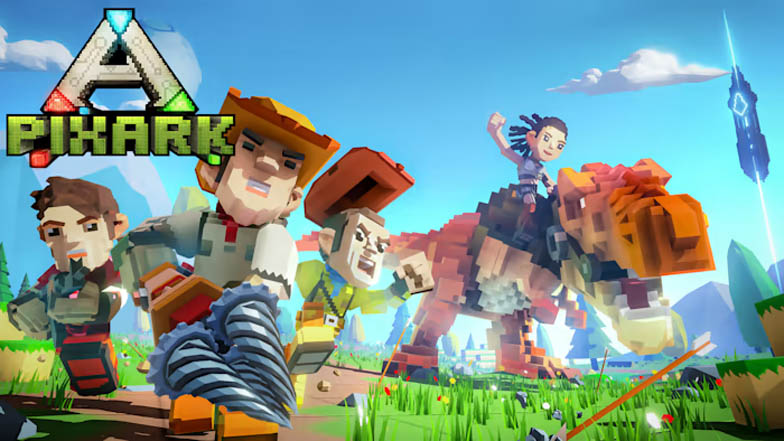 Imagine Minecraft with an affinity for prehistoric creatures, then PixArk is the best example of that. The game is a spinoff of Ark Survival Evolved game that took the liberty of displaying a much more enthusiastic and friendly art approach instead of the original title.
PixArk is a good mixture of role-playing elements with a splash of survival mechanics to create an exciting gameplay experience. This way, you can build your character to your suited playstyle while utilizing the resources around you.
Like Minecraft, PixArk's base-building system is worth noting as it offers diverse crafting and customizations for you to explore and furnish. On top of that, you can also play in survival mode, in which you need to craft on limited resources available, or in creative mode, in which you can build anything casually.
Furthermore, you can also tame and ride a dinosaur that is wonderful to gaze at, thanks to its polygonal creature design. This way, you can quickly gather resources and EXP to strengthen your character's attributes.
With that said, the game is a must-have for all ages that are fond of survival games in a sandbox setup.
Spacebase Startopia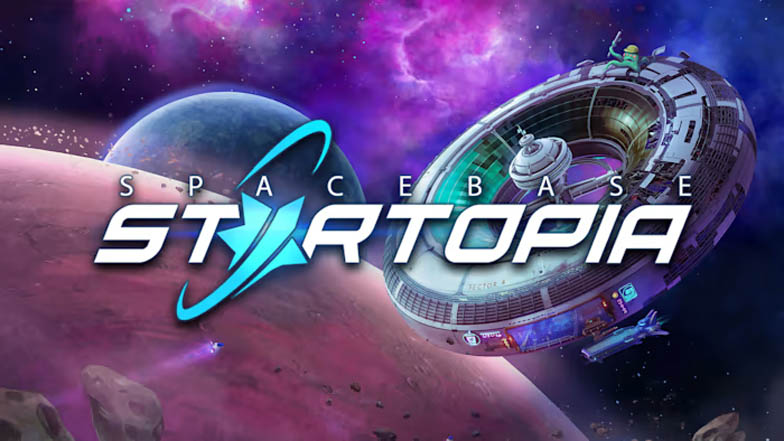 Spacebase Startopia captures the sandbox genre quite well as it gives players the experience of managing your space community. This space station simulator game allows players to experience building structures to manage your economy for your alien citizens.
The game lets you take the role of the station commander, as you are tasked to accommodate all of your alien visitors to their needs. It is also your job to improve and expand your station to become the most successful space station in the galaxy.
Startopia has a great base-building system as players get to build different kinds of establishments to benefit your station and its residents, from basic needs to leisure activities. For instance, building entertainment establishments such as the cat café and disco club will allow your citizens to do different activities to maintain their sanity.
On top of that, the game has a decent combat segment designed as a security system for your community, capable of looking criminals around to avoid gaining control over the station. Additionally, you can also create mechs with different kinds of characteristics useful in certain circumstances.
That said, making Startopia your go-to Switch building game is a good choice as it provides different mechanics in one package for you to experience.
Constructor Plus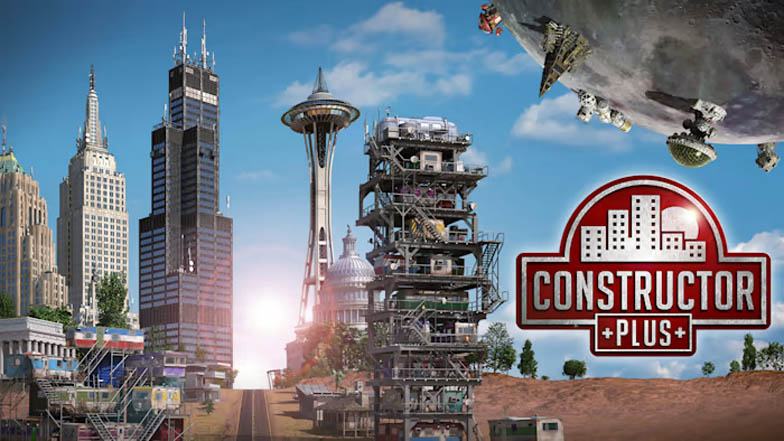 Constructor Plus is the improved version of the first game with the same name that manages to pull out sandbox elements in a humorous atmosphere very well. It is a real-time strategy game that highlights a very cartoonish visual design that complements the game's quirky side of the building genre.
The game allows you to become the most successful business tycoon using your power as the head of your own construction company. But, to do that, you must put other small to big-time entrepreneurs to put their business out while yours is thriving.
As such, Constructor Plus's main gameplay loop allows players to build establishments to expand their resources to get much higher structures in the future. Furthermore, there are business rivals that you need to overthrow, which allows you to increase your economy exponentially.
On top of that, the game lets you manage unusual tenants with different likes and dislikes for you to accommodate. Understanding the tenant's stats will help you gain maximum rent for additional profit to your empire.
Overall, Constructor Plus is a blast for players from the booming real-time strategy craze back in the 90s with a modern feel.
Airborne Kingdom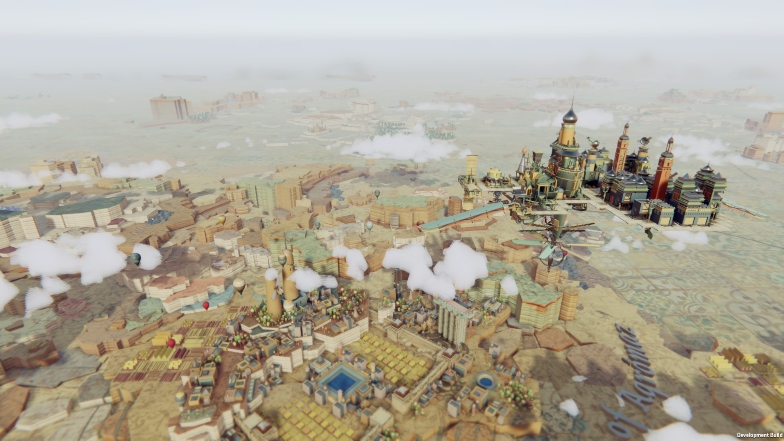 There is something about the charm of floating cities in a steampunk environment, and the Airborne Kingdom is a title that gives players that exact feeling without hesitation. This city-building game allows you to build and manage your kingdom in the skies.
The Airborne Kingdom is a relaxing sandbox title that allows you to mesmerize by its fantastic sceneries up in the air. Its minimalist structure design complements the game's steampunk aesthetic that'll catch your eye.
Gameplay-wise, the game is as amusing as ever. It perfectly blends a base-building system that partners well with its resource management mechanics while sprinkling strategy elements for good measure. Also, exploration is one of the game's best features as it allows you to travel from area to area to gather resources for your following structures.
Additionally, its complex gameplay experience doesn't complicate things as the game's primary goal is to bring the population from the surface to the sky to a much larger scale. From there, you are responsible for accommodating new inhabitants to fulfill their needs and wants.
All in all, this game is a must-have if you're in the mood for building games on your Nintendo Switch.
Lego Worlds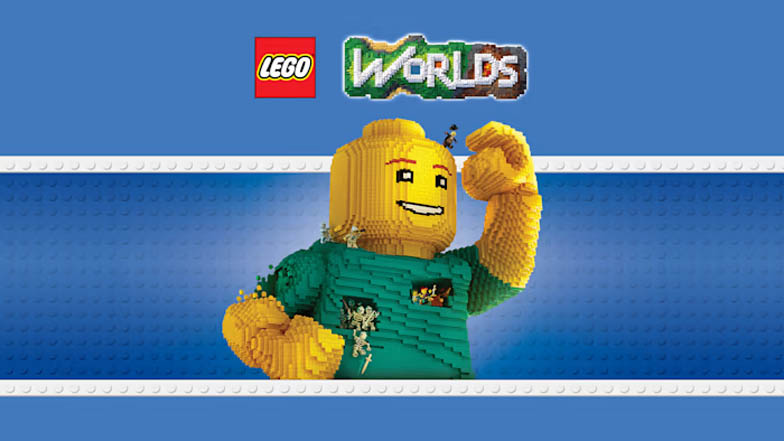 Lego Worlds is where Minecraft meets Lego in style to create an exciting building experience thanks to its incredible deliverance of exploration in a sandbox setup. As a result, this has to be one of the best building games on Switch.
The game displays a friendly and vibrant visual design that makes it approachable to players of all ages. On top of that, its moving voice acting helps to indulge players in their building sensibilities.
The game also allows you to create your lego character to your liking. In addition, you can equip different cosmetics with your avatar, from a rocking mohawk hairstyle to its staple astronaut helmet.
Furthermore, its open-world setup truly brings out the game's appeal, allowing players to scour over the vast, diverse plains of its auto-generated world. There, players get to discover treasure chests that contain random weapons such as the Nya's Spear for you to have.
Moreover, one of the game's best features is the discovery tool which allows players to modify and build by scanning different modules around them. In addition, you can use the tool to summon animals, plants, and buildings anywhere you want.
Portal Knights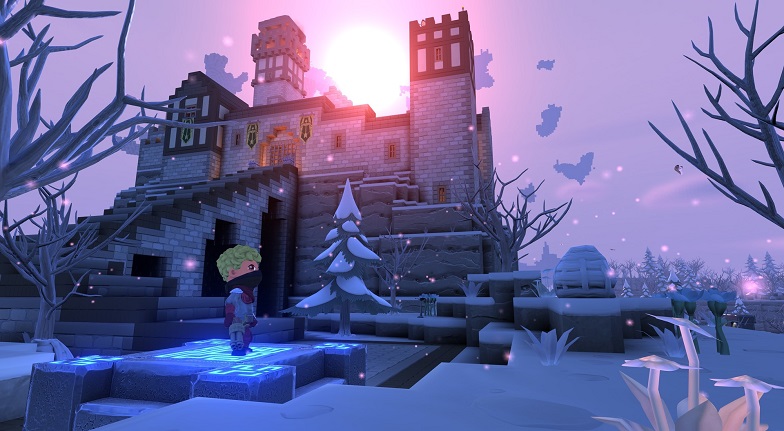 If you like RPG mixed with sandbox elements, then Portal Knights is the game for you. This Diablo-like building game displays a cutesy art approach that engages players to wander to its hypnotic sceneries, giving a much more immersive experience.
Portal Knights is a straightforward game, yet it gives players the choice of making their progress the way they like, thanks to its RPG elements. On top of that, the game encourages players to explore different worlds to gain new materials suitable for building.
The game is a building game to its core, allowing you to establish your base using the blocks from each specific world you are in. This way, you can have enough space for safely crafting and storing items.
As for the combat, it embraces minimal hack and slash mechanics where you can strike enemies using swords and daggers against enemies. Not to mention, using the lock-on camera can help you to roll safely, evading dangerous attacks from enemies.
Overall, Portal Knights is an example of taking the sandbox formula into an action experience, and is definitely among the best Switch building games.
Northgard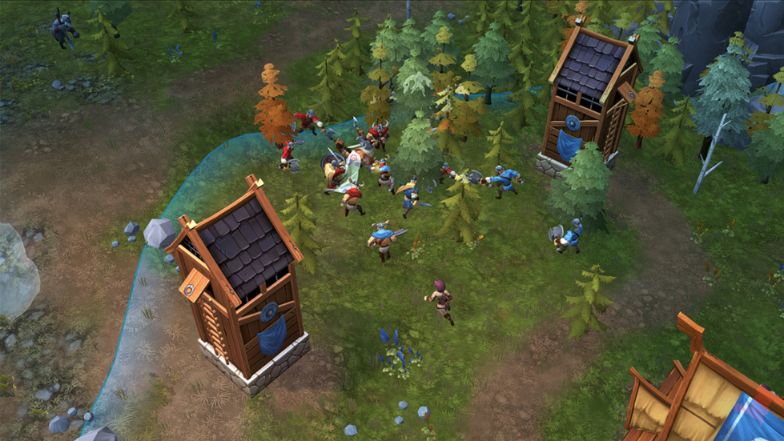 Another one to add to this list is this game that'll take you to the Nordic side of building games called Northgard. This real-time strategy-building game reminisces players from the Battle Realms but centers around Vikings.
The game's great details of structure design genuinely bring out the Nintendo Switch's potential of handling its performance as it runs perfectly without the risk of delays. On top of that, it doesn't confuse players with the controls as it maps smoothly on the Switch's buttons.
In true RTS fashion, Northgard lets you play in different clans that carry a significant playstyle based on their behavior. For instance, the Heidrun is one of the playable clans specializing in defensive structures capable of enduring harsh winter.
Furthermore, the game grasps its base-building system very well, as you can build different kinds of buildings with each specific purpose to benefit your clan. For instance, the woodcutter's lodge can grant you lumberjack units to get a tremendous amount of wood supply.
This idea truly complements the game's RTS elements, as you need to build more structures to ensure the safety of your base. Enough establishments can strengthen defenses or acquire military power to defeat rival clans.
Overall, Northgard is an absolute delight if you're a strategy head to the core.
Terraria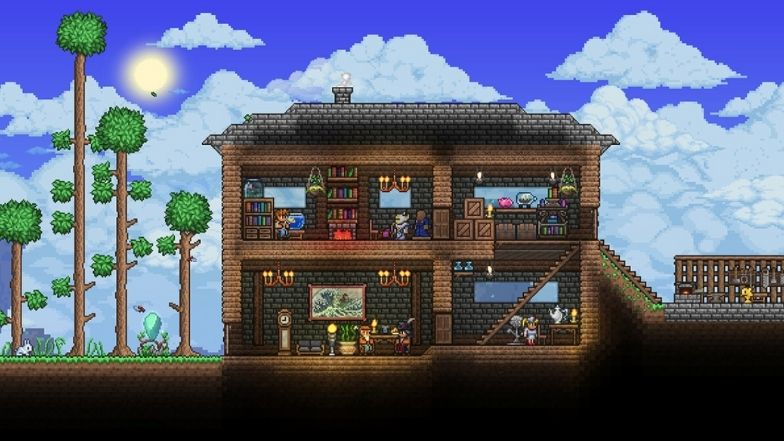 Terraria is an excellent way to start the conversation if we're talking about building games. This adventure sandbox game lets you build and craft items to fight off against creatures from zombies to slimes.
This side-scrolling game captures the beauty of pixelized graphics, which harmonize with its 2D environment. In addition, the game's simplistic design never ceases to amaze players as its graphics run a fluid performance in the Switch's hardware.
Moreover, Terraria is a top contender for Minecraft, as both games are similar in terms of gameplay and visual approach. However, the game is much more adept in combat that partners well with its building elements.
Its core gameplay loop allows you to explore mine deposits to craft weapons and items that can benefit you in combat. Not to mention, you can create incredible buildings to store your items and resources.
With that being said, Terraria is a palette cleanser for building games due to its uniqueness in both gameplay and premise.
Stardew Valley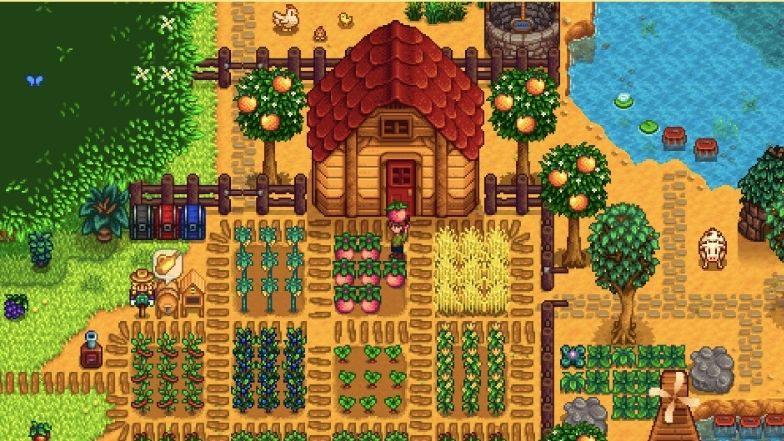 It is not a good building list without having this light-hearted game called Stardew Valley. This farming simulation game easily attaches you with its uplifting visual design because of its beautiful 16-bit aesthetic and soothing soundtrack.
As the story goes, you inherited an old farm from your late grandfather for you to take care of. There, you are tasked to fix and expand your farm to make a name for yourself around the plains of Pelican Town.
Like Harvest Moon, its core gameplay loop allows you to handle your farm by planting crops and caring for animals to acquire profit. On top of that, its calendar system lets players accomplish day-to-day activities and plant plants in that particular season.
Furthermore, SV doesn't shy away from its base-building system, as you can build several types of structures for your enlarging farm. For instance, acquiring enough wood can build a barn to inhabit cows safely.
And, of course, the game allows you to mingle with every townspeople, each containing plotlines worth discovering. You can also get married to start a family by picking a villager you like to pursue.
All in all, nothing is quite like Stardew Valley when it comes to fun-yet-prolonged building gameplay.
Dragon Quest Builders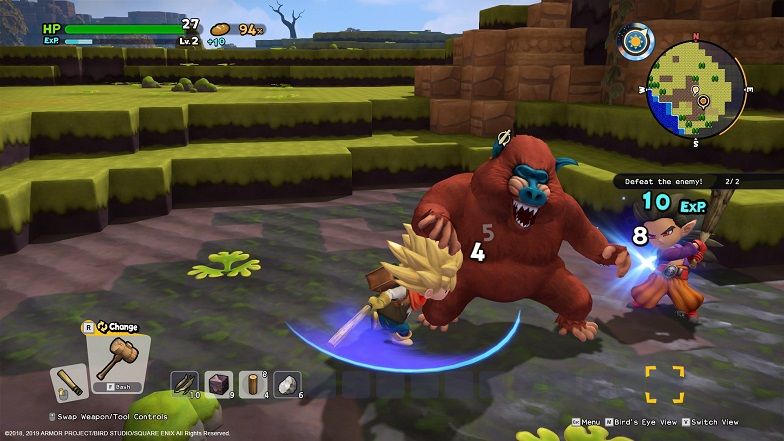 This Dragon Quest title has a unique twist to its classic RPG formula. The game decided to spice things up, bringing sandbox elements. Dragon Quest Builders is an RPG sandbox game that highlights a cutesy art style perfect for the Nintendo Switch.
The story is set when Dragon Quest's world went under the rule of the evil Dragonlord, taking away its inhabitant's building ability. You take the role of the legendary builder that retains its building powers to restore the world.
DQ Builders is a fun action-adventure game that never looks so dull because of its sandbox and role-playing elements that players can experience. On top of that, its primary campaign and creative mode allow players to build and craft incredible items or buildings as they explore.
Moreover, you'll encounter different kinds of monsters, buildings, and materials for each campaign. You can build defensive structures to defend yourself from hordes of monsters while strengthening your skills as you progress.
Furthermore, the game retains its combat prowess, where your character can fight monsters to attain your survival—as such, defeating enemies can grant you materials capable of creating new weapons to your arsenal.
Overall, DQ Builders is an excellent palette cleanser for your building gaming journey.
Civilization VI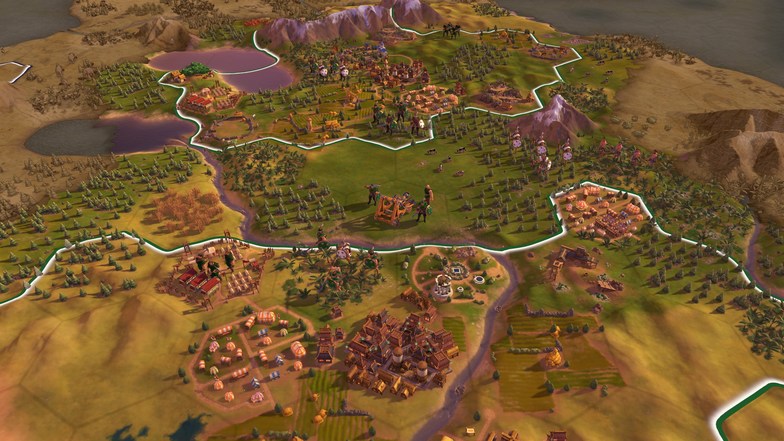 Civilization VI is one of the most popular strategy titles that let you go against the most remarkable civilizations throughout history. This real-time strategy game is a delight for building enthusiasts as it showcases an equal amount of tactical elements and creativeness.
The game's antiquity truly shines the most thanks to its attention to detail in its visual approach. In addition, its cinematic soundtrack adds flavor to the mix, giving it an intense experience through its hectic gameplay.
There are also 50 playable civilizations with 20 different leaders from historical figures worldwide, each with a different playstyle and personality. For instance, the leader Gandhi excels in religion, boosting units in faith attributes.
Moreover, Civ VI dishes out a solid performance in terms of gameplay mechanics, as the game's staple RTS mechanics complement its base-building system. You can build different establishments like the Electronics Factory, which is suitable for industrialization.
As for the combat, you can enable a war against an opposing civilization to conquer their base. Building barracks can produce offensive units capable of battling invaders as well.
That said, if you want some intricate building strategy game on Switch, Civ VI is the best option.
Minecraft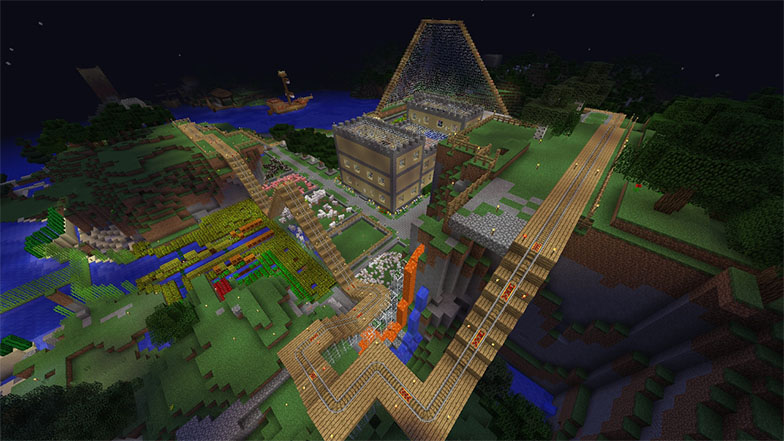 Of course, if we are talking about the ultimate building game, Minecraft is the best ice-breaker for that. This highly acclaimed sandbox game brings out your creativity as you can build everything the world offers in your imagination.
This game is genuinely iconic, as its polygonal graphics complement its signature pixel animations that send out a friendly vibe for players of all ages. Not to mention, its relaxing soundtrack complements its simplicity, making you relax every time.
As the name suggests, the game lets you mine materials and craft items for specific purposes such as cutting trees and plowing lands. On top of that, its open-world setup lets you explore different flora and fauna, which you can set your home base in it.
Furthermore, Minecraft became famous because of its base-building system, which allows players to build incredible structures using blocks around the map. You can stack up different blocks to create a stable building, allowing you to settle in.
The game has minimal survival elements, adding flavor to its overall experience. There, you need to manage your resources and forage for food to attain your survival.
Needless to say, when it comes to introducing players to the building genre, Minecraft is the best recommendation with no question asked.
This legendary title belongs to the best building games on Switch and no one can deny that.