Medieval games have a certain charm to them. Whether you're interested in fighting games, RPGs or simulators, there'll be a historical tale to suit your personal tastes.
It can be hard to pick out a game that takes place in the Middle Ages, though. There's heaps of medieval games available nowadays, from all sorts of studios and artists.
To help you pick your perfect game, I've selected the 14 best medieval games on Nintendo Switch and put them into this list. I've included all kinds of games, covering everything from gory action games to story-rich RPG titles.
As most of the games are heavily story-centric, I've kept this article as spoiler free as possible.
My favorite in this list is number 7, it's got an incredible narrative and I love the characters.
Northgard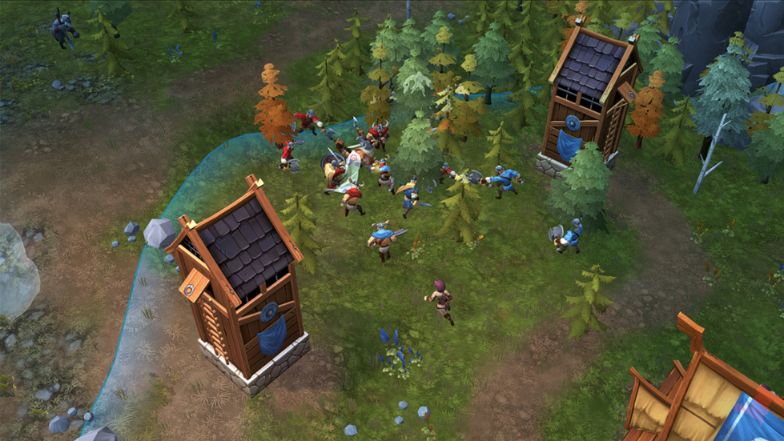 If you're a fan of base building games for the Switch, Northgard is the perfect strategy game for you to check out. It follows a small clan of Viking warriors, looking to make their own way in a new land that they've just arrived in.
You'll need to gather resources, expand your base and develop the world to support your clan. There's a heap of disasters and threats to contend with, and a real sense of progression as you truck your way through all of them.
Northgard looks great on the Switch and the controls translate perfectly to the console too, especially considering that this was originally a PC game. There are no performance issues to note, and it works well in both docked and handheld mode.
While the slow pacing of this game might put some people off, I'd heavily encourage checking it out. If you like strategy games with a medieval flair, this is a must-play.
A Plague Tale: Innocence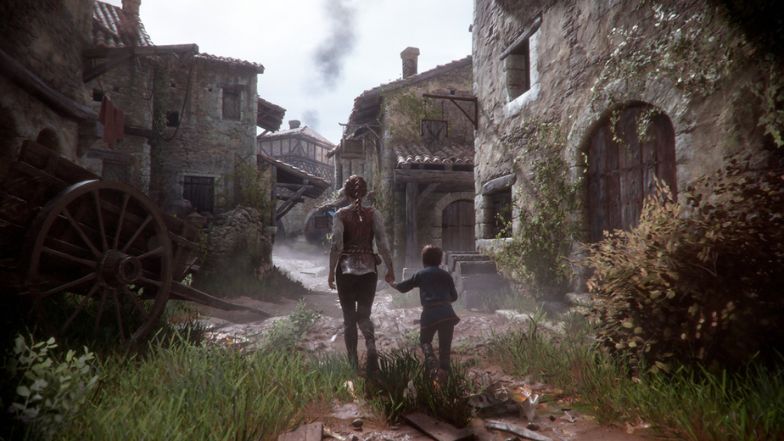 A Plague Tale: Innocence is a spectacular RPG that's worth getting into if you're a fan of games with a historical theme. It's dark, gritty and packed full of interesting plot points.
This game takes place during the time of the French Inquisition, following the story of Amicia de Rune and her brother Hugo as they flee from the people who murdered their parents and try to survive horrors like the plague and murderous rats.
There's a brilliant blend of gameplay styles and themes in this particular game, including stealth and survival elements, action gameplay and even puzzle solving, too. It's incredibly engaging, and I see it being suitable for both experienced RPG fans and new gamers alike.
A Plague Tale: Innocence performs well on the Nintendo Switch in both docked and handheld mode, and the graphics hold up nicely as well. It is a cloud based game which can lead to some frustrating loading times, but the developers have made this very transparent with in-game warnings and it's nothing game breaking.
This is a solid addition to the library of medieval games on Switch, and I highly recommend checking it out. It's immersive and memorable.
Yes, Your Grace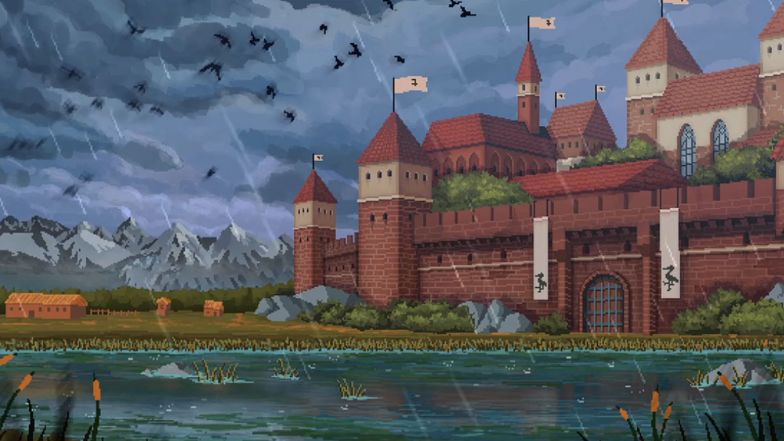 Looking for a simulation game to pad out your medieval Switch game collection? Yes, Your Grace is an immersive simulation-strategy game with point-and-click and adventure elements.
You play as King Eryk, and you have to manage your kingdom and keep it safe while caring for your family, gathering evidence for key events and managing resources.
This game plays decently, with a clunky but manageable user experience and well-made graphics. It performs well in both docked and handheld mode, with only a few quirks. There's nothing game-breaking to note, just a few glitches and controls that take a little while to get to grips with.
If you're a fan of medieval games but you're looking for something that's not an action game or an RPG, this could be the best game for you on this list. It's unique and engaging, and it comes with plenty of content to keep you busy as well.
The Banner Saga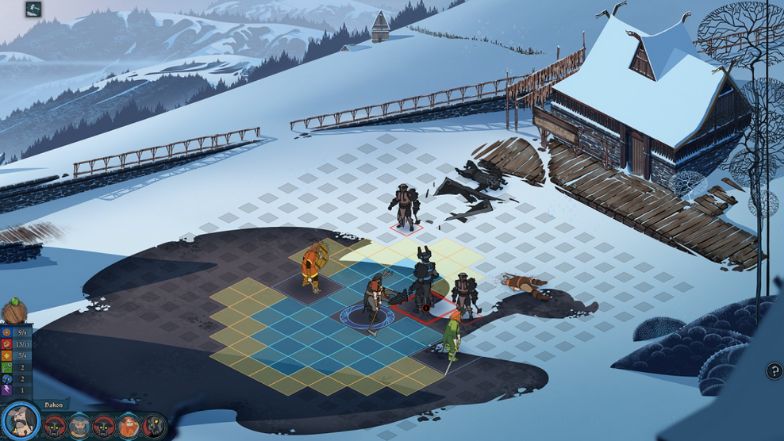 There are plenty of great Viking games on the Nintendo Switch which fall into the medieval category, and this is one of the best. The Banner Saga is a must-play for any medieval game fans that are looking for an in-depth RPG with strategic elements.
The Banner Saga follows the story of a band of warriors, travelling in a caravan across battle-torn lands to escape the evil Dredge and their leader, the Bellower. It's a resource management sim in parts, with other elements of the game requiring you to fight, manage gear and build up a strong group in accordance with the story.
Visually, this game is a dream. The Banner Saga's art style is phenomenal, with charming character art and immersive environments. In terms of performance, the game plays well with only a few minor quirks like a wonky camera angle or two.
The writing in this game is spectacular, and there's a real feeling of desperation that threads itself throughout the story, making each player choice feel meaningful. This is certainly not a game for the faint of heart. It's demanding and intense, but intriguing and rewarding.
Ancestors Legacy
If you enjoy playing RTS games on the Switch, Ancestors Legacy is a title that you should consider adding to your library this year. It's immersive and detailed, with plenty of interesting scenarios and concepts to keep you occupied.
In this game you can play as four different nations, each with their own storylines and technology. There are various missions to follow for each different nation, adding plenty of replay value to this title. It also offers a unique premise for a RTS game, allowing you to take over villages instead of making you start your nation from the ground up.
Ancestors Legacy certainly isn't groundbreaking in terms of visuals, but it looks fine on the Switch and performs well on the whole. There are a few issues with camera angles and troops getting stuck- nothing that breaks the game, but worth noting regardless. Other than that, the user experience is smooth.
RTS games might not be the most accessible genre in the world for new players, but Ancestors Legacy is a good first step into the niche for any curious gamers. It's a fun and detailed game with decent replay value and plenty of content to enjoy.
Kingdom Two Crowns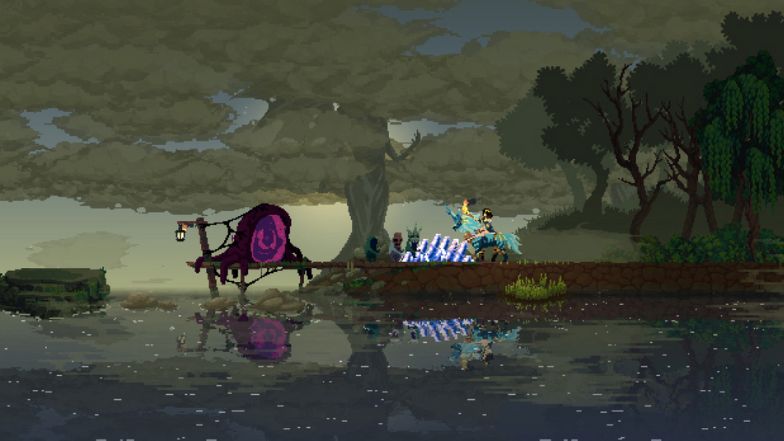 There are plenty of fantastic games from small developers on the Switch, and Kingdom Two Crowns is one of the most unique ones with a medieval flair. It's a side-scrolling RPG title with resource management and strategy elements.
You play as a monarch overseeing the construction of your new lands, riding on horseback and instructing your forces to build, defend and attack as needed. The 2D world around you is procedurally generated and comes with plenty of enemies and obstacles to tackle.
Kingdom Two Crowns is the ideal strategy-RPG hybrid for any experienced gamers looking for a challenge. There isn't much of a tutorial and the world can be quite unforgiving, so figuring out how to survive and thrive feels incredibly rewarding. The game looks beautiful, and it plays incredibly well on the Switch too, with only a few minor hiccups.
This is a unique title and it's worth checking out if you enjoy RPG and strategy titles. It's not the most accessible for new players, but it offers a lot of content and plenty of replay value due to the procedurally generated worlds.
Ghost of a Tale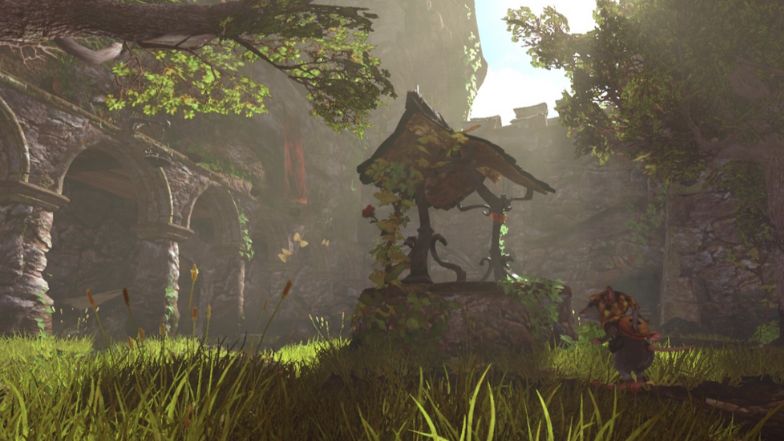 Ghost of a Tale is a creative adventure game that follows the story of a mouse musician named Tilo, trying to save his wife from the evil forces that kidnapped her.
The story in Ghost of a Tale is intriguing, with loveable characters and an immersive in-game world. Unlike other RPG titles in this niche, this is not a combat centric game and instead requires you to solve puzzles and use stealth tactics.
There are some truly innovative mechanics in this game, like the use of music to deliver exposition and the use of costumes to blend into new environments while playing as Tilo.
Ghost of a Tale has a beautiful aesthetic, and the graphics look smooth on the Nintendo Switch. There's a day-night cycle which looks great (but can be annoying if you're hunting for a specific NPC in the day) and emotive character portraits to add extra depth to dialogue.
This game certainly isn't your average RPG and it won't be an ideal fit for every gamer reading this list. If you're a fan of stealth-oriented RPGs with a fantasy vibe, funny music and interesting mechanics, this is a game that I'd highly encourage you to check out.
It might not be the best medieval Switch game from an objective standpoint, but it's my favorite pick nonetheless.
Rift Adventure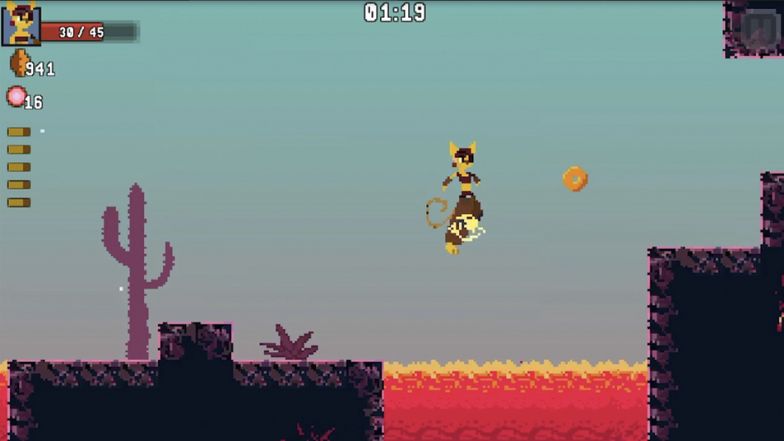 Merging the worlds of RPG titles and platform games, Rift Adventure is a quirky, pixellated medieval Switch game that's worth adding to your library today.
In Rift Adventure, you'll be tackling platform puzzles while trying to rescue your friend who's been kidnapped by an underworld demon. Interestingly, buying items and completing levels starts to have a direct impact on the nearby village and the greater world. I won't spoil it but it's due to a theme that you don't often see in games.
There's a decent difficulty curve here, so it's ideal for newer gamers looking to push themselves. The controls are intuitive and the game plays well in both docked and handheld mode. I'm a huge fan of the art style and think it looks wonderful on the Nintendo Switch.
Rift Adventure is a nicely made platform game with RPG elements, and it's perfect for both new gamers and experienced platformer nerds alike.
The Choice of Life: Middle Ages
The Choice of Life: Middle Ages is a lighthearted simulation game with a card game structure, allowing you to play through a medieval experience by choosing from a series of life events.
The character that you're playing as has dreams of working in the castle treasury, and you'll need to work your way up to this title through various roles and tasks throughout the game. There are a lot of different ways that the story can go, and it's a lot of fun seeing how your choices affect the end result.
There's a few useful features in this game that show how much thought the developer put into making it. There's a handy checkpoint system and a color-coding system to help you make sure that you're not accidentally making the same choices over and over.
This is a simple game but it still looks great on the Switch and plays well in both docked and handheld mode. There are no performance issues to note, and it's easy to pick up. If you like life sims and card games, this is a title that I recommend checking out.
The Elder Scrolls V: Skyrim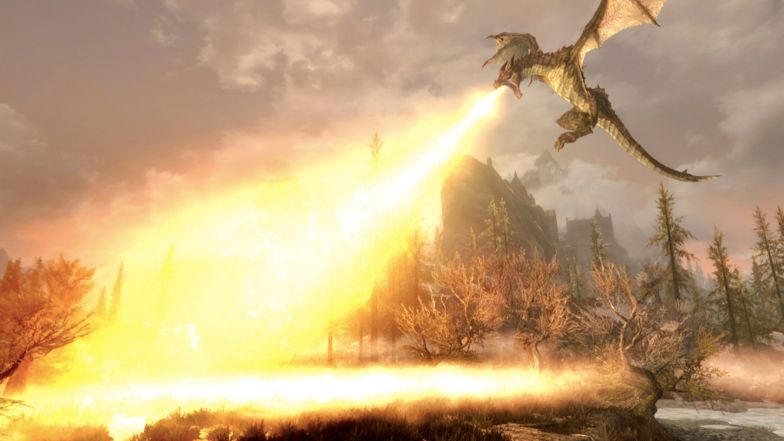 While there is some debate on when exactly Skyrim is set, I think it's fair to include it in this list of the best medieval games on Switch based on the visual design and items that you can find throughout the game. It may be set in a different timeline to ours, but the design used for elements like the weapons and the ships points to a medieval era.
Skyrim is a household name nowadays when it comes to fantasy games, and with good reason. Set in a fictional world full of dragons, demon lords and magic, this RPG is a classic and worth adding to your Switch library immediately. It's a truly immersive world.
There's a main storyline to follow in this game but the player has a lot of freedom in regards to side quests and exploration. You get to customize your character fully too.
Skyrim looks great on the Nintendo Switch, with only a few minor visual concessions made to make this huge, open world port work for the console.
There are no performance issues, the controls are intuitive and the soundtrack is wonderful as well. It's a household name game for a reason- if you haven't played it yet, I highly recommend checking it out.
Graveyard Keeper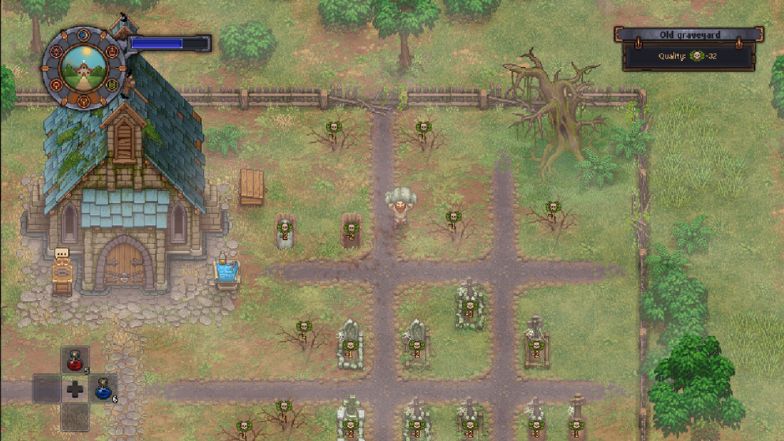 If you're a fan of management and simulation games, Graveyard Keeper could be one of the best fits for you in this list. It's a quirky take on the management game niche, often being compared to games like Stardew Valley.
Instead of following the typical storyline that most simulation and farming games like Animal Crossing follow, Graveyard Keeper offers something a little more jarring. Your character is hit by a car, and wakes up to discover that a sentient skull has put them in charge of managing a graveyard. From there, you have to manage the graveyard and complete odd missions.
To sidestep quickly, the main game follows a medieval theme but as the mention of a car might suggest, the introduction story does not. It's advertised as being one of 'the most historically inaccurate medieval games', which I found pretty funny.
This is a game that's suitable for experienced gamers, as the intro is very short and there's a very steep learning curve. It's an enjoyable sim – with all the missions, resource management and tasks that you'd expect – but it can be a lot to pick up.
I'm a huge fan of the characters and writing in this game, as they really help bring the inner world to life. It's a visual gem too, with a charming yet creepy aesthetic. It is worth noting that there are a few quirks throughout the game – nothing game breaking, though.
Graveyard Keeper is certainly one of the more unique medieval games on the Nintendo Switch. If you're prepared to do some research for the missions and tasks in the game to combat the lack of guidance, you'll be able to get hours of fun out of it.
Kingdoms of Amalur: Re-Reckoning
This is a solid addition to the world of medieval RPGs on the Nintendo Switch, and it's worth taking a look at if you're looking for something dramatic and combat-driven.
In this game, you play as a hero battling against the immortal Tuatha, a clan of Fae who want to get rid of all humans and start the world anew. This game initially started off as a MMORPG but ended up being released as an RPG due to team changeovers, and you can see this in the level of customization and style of questing.
The combat system really shines in this game, with plenty of ways to tweak and adapt it to fit your preferred style of play. The combat evolves steadily as you go throughout the game, getting more complex and satisfying as you learn more about the world.
The graphics are nothing groundbreaking but they're decent enough on the Switch. There are no performance issues to note, and the controls are easy to pick up and master.
While there are certainly bigger names to consider with medieval RPGs on the Switch, I'd still encourage fans of this specific niche to check out this game. It offers a lot of content, and the customization options help it to stand out from the crowd.
Reigns: Kings and Queens
Looking for something silly and lighthearted? Reigns: Kings and Queens is a fun, medieval themed game that combines elements of simulation games, strategy games and card games, all tied up with a neat RPG-esque bow.
In this game, you play as a monarch trying to combat a curse that the Devil has placed on your throne. You'll get simple questions to answer from your citizens, advisers and companions, each affecting different aspects of your kingdom like happiness and wealth.
The aesthetic for this game is simple but incredibly effective. It looks great on the Switch in both docked and handheld mode, and there are no performance issues or quirks to note. The controls are incredibly simple, and it's an easy game to get stuck into.
With heaps of different outcomes and plenty of collectable items to discover, there's a lot of replayability with Reigns: Kings and Queens. It's a fun, lighthearted game with a surprisingly compelling narrative. There's even a small co-op feature to explore, and it's a title that I strongly encourage you to check out.
The Witcher 3: Wild Hunt
When I'm writing my articles, I always like to try and favor indie games wherever possible. Sometimes, though, there's a huge game that fits the theme of the article so well that it simply can't be left out.
As with Skyrim, there's a little bit of a debate over when exactly this game takes place, but the motifs found throughout the game justify its place in this list.
In this game, you play as a monster hunter named Geralt, looking for a sorceress named Yennefer. The story unravels quickly, throwing up a spiders web of intriguing, tangled plot lines and narrative points that help to paint a beautifully immersive world.
This game had to take a few hits in terms of visual quality when being ported for the Switch, but it still looks incredible. There are a few minor performance issues to note, but certainly nothing game-breaking. I find the quality that this game offers on the Switch to be truly impressive, and my favorite thing about it is the quality of the writing and world building.
If you've not played a Witcher game before, I urge you to make this your first. It's rich and vibrant, and comes with an absolute mountain of content. The characters are well-crafted, the storyline is incredible and the world is beautiful, too.