Sniper games are a sub-genre of shooting games that centers around the precision and preparation required to be a trained elite sniper.
Sniper games usually offer much more realistic shooting, factoring in distance, the direction of the wind and more. In contrast, titles within this genre often offer stealth or arcade mechanics to take players on a heroic journey.
Whether it's sniping down dinosaurs to taking down the bad guys from history, I've got a great collection of Switch sniper games to show you in this guide.
So, grab your rifle, put on your ghillie suit, and ready your scopes. Here are the 8 best sniper games on Switch.
Best Sniper Legacy: Dino Hunt & Shooter 3D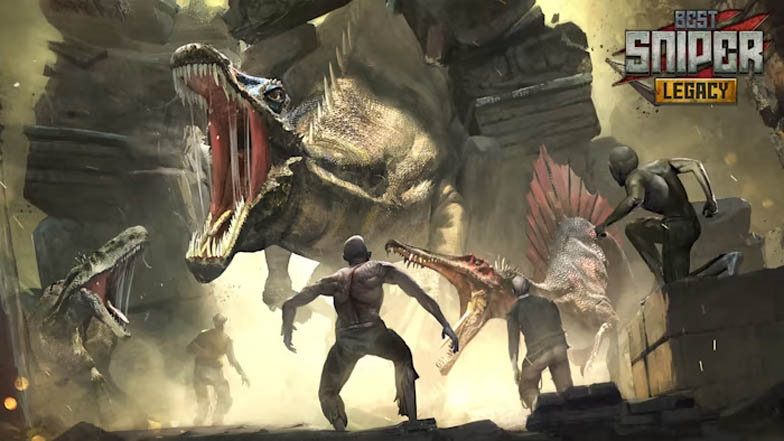 First off on this list is this game that lets you go dinosaur hunting called Best Sniper Legacy: Dino Hunt & Shooter 3D. It is an arcade first-person shooter game that gives you a sniping experience like any other.
Sniper Legacy is a mix of sniper and hunting genres that complements each other. In addition, the game showcases a fun arcade gameplay experience, which added a few features that urges you to play more.
The game lets you hunt different kinds of dinosaurs, from big and bulky ones to smaller and much quicker dinosaurs. On top of that, each dinosaur has weaknesses, mostly in vital organs such as the lungs and stomach.
You can see the dinosaur weaknesses by switching to thermal sights to find their weak spot. This way, you can easily take down dinosaurs without compromising your position.
Hitting your target's weak spot will trigger a satisfying bullet time. This way, you can watch how your bullet will pass through the dinosaurs' flesh with a slowing effect.
The game also lets you use different rifles with each different attribute of what they specialize for. You can also upgrade your firearms in your armory to match against robust dinosaurs in the game.
Overall, the game is an excellent way to start your sniper gaming experience.
Sniper Time: The Shooting Range
If you love going to the shooting range and can't get enough of it, Sniper Time: The Shooting Range is the game for you. The game is an arcade shooter game that emulates a real-life shooting range.
The game embraced a first-person camera angle in which you can feel the shooting experience from your perspective. In addition, its core gameplay loop allows you to shoot targets at a distance using the weapons available in your inventory.
Sniper Time game progression is simple and linear, as you must finish each challenge to advance to the next stage. The game has five chapters which contain five levels for each level with significant difficulties.
There are stages in which you need to shoot targets in a circular motion or a horizontal line. There, you can showcase your aiming skills using different weapons in the game.
There are also several firearms available in the game suitable for sniping down your targets, such as pistols and sniper rifles. In addition, you can obtain new guns by taking down all the targets before the time runs out.
Overall, Sniper Time is an excellent pastime for players who like to play shooter games passively.
Sniper
Sniper is a game that grasps the genre traditionally; that is why this game is included in this list. The game is a first-person shooter which showcases a simple visual design that gives off a cartoonish atmosphere.
The game reminds you of other notable games such as the Sniper Ghost but taking down a notch. However, Sniper is still playable as it showcases fun shooter gameplay with a heavy emphasis on stealth.
The game embraced a first-person perspective which captures the elements of an actual sniper game while transforming the game's level progression. The game comes in waves, and each wave comes in a different number of enemies to take down.
In addition, the game's main objective is not to be seen by your targets; being discrete and silent is the most crucial course of action to take in this game. However, if your position ever gets compromised, you'll go right to the start.
Furthermore, to take down your targets, you are equipped with a handful of weapons at your disposal. The game allows you to use a sniper rifle and a silencer-installed pistol.
With that being said, Sniper is a must-play if you like to do stealth throughout your gameplay.
Carnivores: Dinosaur Hunt
Another one to make on this list is this nice blending of realistic gameplay in an out-of-this-world setting called Carnivores: Dinosaur Hunt. The game is a first-person shooter game that lets you snipe dinosaurs of different shapes and sizes.
The game embraced a first-person perspective to captivate the charm of a fun sniper experience, which makes you transport inside the game to feel immersive gameplay. The game is also a great hunting game because of the preparation you can do before you begin.
There are countless dinosaurs that you can maim down in the game, such as the Triceratops and the world-famous T-Rex. Also, defeating dinosaurs can grant you gems you can spend on skills upgrades and equipment.
Carnivores is an exhilarating experience for hunting fans. Hunting dinosaurs is a relatively simple premise, but it works well.
Moreover, you can equip three types of weapons for significant purposes, but the staple gun of this game is the Rifle. Using your Rifle can take down dinosaurs at a distance, not to mention upgrading them will give you an upper hand over formidable creatures.
Players' skills are also crucial in the game, and these skills are excellent for hiding in plain sight and mobility. Buying upgrades for skills is a must as it will help you to move quickly to find the best spot for sniping down creatures.
That said, this game is an excellent addition to your library if you're longing for some sniper action. Carnivores: Dinosaur Hunt undoubtedly belongs in the category of the best sniper games on Switch.
Hunt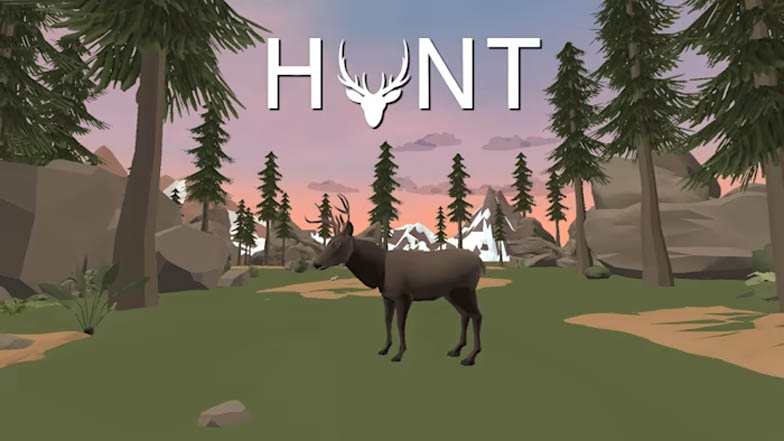 This game will blow your mind with its sniping mechanics and gameplay. Hunt is a semi-open world game that uses a first-person perspective to capture the charm of sniping.
The game's core gameplay loop is to snipe animals to collect money based on animal descriptions. On top of that, you also need to prepare and take positions where animals cannot notice you.
Hunt's most unique feature is you can select which time you want to partake in your run. Whether day or night, the area is full of prey and predators that you can maim using your aiming capabilities.
The game will test how good your sniping abilities are and how sneaky you are in terms of playing. Otherwise, whenever you miss your shot from your target, it will be most likely to attack you towards your position.
There are also different firearms available in the game that you can equip. From snipers to pistols, these guns are suitable for passive shooting.
All in all, Hunt is a game that will bring your sniping skills into play. So, grab a copy of this one to enjoy some good Switch sniper action experience.
S.N.I.P.E.R. – Hunter Scope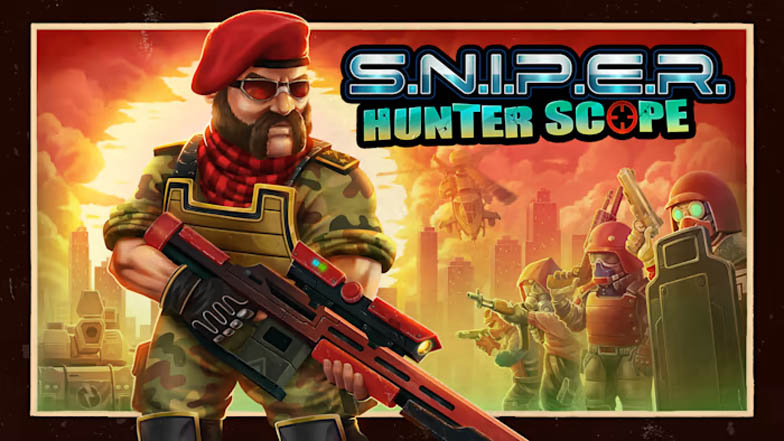 If you want a fun approach to the sniping experience, look no further as S.N.I.P.E.R. – Hunter Scope is the game for that. The game is an action arcade shooter, which brings the whole genre to a new level.
Hunter Scope's cartoonish violence matches the game's visual design, which showcases an over-the-top artistic approach. Also, as expected from arcade games, the background and sound effects genuinely bring up the liveliness of the action.
The game also features three different mission types with each different scenario to perform. For example, the dead-end mission allows you to shoot enemies at a distance while in a third-person perspective and brings more action-packed gameplay.
On top of that, the reload mechanic is also a nice feature in the game, giving off a rhythm mechanic feel. For example, if you perfectly reload your gun, you can shoot your enemy in an instant after that.
The game also offers a ton of guns that you can use for any mission type, such as assault and sniper rifles. Also, each firearm is designed with specific attributes like the SN-100-FR sniper rifle, which contains excellent power yet less stability.
That said, Hunter Scope brings players to the fun of Switch sniper games from a different point of view of the genre.
Zombie Army Trilogy
Suppose you love some zombie slaying action games on Nintendo Switch that offers a multitude of gameplay mechanics, including a sniper segment. In that case, Zombie Army Trilogy is the game for you. It is a spin-off game from the Sniper Elite series, which showcases zombie shooting galore.
Zombie Army Trilogy is a collection of games containing each series entry. But, of course, each is a delight for players who are into some head-popping zombie sniping experience.
The game retains its gameplay mechanic from Sniper Elite, known for its stealthy gameplay from a third-person perspective. Also, the most satisfying feature of this game is the bullet time for each successful shot.
In addition, the game also offers different kinds of missions, from casual to survival modes, each more challenging than the last. You also need to plan your next course of action to attain survival.
On top of that, you can equip both primary and secondary firearms for your loadout. With each significant appearance and function, you can acquire notable weapons from the old war.
Overall, Zombie Army Trilogy is a must-play if you're in the zone for some zombie experience, and is one of my favorite sniper games on Nintendo Switch.
Sniper Elite 4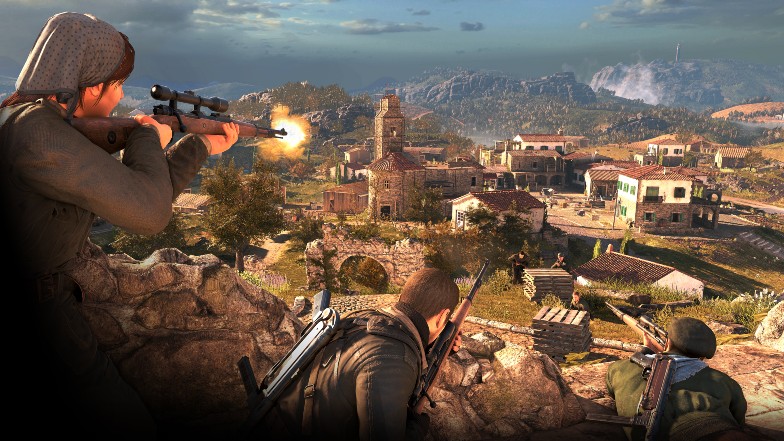 Last but not least is Sniper Elite 4, that will let you snipe down treacherous WW2 German enemies. The game is a third-person shooter which embraced the sniper formula to its core to showcase a sniper action extravaganza.
SE4 is the fourth installment of this strategic shooter series which also retains its gameplay in much smoother graphics. Not to mention its fluid execution of visuals which handles the Switch's hardware very well.
The game retains its original stealth and strategic gameplay, which makes the player's mind function. In addition, SE4 is a preparation-heavy game where you must consider what weapons suit the mission best.
The game's unique feature is the distraction system which is fascinating to do whenever you successfully perform it. For instance, you can throw objects around you and draw the attention of enemies away from you to have a safe passage to your location.
Additionally, the game allows you to do recon to check what areas are prone to danger or what best position. On top of that, scouting around will allow you to check enemy movement patterns for secure execution.
With that being said, this ultimate shooter game is the best one for your sniper cravings.