Whether you're on the hunt for a game to bring along to a party with friends, or a title to liven up your next family games night, there's an overwhelming amount of party games on the Nintendo Switch to pick from.
Party games come in all shapes and sizes, with some being ideal for large groups and others being perfect for smaller gatherings. The Switch is an ideal console for party games, as it's portable and easy to set up.
To help you find a great pick for your next games night, I've handpicked the 14 best Nintendo Switch party games to check out today, covering everything from fast-paced arcade games and puzzles, to laidback board games and family-friendly titles.
Mario Party Superstars
Party games on the Nintendo Switch can often feel quite chaotic and overwhelming, so it's refreshing to see a big name like Mario in a more pared back title.
Mario Party Superstars is a fun, lighthearted party game that offers 5 unique digital board games for up to 4 players to enjoy. The general premise is that you take turns rolling a dice, moving round the board and playing mini games as you go.
Mario Party is a longstanding franchise, and this particular instalment really went back to its roots. It's a simple but fun game, packed full of memorable characters and enjoyable mini games. It's also very accessible, and good for gamers of all experience levels.
This game performs well on the Switch, with clean graphics and an upbeat soundtrack. There are no notable performance issues, and the controls are quick to pick up.
While there isn't an immense amount of content to explore in this game, there's still a lot to love. I'd recommend checking out Mario Party Superstars if you're on the hunt for a family-friendly Switch party game with iconic characters.
Rocket League
Ever wanted to play football with rocket-powered cars? It's a bit of a niche dream, but if so then you're in luck. Rocket League is a fast-paced multiplayer game with an addictive style of play and a heap of content to keep you busy.
In Rocket League, you play team matches in groups of up to 8 turbo-boosted vehicles, trying to get the ball into the goal. There are heaps of game modes, ranging from casual 3v3 matches and 1v1 battles, to the fiercely competitive online mode and experimental modes like snow day or hoops.
Rocket League performs decently on the Nintendo Switch, with only a few tiny visual quirks and tiny network issues to note. It plays well in both docked and handheld mode, and is enjoyable for single player, local multiplayer and online multiplayer matches.
There's a few extra perks for Switch players here, as you can unlock skins for your cars that are Mario themed or Metroid themed.
If your friends are gamers and you want to keep your group occupied with a lively, fast-paced game then Rocket League is the perfect pick for you. It works with Xbox One and PC players too, so you can host games with friends playing on other consoles, and has a mountain of content to work through.
Among Us
While this game may bring back flashbacks of gaming during lockdown for many of us, it felt wrong leaving it off this list. Among Us is an exciting yet silly party game that's ideal for playing with groups of friends.
Rivalling Monopoly for its ability to start arguments with loved ones, Among Us follows a simple premise. Taking place in space, groups of 4-15 players must complete a series of tasks and menial chores while keeping an eye out for an imposter (or 3) who has to track each player down and kill them secretly.
Despite the silly vibe and cartoonish art style, this is one of the best lighthearted whodunnits. That sentence may raise a few eyebrows, but this is the perfect party game spin on the mystery genre.
After players come across each body, they must talk to decide who the imposters are and it can get tricky to decipher who's lying very quickly. The slightest slip-up on a location or room name can make all the difference.
Among Us looks great on the Switch and plays well too. Other than a few tiny quirks (for example, the lack of voice comms) and the lack of customization options, this is a budget-friendly party game for the Nintendo Switch that I highly recommend checking out.
Overcooked! 2
Overcooked! 2 is a goofy, intense party game that's ideal for up to 4 players at a time. It's a party game with an arcade feel to it, and it matches the Nintendo Switch console perfectly.
In this game, you play as a cook in a busy kitchen alongside the other players. You'll have to complete food orders before the timer runs out, navigating crazy levels and juggling multiple tasks while getting in each other's way in the process.
The design in this game is great, with kitchens that contain hazards like vanishing stairs and cartoonish characters with comically oversized chef hats. There's even a surprising amount of narrative, but it does take a backseat in the game. It's clear a lot of love went into this title.
Overcooked! 2 plays well on the Nintendo Switch, in single player, local and online multiplayer mode.
There's plenty of content to keep things cooking, with heaps of levels to play through and other game styles like the arcade mode, too. It's a great pick for a laidback couch co-op session with friends and couples.
Keep Talking and Nobody Explodes
The title of this game does a fantastic job of describing the core gameplay. Keep Talking and Nobody Explodes is an intriguing, cooperative party game that sees groups try to disarm a bomb by working together. This is one of my favorite games in this list.
One player will hold the Switch and has to disarm the bomb. The other player/players have to use the bomb manual to walk them through disarming the bomb without seeing it, using the visual cues and instructions to give the correct solutions to codes and mini games.
It's a very creative game idea, and it works well on the Switch. It requires both parties to communicate effectively, and it doesn't take long to get the hang of the game either.
There are two gameplay modes here. One is a simple mission-based style of play, and the other is a customizable free play mode. Both work well on the Switch, with no notable performance issues or quirks. The controls are intuitive and the game has a polished aesthetic.
This is a game that's ideal for family gatherings, and it can get chaotic and silly very quickly. It's got plenty of content on offer, and I'm a big fan of it- I highly recommend checking it out.
Monopoly Madness
Looking for a game to cause some arguments with your friends? Monopoly Madness is a unique spin on the classic board game and it's a lot of fun to play through.
Offering a style of play to a classic game of Monopoly, Monopoly Madness pits groups of players against each other and tasks them with claiming buildings, sucking up resources and wrecking other people's buildings. There are several interesting maps, with a handful of different game modes to enjoy too.
Something great to note about this game is that it offers single player, local multiplayer and online multiplayer gameplay. Each mode works well with no notable performance issues, and they look great on the console too.
While this certainly isn't the game for you if you're on the hunt for a strategic, thoughtful party game, Monopoly Madness is a lot of fun and family-friendly too. It has some unique features, like the story mode, and the charming cartoonish aesthetic works for the Switch as well.
Super Smash Bros. Ultimate
I think it's fair to say that this is one of the best party games on the Nintendo Switch, hands down. It's a glorious brawler with an arcade feel, and it comes with a myriad of beloved characters.
In Super Smash Bros. Ultimate, you can battle through multiple single player modes, tournaments and multiplayer games with a whole roster of characters that each have their own specialities and move sets.
There's heaps of content to unpack here, with each game mode and gameplay style performing well in both docked and handheld mode.
It's clear that a lot of love went into this game, with finely tuned mechanics and intriguing game modes to set it apart from other titles in this franchise. It's been designed with long-term play in mind, and is ideal for everything from casual parties to competitive Smash Bros tournaments.
If you've never played a Smash Bros game before, I encourage you to make this one your first. It's fast-paced and great for gamers of all experience levels – definitely one of the best party games for Nintendo Switch.
Cake Bash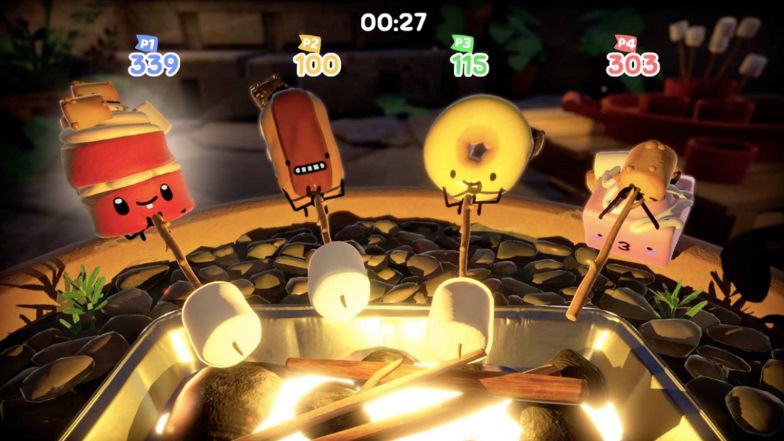 This game is a sugar high that's best experienced with friends. It's a fun, arcade-style party game that's accessible for all experience levels.
In Cake Bash, you play as sentient candy and cakes. You'll have to battle the other sweets in various modes, fighting to catch falling fruit to make a tart with, holding onto explosive sparklers or covering yourself in jellybeans.
This is an approachable game, with a simple series of rounds and mini games to keep people occupied. It's a relatively family friendly title, and easy for people who don't game very often to get into. The controls are simple and they don't differ too much between games and mini games, so it's easy to pick them up.
Cake Bash has a pristine aesthetic with charming characters and a high level of attention to detail. It looks great on the Nintendo Switch, and plays impeccably well too.
While it might not be the most complex party game on the Switch, it certainly is a lot of fun. Cake Bash offers a quirky spin on classic party games and a seamless user experience. What's not to love?
Party Golf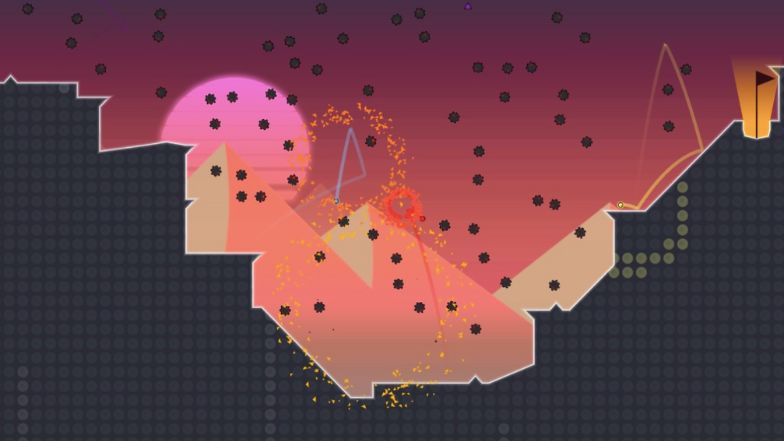 While golf might not be the first sport that springs to mind when you think of parties, there are some surprisingly fun golf games on Switch.
Party Golf is a goofy, fast-paced game that puts a unique spin on classic golf games. Whereas traditional golfers might wait for everyone to take their turn hitting the ball, Party Golf gets all the players to hit the ball at once.
It's a simple twist and makes for a delightfully chaotic game. There are several game modes that you can play through with friends, with options to customize elements like the ball that you're playing with or the light that you're playing in.
There's a solid single player game mode on offer, too.
The visuals are spectacular and the game itself performs very well on the Nintendo Switch. It's a cohesive title, and comes with plenty to liven up your next games night.
Ultimate Chicken Horse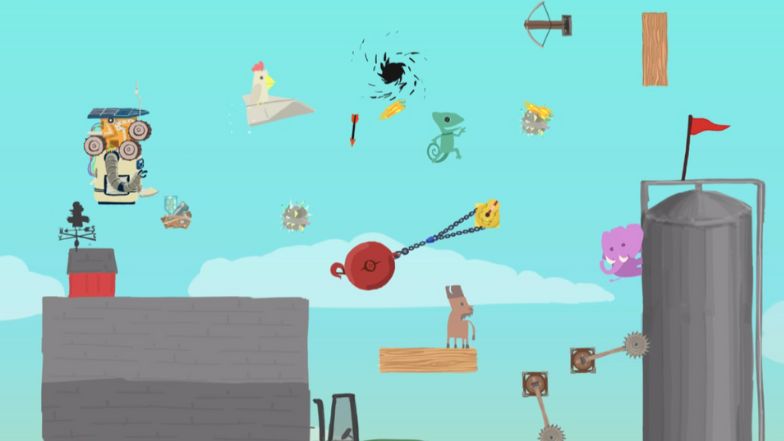 In Ultimate Chicken Horse, you'll need to build a platformer stage as you run through it with other players, setting up platforms, traps and pitfalls to ensure that you're the winner.
It's a chaotic and silly party game for the Switch, with plenty of content to keep you and your friends busy. There's a standard mode to play with 2-4 players, a great single player mode, and other interesting game modes like creative mode or free play mode.
The controls for this game can take a little time to pick up, as it was a PC game originally and this does not always lend itself nicely to the Nintendo Switch. However, once you play for a while, the controls start to make sense and the game feels intuitive. There are no performance issues and it looks fantastic too.
Ultimate Chicken Horse looks good and comes with plenty of content, and it's a great game to play through by yourself as well.
The Jackbox Party Pack 3
There are heaps of Jackbox Party games on the Nintendo Switch, and it was hard to pick out just one to feature in this article. The Jackbox Party Pack 3 stood out from the others as having the best variety of games and content on offer.
There are 5 games that you can play in this pack; Guesspionage, Trivia Murder Party, Fakin' It, Quiplash 2 and Tee K.O. as well. As the names might suggest, these games include everything from testing your trivia skills to putting you through your paces as a graphic t-shirt designer.
Something that sets the Jackbox Party games apart from the competition is the unique way that people can join in with the games. There's a website that you can access via your phone, making for a truly accessible and intuitive experience.
This does lead to one of the fatal flaws of this game, though.
While there are no notable performance issues or graphical quirks, you must always have a WiFi connection. One of the best things about party games is that they're portable, so this can be annoying.
If you can overlook that and some silly writing choices, this is a stellar pack of party mini games to enjoy with friends and family. If you're a fan of this one, it could be worth checking out the other Jackbox Party Packs as well – there's lots to choose from.
Mario Kart 8 Deluxe
Following the format of the Mario Kart games before it, this game comes with a large number of maps and challenges to race through with your friends. Alongside the traditional racing modes, there's battle modes, challenges, local multiplayer and online multiplayer too.
Mario Kart 8 Deluxe looks fantastic on the Nintendo Switch, with a refined and polished aesthetic. It plays well too, with controls that are easy to pick up and a pleasant visual layout too. All the vehicles handle surprisingly well, making for an enjoyable racing experience.
With a host of fan favorite characters and cheery soundtracks to tie it all together, there's a lot to love with this game. It's a brilliant game to pull out at a party with friends, and there's heaps of content to play through in your own time as well.
TowerFall
TowerFall is an indie game with a charming aesthetic and a unique style of play.
In this game, you'll go head to head with up to 5 other archers, fighting to gain control of a blocky, wrap-around map. It's a match style that's reminiscent of arcade games, and it works very well on the Switch.
While the initial concept might sound simple, the customization options make this game really shine. You can change up a lot of game rules and stipulations before kicking off a match, allowing you to mess around with power-ups or giving players extra perks like being able to control their ghost after dying.
There's plenty of multiplayer content to liven up your next party, and a decent amount of single player content to enjoy as well. The game itself plays very well on the console, with no performance issues or graphical quirks to note.
Tricky Towers
Tricky Towers is a party puzzle game and it's worth checking out if you enjoy classic titles like Tetris.
The main gameplay in this title consists of building a wobbly tower of blocks, dealing with a surprisingly good physics system and other hazards along the way. You'll be competing against other players, and can explore three main game modes- Race, Survival and Puzzle.
There are also other elements to consider in Tricky Towers when playing with friends, like the difficulty settings and magic spells that can help or hinder players.
Local and online multiplayer both perform spectacularly in this game, with plenty of content and a smoother user experience. There's a simple single player mode too, with an online leaderboard available to keep things interesting.
Visually, this game is a delight. The aesthetic is colorful and vibrant, and the music is suitably whimsical too. Tricky Towers performs well on the Nintendo Switch, and it's a party game that I highly recommend checking out.