Metroidvania fans, prepare to add more games to your must-play list! The Nintendo Switch offers a plethora of great games in this genre, and most of them are worth trying.
If you are looking for diverse experiences, I'm sure one of the games in this list will keep you engaged for hours on end. Some of these titles bring new twists by adding unexpected mechanics to the formula, creating a distinct, memorable experience.
From classic franchises to newer entries, there's something here for everyone. Take a look below for what I consider to be the 21 best Metroidvania games on Nintendo Switch.
Hollow Knight
When Hollow Knight came out, it was well received by players all over the world. With its charming, dark, and cute art style, this indie darling has garnered massive attention for its genre-defining quality.
Hollow Knight is a masterclass in creating a compelling, rewarding world to explore.
It's also proof that one can learn and apply methods used in a different genre. You can see the powerful influence that Souls-like games have on Hollow Knight.
You have to be observant when playing Hollow Knight; make sure to use the in-game map to note gated areas. This game has hidden upgrades, optional boss fights, secret spots, and even lengthy quest lines if you investigate every inch of Hallownest.
The game's combat system is straightforward on the surface. When starting the game, players can only walk, jump and slash. By progressing through the curious world, players will be able to use special slashes, spells, and movement techniques.
As you get more abilities, the enemies also get more complicated to deal with.
Hollow Knight is a Metroidvania that uses elements from other games to become more original instead of feeling like a copy. This game is a masterpiece and worth trying.
Metroid Dread
Metroid Dread brings the Metroid franchise back to its platforming roots.
In this game, Samus Aran is investigating a cryptic signal on planet ZDR, on behalf of the Galactic Federation. It is rumored that a threatening species called X thrives there. Since they were believed to be extinct after Metroid Fusion, it's crucial to find out what is going on.
This is a 2.5D game that doesn't take long to reveal itself as a great Metroidvania. It is clear that the developers know what makes a Metroid game fun to play. The controls are responsive, and Samus feels agile and powerful.
On top of that, the abilities that you acquire make the game increasingly more fun, which is to be expected with a solid Metroidvania title.
Movement and combat both feel fantastic in this game.
As you'd expect from a Metroid game, you'll explore the labyrinthian alien levels while finding movement and combat upgrades.
This is a fantastic title made by experienced developers that understand the franchise and the genre. Make sure to try it out.
Blasphemous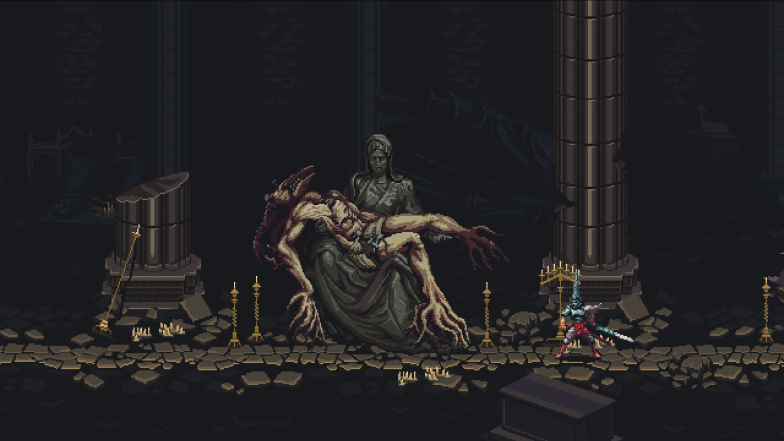 Blasphemous is a dark fantasy game with stunning pixel art.
In this game, you control the Penitent One, a silent protagonist on a quest to bring down the cruel Church and put an end to the Age of Corruption.
This game takes clear inspiration from Dark Souls, both in terms of design and mechanics.
Much like Hollow Knight, instead of straight-up copying Soulsborne games, the team at Blasphemous implemented some characteristics of FromSoftware's titles while keeping the game as an original, fun-to-play platformer.
Unlike other Metroidvania games on the Switch, you do not depend on movement upgrades that change how you reach areas of the map in this game. To be honest, this makes me unsure about classifying Blasphemous as a classic Metroidvania.
That being said, all the other elements are there. The map, exploration, backtracking, new powers, and more. There are secret bosses, optional areas, and plenty of hidden items.
The setting of Blasphemous is wicked and scary. The game's name foreshadows what you will experience when playing it. The world is desolated, the hero is off-putting, and the holy figures are horrifying.
Blasphemous is more than your average Metroidvania.
The methodical combat, deep lore, gloomy atmosphere, and visual design all come together to provide a special experience, unlike most of what you see in the genre. If all that sounds interesting, I'm sure you'll enjoy Blasphemous.
Guacamelee!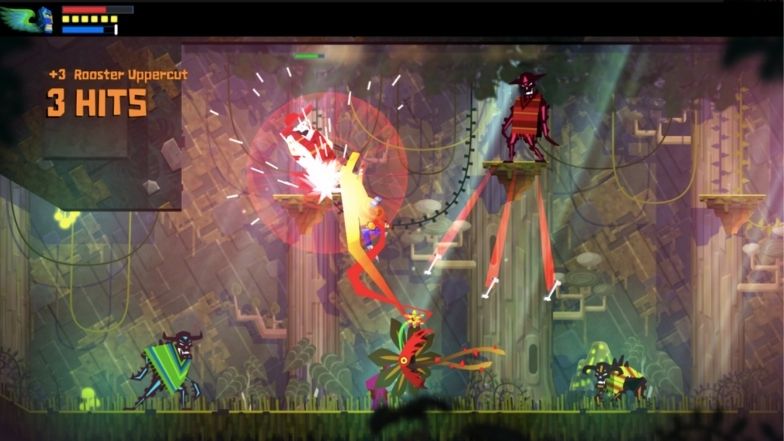 Guacamelee! is a fast-paced Metroidvania that was created as an homage to Mexican culture and geeky pop culture, as well. It is one of the best Metroidvanias on Nintendo Switch if you want a funny, colorful experience with goofy platforming and flashy combat.
You play as a luchador named Juan, who's on a mission to save the president's daughter, Lupita. In order to do so, he will have to chase the villain Carlos, fight undead goons, and pick up new powers. The game has many platform challenges and intense fights.
Although this is a Metroidvania, Guacamelee is not as heavy in its exploration and backtracking as other games of the genre, but those elements are still there.
Instead, Guacamelee! is a playground to create consecutive combos like some of the best H&S titles do. Combat, movement, and platforming are genuinely fun in this game.
There's also an option to play with another player who gets to take control of a luchadora named Tostada.
The second player can easily drop in and out of the session whenever they're available. This is an underappreciated feature since games that allow you to play local co-op are becoming rarer every day.
Whether you want a funny game or a good Metroidvania experience, I'm sure you'll find something to enjoy in this game.
Castlevania Advanced Collections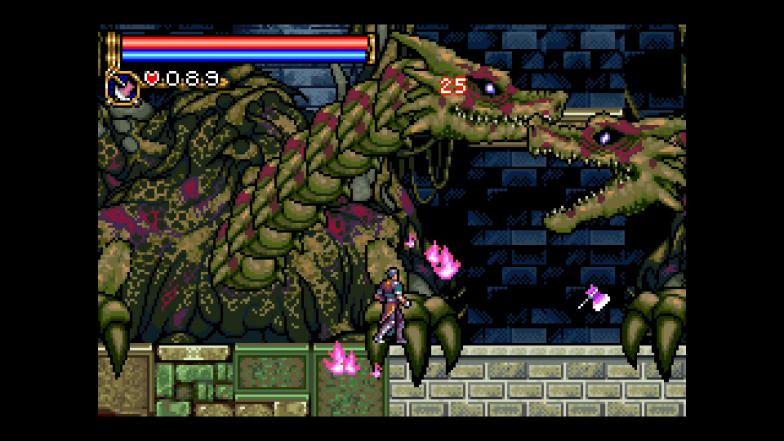 In this collection, you will find old gems from the Game Boy Advance.
These include some of the best Castlevania games ever made, such as Aria of Sorrow, Circle of the Moon, and Harmony of Dissonance. It also has the non-Metroidvania title, Dracula X, which is also a fantastic platformer.
Among the many titles, Castlevania: Circle of the Moon is a personal favorite. While I enjoy the RPG elements often found in Castlevania games, this game hit me when I was getting tired of the formula.
Luckily, Circle of the Moon doesn't make players grind for experience or gear. The gameplay instead relies on cards and magic to increase the hunter's strength.
In case you really like leveling up and looking for gear, this collection also features Harmony of Dissonance and Aria of Sorrow. Although these games include levels and experience points, they provide so much to do throughout the castle that players will grow stronger organically.
Castlevania is one of the franchises responsible for the name of the Metroidvania genre. Konami sure knows how to make these games fun to play. If you like Metroidvanias or pixel art games in general, make sure to play these GBA classics.
Axiom Verge
Axiom Verge is a tribute to the classic Metroid games. From its charming 8-bit graphics to its setting and atmosphere, the influence left by Samus's adventures is clearly there.
In this game, you play as Trace Eschenbrenner, who suddenly wakes up in an alien world. In order to survive, Trace must explore this strange place, collect high-tech guns, and face a bunch of terrifying enemies.
While playing Axiom Verge, you'll come across a variety of weapons and upgrades that will help you eliminate obstacles, change how you traverse terrain, and help you defeat enemies more easily.
With each new armament you acquire, you get closer to becoming a Rambo-like powerhouse.
If you like Metroidvania games, especially old Metroid games, you will probably have fun with Axiom Verge.
However, this game is not for everyone.
It's meant for players who want to experience a somewhat nostalgic adventure than for those looking for visually impressive games. Nonetheless, Axiom Verge is a great game, and I suggest you try it if it piques your interest.
Iconoclasts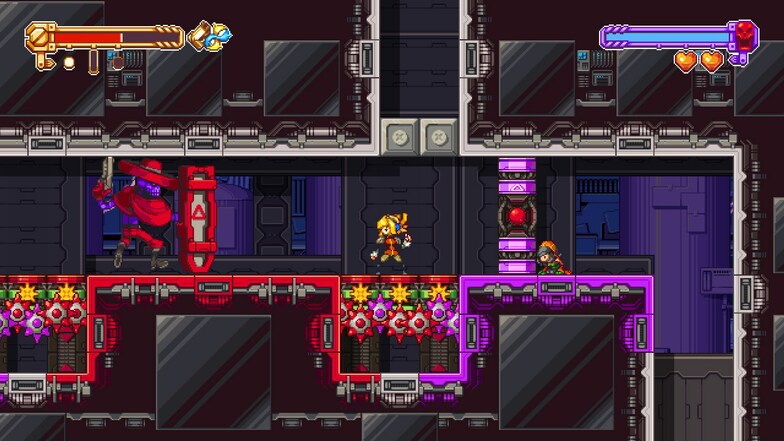 In Iconoclast, you play as Robin, who has been deemed a sinner by the ruling entity, Mother. Despite this 'sinner' label, she is just a mechanic who wants to help people.
This game has a large number of intense, epic boss battles. That, combined with some innovative mechanics, provides enough originality to make Iconoclast stand out among other titles of the genre.
Iconoclast doesn't rely on backtracking. Instead, it takes players on a story-heavy adventure with a linear progression that plays a lot like a puzzle platformer.
The backtracking is there somewhat, but it's mostly there for optional content.
The game's most distinct feature is the Tweaks system. Tweaks are bonuses that you can make at crafting tables. They grant effects that change how you play the game, such as a double jump or an invulnerable dodge roll.
There's a lot to enjoy in Iconoclast. Whether you like pixel art, great boss fights, or platforming, I'm sure you'll enjoy your time with it.
ENDER LILIES: Quietus of the Knights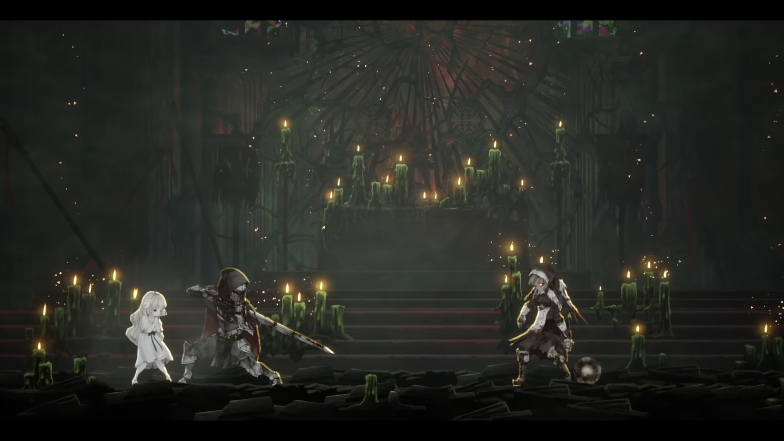 ENDER LILIES: Quietus of the Knights puts you in the role of Lily, the only surviving priestess in Land's End. As the last priestess, Lily must face her responsibilities and take the weight of the world on her shoulders.
Her mission is to purify the land contaminated by a curse known as the Death Rain.
The most interesting thing about this game is its take on combat. Players do not fight light in most Metroidvanias. In fact, Lily is quite a helpless character.
However, you start the game with a spirit who is ready to fight for the priestess. The Umbral Knight is your first protector. Once more souls get purified, they join Lily in her quest to save the land.
This fresh approach to battles, and the fact you can have more spirits fighting alongside you, are a few of the things that kept me playing the game. I couldn't stop playing because I was curious about what would happen next and wanted more characters to join me.
ENDER LILIES: Quietus of the Knights is perfect for fans of Metroidvania titles with fantasy elements and heavier themes. Although it can be odd at times, Quietus of the Knight is a high-quality game with lots of abilities to discover and places to explore.
Ori and the Blind Forest: Definitive Edition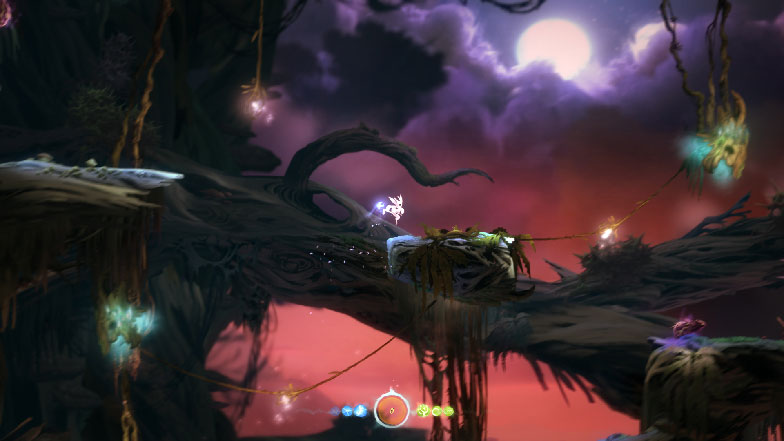 Ori and the Blind Forest is a very memorable game for a lot of reasons.
Regarding its art style, not many games show beauty and charm in such a captivating way. When it comes to gameplay, this game delivers one of the most satisfying platforming experiences in the modern Metroidvania scene.
As the name suggests, players take control of Ori, a spirit who must restore the dying forest. Players will explore the forest in true Metroidvania fashion, become stronger, find new skills, and face many challenges along the way.
The game features an innovative system that allows players to create their own checkpoints, which can incentivize trial and error. If you find a section particularly hard, make a checkpoint right before it and keep trying until you succeed.
The combat in Ori and the Blind Forest is not necessarily complex. It can be fun, but the game's primary focus is its platforming challenges. If that's what you like the most about Metroidvanias, make sure to check out Ori's adventure.
Bloodstained: Ritual of the Night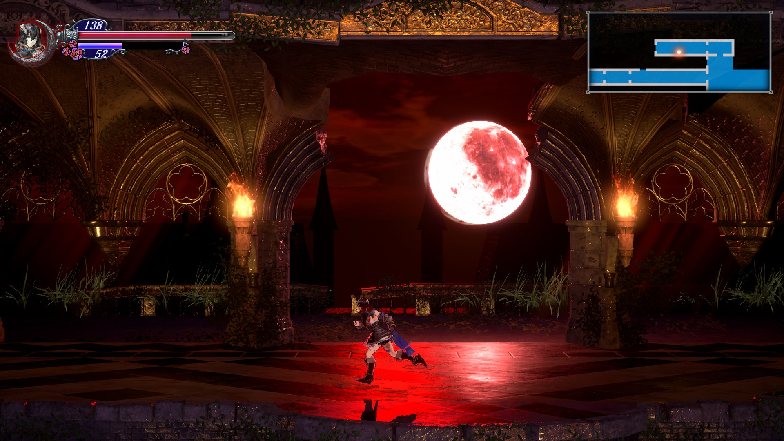 In Bloodstained, you must explore a castle full of demons and monsters. If it sounds a lot like Castlevania, it's because it is.
Bloodstained: Ritual of the Night was made as a spiritual successor to Castlevania games, and it shows. From the gameplay to the overall atmosphere, this game feels a lot like Castlevania: Symphony of the Night.
If you know the genre, then you know what to expect from this title. As players explore, they will acquire new skills and abilities while facing various challenges along the way.
Much like Alucard's most famous game, Bloodstained: Ritual of the Night has many RPG elements. Players can upgrade and customize their character in many ways.
You wouldn't be entirely wrong to define this game as a Castlevania clone, but this isn't necessarily a bad thing.
In the end, Bloodstained is an awesome Metroidvania game made by people who knew what made Symphony of the Night fun. If you liked Alucard's adventures in Dracula's Castle, chances are you'll also enjoy your time with Bloodstained.
Death's Gambit: Afterlife
In this game, you will take on the role of Sorun, a recently deceased soldier who has been offered immortality by Death itself in exchange for his services. Sorun must fulfill both his old duties and new missions handed to him by Death.
Death's Gambit is a game that has been reborn through its Afterlife update. Initially received with mixed reviews, the update has elevated the game to new heights.
The game features seven classes, each with its own starting gear and abilities. Choosing a class that complements your playstyle is essential, as performing specific actions replenishes your Soul Energy, a resource used to perform weapon abilities.
Combat in Death's Gambit is strategic and challenging. Players must avoid enemy attacks while managing their stamina bar for attacking and dodging.
The boss battles in Death's Gambit are intense and rewarding. In many ways, it feels like a 2D Souls-like game. If you are looking for a challenging Metroidvania with a unique setting and some great twists, Death's Gambit: Afterlife might just be it.
A Robot Named Fight!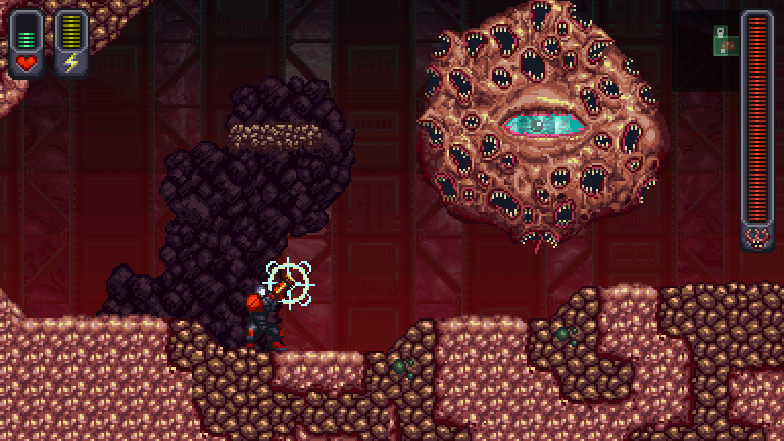 A Robot Named Fight! is a roguelike Metroidvania. This game will take you on an epic adventure as a lone robot, tasked with taking down the ominous entity known as the Megabeast.
The combination of roguelike and Metroidvania elements provide an experience that focuses on exploring procedurally-generated labyrinths full of randomized power-ups and artefacts.
This game feels less well put-together than usual Metroidvania games do. However, being a roguelike game, this is to be expected.
In fact, this title is a surprisingly good combination of genres. Since you need upgrades to advance, but the map is randomized, the game becomes replayable for as long as you enjoy its gameplay loop.
You will have to adapt to a new set of items every time you play, with over 80 different items to discover that can change your gameplay experience. If you are ready to prove your worth against the ultimate test of permadeath, try this game out.
Carrion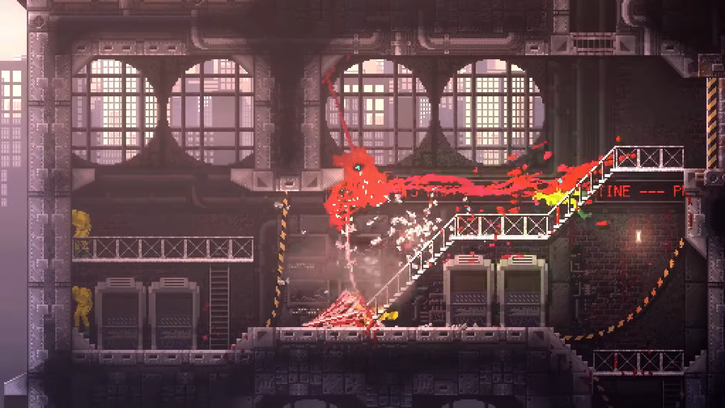 Carrion is surprisingly unique.
Players control a shape-shifting monster that has been unleashed from containment. The creature is angry and wants to rain hell upon the researchers who trapped it. This game is an excellent change of pace from the usual hero-saving-the-world plot seen in most video games.
As for the gameplay, it's pretty good.
The controls are smooth and responsive, and the creature has many special abilities that keep the experience engaging. On top of feeling like a horror movie monster, you will have to use its abilities to win battles and solve puzzles.
Carrion's pixel art is not groundbreaking, but it is decent.
The sound design, on the other hand, is something else and adds a lot to the scary atmosphere that the game wants to portray.
Metroidvania fans usually play many games of the genre. That said, some games might feel repetitive in one way or the other. bn If you are looking for a title that stands out, I can't think of many others like Carrion.
The Messenger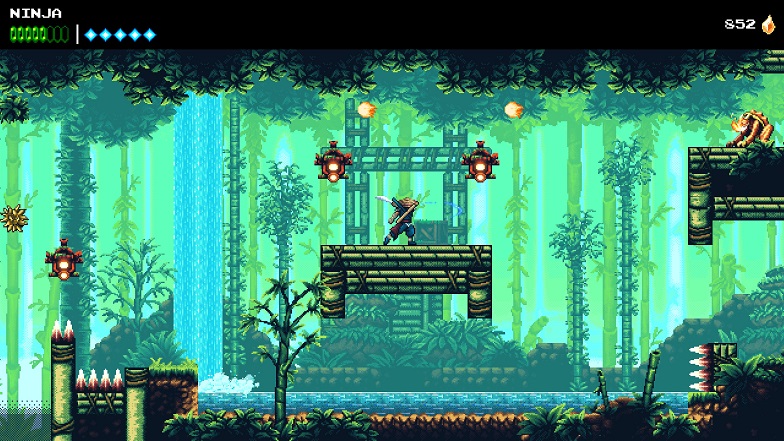 The Messenger starts off as a platformer. After you've got to a certain point of the game, it opens up and reveals itself to be a Metroidvania game.
This game takes a lot of inspiration Ninja Gaiden and doesn't try to hide it. That being said, there is enough going on to make The Messenger stand out as more than a clone.
This game is beautifully drawn in a style that resembles NES games but with more detail. There's also a gimmick that brings the main character to the future and also updates the graphics to something that resembles 16-bit games.
The platforming in The Messenger is fast-paced and fluid, with players able to dash, wall-jump, and cling to walls to traverse the game's levels. The tight and responsive controls make it easy for players to execute complex movements and maneuvers.
In addition, the game is full of secrets to discover and collectibles to gather.
The Messenger features several challenging boss battles, each requiring players to use different skills and strategies to defeat them. Its well-executed blend of classic and modern gameplay mechanics, tight controls, and engaging storyline is memorable.
This game will provide hours of enjoyment, especially for Ninja Gaiden fans.
Mummy Demastered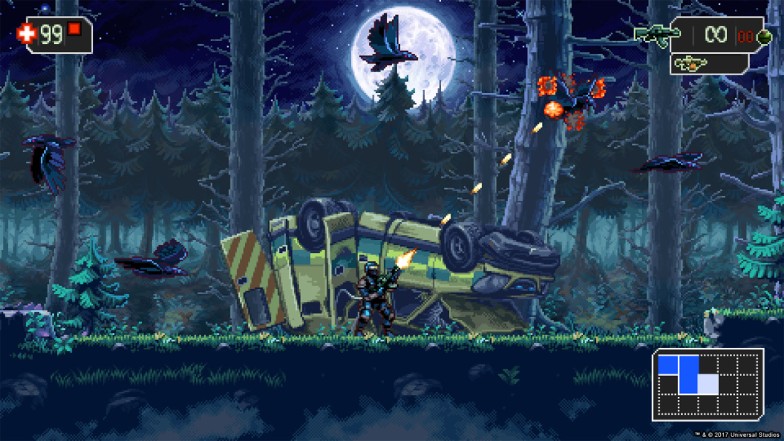 The Mummy Demastered is a 2D action-platformer game based on the 2017 Universal monster movie reboot of The Mummy. This game is proof that movie games can be good.
However, It is also proof that, for them to be good, they might have to ignore part of the source material.
The game takes a lot of inspiration from games such as Castlevania, Contra, and Metroid. It features a squad of elite paramilitaries tasked with finding and eliminating the resurrected ancient princess Ahmanet.
Players take on the role of a masked trooper and must traverse platforms, learn new abilities, and pick up weapons and upgrades to progress through the game. This is all very standard Metroidvania stuff.
Still, the game's overall presentation is impressive, with beautiful environments, a great soundtrack, and smooth animations.
The game also features a somewhat innovative life-and-death mechanic. If the player dies, they become an undead reincarnation and must defeat their predecessor to reclaim their weapons and upgrades.
It's not the most innovative Metroidvania, but it is certainly a solid, well-developed game. It stands out from the other Metroidvanias on the Switch store.
Shantae and the Seven Sirens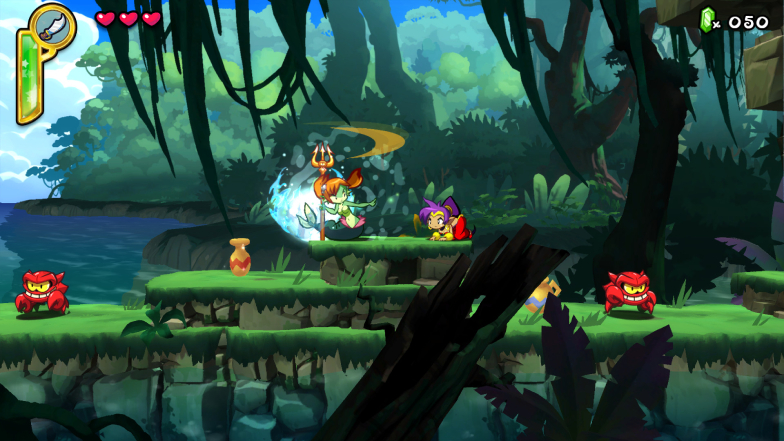 Shantae: Seven Sirens is a fun, action-packed platformer that both fans of the series and newcomers will enjoy. This entry in the series is a self-contained story and the perfect starting point for new players.
The gameplay is significantly better than the previous entry in the series. It is now a proper Metroidvania, with a single interconnected map and boss dungeons.
The animal transformations have been integrated into the gameplay seamlessly, making it a visually stunning game with gorgeous 2D backgrounds and character portraits.
Shantae uses her signature hair whip to defeat enemies and explore the interconnected world. The self-contained dungeons are highlights of the game, with each zone featuring a new ability that is essential to completing the area and a fun boss fight.
Seven Sirens also includes alternate modes such as Definitive Mode for a more challenging experience and Full Deck Mode, which immediately unlocks all cards.
This vibrant and colorful game is very beginner-friendly, making it one of the best casual Metroidvania games on Nintendo Switch.
Timespinner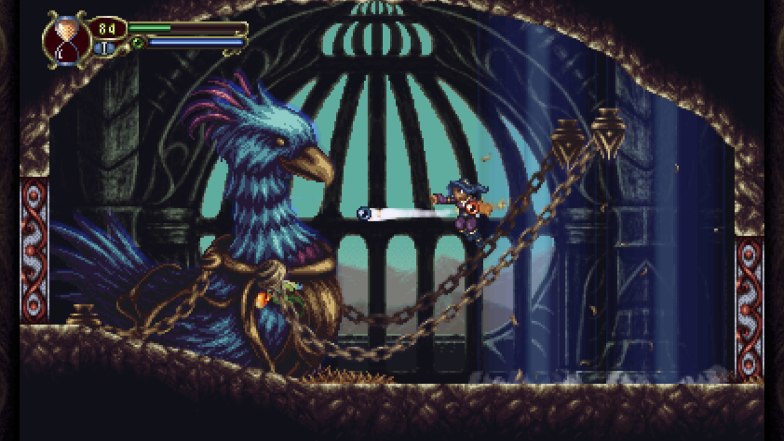 Timespinner offers a beautiful combination of platforming and RPG elements.
The fine-tuned gameplay mechanics provide a smooth and natural experience for fans of the genre. In Timespinner, the graphics are a nostalgic throwback to the 16 to the 32-bit era of Metroidvanias, and the game has over 40 diverse tracks of fantastic music.
Combat in Timespinner is not the most innovative, but it can be pretty fun. The main character has a range of attacks and powers to choose from. Each ability is unique, and players can easily find the best loadout for their playstyle.
The story is well-written and explores themes of oppression, retaliation, and repeating history. Still, it can be confusing due to how it is presented. Although the writing can be excellent at times, the execution could've been better.
Nonetheless, Timespinner is an entertaining game, especially for fans of platformers and RPGs. Although this game isn't perfect, it is still enjoyable thanks to its good graphics, fun gameplay, and some original ideas.
Momodora: Reverie Under the Moonlight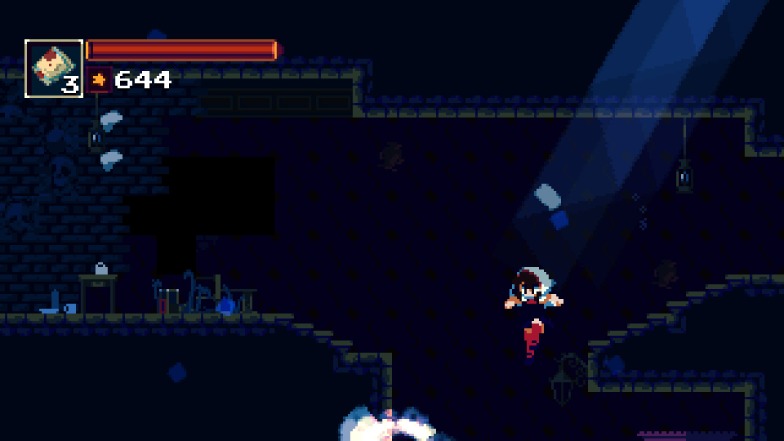 Momodora: Reverie Under the Moonlight explores a cursed and declining land where evil spreads, the dead rise, and corruption reigns. Hope is only a distant memory for all but one priestess, Kaho, from the village of Lun.
An audience with her Majesty, the Queen, could save the land – but time is short, and each night is darker than the last.
Reverie Under the Moonlight is the fourth game in the Momodora series. This game is a 2D platform action-focused game with combos, evasions, and a vast array of items and spells to cast upon enemies.
You can play casually through the rich scenario and story, or increase the difficulty to test your reflexes and skills.
In this game, you control Kaho. Armed with a maple leaf for melee attacks and a bow for ranged combat, Kaho must navigate a map filled with secrets and powerful enemies to reach her goal of defeating an evil curse.
The game features a variety of upgrades, hidden items, and secrets, with significant abilities requiring the defeat of difficult bosses. The story and NPCs also have hidden elements, making Momodora a sweet and replayable adventure.
Yoku's Island Express
Yoku's Island Express is a fresh take on the Metroidvania genre using pinball mechanics that fit surprisingly well with the platforming aspects of the game.
You play as Yoku, a dung beetle that has become the postman of Mokumana Island. You will have to explore the island, solve puzzles, and deliver mail by using pinball flippers placed throughout the map.
The game's vibrant and lively art style make it stand out from other games in the genre.
The world of Mokumana Island is full of lush environments, quirky characters, and charming creatures that bring life to the world. The music and sound design also complement the game's world, making it feel like you're in a tropical paradise.
Yoku's Island Express is a refreshing change of pace from the traditional Metroidvania games. It offers a light-hearted and fun-filled experience while still having the elements people look for in games of the genre.
Record of Lodoss War- Deedlit in Wonder Labyrinth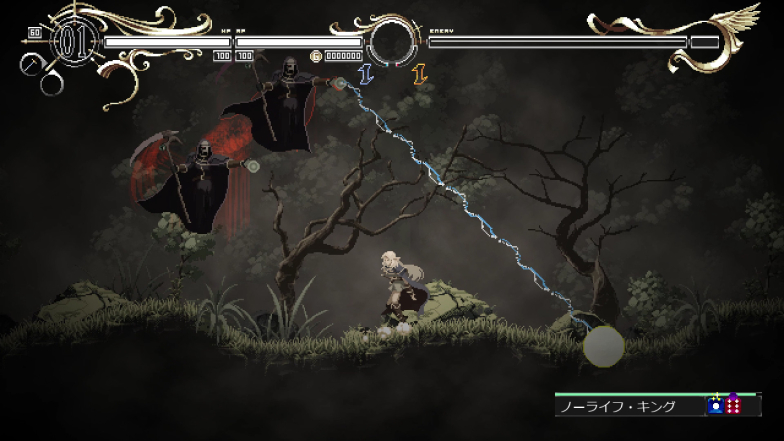 This game is a treat for fans of both the Record of Lodoss War franchise and the Metroidvania genre. It takes a lot of inspiration from Castlevania Symphony of the Night, from its looks to gameplay. It has tons of references to the franchise's anime and games.
You play as Deedlit, a high-elf mage, who must navigate the mysterious Wonder Labyrinth, fighting off enemies and uncovering its secrets.
The progression is very standard. As you advance, you'll also get new weapons, spells, and abilities that will help you overcome tougher challenges.
One of the unique features of this game is the use of ricocheting arrows on metal platforms. Deedlit is also a gifted archer.
And although you can use her bow during combat, it is in the game for more than just shooting enemies. Sometimes you'll need it to solve the puzzle that prevents you from advancing or getting a secret item.
Overall, Record of Lodoss War -Deedlit in Wonder Labyrinth- is a fantastic addition to the Metroidvania genre. Its beautiful graphics, engaging combat, and familiar gameplay make it a must-play for fans of the franchise and the genre.
Owlboy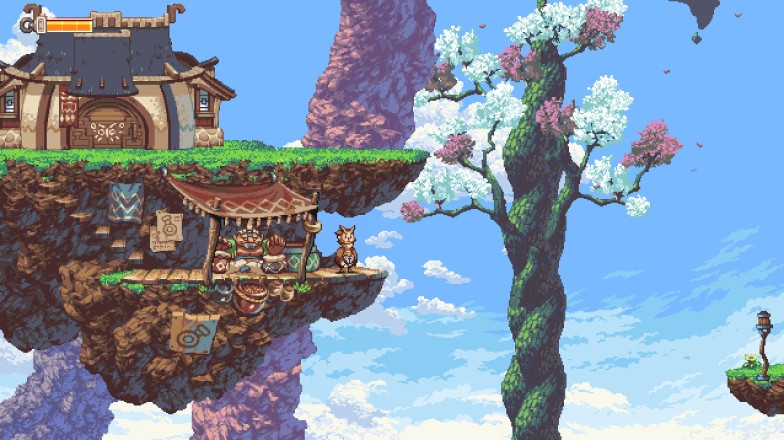 Owlboy is a beautifully crafted Metroidvania game. Its stunning pixel art and overall tone make it one of the most beautiful retro-looking games I've ever played. It's no wonder that many consider it one of the best Switch Metroidvania games.
Players take the role of Otus, a young owl who sets out to defend his tribe from the dangers threatening their home. With his trusty companion, Geddy, Otus must explore the world, gain new abilities, and defeat powerful enemies to restore peace.
Overall, pretty standard Metroidvania stuff.
One of the standout features of Owlboy is the flight mechanic. It adds an extra layer of excitement to the exploration, and it's just as much fun to fly through the world as it is to battle enemies.
The combat in Owlboy is a mix of aerial combat and platforming. With various abilities and weapons at your disposal, the game offers a range of strategies for taking down enemies.
This game can be divisive. It starts with a huge focus on exploration and ends with challenging combats and flight sections. This change of direction might significantly change how you feel about the game. Still, Owlboy has many memorable aspects that are certainly worth experiencing.