Survival games come in all shapes and sizes.
Some offer content that is dark and heavily horror-themed, and some offer content with elaborate crafting systems and challenging, real-life scenarios. Others simply offer pleasant worlds to explore, with simple mechanics and vibrant stories.
Whatever your personal vibe is, there's bound to be a great survival game out there for you. To help you find a great one, I've picked out 12 of the best survival games on the Nintendo Switch that you should add to your gaming bucket list this year.
The Flame in the Flood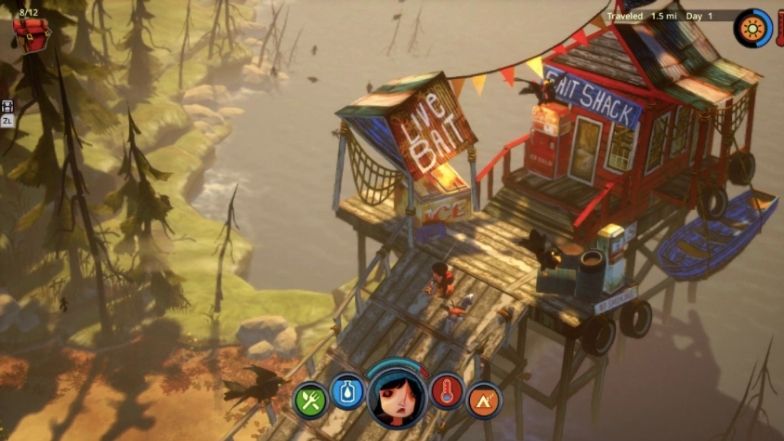 The Flame in the Flood is a stellar example of a gritty, challenging survival game for the Switch. It's satisfying to play through, if a little repetitive in places, and has an intriguing art style that keeps it visually engaging.
The general premise of this game is that you're on a raft, going down a tumultuous river in a sunken, dystopian future. You play as Scout, who is traversing the waters with her companion dog Daisy in order to find a radio tower to boost a weak radio transmission.
Something I found particularly interesting about this game is that the world is procedurally generated. This means that different play-throughs can offer unique experiences, and that players will unlock different parts of the story at differing paces.
This game is ideal for experienced survival game players, as the survival mechanics are genuinely challenging. You'll need to manage your hunger, thirst, sleep, health, resources and inventory space smartly in order to make your way through the game in one piece.
The game doesn't mess around when it comes to danger, either. Try not to run through any poison ivy or tangle with a bear, as you'll end up with lacerations, a case of poisoning or a nasty broken leg.
The brutality of the game contrasts with the charming graphics and intriguing sound track in a very interesting manner.
Overall, this is a fantastic survival game for the Nintendo Switch and it's worth getting your hands on today. While the game can feel a little repetitive in places as you head further into the story, there are plenty of challenges and puzzles that'll keep you occupied.
Plus, who doesn't love a game where you get a pet dog as a companion?
The Long Dark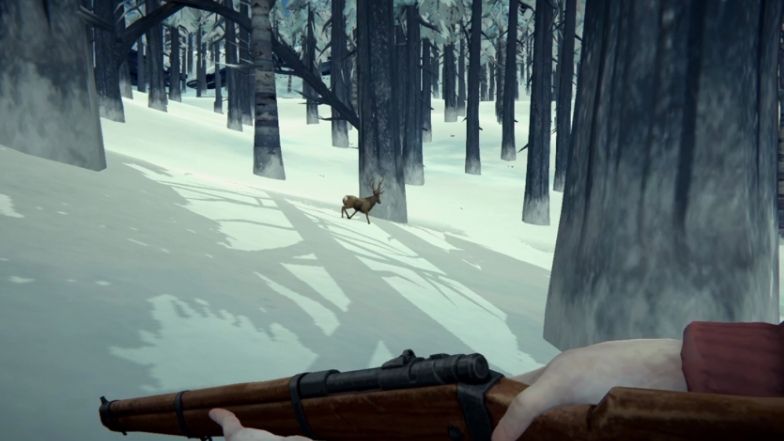 If you're hunting for a survival game that's heavy on atmosphere and drama, The Long Dark could be the perfect purchase for you to make this year. It's gripping, challenging and a delight to play through.
The Long Dark follows a simple plot.
You're a pilot, working to accompany a doctor who's on the hunt for an important package in the North, looking to survive the elements after a nasty crash in the Canadian wilderness. There's a geomagnetic storm, which means that all technology is down.
As a whole, the story is interesting and the characters are well written. I find this to be a refreshing move away from action-heavy survival games, and I enjoy the level of difficulty that the different modes present for players.
This is a port of a PC game, and it runs decently on the Switch. As with many ports to this console, a few elements have been considerably squished in terms of graphics, but as a whole it runs well and it's enjoyable to play through.
Something that sets The Long Dark apart from other survival games on the Nintendo Switch is that it offers different modes to play through. There's a standard story mode which offers multiple endings to collect and experience. There's also a challenge mode, where you can work through tricky scenarios and test your skills.
I'm a big fan of this game, and think it would be the perfect buy for anyone who enjoys dark, challenging survival games with a strong narrative.
Resident Evil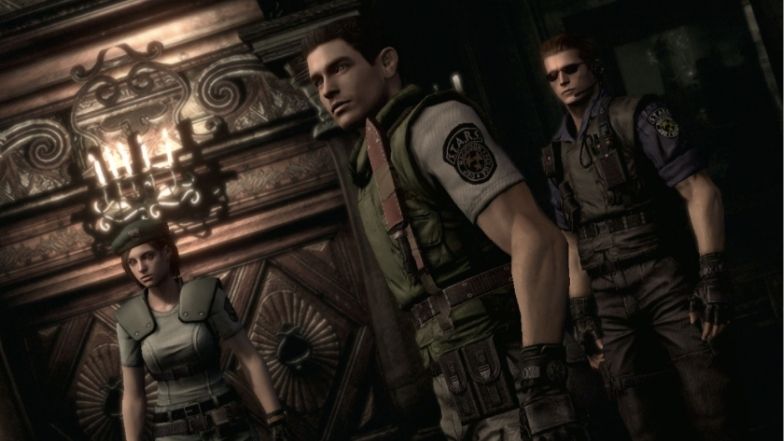 Resident Evil is one of the most influential franchises when it comes to survival games, so I simply couldn't leave the original off of this list.
This title carved a path for modern survival horror.
This particular rendition of the first Resident Evil has had a face lift for the Nintendo Switch and it plays decently throughout. It looks good, and still retains the original, macabre charm.
The general premise behind Resident Evil's first title is that you're trying to escape a mansion that is infested with flesh-eating zombies and other creepy creatures.
You're playing as a member of an elite team called S.T.A.R.S, and will assume the roles of main characters Jill Valentine and Chris Redfield.
Something that Resident Evil is now famous for (or infamous, depending on if you like them) is tank controls, which are in this game. Tank controls can be a little clunky at first, but I personally think they work wonderfully with the jarring fixed camera angles and perspectives that this game throws at you.
If you're not a fan of tank controls, though, you can use regular analogue controls in this game too. It is great to see that this game has been made more accessible, and this rendition certainly feels smoother round the edges than previous ones.
This game offers a perfect blend of horror and survival themes, forcing you to think quickly and solve puzzles while battling against the undead. There are some jump scares and gory themes throughout the game, so it's not a great game for younger players.
This remake of the original Resident Evil is a must-play for any horror and survival horror fans. Tank controls, tricky inventory management and an older visual ratio make it somewhat challenging, but the story, visuals and gameplay make it a delight to play through.
Rain World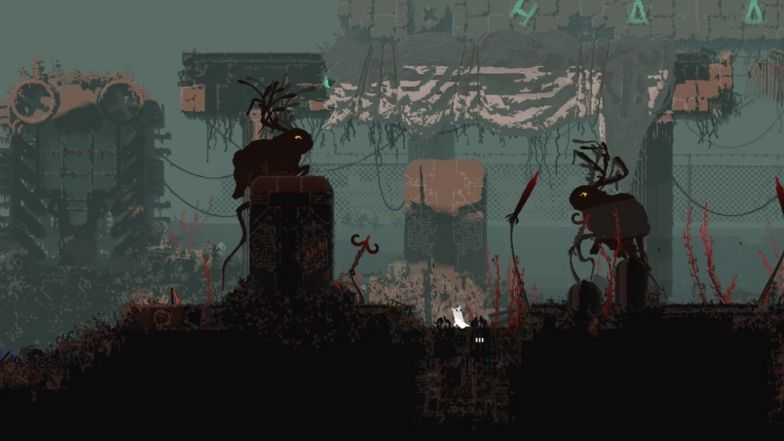 This game is an absolute gem.
Rain World is a melancholic 2D platform survival game, themed around a family of slugcats. 2D games are very popular on the Nintendo Switch, but most of them tend to be in the RPG or mystery genres, so it's refreshing to see one in a new niche.
The game starts with your character (a young slugcat) falling off the back of its parent, creating the core aim of the game. You'll need to travel through challenging platforms, avoid enemies and manage your health in order to reunite with your family.
This game is visually stunning.
Each section is unique, well made and intricate, with a charmingly eerie art style. The characters look great too, and the predatory monsters that you encounter can be genuinely unsettling.
Rain World is a challenging game, with plenty of traps, tricks and pitfalls to watch out for as you traverse the world. It's worth noting that the controls are a little tricky, so prepare to sink some time into this game if you want to beat it.
It's fun, but can feel frustrating in parts if you don't enjoy platformers.
This title is worth adding to your library if you're looking for something unique in the survival niche. It has its quirks, but it's a delight to wander through this eerie world and meet all the strange characters that live within it.
Green Hell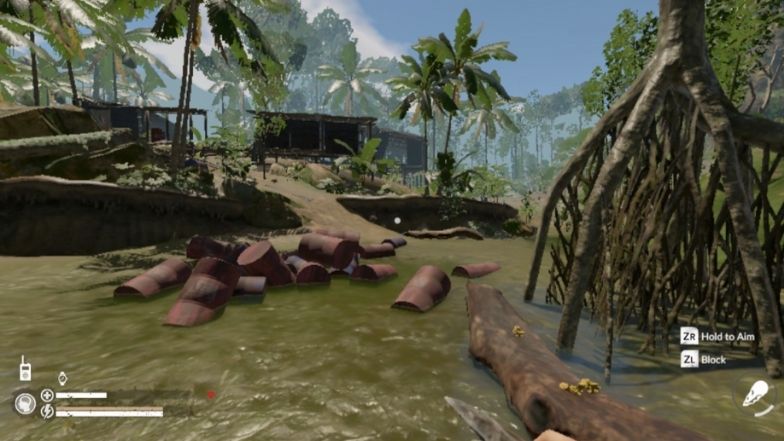 While searching for games to include in this list, I came across a mountain of reviews for Green Hell. This is a game that's garnered an immense reaction from the online community, and it's easy to see why.
Green Hell is an exceptionally gritty survival game that places you in the role of Jake Higgins and throws you into a rainforest, in search of your missing wife Mia. She left your camp to make contact with the indigenous Yabahuaca tribe, and you haven't seen her since.
To survive in the treacherous rainforest, you'll need to battle threats of all kinds.
You'll need to figure out which food sources are safe, how to tangle with local wildlife like jaguars and pumas, and how to get the bare essentials like shelter or light sources. The local Yabahuaca tribe will come after you for being on their land, too.
It's a genuinely challenging game, but figuring it out feels immensely rewarding.
Something that blew my mind with this game is the sound design. It's fantastic. The clever layering of different sound effects makes for a truly immersive atmosphere, and the addition of sudden, distant shrieks and howls makes it very tense at times.
In terms of visuals and gameplay quality, Green Hell plays well overall.
It's a port of a PC game, which means that certain elements like the immense crafting system can be a bit fiddly on the Nintendo Switch, but it's easy to pick up after some practice. Other than that, the game plays nicely and the graphics look decent.
It is a shame that the multiplayer options from the original PC game were not available in this Switch port.
The campaign is gripping and surprisingly well written (creative narratives can be tricky to find in survival games) but a multiplayer option could have been especially fun and chaotic on the Switch.
Green Hell is a must-play for any survival game fans looking to test their skills and immerse themselves in an extraordinary, brutal world. It's tough to play through and it'll have you tied up in knots trying to figure some challenges out, but it's ultimately very rewarding.
Subnautica + Below Zero Double Pack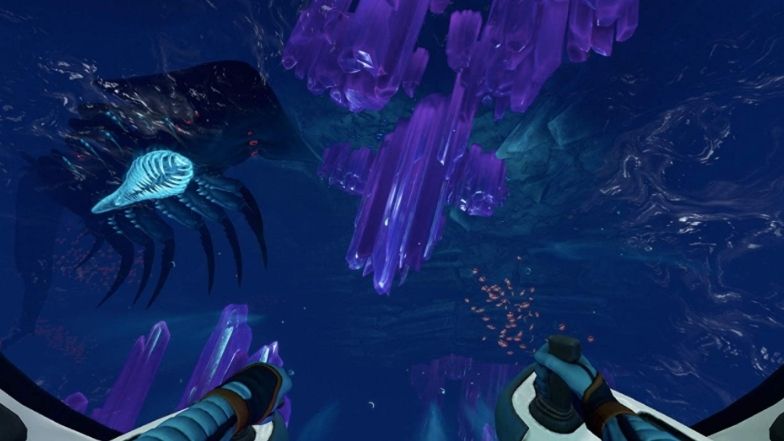 I would love to see more underwater survival games, as I feel they offer a number of incredibly unique challenges and niche puzzles for players to solve.
The Subnautica series is a perfect example of this.
Subnautica starts off with your spaceship crashing onto a strange, alien planet, plunging you into the ocean and forcing you to fight against the elements. You'll have to battle the local wildlife, manage your health and collect resources, to help you survive this new world.
Something I love about the Subnautica + Subnautica: Below Zero double pack is the contrast between the two games, and how perfectly they work against each other.
The original Subnautica is much more of a traditional survival sim, while Below Zero focuses on building a rich narrative with cut scenes and voice acting.
They're both fantastic, which is why I wanted to include the double pack instead of just picking a single title to feature in this article.
There's an immense amount of freedom in the Subnautica series, with room for all kinds of gameplay and preferred play styles. Whether you prefer a more laid back, relaxing approach or a fast-paced, story-driven approach, you'll be able to play this series in exactly the way that brings you the most joy.
In terms of the game quality, this game pack was met with immensely positive reviews when released on Nintendo Switch and it's not hard to see why.
Aside from a few small quirks and the usual drop in graphics for a Switch port, this game plays like a dream and has not dropped any of the original features or quality.
This double pack is a must-play for any survival fans or gamers who are new to the genre, as it's easy to get into but still presents a lot of challenges to overcome. It's cohesive, plays well and ties in sci-fi themes to the survival genre perfectly.
Minecraft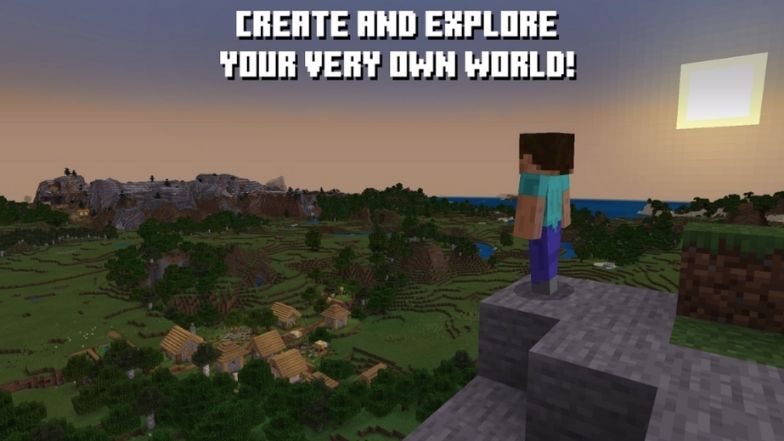 It would be somewhat unfair to write an article about survival games for the Nintendo Switch without including what is arguably one of the most influential games in the genre.
It's hard to deny how much Minecraft has revolutionized the world of survival gaming, and it performs incredibly well on the Switch, too. The Nintendo Switch port of Minecraft plays well, and stands up alongside the other versions nicely.
For those who haven't played Minecraft before, it's a sandbox game that is practically limitless when it comes to content and things to do.
You can play it in survival mode and explore the world, fight against monsters or journey to distant villages, or you can play in creative mode to build and craft to your heart's content.
There's a brilliant local multiplayer option in Minecraft for the Switch, which allows for up to four players to play together at the same time.
There's also the Realm building option which allows for up to ten players, but it's worth noting that this is an additional paid feature and can get a little pricey over time.
Minecraft has a massive following, and I think it's well deserved.
This game is incredibly expansive, with plenty to keep you occupied no matter your chosen play style or desired experience. It plays well on the Switch, and it's approachable for beginner gamers, too.
We also share in-depth building tutorials if you'd like to create something awesome.
Help Will Come Tomorrow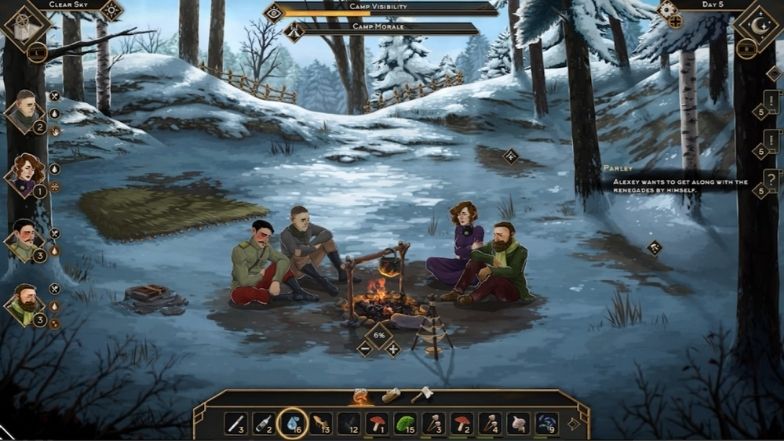 Help Will Come Tomorrow is a stylish strategy-survival hybrid, set in 1917 Russia.
The game starts off with a disastrous train crash, resulting in the train being derailed and a group of characters being stranded in a freezing forest. The characters that you play through the game with are randomly selected from a larger pool, and will all have conflicting backgrounds, beliefs and interests.
The combination of different personalities makes for a fascinating experience, and the random selection aspect means that Help Will Come Tomorrow offers plenty of replay value.
During this game, you'll have to find shelter, fend off attackers and wild animals, manage hunger and keep the group in good spirits.
The character maintenance/care aspect is incredibly detailed, and it can take a while to pick it up. Once you do, however, it's an incredibly fulfilling and enjoyable aspect of the game.
Something I really enjoy about Help Will Come Tomorrow is the expedition element.
As you progress into the game, you'll be able to send out members of your party to forage for resources in the wild. These expeditions can be incredibly useful, or they can result in your party members getting injured or even killed. It's an interesting mechanic.
Help Will Come Tomorrow is well made, and it plays very well on the whole. The graphics are interesting and work perfectly with the style of the game, and they translate very well to the style of the Nintendo Switch.
This title stands out from other survival games on the Nintendo Switch due to its unique concept and smooth delivery. It's intriguing to play through, and provides a lot of challenge for experienced gamers and new survival fans alike.
Terraria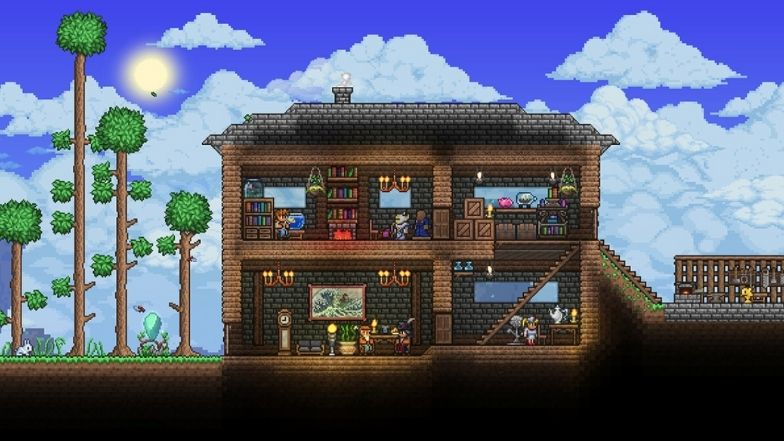 Terraria is practically a household name when it comes to sandbox survival games, and it's enjoyable for gamers of any experience level.
This port of Terraria is satisfying and ideal for the Nintendo Switch. It does have a steeper price point than the PC version of Terraria, but it's still great fun to play through on this console. The controls can be a little tricky, but as a whole, they work nicely with the game style.
Terraria is almost entirely void of narrative, placing the character into a vibrant yet sometimes deadly side scrolling world with minimal help. The world is incredibly vast, with heaps of different biomes to explore and characters to encounter.
This game is entirely centered around player choice and preferred gaming style, meaning that you can carve out your own path in the world.
There are some challenging bosses to fight in Terraria, some of which you need special items for (for example, voodoo dolls) and lots of achievements to unlock if you like, but everything is ultimately optional.
I'm a big fan of this game, and I particularly enjoy the pace that the game unfolds at.
As you progress and get to grips with the crafting, exploration and fighting mechanics, you'll be able to explore even more of the world and learn more about your surroundings. It truly feels like you're an explorer, navigating unseen lands.
Visually, Terraria is a gem. The art style is charming and well done, with vibrant colors and fun characters that hold a lot of life in them. The style translates to the Switch very nicely, and it's very enjoyable to explore the different terrains.
If you're looking for a laid back, open world Switch experience, Terraria is the pick for you.
It's packed full of things to learn about and explore. It has a good pace to make it accessible for new players but still offers some genuinely challenging tasks to keep experienced gamers on their toes.
Legend of Zelda: Breath of the Wild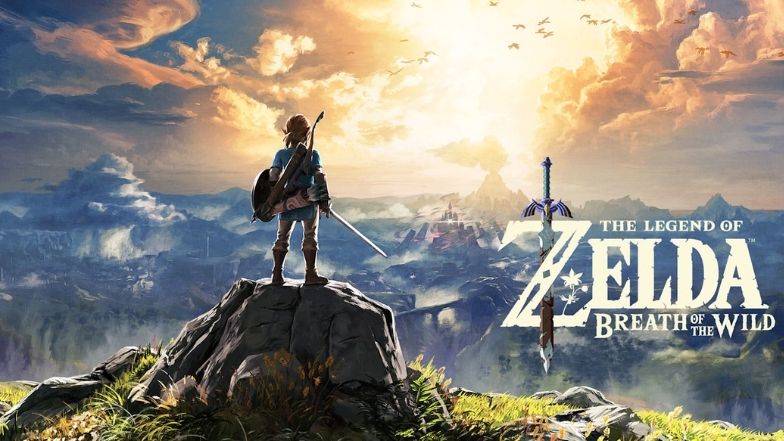 While it may seem like a slight stretch to include Legend of Zelda: Breath of the Wild in an article about purely survival games, it felt wrong to leave it out. This game is a premium example of an immersive, open-world action, adventure and survival hybrid.
Breath of the Wild takes place in the gorgeous world of Hyrule, and it's packed full of adventures and puzzles to solve.
Something that's incredible to note about this Zelda installation is the sheer amount of content that there is to enjoy. The world is vast, with an immense amount of quests, battles and tasks to complete.
Something that I love about this game is how the solutions to puzzles or challenges can be either smart or silly.
I won't spoil any of the main ones, but if you do decide to play through the game then I'd encourage you to try anything that comes to mind when you're faced with a problem. The solution might just surprise you.
Combat in this game is good fun, and the ability to interact with elements like enemy items or breakable weapons adds to the experience. The controls on the Switch are logical, and it doesn't take too long to get the hang of fighting different enemies.
That being said, this is certainly one of the harder Zelda games.
It might be easy to pick up the controls, but it'll take a lot of time to master them and the game's internal world can be quite unforgiving. Prepare to sink a fair amount of time into this game if you want to beat it.
Legend of Zelda: Breath of the Wild is simply unmissable for anyone who enjoys action, adventure and survival Nintendo Switch games. The world is huge, the gameplay is enjoyable and the content is challenging enough to keep anyone hooked for hours.
Alien: Isolation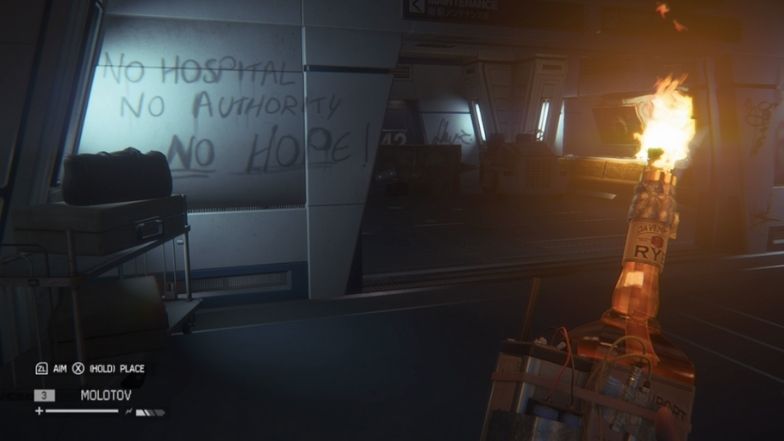 If you're on the hunt for a bloodcurdling survival horror game, Alien: Isolation is the perfect game to add to your Nintendo Switch library this year.
Alien is a legendary sci-fi horror franchise in its own right, and the game franchise offers a truly unique flavor of horror for gamers to enjoy. In this game, you play as Amanda and you're being stalked by the eerie xenomorph on the Sevastopol space station.
The star of the show here is the alien, hands down.
There are a few scripted scenes with the xenomorph, but the majority of the interactions are purely AI based. You are actually being hunted down by the xenomorph in this game, and the feeling of constant, building dread is absolutely perfect for the creepy environment.
For a port of an older game, this is a truly impressive addition to the Nintendo Switch survival game library. The graphics are fantastic, and it runs incredibly well on the console. The controls are smooth, and it's enjoyable to play through.
Something else that I love about this game is the sound design. The atmosphere in Alien: Isolation is so tense that you could cut it with a knife. Combined with the eerie graphics and constant feeling of being watched, this is a masterclass in horror.
As a diehard fan of the Alien series, I was really impressed by this title on the Switch. If you're looking for a survival horror game to keep you on edge, this is an absolute must-have. It's creepy, well made and comes with some incredibly smart features.
Forager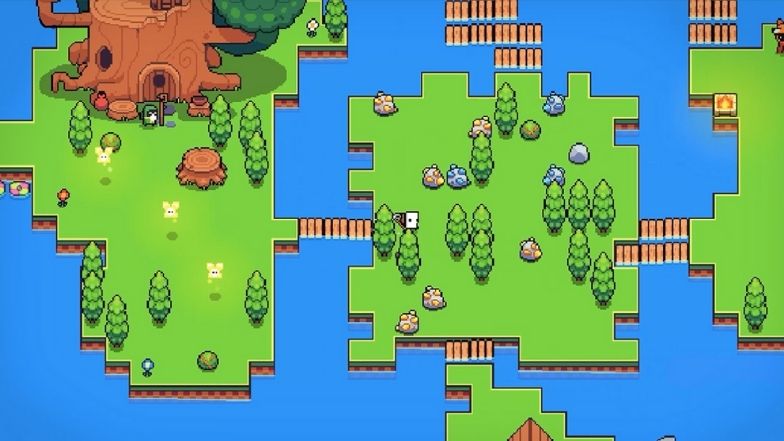 Compared to the dark, horror themed games that tend to dominate the survival genre, Forager is an absolute breath of fresh air. It's light and fun, with plenty of content to keep you playing the game for hours.
This title is a scavenger survival game, where you can gather resources, expand your land and fight against different enemies. There are plenty of zones to explore, complete with lively NPCs, interesting dungeons and the chance to expand your character's skills.
Something that I'm a huge fan of with Forager is the freedom to customize your gameplay.
The crafting mechanics are vast, giving you the ability to make a whole heap of exciting and unique tools.
The levelling ability opens up a huge ability tree, letting you build your character to your exact requirements. It's a very satisfying element of the game, and helps it be suitable for all kinds of gamers.
The game plays well on the Nintendo Switch, and it looks great, too. There are a few little quirks that you might encounter as you play through it, but as a whole, it's a well made game that matches the console nicely.
If you're keen on games like Minecraft and Terraria, this is a title that you should add to your library today. It's fun, engaging and very accessible.