When it comes to relaxing sports, golf is one of the best to sink your time into. It's accessible for beginners, offers plenty of challenges for experts and translates perfectly to video games, too. It strikes an ideal balance between competitive gameplay and relaxing environments.
For those looking to get their hands on the best Nintendo Switch golf games, there's plenty of brilliant options. Whether you're a fan of competitive sports games, chilled side-scrollers or even RPGs with a golf theme, there'll be a perfect game for you.
I've handpicked 11 of the best Nintendo Switch golf games from the eShop to help you find the ideal addition to your sporty Switch game library.
This list includes everything from chaotic, fast paced multiplayer games to play with your friends, to under-the-radar indie games to enjoy as a solo gamer.
Golf Club: Wasteland
This is one of the most unique golf games available on the Nintendo Switch. It combines abandoned buildings, radios and thieving squirrels in an apocalyptic yet charming environment. It's certainly not the most realistic golf game available, but it's a solid title for anyone who wants a fun golfing experience.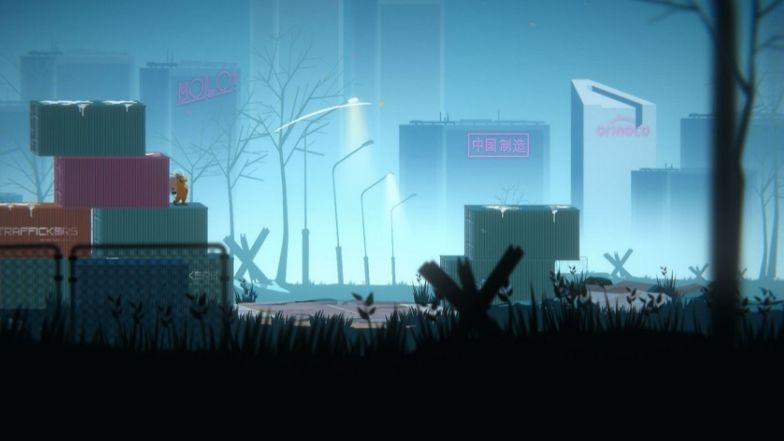 The general premise behind Golf Club: Wasteland is that you're a solo golfer named Charley who is playing the world's last game of golf. Earth has been abandoned, with all the rich people moving to Mars, and the 35 unique courses that you play through in this game show off the desolate landscapes and empty buildings left behind.
The controls for this game are simple enough, and it's easy to pick up and get going with quickly. The game plays well as a whole, with most online reviews confirming that it's a visually paired back but still very enjoyable digital golfing experience.
There is a real sense of loneliness in this game, with a severe lack of NPCs and even regular dialogue throughout the title. It is the end of the world, after all. The solo golfing experience comes with an eerie, old-school radio show that provides the bulk of the narrative and the soundtrack for the game.
I think the radio aspect is truly unique and makes this game a delight to play through.
Visually, this game is intriguing. The apocalyptic game levels are well made, and there's plenty of interesting decorations scattered around to add extra realism. It's worth noting that these signs and decorations do contain some obscene language, so bear this in mind if you're grabbing a game for a younger person in your life.
Golf Club: Wasteland is fun and interesting, offering a completely fresh POV when it comes to the best Nintendo Switch golf games. I'd really recommend checking it out.
Super Inefficient Golf
Following the theme of 'unrealistic golf' from the last game, Super Inefficient Golf is an absolutely ridiculous golf puzzle game for the Switch that you need to check out.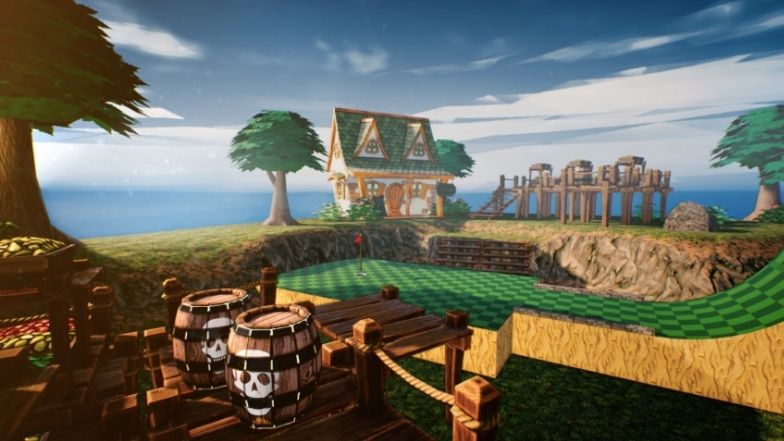 In this game, you swap out your typical golf clubs and courses for a handful of powerful explosives and puzzling layouts to work through. You have to add explosive devices to your golf ball in a strategic manner to get it into the hole, navigating physical hurdles and difficult maps along the way.
It's worth noting that this is a very short game which banks on people wanting to replay it and try out new tactics. While it's certainly not a game that you'll be able to keep playing for days on end, it's a fun experience that encourages you to think creatively and try out new things.
Super Inefficient Golf is a fantastic title that offers up a short but sweet crazy golf experience. The puzzles are challenging enough to keep you hooked, but not too tricky or frustrating. The graphics are decent and the controls are simple enough to pick up, too. It's a solid game that offers a unique perspective on a traditional golf video game, and it's worth taking a look at.
Infinite Minigolf
On the hunt for a Nintendo Switch golf game that offers a great gaming experience for both solo players and groups? If so, Infinite Minigolf is the ideal sporty party game to pick up today.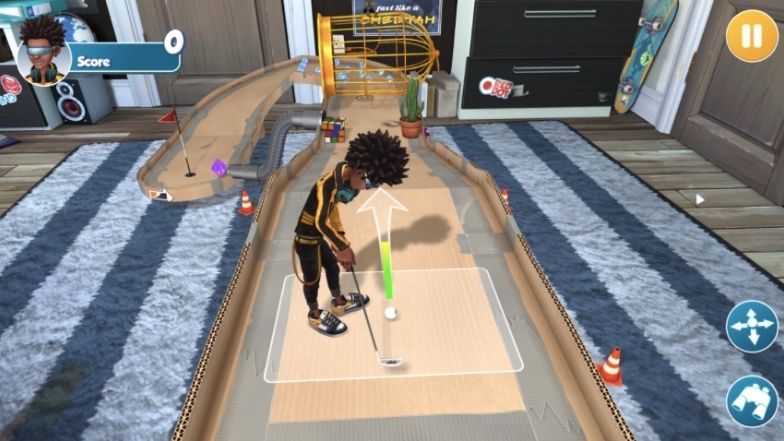 Infinite Minigolf is a lighthearted, arcade style game that has plenty of game modes and content to keep you occupied. There are solo tournaments and maps to explore, and plenty of multiplayer options as well.
When playing through a map, you'll have to contend with various hazards, quirky challenges and strange environmental interactions e.g. ball-stealing drones and angry reindeer. The game gets progressively sillier as you work through it, and it's a lot of fun.
The best thing about this game is the user-generated map aspect. There's an immense level of customization with Infinite Minigolf that allows users to make their own maps and share them with the community. This means that there's always something new for you to try out in this game, whether you want to play through a map or make your own.
The online leaderboard feature is good fun, too. You can rate the maps that other people have created, and compete to rank on the leaderboard against other players. If you're a competitive person, you're bound to find this part absorbing.
There's plenty of other interesting features associated with this game, like levelling up your avatar and unlocking new cosmetic items to make them look cool. I find any game with a levelling system like this has a certain level of replay value associated with it and Infinite Minigolf is no exception.
Infinite Minigolf is a premium example of a modern mini golf game for the Switch. It's a great party game, and offers lots of solo play options as well. It plays well, the controls aren't too complex and the user generated maps make it very enjoyable to play through.
What the Golf?
When picking out games for my lists, I always want to try and include some that offer unique perspectives on a topic or theme. This game is described by some as as 'a golf game for people who don't like golf' online and I simply couldn't leave it out of the list.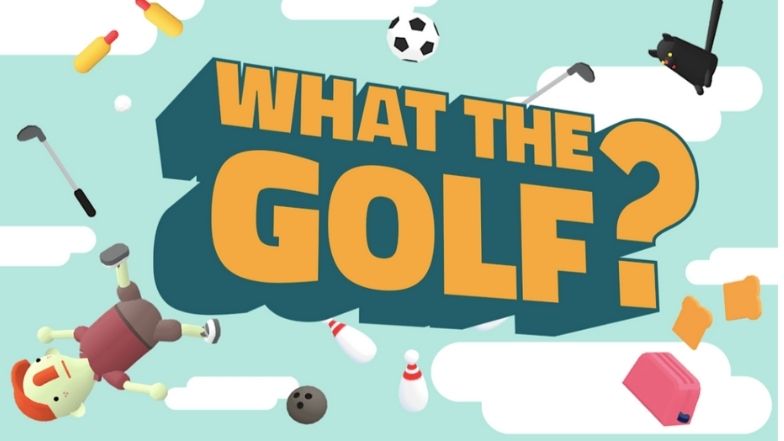 What the Golf is a title that has almost nothing to do with traditional golf. It follows the premise of hitting a ball into a hole, but gets progressively sillier and quirkier as you progress. The simple graphics style is charming and works perfectly with the tone of the game, and it plays incredibly smoothly on the Nintendo Switch too.
One of my favorite things about this title is the party mode, which allows you to split the screen down the middle and play a game with a friend. It's unfortunate that it only stretches to two players, but the format works well and it makes for an enjoyable experience.
Something else essential to note about this game is that it is consistent in quality and humor throughout. Every single level offers something new to get stuck into and enjoy, yet it's consistent with the controls and offers a very cohesive map system as well. It's clear to see how much thought went into making this game, and I'm a big fan of it.
If you're looking for a hardcore, technical game that requires lots of skill, this isn't the game for you. However, if you're hunting for a slightly strange take on a classic game, I'd suggest adding What the Golf to your Switch library immediately.
Golf Peaks
This game is simple, but very effective.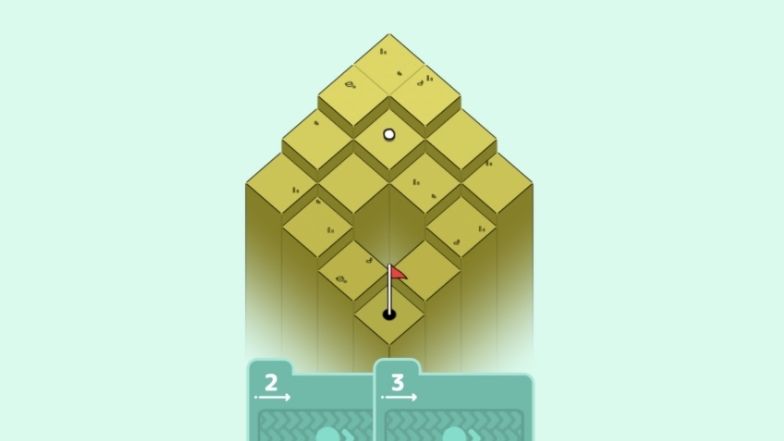 Golf Peaks is an incredibly paired back isometric puzzle game that perfectly encapsulates both the relaxing and competitive sides of golf. It offers a fantastic level of difficulty to keep players hooked, but it manages to still provide a soothing, aesthetically pleasing vibe.
The game mechanics in Golf Peaks are deceptively simple. The aim of the game is to get the ball in the hole in as few moves as possible, but there's a layer of intrigue added with a card mechanic that dictates how many spaces you can move in one go. As the game develops, you'll have to contend with more puzzles, styles of shot and obstacles.
My favorite thing about this game is that it's very relaxing to play through. The visuals are minimalist and simple, and the soundtrack is very chilled too. This is a game that's ideal for playing after a long day to help yourself unwind and calm down.
This certainly isn't a game for folk who enjoy deeply challenging, intense puzzle games. If you mess up in a puzzle, there's no repercussions for skipping back and restarting. It's a low energy game for sure, but it's incredibly enjoyable to play through nonetheless.
Golf Story
If you're a fan of 16-bit RPG games, this is the ideal pick for you. Golf Story is whimsical and charming, combining typical RPG elements with a fun golfing adventure.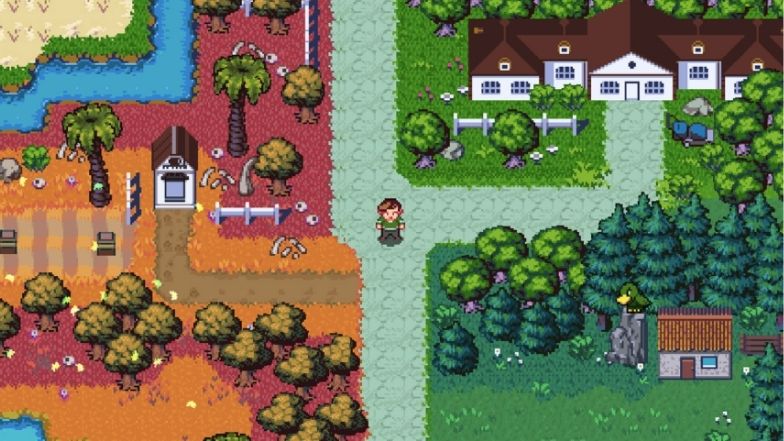 Golf Story takes place in a delightfully vibrant world, complete with old school pixelated graphics and colorful characters. The general premise here is that you're an up-and-coming golfer, who got into the game by playing it with your father as a child. The game revolves around you getting into the pro scene, getting a coach and turning a club house into a bustling hub of sporting activity.
There are a number of incredible maps and areas in the world that you can explore in Golf Story, ranging from lush fields to sunny beaches. There's a lot to unpack in this game too, as it offers a hefty main storyline and plenty of side quests too. It's a well made, colorful game with memorable characters and a standout perspective on golf.
I was pleasantly surprised to see that Golf Story offers a multiplayer mode, as many RPG games in this style do not. You can tackle different maps with a friend, using the local multiplayer function to sync up two Switch controllers. It plays well as a multiplayer game and could make for a fun afternoon.
This is one of my favorite games on the list by far. It's fun and offers a unique POV on the golf video game niche, creating an enjoyable experience for anyone who's a fan of the RPG genre.
Party Golf
Out of all the multiplayer golf games for the Nintendo Switch, Party Golf is one of the best. It's a fantastic buy if you're looking to keep a group of friends entertained with a silly yet well made sports game, and also offers plenty of fun for solo players, too.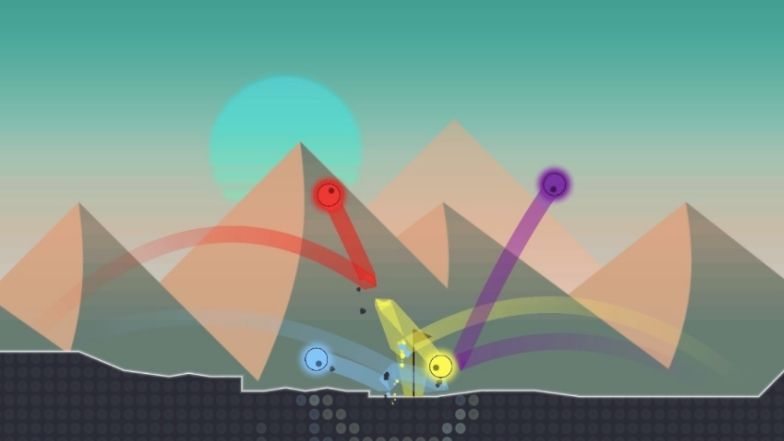 While playing a golf multiplayer game, you typically might expect to wait for other players to hit their golf ball before it's your turn. It's a simple rule of golf , and Party Golf flips this upside down perfectly.
Players all hit their golf ball at the same time in Party Golf, making for a beautifully chaotic and silly game. This may sound like it would be too messy on screen, but Party Golf has a surprisingly pleasant, simplistic style that makes it easy enough to follow along with. It's a genius gameplay mechanic, and lends itself to the many game modes available within the game itself.
Hilariously, once someone manages to make a shot in the game, there'll be a 10 second timer that the other players then have to beat in order to get points.
Once you've got the hang of the regular game mode, you can start messing around with different factors like the light (one game mode allows you to play in the dark), the ball (ever wanted to play golf with a rubber duck or a brick?) or the terrain. You can even play entirely custom maps, where you have full control of every single in-game factor.
Party Golf is an absolute gem, and it should be one of the first ones you consider when you're looking for the best Nintendo Switch golf games on the market right now.
Mario Golf: Super Rush
There's a heap of Mario sports games available, and Mario Golf: Super Rush is arguably one of the most enjoyable installments to get your hands on right now. It's fast-paced, lighthearted and very enjoyable to sit and play through with friends.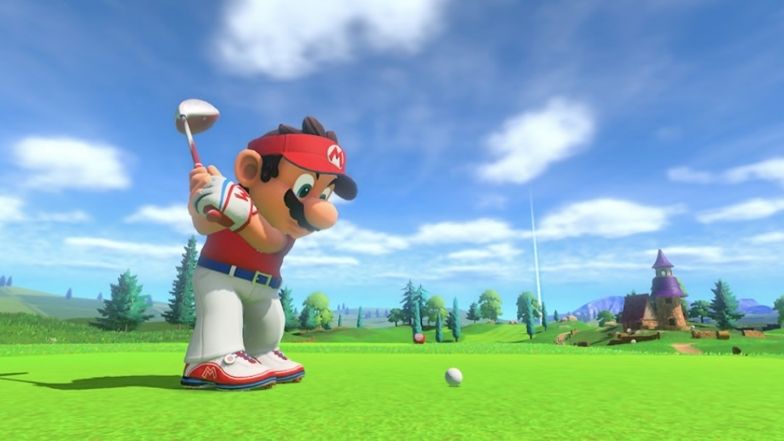 For solo players, there's plenty to get involved with in this game. You can play through the main adventure campaign, trying out different maps and experimenting with different modes. Different characters offer different super moves and boosts, so it's interesting checking out the roster and what they can bring to your game.
This game comes into its own with multiplayer modes, though.
You can customize your multiplayer games nicely, with plenty of factors to tweak and adjust in order to get your ideal match set up. There are other modes to explore too, like speed golf or even battle golf. The latter is a competitive style which involves two arenas, where players compete to finish the match before the other person can.
It's just as chaotic as it sounds, and I think it's brilliant.
The graphics for this game are what you'd expect from a Mario game. They're bright and cheery, and they look polished. The game itself plays well, with heaps of reviews online praising it for being smooth and and the controls translate very well to the Nintendo Switch.
Mario Golf: Super Rush certainly isn't the most challenging golf game on the market, but it is truly enjoyable for relaxed, casual gaming. The customization is incredibly smart, the game plays smoothly and there's plenty for both solo and multiplayer adventures.
Dog Gone Golfing
This title is weird, but it's an absolute gem if you're looking for a unique single player experience.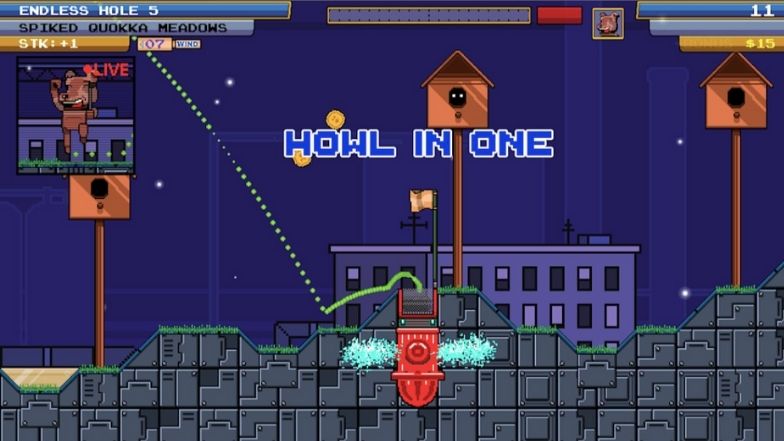 Dog Gone Golfing is a quirky, arcade-style golf game for the Nintendo Switch that offers fun graphics, dog puns and a rich single player campaign. Instead of traditional golf balls, you'll be battering hockey pucks around a golf course, beating different maps and collecting different trophies along the way. To beat each map, you'll need to contend with everything from lava to meteor strikes.
The in-game world is absolutely charming. You can play as a number of cute dog characters, and get to explore a vibrant, retro world with pixelated graphics. There are 20 different courses to work through in the single player campaign, each with a unique style and theme.
There is a limited multiplayer option available, for two players only. It would have been great to see this title include even more multiplayer options, but the two player option works well and is enjoyable to play through with a friend.
I think that the best thing about this game is how simple it is. It's not excessively difficult, and the controls are nice and easy to pick up. Each map is short and sweet, and the unique use of pucks instead of golf balls makes for an intriguing experience.
This game is certainly unique, and it's suitable for both experienced gamers and new golf fans alike. The dog puns certainly help with this, too. It's lighthearted and fun, and the pixelated world is incredibly fun to explore as you progress through the game.
Infinite Golf 2
Typically most sports games are fast-paced and intense, but Infinite Golf 2 is a breath of fresh air.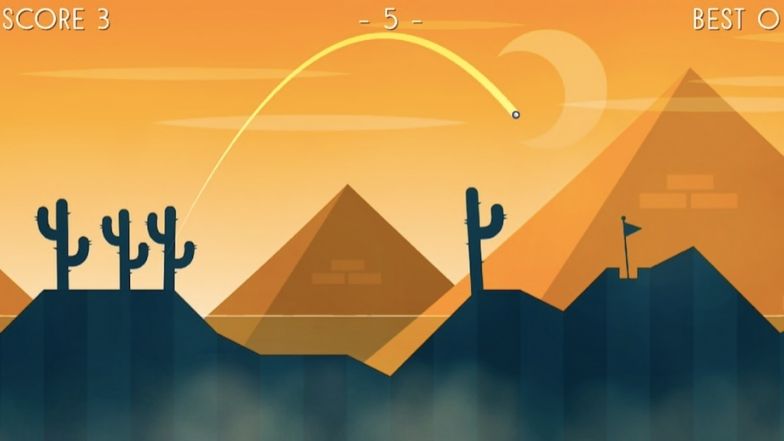 This simple 2D golf game offers beautiful visuals and a charming soundtrack to go with it. Unlike other story-driven golf games that feature rosters of colorful characters and quirky game modes, Infinite Golf 2 does not have a narrative carrying it along.
This is what makes it one of my favorite sports games on the Nintendo Switch. It's incredibly simple, sure, but it pulls off this simplicity with style.
Something that really stands out with Infinite Golf 2 is the soundtrack. It's beautiful. It combines ASMR styled sound effects with a relaxing musical score, and ties in perfectly with each stage. This is truly one of the best golf games on the Switch to play if you're looking to unwind and relax after a stressful day at work.
There are four different modes to check out in this game, making it ideal for long term play. You can experiment with regular solo play, time attack mode or even an arcade style of play. Infinite Golf 2 also has a multiplayer option which is good fun. Despite the overall simplicity of the game, there is a lot of content to keep you occupied.
This is one of the best Nintendo Switch golf games available on the Nintendo Store, and it's worth checking out. Whether you're looking for a multiplayer experience or a game to sink your own time into, this is one that I'd really recommend buying.
A Little Golf Journey
Finally, this title is a brilliant example of how well golf works as a puzzle game. A Little Golf Journey is simple and stylish, with easy controls and plenty of content to keep you occupied.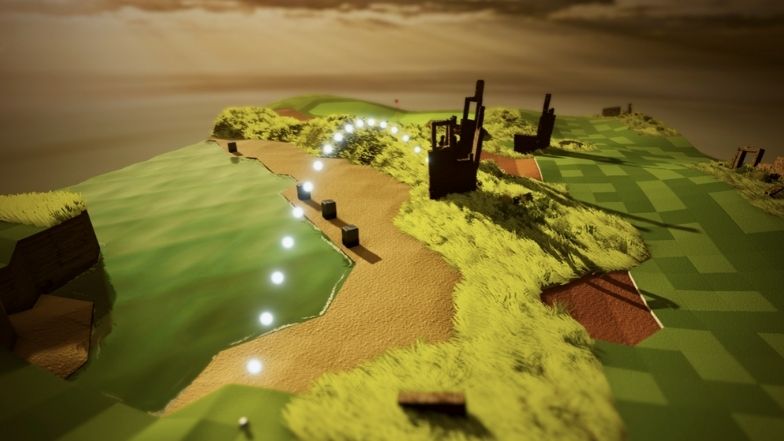 There is not too much of a storyline to follow along with in this game, aside from a note-based story between two interesting characters. The world design is what really makes A Little Golf Journey stand out, though. It's absolutely beautiful, containing 9 unique islands to explore. The world themes are truly interesting, with everything from ruined castles to enchanted forests.
In terms of gameplay, A Little Golf Journey is smooth to play through and works well for the Nintendo Switch. The controls are simple to pick up and they're not too demanding, so it's easy to relax and get lost in the intriguing visual world.
I'm a big fan of games that pace their difficulty levels well, and this is a solid example of that. The game does get tricky in places, but it's introduced steadily and at a fair pace. It's enjoyable to play through, and the ramping difficulty makes it satisfying to finish a level.
A Little Golf Journey is a stellar example of a Nintendo Switch golf game, and it's one of the best ones in this list to add to your digital library today.