Bowling games come in all shapes and sizes.
No matter if you're an experienced gamer looking for a competitive experience, a casual gamer looking for a game to play with your partner or a new gamer searching for a chilled title, there'll be a game out there that's right up your alley.
To help you find a great new game for your library, I've handpicked the 8 best bowling games for Nintendo Switch. This list includes everything from serious, competitive games to relaxed, family-friendly features.
Knock 'Em Down! Bowling
Knock 'Em Down Bowling is full to the brim with content, and it's one of the best bowling games on the Nintendo Switch, hands down.
If you're hunting for a classic, Wii Sports-esque bowling experience then this is the perfect pick for you. It replicates the joy of that popular title well, while still providing a wealth of different options and game modes to make this game arguably even more interesting.
The standard bowling mode in Knock 'Em Down Bowling offers incredibly smooth motion controls that pair perfectly with the Nintendo Switch JoyCons, and a decent button based option as well.
When it comes to sports games, I've found that the controls are what can make or break a title.
In terms of graphics, the game looks fine. They're not groundbreaking by any means, but they do the job and play well on the console.
It's not just regular ten pin bowling that you can play in this game, either.
There's lots of game modes and styles to enjoy, including duck pin, candlepin, three options to change up the ten pin mode (e.g. playing with bumpers), a party mode, a delightfully chaotic battle royale mode, slide mode and a variety mode.
The variety mode was the mode that stood out to me most with Knock 'Em Down Bowling.
It comes with a quirky roulette wheel that spins each round, giving you an alteration to your ball or play style. For example, your bowling ball might turn invisible for a round, making the game a little trickier.
This isn't an immensely challenging or intense game, but it does offer a nice experience for both seasoned bowlers and casual gamers alike. The smooth motion controls leave room to experiment with techniques like curveballs, and the sillier game modes can make for some challenging rounds.
Knock 'Em Down Bowling is light hearted and a delight to play through. It's got plenty of content to keep you occupied, and it's suitable for budding bowlers of all experience levels.
Strike! Ten Pin Bowling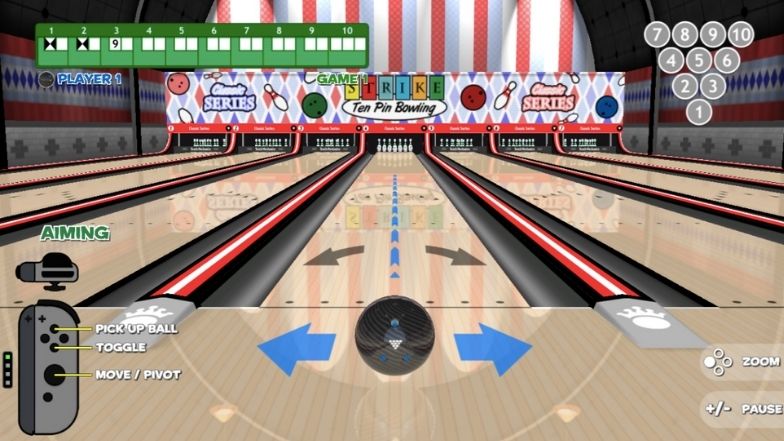 Mobile ports are fairly common on the Nintendo Switch, each one with varying pros and cons. Strike! Ten Pin Bowling is a great example of a sporty mobile port that's worth adding to your library today.
There's plenty to do in Strike! Ten Pin Bowling, as there's 11 game modes and mini games to explore. Each mode offers a unique spin on a classic game of bowling, throwing up challenges like having to only hit spares or only white pins.
Something that I really loved in this game is the customization options available for your bowling ball. There's a handful of whimsical options to make your ball your own, and I was a big fan of the option that made it look like the moon.
There are multiple control styles to consider when you play this game, which make for an interesting experience. As this is a mobile port, it plays incredibly well with the touch screen when you hold it vertically. If this isn't your preferred gaming style though, you can still play using the controllers too.
In the spirit of fairness, it's essential that I point out that this game costs money on the Nintendo Switch store and is usually found for free on most mobile app stores, with in-app purchases to pad it out.
This Nintendo Switch version offers a lot of the content that you'd have to buy in the mobile version, but it's worth keeping this in mind anyway.
Strike! Ten Pin Bowling plays well on the Nintendo Switch, matching the console gameplay style nicely. The controls can take a little time to get used to, but the overall experience is satisfying and both the graphics and audio are decent.
Date Night Bowling
While coming up with the Nintendo Switch bowling games for this list, I wanted to make sure that I included games from different sub genres and styles to keep it more interesting. Date Night Bowling is a very unique take on a bowling game, and I think it's a gem.
Date Night Bowling is a couch game that blends dating sims and bowling perfectly. Unlike most dating sims which rely on dialogue choices, the chemistry between characters in this game is a direct result of how well you do in the mini-games.
There's a bowling section too of course, but it's quite disjointed from the dating aspect of the game. It plays well though, overcoming the slight strangeness of bowling in 2D nicely.
This game follows a very simple premise, and makes for a lighthearted experience.
It is worth noting that you will need to unlock the majority of the characters, so if you are planning to play this with someone else (instead of against the AI) bear that in mind as it can feel a little clunky to unlock them all in one go.
The game itself plays very well, with intuitive controls and charming graphics. It's certainly not the most complex of games and it's not the right pick for you if you want something deeply challenging, but it's lighthearted and silly.
I'm a big fan of the variety of characters in this game, and I was very happy to see that the dating aspect is inclusive and allows for LGBTQ+ couples.
The characters vary from nerds and social media influencers, to jocks and 9-5 office workers. A lot of the charm in dating sims comes from the characters, and I think this game nails that.
Date Night Bowling is a relaxed, quirky game that's fun to play through. If you're happy to skip over a few faults, this is a bowling game that offers a unique perspective on the genre and it's worth picking up for your next date night gaming session.
Clubhouse Games: 51 Worldwide Classics
This game is not just about bowling, as the name might suggest, yet it felt wrong to leave it off the list as it's one of the best choices for bowling on the Nintendo Switch.
This Clubhouse Games compilation comes with a mountain of content to sink your teeth into, and bowling is one of the games on offer.
It's a smooth, well-made game with challenges, styles and gameplay options to suit all sorts of gamers. Whether you're playing alone, online or with others in person, I'm sure you'll enjoy it.
This game's graphics are smooth and it plays well. It's very rare to experience any performance issues with this title, and it matches the console well.
There's great online multiplayer options available, with 44 of the 51 games being up for grabs in an online multiplayer format. There's a brilliant matchmaking system in place too, meaning that there's hardly ever any lag and always someone to play with.
Plenty of the games work nicely in local multiplayer mode too, with options for using one Switch, multiple Switches or even a cool mosaic mode.
This is a fantastic game to invest in if you're looking to liven up your next gaming session with friends or family, as it's very approachable.
The bowling game itself plays well as a whole, with aesthetically pleasing graphics and intuitive controls. It plays well, makes sense and looks good, too. What's not to love?
Clubhouse Games: 51 Worldwide Classics is an incredible investment for the Nintendo Switch, and it offers one of the best bowling experiences on the console. It's ideal for any experience level, and promises plenty of value for money.
Nintendo Switch Sports
If you're looking to fill the void left by Wii Sports bowling, Nintendo Switch Sports does the job nicely. In a similar fashion to the previous game in this list, bowling is not the only sport that this title features, but it is one of the most prevalent.
Nintendo Switch Sports is a colorful, lively sports game for the Switch that features six unique sports games to play. It includes badminton, volleyball, football, chambara, tennis and most importantly, bowling.
Each game within this title has its pros and cons of course, but bowling stands out as the star of the show. The controls are intuitive, the visuals are stellar and there's plenty of content to keep you occupied.
This includes a unique 'special' mode that throws random obstacles at you as you play the game.
There's a decent online multiplayer mode available in Nintendo Switch Sports, which allows you to tackle each sport in turn and go up against players from all around the world. It's an intuitive online mode, and works nicely with the gameplay style.
There's a great level of accessibility here, with each game being enjoyable for new gamers and seasoned pros alike. Whether you're an experienced bowler looking to get a strike every time or someone looking for a simple, laidback game to play with your friends after work, this is a fantastic pick for you.
While this certainly isn't the most complex sports game on the market, it is a solid and family-friendly option for the Nintendo Switch. The bowling game in this title is one of the best for sure, but the other games offer plenty of value, too.
It's worth picking up a copy today and checking it out for yourself.
Crazy Strike Bowling EX
If you're a fan of anime games on the Nintendo Switch, Crazy Strike Bowling EX is the perfect bowling game for you. It's fun and lighthearted, and comes with a heap of vibrant characters.
Crazy Strike Bowling EX offers up plenty of gameplay modes and bowling styles to keep things interesting. Aside from a classic bowling mode, you can work your way through crazy exhibition, battle and challenge modes, which all come with unique tasks and obstacles.
This game plays nicely, in general. The button controls are intuitive and easy to get to grips with when playing. The motion controls are a little clunky in places, so I'd recommend sticking with the button controls.
The graphics are decent enough, if a little dated, and pair well with the console.
The character design is something that stood out to me with this game. I'm a big fan of any game that offers character customization, and there's plenty of that in this title. Some of the characters and outfits are a little creepy (the jester outfit is bloodcurdling) but the majority are fun, silly and colorful.
It is worth noting that the outfits and character options do require you to gather up currency to unlock them, though. Obtaining all of the outfits or customization options takes a while so prepare to sit through a fair few rounds if you're a completionist.
There's a fun multiplayer mode for Crazy Strike Bowling EX, where you play against another player to see who can knock down a set of pins the quickest. It adds a level of challenge to the game, and it's a lot of fun to play through with friends.
This game is fun if you're a fan of anime games or are curious to try out unique game modes that put odd spins on classic ten-pin bowling. It's not the most polished by any means, but the characters are vibrant and there's plenty of game modes to explore.
Desktop Bowling
If you're hunting for a budget-friendly Nintendo Switch bowling game option, Desktop Bowling is a wonderful pick. This game packs a surprising punch in terms of content, and it comes in at a very reasonable price point.
The general premise for this game is that you're playing a regular game of bowling, except it's taking place on a desk. It's a very simple concept, but this game does a lot with it and offers a wonderful experience for bowling fans and curious gamers alike.
Something that immediately stood out to me with this game is the variety in bowling balls that you can play with. You can play with fruit, basketballs or rainbow ones, for example, each coming with their own stats and perks for playing with.
It's a silly feature, and one that I greatly appreciated. Little details like this provide a lot more value for money in terms of gameplay, and they show how much time and effort went into the production of the game.
It's not just the bowling balls that have varied designs and themes, either. There's a heap of interesting bowling lanes to explore, with my favorite one being the Jurassic Park lane.
There's a decent amount of gameplay to unpack in Desktop Bowling too, with alternative modes like quest, tournament and party mode. It's a game that translates surprisingly well to single player gameplay, and unsurprisingly well to multiplayer. This is an incredibly well-rounded title.
Visually, Desktop Bowling is great considering the price point. It's definitely a cartoony art style, but I think it's charming and well made. The graphics aren't immaculate by any means, but they do the trick and fit the vibe of the game well.
The game plays well as a whole, with optional motional controls if you're not a fan of the button controls. There are minimal performance issues, and it plays well on the console.
Desktop Bowling is a great addition to make to your Nintendo Switch library this year. It's a fun and lighthearted game, with unique game modes and challenges to keep things interesting. I'd highly recommend checking it out.