When people talk about multiplayer on the Nintendo Switch, they're usually talking about the splittable Joy-Cons and couch gaming experiences. But Nintendo's dockable, portable, do-it-all console also has a massive (and growing) library of online multiplayer titles.
Part of why online multiplayer doesn't get the same attention as local gaming is because many multiplayer games require a subscription to Nintendo's dedicated online multiplayer service: Nintendo Switch Online.
Despite a lack of social functions, the Switch still has tons of excellent online games, many of which are console exclusives.
Here are our picks of the 10 best online multiplayer Switch games to help get you started.
Tetris 99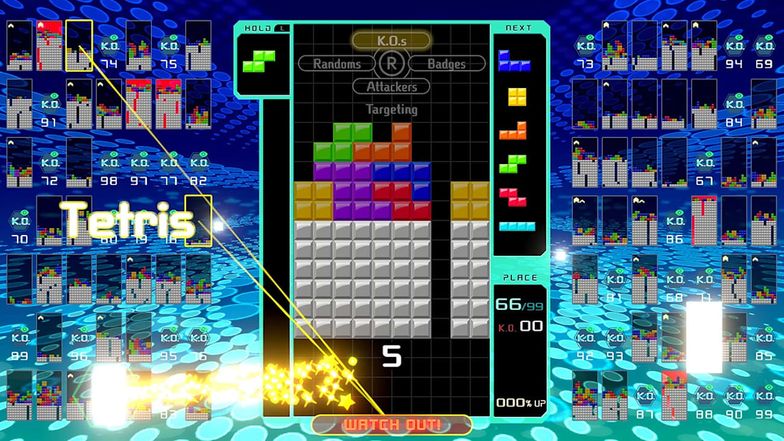 Tetris 99 offers a unique take on the classic puzzle game, pitting you against 98 other players in a mass puzzle gaming melee.
Clearing rows sends them to your target, so you can wreak havoc on another player's board through skilled play. The multiplayer adds a surprising layer of nuance to the familiar gameplay, rewarding smart timing on top of clean block placement.
Tetris 99 is slick, lean, and a purist's dream. The interface is simple, and there are no crazy power-ups or abilities to muddle the tried-and-true Tetris formula.
Those with a Nintendo Switch Online subscription can download the base game for free (or pay once to unlock single player and local versus), making this a must-have game for any puzzle fan's library.
Warframe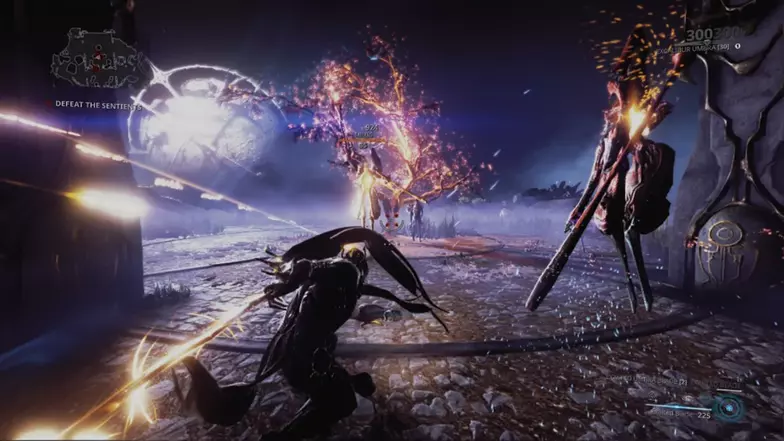 In this free-to-play MMO action game, you play as a starfaring cyborg ninja on a planet-hopping quest to…do something.
Okay, so the story is a bit of a mess, but Warframe more than makes up for it with some of the most satisfying sword-swinging, loot-and-shoot action you'll find on any platform.
Besides a minor visual downgrade, the Switch version is virtually indistinguishable from the console and PC versions. It's a technical marvel that perfectly translates the chaos and responsiveness of Warframe onto Nintendo's portable, dockable platform. And the short, intense missions allow for snack-sized sessions of slicing and dicing when you're on the go.
Animal Crossing: New Horizons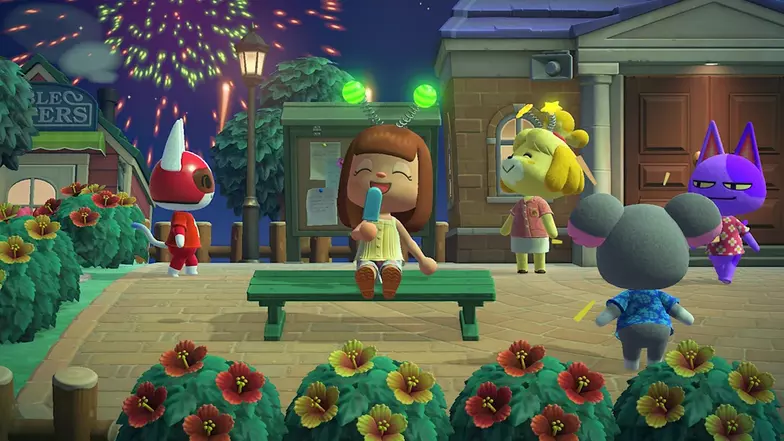 The official Wikipedia page for Animal Crossing calls it a social simulation game series, which simply means it's about doing virtual chores every day.
Progress is incremental and intentionally slow—a day in Animal Crossing takes a day in real-time—so some tasks can take a while. This makes it the type of game you can't power through in one sitting, but instead is one that encourages putting in a few minutes every day for an emotional and material pay off down the line.
The Animal Crossing series has dipped its toes in multiplayer before—New Leaf on the 3DS let you jump into the villages of other players who brought their 3DS in public—but New Horizons feels like the most polished implementation of all. There are more ways than ever to customize your island and tons of fun activities that you can do together with visitors and friends.
Overall, this is one of the most popular online multiplayer Switch games.
Among Us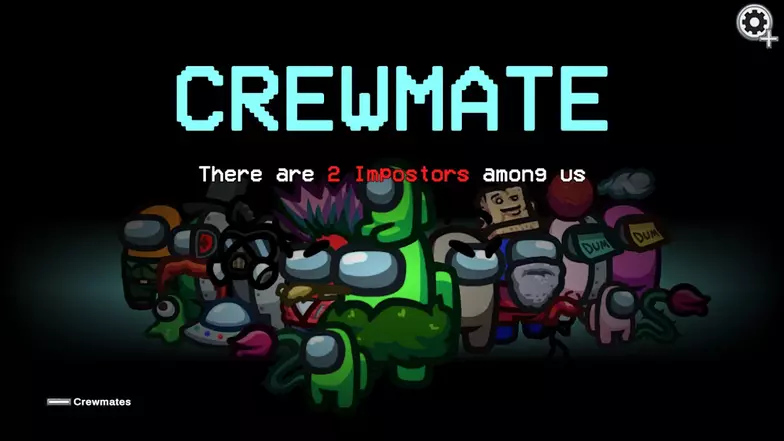 You've almost certainly already heard of Among Us, but for those that have been living under a rock, it's a social deduction party game in which a group of players work together to complete various tasks. However, there's at least one Imposter in the bunch whose job is to secretly eliminate everyone without being discovered.
In terms of translation to the Switch, the console's Joy-Cons make creeping through hallways and slipping through vents even more satisfying and accurate than playing on a touch screen, though typing with the Switch's touchscreen or joysticks is a bit unwieldy.
If you're looking for an online multiplayer Switch game to play with plenty of friends, this is potentially the number one pick.
Wargroove
Wargroove is a turn-based tactics game that both looks and plays like Advance Wars. With its charming pixel art aesthetic and truly challenging tactics combat, it's a title that any self-respecting strategy game fan with a Switch should have in their library.
The Switch is a treasure trove of tactics games, but none of them have a multiplayer component as robust or enjoyable as Wargroove.
The asynchronous online multiplayer lets you leave a match after your turn then return later. Instead of twiddling your thumbs while your opponent finishes their turn, you can hop into one of your other active matches while you wait.
Fortnite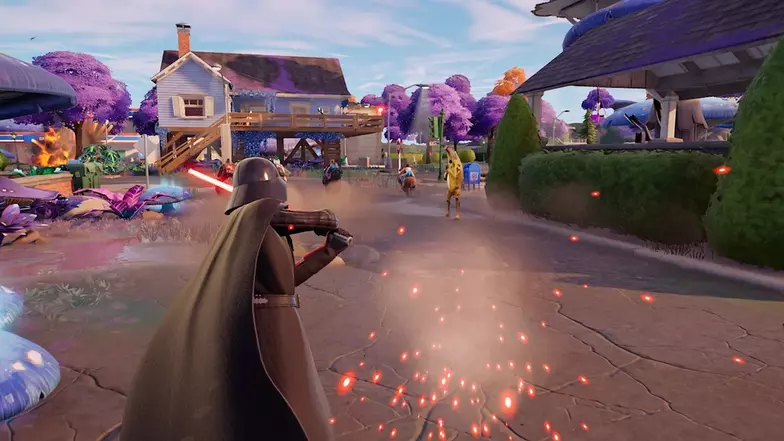 We'd be remiss if we didn't include one of the biggest multiplayer games on the planet.
Fortnite's unique brand of battle royale action is accessible and fun, yet surprisingly nuanced, and boasts a thriving competitive community. It also comes with features and game modes for all types of gamers, from the casual to hardcore.
Today, Fortnite is more than simply a game about building and shooting; it's a place to hang out and socialize—and the social features in Fortnite are absolutely next-level. This is a must-have online multiplayer Switch game.
There are dedicated hangout spaces, live online concerts, and even live film streams. Playing on the Switch means you get the added bonus of being able to get a quick Fortnite session in anytime and anywhere, without dealing with the hassles of touchscreens.
Splatoon 2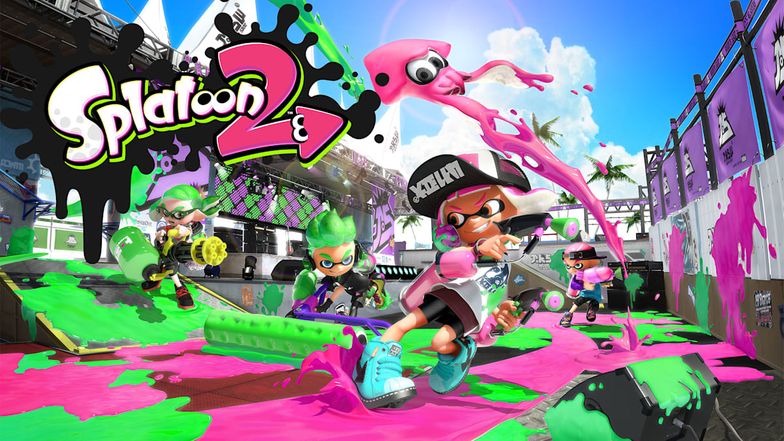 You wouldn't think Nintendo to be the type of company to make a team-based multiplayer shooter, but Splatoon 2 shows that Nintendo can do it without sacrificing its family-friendly identity.
In Splatoon 2, players don't shoot with bullets but paint. The goal is is to color as large an area of the map as possible before the timer hits zero. This means that while player-on-player splatting is tons of fun, it's secondary to the shared goal of keeping the level of your color, encouraging teamwork while also allowing individuals to do their thing, if they want to.
Mario Kart 8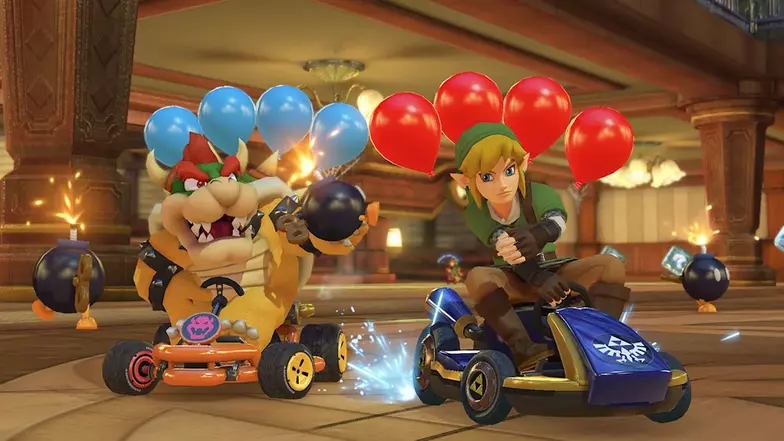 There are a lot of kart racers on the Switch today, but none come close to matching the polish, balance, and thrill of Mario Kart.
Mario Kart 8 is widely considered one of the best in the series' history, and that's largely to do with the sheer number of features and options. It's the most complete Mario Kart to date, with kart customization, battle modes, and tons of character options making it an unmissable selection in this round-up of the best online multiplayer Switch games.
Mario Kart 8 also features the most complete set of multiplayer features. There's support for local co-op, which makes it a go-to title for a bit of ad hoc gaming when you're with friends. You can also take the experience online and race against players around the world.
Monster Hunter Rise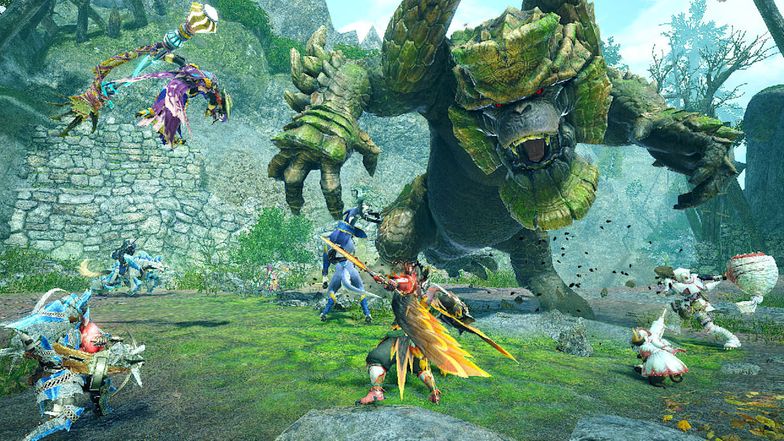 The Monster Hunter games are both incredibly popular and notoriously difficult to get into. Rise features an improved early game that takes major steps at fixing the latter, making it the most accessible installment in the series without sacrificing the nuance and detail of its mechanics.
The only way to truly experience Monster Hunter is with a few friends.
Squadding up with your buddies and working together to take down great, big baddies is just as fun and strategic as ever. Rise is a leaner, more user-friendly experience, too—you no longer have to trawl a wiki just to find out how to reach the next hunter rank or view a weapons upgrade tree.
Teenage Mutant Ninja Turtles: Shredder's Revenge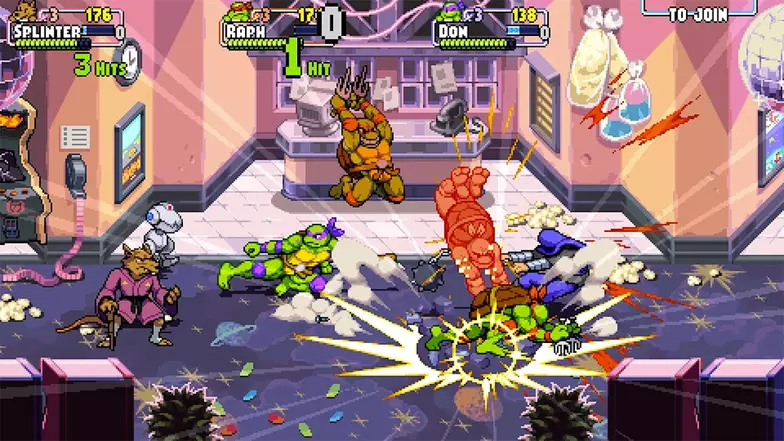 Join Leonardo and the other heroes in a half shell on a retro romp through New York City in this modern beat 'em up inspired by genre classics.
If you're a fan of Turtles in Time, Shredder's Revenge will be right up your alley. It features similar button-mashing action with a few new additions to spice things up, such as an RPG-lite leveling system and an unlockable character.
Shredder's Revenge also features one of the most chaotic and fun online multiplayer experiences on the Switch. Earlier adventures starring the teenage turtles allowed up to four players to beat down on foot soldiers together — Shredder's Revenge allows for up to six. With a full squad, Shredder's Revenge turns into a crowded, hectic, and glorious mess.