Cottagecore is an aesthetic that's had a meteoric rise in popularity, fuelled by lifestyle influencers and moodboard accounts. It's a beautiful and soothing aesthetic that romanticizes living in the countryside and being in touch with nature.
There are heaps of social media accounts and art pages dedicated to cottagecore, along with a whole host of beautiful books, movies, music, and TV shows that fit the vibe perfectly.
Cottagecore translates surprisingly well to video games, too. There are tons of games to sort through on the Nintendo Switch that fit into the cottagecore genre, and they're worth checking out if you're a fan of this cozy, comforting aesthetic.
To help you pick out the most beautiful of the bunch, I've handpicked the 10 best cottagecore games on Switch, including some from a variety of different genres.
I've sunk a ridiculous amount of time into number 4, but number 5 is my favorite at the moment.
Cattails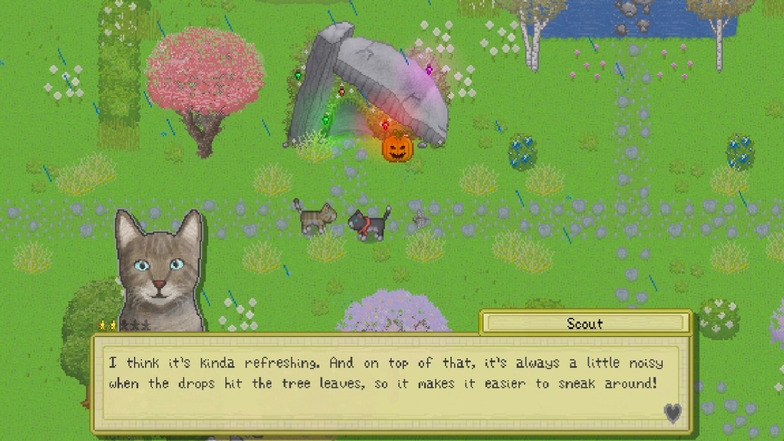 Cattails is a soothing, picturesque RPG on the Switch that lets you play as a cat. It's a pared back RPG that focuses less on gameplay mechanics and more on story and imagery.
The story starts with you creating your character and finding yourself abandoned by the roadside. A local cat named Coco helps you out and introduces you to one of three different cat colonies, throwing you into a world of turf wars, foraging, and plenty of catty drama.
The game isn't all turf wars and cat gangs, though. The story evens out pretty quickly and lets you forage, collect, and build relationships with the cats around you. There's a neat leveling system, and plenty to explore in the world.
Cattails looks decent on the Nintendo Switch and it plays very well with no notable performance issues. Some of the menu icons and items can be a little tricky to see, but it's certainly not game breaking.
Cattails is a charming RPG that's perfect for anyone looking for a new cottagecore Switch game to try out. It's a beautiful tail of adventure and exploration, and the whole experience will have you feline relaxed and happy.
Turnip Boy Commits Tax Evasion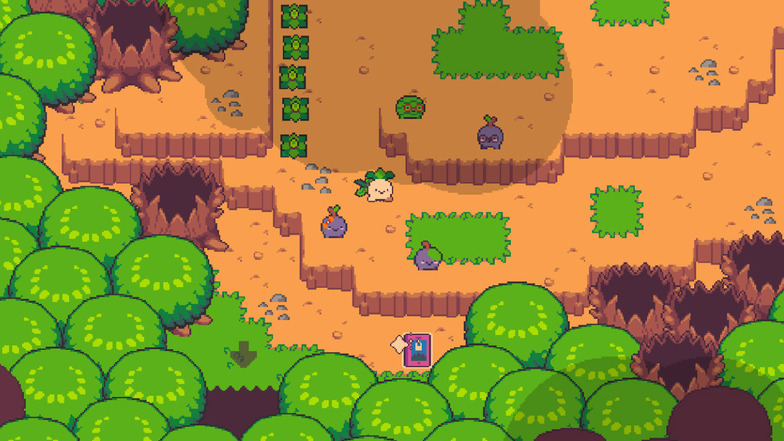 Have you ever wanted to commit crimes while playing as a sentient turnip? That's a bit weird, but luckily for you, there's a game for that now.
Turnip Boy Commits Tax Evasion is one of the most charming, story-rich games. You'll play through as Turnip Boy, and you'll need to go on a series of quests and adventures to pay back your debt to Mayor Onion.
This game follows a standard RPG set-up with fetch quests, boss battles, and plenty of interesting story elements. This is an accessible game, with intuitive controls and the ability to turn on God mode for any fights that newer players might find too challenging.
Something to note is that the combat in this game can feel a bit clunky. It's not a deal breaker in my opinion, but it's still worth noting that this is not the game for you if you're on the hunt for something combat focused.
I'm a huge fan of this game's aesthetic. It's cheerful and charming, with loveable characters and immersive environments. It looks great on the Switch, and I'd highly recommend checking it out. It combines the cottagecore aesthetic with RPG elements perfectly.
Littlewood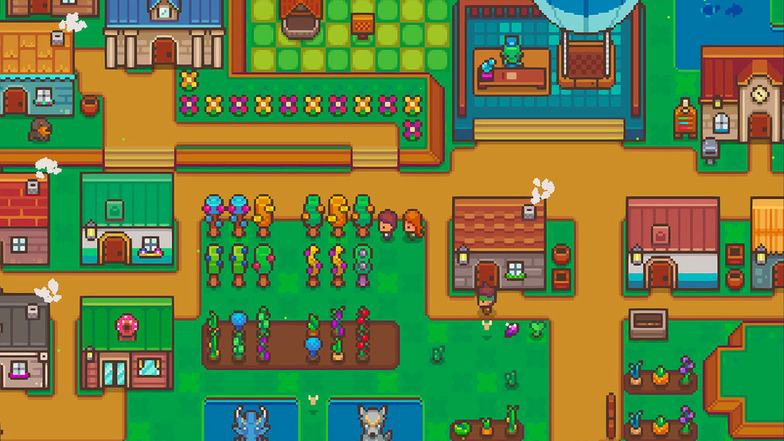 Littlewood takes a glance at what happens after the credits of a classic RPG adventure. It's a little more citycore than cottagecore if you want to be technical, but I think it still nails the cottagecore vibe perfectly and offers some truly enjoyable gameplay.
In Littlewood, you play as the great Hero of Solemn who vanquished the immense Dark Wizard. Your character has lost their memories of all the events that came before, but their village has entrusted them with the task of building a beautiful new life for them all.
Littlewood offers a simple town building and resource management experience. It's easy to get into and the controls make sense. It looks good on the Nintendo Switch, too, with a beautiful, pared back aesthetic and no performance issues to note.
If you enjoy building your own town and want something with a soft, cozy vibe, this is the perfect game for you. It's got a great story and unique take on the traditional RPG format, and it's a comforting addition to the world of Nintendo Switch cottagecore games.
Animal Crossing: New Horizons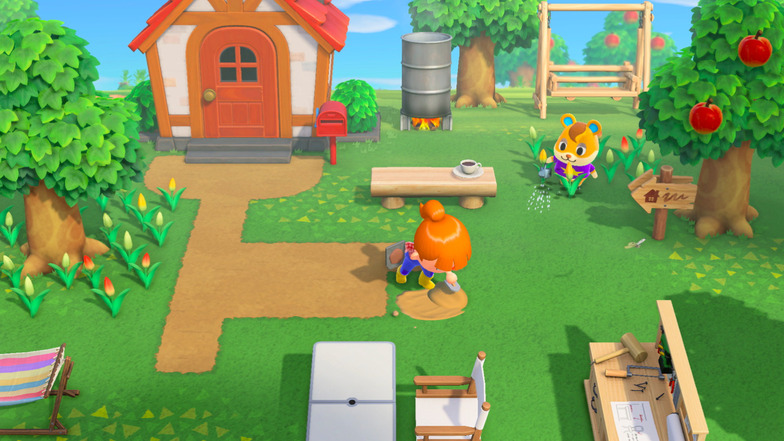 If you're someone who enjoys the cottagecore vibe, it's likely that you've heard of the Animal Crossing series already. It's an iconic series in the world of cozy gaming, and Animal Crossing: New Horizons offers a tropical foray into cottagecore living.
Starting off with a trip to a deserted island, you'll meet a handful of cute characters and get to build up your own community with your new friends. This is a cross between a chilled farming game and a life sim, letting you fish, catch bugs, design your own house, give gifts, dig up fossils, and much more.
This game looks beautiful on the Switch, and despite the tropical locale, it nails the cottagecore vibe perfectly. The islands boast beautiful flowers, trees, and wildlife, and the houses are incredibly cute and cozy.
The soundtrack pairs wonderfully with the visuals, creating a warm and inviting game.
Animal Crossing: New Horizons is truly one of the best cozy games on the Switch. It runs without a hitch, and the controls are easy to pick up. There's a heap of content to keep you busy and it's accessible for gamers of all experience levels. What's not to love?
Stardew Valley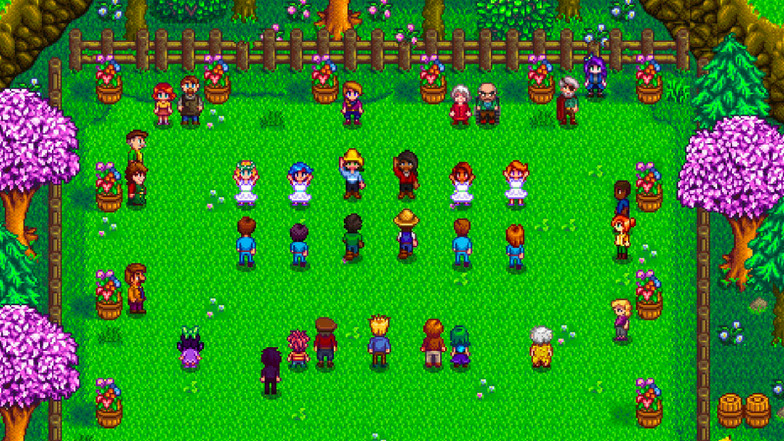 Stardew Valley is one of the most iconic farming games, and it falls into the cottagecore genre perfectly. This game is warm and inviting, and it's packed full of loveable characters and beautiful environments.
In Stardew Valley, you play as a character who has just inherited a run-down farm from their grandfather. You get to build up the farm from scratch and design it to fit your tastes, while doing quests, exploring the local town, and getting to know the townspeople as well.
Something I love about Stardew Valley is the sheer amount of content it contains. You can explore the mines or join the Adventurer's Guild, collect heaps of treasures, grow crops and go fishing, collect pets or even check out puzzles and side quests.
Visually, Stardew Valley is a treat. The overall aesthetic is charming, and it looks fantastic on the Switch too. There are no performance issues to note (although the controls can be a little finicky at first) and I highly recommend checking it out.
Yonder: The Cloud Catcher Chronicles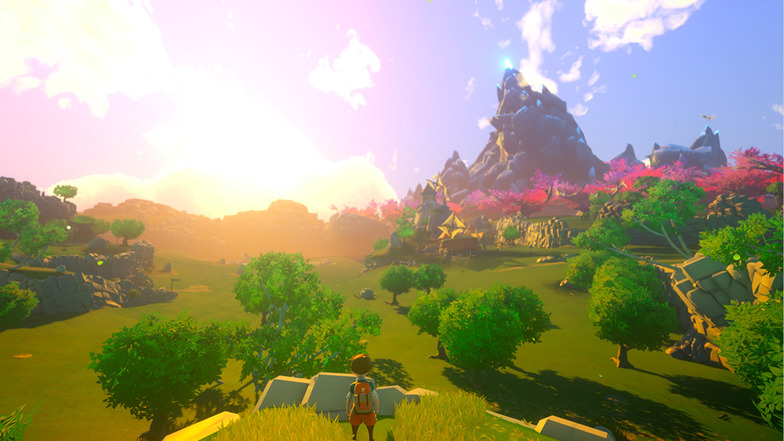 Games that encourage you to take it slow and smell the roses are worth checking out, in my books. Yonder: The Cloud Catcher Chronicles is a peaceful, meandering game that's ideal for gamers who want something that doesn't focus too heavily on progression.
The game starts with your character receiving a visit from magical sprites in their dreams after their ship is in a wreck on the way to the Isle of Gemea. Your character is told by the sprites to find the other sprites on the island and to help combat the spread of a destructive substance, known as the Murk.
It's a simple and pared back story, and it doesn't affect the overall gameplay dramatically.
This game features a nice mix of farming elements and crafting elements, with plenty of quests to keep you busy. There isn't much of a sense of progression here as mentioned, so it's the ideal game for you if you want something more chilled.
I adore the visual style that the developers went for with this game and think it looks sublime on the Switch. It's certainly one of the prettiest cottagecore games on the Nintendo Switch, and it performs very well too.
Doraemon: Story of Seasons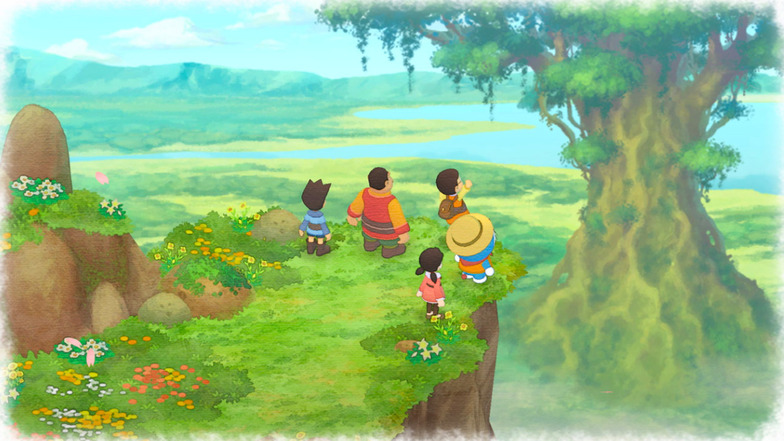 This particular game is a crossover between the Story of Seasons franchise (heavily associated with farming franchise extraordinaire, Harvest Moon) and the anime and manga series Doraemon.
This fantastical fusion is full of fun flights of fancy and it's perfect for farming game fans.
In this game, you play as a character named Noby. Transported into a new world along with a whole host of other colorful characters, you'll need to settle into a comfortable rural life and lend a hand with a number of tasks, chores, and quests on offer around the sleepy village.
Doraemon: Story of Seasons is beautiful and it looks as if it's been painted in watercolors. This game looks and performs well on the Switch, and it's packed full of a variety of content to keep you occupied. This is certainly a slow burning game, with a steady, winding pace.
If you enjoy cottagecore themed games and you're looking for something truly immersive and beautiful, this is the ideal pick for you. With everything from crafting and fishing to baking and mining, this is a rich and vibrant world to lose yourself in.
Atelier Mysterious Trilogy Deluxe Pack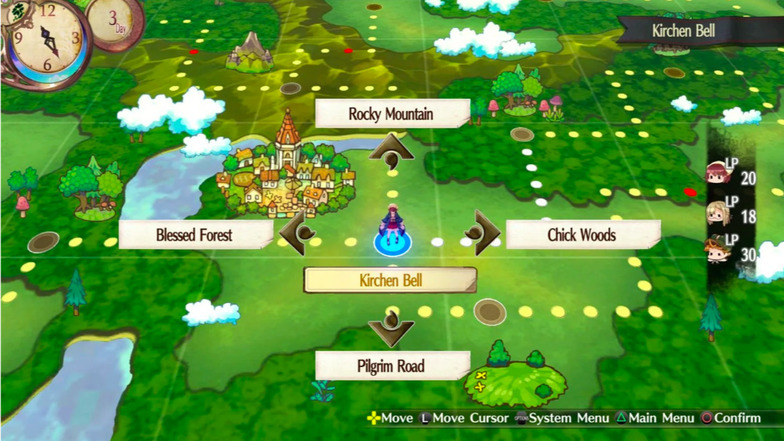 The Atelier RPG series has built up a vast following for having perfected slice-of-life stories, and this particular trilogy is a must-play for any cottagecore lovers.
It's not overtly cottagecore, but the theming and aesthetics combined with the slow style of play make it a worthwhile inclusion for this list.
This pack includes the games Atelier Sophie: The Alchemist of the Mysterious Book DX, Atelier Firis: The Alchemist and the Mysterious Journey DX, and Atelier Lydia & Suelle: The Alchemists and the Mysterious Paintings DX.
Each game in this pack is an RPG that follows the titular characters through meandering quest lines and beautifully drawn worlds.
The games are less focused on the dramatic boss battles and punchy plot lines that one might expect from an RPG. Instead, each story is full of smaller puzzles, curious quests, and interesting characters.
The aesthetics of these games is what initially drew me towards them. They're beautiful, with wonderfully detailed environments and vibrant character design. They all fit the cottagecore theme perfectly in my books, and they play decently on the Switch with only a minor drop in frame rate to note here and there across the series.
With a truly innovative crafting system, thoughtful puzzles, and turn-based combat, what's not to fall in love with here here? Atelier is a series that's done a lot for the world of RPGs and I highly encourage people to check these games out.
Untitled Goose Game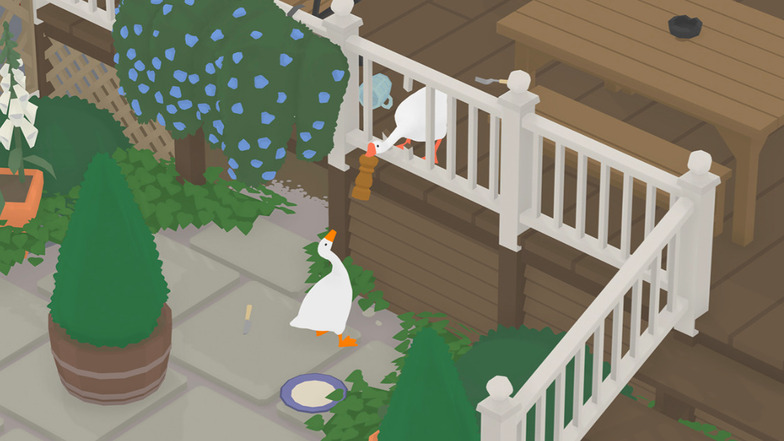 When I was trying to come up with cottagecore games, this is not one that initially crossed my mind as relevant. Yet, the more I thought about it, the more I realized how wrong I was. Untitled Goose Game is one of the best cottagecore games on the Switch, hands down, and it's one of the most enjoyable sandbox Switch games to boot.
In Untitled Goose Game, you get to cause havoc in a beautiful English town as a foul fowl.
This is a sandbox puzzle game with a truly gorgeous setting, complete with allotments, cobbled pathways, and rose bushes. This game pushes people to think creatively, accepting lots of different answers to the puzzles at hand.
Untitled Goose Game looks fantastic on the Nintendo Switch, and it plays incredibly well too. There are no performance issues to note, and the controls are quick and easy to pick up.
With plenty of single player content and a stellar option for two players too, you get a lot of value for money with this game. It's creative and silly, with a beautifully immersive world that's sure to entrance any cottagecore lover.
Story of Seasons: Pioneers of Olive Town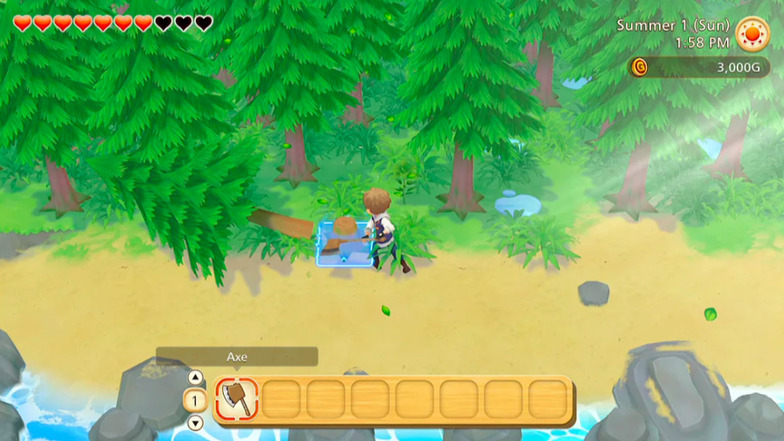 If you're a fan of farm games, chances are that you've come across the Story of Seasons franchise before. This franchise is a household name in the world of farming sims and this particular gem nails the cottagecore aesthetic perfectly.
The game focuses on restoring life to an old farm that the player has inherited, giving them the freedom to explore the town, build up the farm, and develop relationships with the other characters. It's a charming and soothing game, with plenty to keep you busy.
The overall aesthetic here is lovely, and it looks great on the Switch in both handheld and docked mode. There are a few little quirks with frame rate here and there, but there's nothing game breaking or overly distracting. The controls are intuitive and easy to pick up.
There's heaps to do in this game, with a vast world, detailed crafting system, and plenty of well-written quests. It's a rich and vibrant game that I would recommend for cottagecore fans and farming game lovers with a few games under their belt, as the crafting and questing aspects have a lot of moving parts.