Finding a truly interesting Nintendo Switch horse game to play can present a unique challenge. The genre has a few key titles that are carrying it currently, and a number of colourful indie titles and mobile ports bubbling under the surface.
If you're a fan of horse games and equestrian challenges, chances are that you've trawled the web looking for new games before. There are plenty of blog posts covering this topic that feature games like Red Dead Redemption, Legend of Zelda: Breath of the Wild, and Skyrim.
While these are certainly iconic games, it's tricky to view them as just horse games.
There are plenty of interesting games to consider that do feature horses as the mane attraction, though. The agility and strength of horses make them useful companions in games, and the challenges of caring for them can make for some delightful gaming sims, too.
To help you pick out the best games to add to your digital stables this year, I've handpicked 7 of the best Nintendo Switch horse games. I've covered everything from horse grooming and unicorn riding, to horse racing and medieval kings.
Some of these games skew towards a younger audience and some are a little more complex, but they're all ideal if you're a fan of games featuring these majestic animals.
Horse Club Adventures
On the hunt for a colourful, laidback game with simple quests and pretty scenery? This could be the perfect game for you. Horse Club Adventures is a simple RPG that focuses on the Horse Club franchise from Schleigh. It's available on Switch and can be found on other consoles like the PS4, too.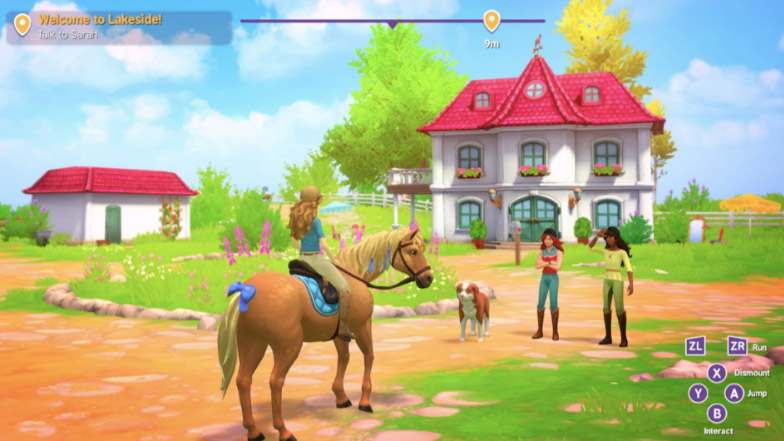 The general premise of this game is a summer adventure at the Lakeside Riding Stable, inspired by the Horse Club characters and storyline. You follow a basic RPG setup (following a main storyline and optional side quests) with additional content like horse racing and mini games to help take care of your horse. It's easy to pick up, and entertaining too.
The quests in this game are not immensely challenging, and are clearly aimed at a younger demographic. They involve a lot of riding from one place to another, and hunting for objects or different NPCs. While the story can take a minute to pick up, there are some intriguingly unexpected points in this game, like a mysterious illness affecting local residents.
There's a decent level of customisation available right off the bat with this game, with a handful of different clothing and hair options for your character and plenty of options for your horse. As you progress through the game, you'll unlock more cosmetics and trinkets.
Something small but important to note here is the LGBTQ+ representation in this game. During the game, the character Mr O'Neill mentions his husband in one of the dialogue boxes. It's a tiny detail, sure, but a great demonstration of how LGBTQ+ characters can be authentically included by game developers.
Despite initial reports of glitches and bugs during the release, the game plays well and has been received positively by the online community.
As a whole, this game is a decent example of a chilled, eye-catching RPG for horse fans. It's clearly targeted at younger players but can offer a laid back experience for older players, too.
Kingdom Two Crowns
There's a type of game that comes to mind when you hear 'horse game' and this isn't it.
Kingdom Two Crowns is a fascinating, side-scrolling strategy game with a dark and ominous theme to it. The game takes place entirely on horseback, with your chosen mount having a significant impact on combat and success rates.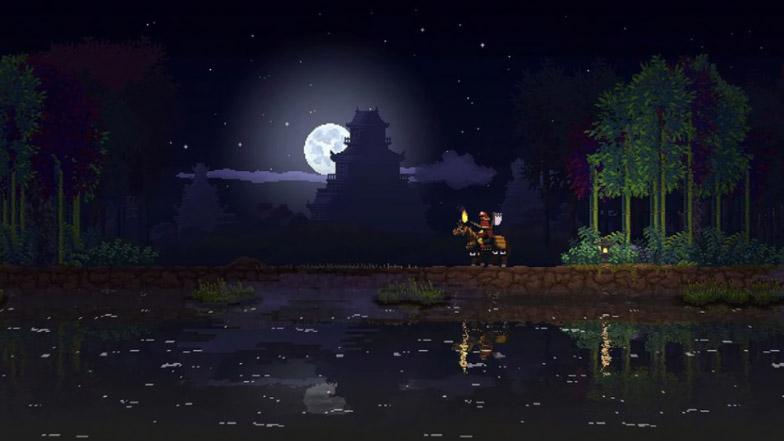 Kingdom Two Crowns is part of a series that's been almost entirely positively received online, and it's easy to see why. This game combines a unique play style with brilliant pixelated graphics and a carefully selected soundtrack.
Put simply, if you're a horse fan who wants a more immersive game, this is the game you need this year.
The overall story of this game is that you're a monarch who is aiming to defend their kingdom from creatures of the night. You start off with coins and a horse, and have to bolster your defenses by hiring locals to fight with you and build protective walls. The game progresses in difficulty nicely, allowing you the chance to build and properly defend your home.
Mounts play an important part in this game, as you play entirely on horseback and they can quickly change the odds of a battle. I won't spoil all of the quirks and traits that you can acquire from these mounts, but they range from simple buffs to breathing fire.
Pretty cool.
Overall, this game is a must for anyone who wants to try out one of the more unique Nintendo Switch horse games available on the store. It's well-made and captivating, and it's easy to lose track of time while exploring this mystical, pixelated world. 
Unicornicopia
While this might be stretching the definition of 'horse' slightly, this game is a sweet option for the youngest gamers amongst us. This fun title combines a side-scrolling game with pet care mechanics, to make for a lighthearted and vibrant experience.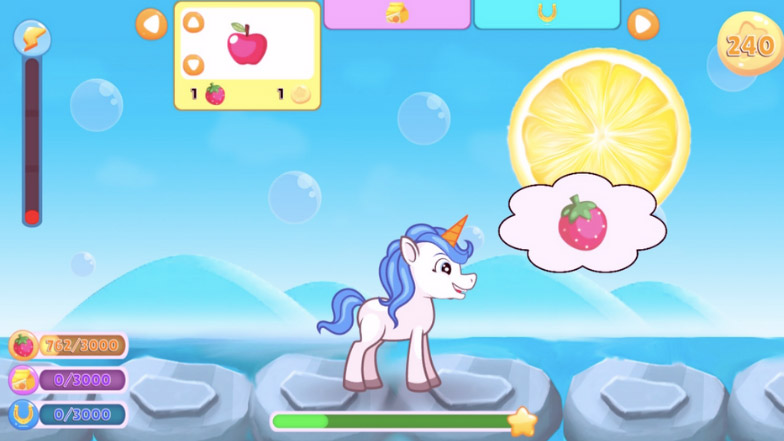 The game mechanics for this are immensely simple, and it's worth reiterating that this is a game for much, much younger players. It's not a dupe for Red Dead Redemption by any means, but it could provide a few hours of laughter for any budding equestrians or aspiring unicorn tamers in your life. It's packed full of rainbows and unicorns, as all things should be.
This game is essentially a bundle of minigames packed into one, with simple block-busters, puzzles and side-scrolling games to explore. There is a simple pet care feature built into this game, where players can feed and look after their pet unicorn.
If you're reading this article in hopes of finding a selection of cheap, silly and fun Nintendo Switch horse games for a young gamer in your life, this is a title that's worth adding to your basket.
DreamWorks Spirit Lucky's Big Adventure
This charming adventure game originates from the DreamWorks TV show and movies of the same name. It features the iconic horse Spirit and his owner Lucky, alongside a myriad of other characters. This game is bright and colourful, with a whimsical soundtrack to go alongside it, and it's perfect for younger players.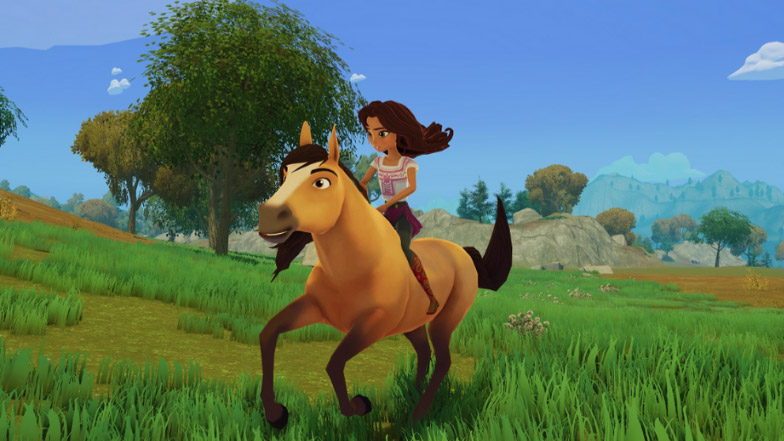 This game offers a simple RPG quest setup, where you play as Lucky and complete a series of different quests and challenges. There's a few racing segments thrown in for good measure, but most quests involve locating an item/NPC and completing a task. It's not overly complex, but makes for a chilled gaming experience that's ideal for younger players.
There are some horse care mini games in this game too, which seem to be a standard inclusion for most titles in this genre. The Spirit mini games directly impact the sprint ability, though, which is a neat feature. They're optional, but bring benefits if you sink the time in.
Generally, the user experience for this game is decent. The content is simple and the game plays fine – although some users have reported they dislike features like having to dismount in order to speak to NPCs. It's not a game that you could speed run easily, but the laid back vibe could be just the ticket for some gamers reading.
If you're looking for Nintendo Switch horse games to suit a young person in your life or you're a Spirit fan who wants a nostalgia kick, I would absolutely recommend this game. It's lighthearted and quirky, with an intriguing soundtrack and plenty to keep you occupied.
PHAR LAP – Horse Racing Challenge
If you're less interested in horse care and RPG adventures and more into the horse racing side of things, this could be the perfect pick for you. This game appears to originate from a mobile app, and it has been met with mostly positive reviews. This game is simple and paired back, making it perfect for a relaxed gaming experience.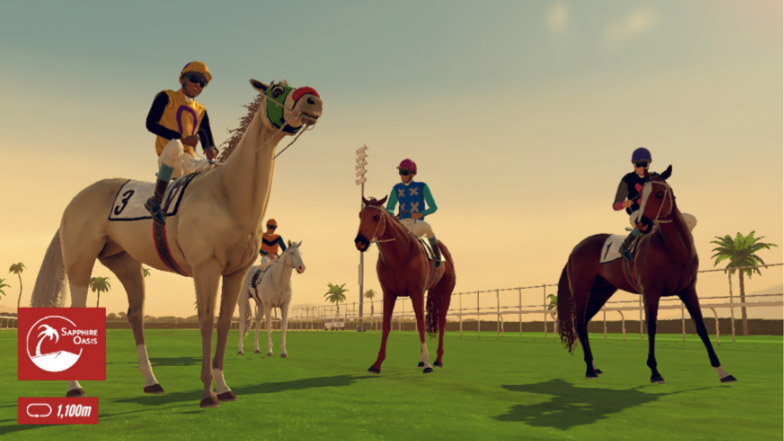 Released in 2020, this game offers a handful of different gaming modes and playstyles. It is essential to note that this game features themes of betting and gambling, so it's not a game geared towards children.
You can play online with other players, customise horses, join in with betting parties, play in quick races or complete a story mode.
The controls for this game are deceptively simple, and require you to pick out the best horses possible in order to succeed. The game comes with visually appealing graphics and an eerily authentic announcer for each race, making for a mostly immersive experience.
There aren't too many Nintendo Switch horse games that feature racing, so it's good to see that there's a solid option like PHAR LAP available on the store. Despite the simple gameplay mechanics and mobile app feel, there are plenty of game modes available that should keep you entertained for hours.
Farming Simulator 20
This game doesn't focus on horses as much as other titles in this blog post, but it's still worth taking a look at if you're searching for the best Nintendo Switch horse games. Farming Simulator has an almost cult following across multiple platforms, and with good reason. The games are fun yet technical, and offer a deep level of immersion.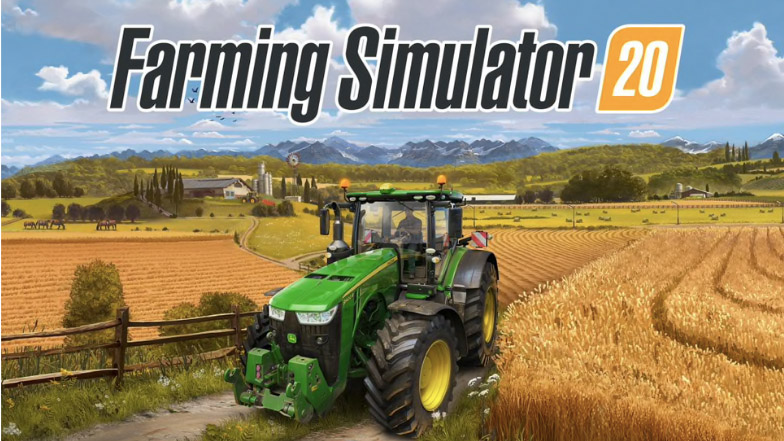 In this game, you're presented with a plot of land that you farm and tend to throughout the seasons. You have farmhands available to help out with this, and plenty of machinery to explore. Most importantly, though, you can raise animals and care for them.
Naturally, this includes horses.
The horse mechanics in this game are fairly realistic, and involve everything from feeding them oats to taking them for rides. The animal mechanics in general for this game are very realistic, making you pick out the correct types of bedding, working on breeding and selling animals, and feeding them on a regular basis.
While this game is certainly not on the whimsical side of horse care and simulation games, it's an immersive, educational experience that horse riders are sure to appreciate. The game plays well and there's a busy online community that's constantly putting out new tips, tricks and tutorials in case you ever get stuck.
Windstorm: Ari's Arrival
To finish up, Windstorm is a popular name in the Nintendo Switch horse games niche.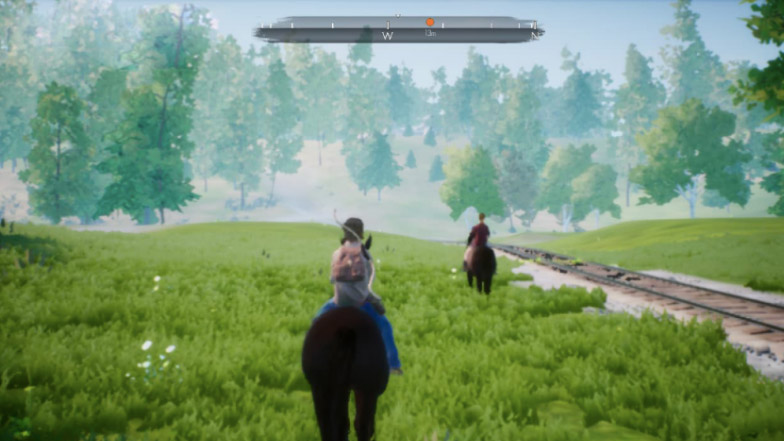 There are a number of games and movies in this franchise, and Ari's Arrival is the most important one for you to know about. It's a game that's been heavily patched and worked upon over the years, and the improvements are plain as day to see.
Ari's Arrival follows an adventure RPG format, with plenty of story quests and travel to keep you entertained. It follows the story of Ari, who is attempting to save the ranch from an uncaring owner and bond with her horse in the process. It's a little tropey in places, but the story is entertaining and matches the pace of the game perfectly.
One of the best things about this game is that it offers an authentic open world experience. This is something that many people would expect from horse games as a whole, but it's actually quite rare to find a well-built, open world experience in this particular niche.
While the graphics are not groundbreaking, this game is overall visually pleasing and has a suitable soundtrack to boot. It's clear that the developers wanted the environments to be truly immersive and beautiful, and the open world traveling is very enjoyable.
There's a collectible feature too, which makes travel quests a lot more interesting.
All in all, this is one of the best games on this list. While other Windstorm titles have left some past fans feeling upset and bored, this game feels fresh and entertaining. It plays well, and offers up plenty of different attractions to explore and enjoy.
We hope this article proves handy for your next adventure through the Nintendo eShop.
If you're looking for more gaming inspiration, why not check out our picks for the best educational Switch games?