There's something inherently soothing about farming games and simulators.
They offer up a unique, immersive style of gameplay that I think translates perfectly to the Nintendo Switch. It's a huge game genre too, with countless simulations, hybrid games and RPG titles to take your pick from.
To help you narrow down the options and find the best title, I've picked out the 14 best farming games on Nintendo Switch. This list contains simple farming simulators, cozy RPG titles and intriguing genre-blending farming games for you to take your pick from.
Doraemon: Story of Seasons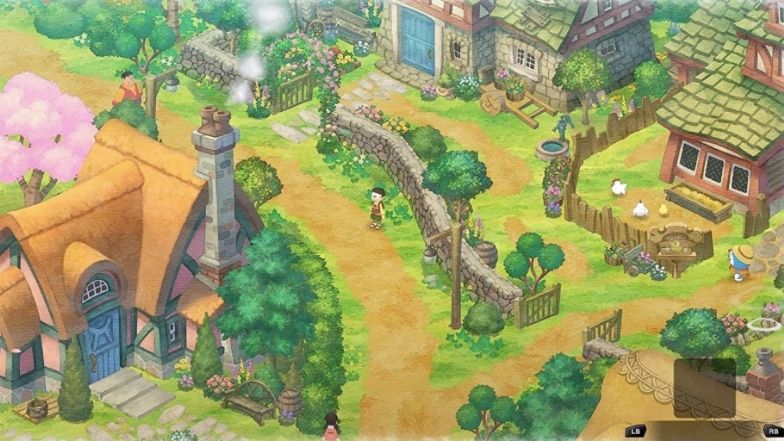 The Story of Seasons franchise is intrinsically linked with another powerhouse of a franchise in the farming game niche: Harvest Moon. This particular instalment is a crossover with the manga and anime series Doraemon.
This fusion between fictional worlds makes for a charming experience.
You'll play through as Noby, a child who has been transported into this new world with Doraemon and other lovable characters. From here, you'll find yourself tumbling into a rural life with plenty of tasks, challenges and chores to keep you occupied.
Something that stood out to me with this game is the variety of tasks and challenges that there are to keep you occupied. The world is awash with content, and you'll be able to do everything from bake bread and mine ore, to crafting decorations and collecting bugs.
Doraemon: Story of Seasons is a beautiful game that's ideal for anyone looking to take time out from real life and lose themselves in a watercolor world. The game offers immense value for money, and it's a perfect pick for seasoned gamers who love the farming niche.
Rune Factory 5
Looking for a game that blends farming games and RPG titles on the Nintendo Switch? Rune Factory 5 is the perfect pick for you.
Playing as a new member of the elite military faction SEED, you'll be keeping the peace, figuring out why the rune energy is breaking down and learning more about your mysterious past. There's plenty of farm and village life to explore in the process, too.
The story does feel a little disconnected from the farming situation game aspect, as you're told that the fate of the world is on your shoulders, but that you can ignore it and focus on flirting with villagers or tending your crops if you prefer.
The farming simulation element of Rune Factory 5 is rich and immersive, with intuitive controls, pleasant visuals and likable characters to keep you company. The RPG element is equally immersive, and I'm a big fan of the combat system.
You can also catch monsters in a similar fashion to Pokemon, and get them to work on your farm. It's not a mechanic I expected to see in a game like this, but the monsters are helpful to have around the farm and it adds a certain charm to the exploration side of the gameplay.
Rune Factory 5 is a gem of a game, and worth adding to your library today.
Sakuna: Of Rice and Ruin
Sakuna: Of Rice and Ruin manages to be simultaneously one of the best farming titles and one of the most captivating action games on the Switch. It's a hybrid game, and pulls off both elements perfectly.
Sakuna is an exiled harvest goddess, banished to a demon-filled island that she must tend to. She is (much to her dismay) charged with helping a band of hungry humans survive on the demonic island and thrive in the rural environment.
The farming simulation aspect of this game is truly immersive, and also educational to some degree. You'll have to do everything from make your own fertilizer, to picking out the right rice kernels and managing the water levels.
It's a lot more demanding than other farming sims, but it still manages to be a lot of fun.
There's a wonderful exploration and adventure aspect to this game too, with a rich combat system, intriguing enemies and beautiful areas to explore and learn more about.
The game itself looks beautiful, and the controls are perfect for the Nintendo Switch. There's a wealth of content to sink your teeth into, and delightful characters to meet along the way.
Sakuna: Of Rice and Ruin is rich, vibrant and immersive, with two parallel gameplay styles to sit back and enjoy.
Farm Together
There's a lot of great indie games on the Switch, and Farm Together sticks out as one of the best options if you're looking for a casual, laid back farming simulation experience.
This game follows a simple premise. You're in charge of an ever-expanding plot of land, where you can farm all manner of crops and tend to all kinds of animals. It's a management simulation game, where you can put it down for a few hours and come back to see the crops in season and ready to pick.
There's nothing particularly remarkable about the story aspect of this game, and it's much more suitable for someone who's looking for a chilled, casual gaming experience.
It's similar to older clicker games that you might have played on Facebook, yet manages to be interesting and compelling.
There's a decent online multiplayer option for this game, where you can play with up to 8 people at a time. I was pleasantly surprised to see that there's an option to place restrictions on players so they can't mess up your farm, making for a relaxing and approachable multiplayer experience.
Farm Together is charming, with a cartoonish art style and simple gameplay style. It's not the most innovative game on the market by any means, but it offers a pleasant, relaxing gaming experience and is a stellar example of what a casual gaming sim should be like.
Story of Seasons: Pioneers of Olive Town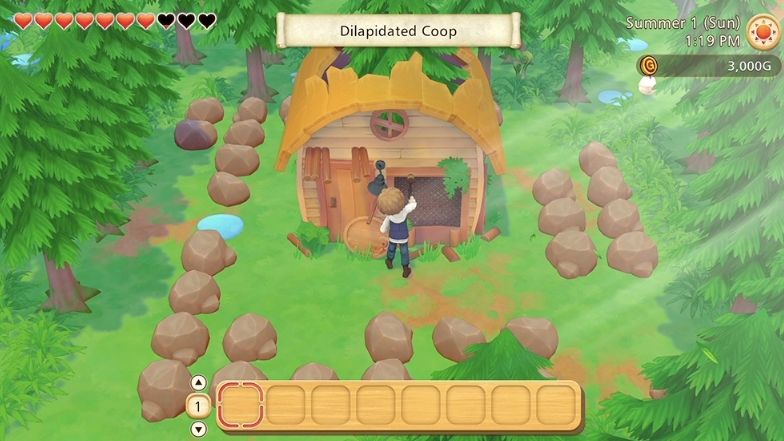 Story of Seasons is a staple in the farming game genre, and there's plenty of these games to enjoy on the Nintendo Switch.
Pioneers of Olive Town is a particularly delightful addition to the SoS series that focuses on restoring an old, run-down farm that the main character has inherited from their grandfather. You'll be befriending the townsfolk, raising animals and looking the farm.
I was pleasantly surprised by how much there is to do in this game. You can explore nearby mines, take advantage of the vibrant crafting system, flirt with villagers or finish quests to unlock important items. It's a bustling world, with lots to keep you occupied.
This game looks beautiful, with a charming art style and a vast world to explore. The sheer scope of the world does mean that the game struggles with frame rate a little here and there, but it's nothing game breaking.
Story of Seasons: Pioneers of Olive Town is a warm, inviting game with plenty of content to keep you happy for hours on end. The crafting system is immense (and a little overwhelming in places) and there's plenty of friendly characters to keep you occupied.
Stardew Valley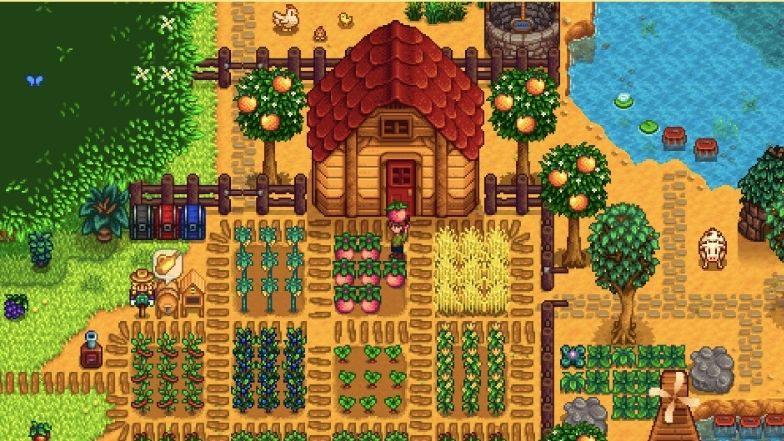 Whether you're brand new to the world of farming games or a seasoned agricultural pro, you're sure to have heard of Stardew Valley. It's a game that has developed a cult following, and with good reason.
While this game certainly is a farming simulator with a typical 'inherit a farm, live off the land' premise, there's a lot more depth to it.
There's a village full of NPCs to befriend (or even marry), a mine to explore, side quests and puzzles, in-game events, fish, pets to collect, an Adventurer's Guild to level up in… the list goes on. You'll never run out of things to do.
Stardew Valley runs incredibly well on the Nintendo Switch too, with smooth controls and a delightful graphics style. The saving process can be a little slow and laggy, but other than that, the game plays like a dream.
I cannot recommend Stardew Valley highly enough.
This game is colossal in size, with something to keep you interested for days on end. The world itself is charming, the characters are loveable and the controls make the game a joy to play through.
If you haven't tried it out, definitely pick up a copy today- you won't regret it.
Rune Factory 4 Special
Rune Factory 4 Special manages to be one of the best farming and casual action games on the Nintendo Switch. I've already mentioned the delightfully confusing nature of the hybrid Rune Factory series, but couldn't leave this one out of the list.
This particular title is a re-release of a 3DS game, and it's been polished to perfection. This edition has kept all of the charm of the original game, while adding in new features, intuitive controls and beautiful graphics to help it thrive on the Nintendo Switch.
The game starts with your character (a soldier trying to make a delivery to a dragon) being knocked off an airship, getting amnesia and being mistaken for a royal. From there, you'll find equal measures farming and exploring to keep you occupied.
There's a wonderfully vibrant farming system in this game, with seasonal traits, fishing and cooking too. The exploration aspect of the game offers in-depth dungeons and lots of monsters to battle, some of which you can befriend to live on the farm with you.
Rune Factory 4 Special is a real treat if farming games are your genre of choice. There's everything from romance and farming, to dungeons and battles. What's not to love?
The Stillness of the Wind
Looking for a change of pace? The Stillness of the Wind moves away from the typically bubbly, upbeat vibe that farming games often offer, and presents a much more meditative, melancholic experience.
The general premise here is that you're playing as Talma, an elderly woman who is in charge of a small farm. Talma lives a solitary life, tending to the farm by herself and reminiscing about family and loved ones who have left her behind.
It's a beautiful game, and paints an incredibly rich picture of Talma's life.
The farming mechanics themselves are quite repetitive, and some quest lines or tasks can even be frustrating at certain points.
In my opinion, that was an intentional choice. The game is meant to feel slow and winding, encouraging you to focus more on Talma and the life that she's living.
This is a short game, but it's one that I'd encourage you to try out nonetheless. There is a lot of fun to be had with The Stillness of the Wind, but you'll have to completely change your perspective on farming games to truly immerse yourself in it.
Cozy Grove
If you've ever wanted a creepy version of Animal Crossing, you're in luck. Cozy Grove is a relaxing yet eerie addition to the world of farming games on the Nintendo Switch, and it's ideal for casual gamers with limited time on their hands.
This isn't strictly a farming game- there's other elements like helping out the (dead) villagers on the island and crafting interesting items. The main mechanic is fetch quests, but there's a fantastic farming element in the game and I felt it was a relevant title for this list.
This game was designed with small bursts of gaming in mind.
There's only a certain amount you can do each day, with the game encouraging you to take breaks and not sit for hours on end playing it. It's perfect if you want a chilled game to play on the train home from work or after class.
The game itself is beautiful, and runs alright on the Nintendo Switch. It is worth noting that there are some performance issues to contend with- the loading screens take longer than desired, and the game can be clunky in places.
Cozy Grove is a lovely addition to the world of farming games on the Nintendo Switch, and it's an ideal pick for Animal Crossing and Stardew Valley fans looking for something new.
If you're willing to contend with a few performance issues, this game is a delight to play through.
Animal Crossing: New Horizons
Speaking of Animal Crossing, New Horizons has an immense following in the casual and farming game niches.
Again, this is not strictly a farming game, but there's a fantastic farming mechanic within it and it's a perfect fit for the niche. This game is more of a life simulator, where you're helping to build a community on a sunny island.
You'll be growing crops, crafting, fishing, catching bugs, taking part in events and a whole lot more. There's heaps to unpack in this game, and it has a dreamy, slow-paced feel to it. This is a game to sit with over a long period of time, with daily tasks and events to look forward to.
There's an immense amount of customisation and freedom to be had with this game. You can completely terraform your island and farm, choose what neighbors you want and fully customize your house and wardrobe.
If you're a fan of farming games like Harvest Moon and haven't played Animal Crossing: New Horizons, you're missing out. This game is a gem, and I can't recommend it highly enough.
Staxel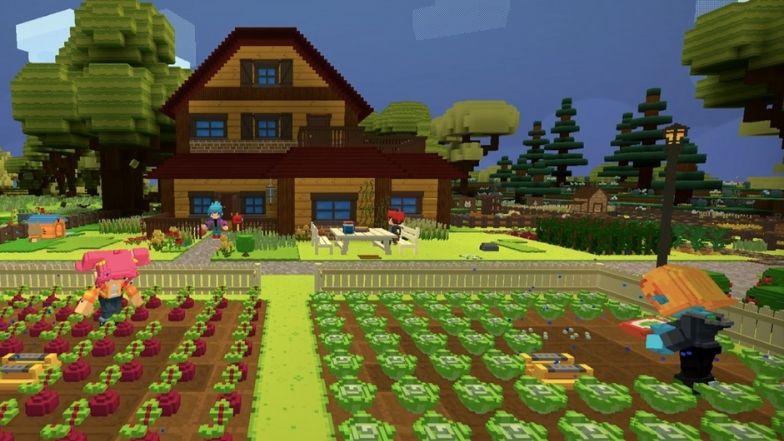 If you're a fan of Minecraft and Stardew Valley, this game is the perfect pick for you. Staxel is an immensely laidback farming game that takes place in a charming, blocky world.
It follows a very standard storyline for a farming game. You'll inherit a dilapidated farm, have to renovate it and get it up to scratch, and complete plenty of quests and challenges along the way. You can fish, craft, build and collect, alongside the main element of farming.
There are other gameplay elements to consider once you've found your feet, like achievement hunting, in-game events and characters to meet around the world. You can pick flowers, have pets and finish detailed craft projects to your heart's content.
There's a great multiplayer option available for Staxel, which makes it the perfect pick if you're looking for a game to play with loved ones after work or on a laid back weekend.
Staxel is a fun, light hearted game that's certainly worth checking out. The controls can be a little clunky in places – the building mechanics leave a little to be desired – but as a whole, it looks great and plays decently. It offers a chilled, vibrant world to immerse yourself in.
Garden Paws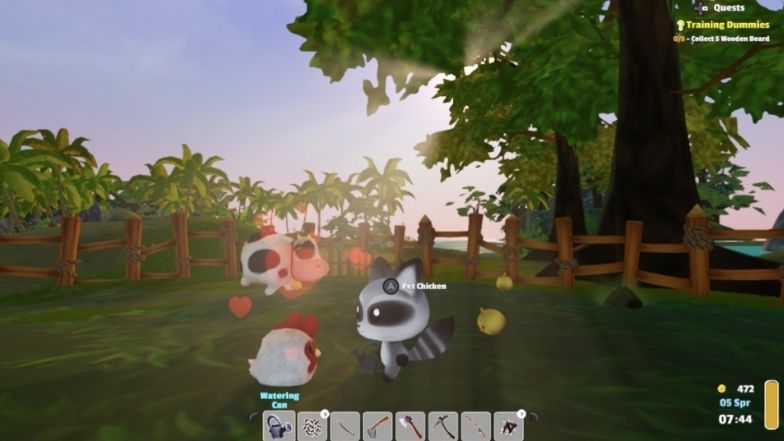 Garden Paws is one of the cutest farming games on the Nintendo Switch, hands down.
This adorable, cartoonish farming simulator takes the 'inheriting a farm from your grandparents' trope from the farm game niche and adds a nice spin- the grandparents are just off travelling the world.
You'll be restoring the local town, caring for the farm and selling produce from your work to fund new projects and creations.
In Garden Paws, you can farm, forage, explore, fish, craft, care for animals, run a shop, mine, explore dungeons and a whole lot more. It's a vast and adorable world.
There's a great multiplayer option available here, with the ability to play on your farm with your Nintendo Switch friends and explore the world together.
There's a real sense of limited time in this game, as there's so much to do and an in-game limit on how many hours there are in the day. It manages to throw a lot of tasks and challenges at you, without feeling stressful or overwhelming.
The game plays well, the world is colorful and the characters are loveable. It's a fantastic casual farming simulator to add to your library today.
Littlewood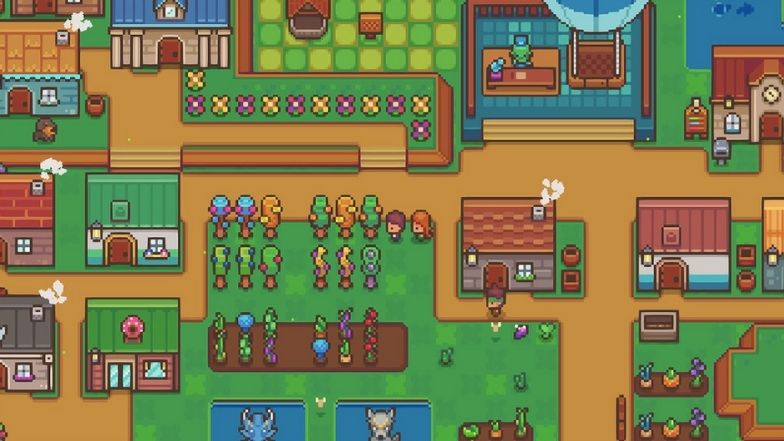 Littlewood is one of the most unique farming games on the Nintendo Switch.
The general premise is that you're a legendary hero who saved the local town from dismay. You suffered memory loss as a result of the battle, but the town remembers you and wants you to lead them into a relaxed, rural lifestyle.
You'll be able to do everything from crafting and mining, to woodcutting and bug catching. There's a heap of quests to complete, collections to complete and characters to befriend or even fall in love with.
Outside of the regular farming simulator tasks and challenges, there's also a wonderful town decoration/customization system and extra features like a card game similar to Hearthstone.
Littlewood is a truly peaceful and relaxing game, with plenty of loveable characters and delightful tasks to keep you busy. It plays beautifully on the Nintendo Switch, with intuitive controls and an aesthetically pleasing layout. I'm a big fan of it, and think you will be as well.
Hope's Farm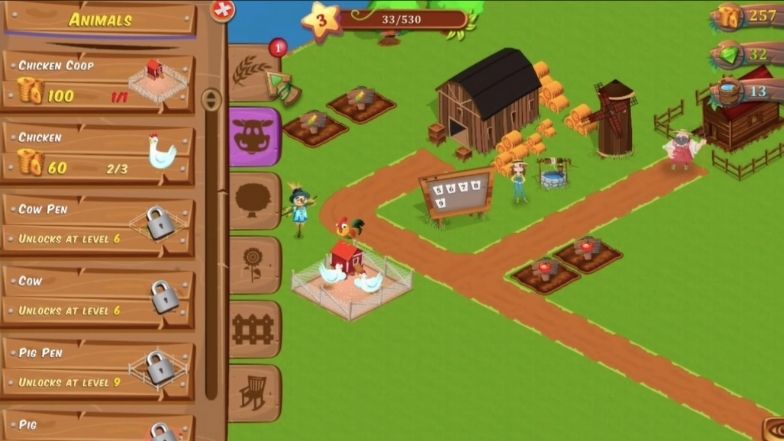 Hope's Farm is a delightful mix between a puzzle game and a farming game.
This game is predominantly a farm-themed puzzle game, where you'll be solving the puzzles to fulfil orders of produce from the farm's customers.
The farm management aspect is not as detailed as games like Stardew Valley or Harvest Moon, but it's cute and enjoyable nonetheless.
Hope's Farm is an incredibly approachable game, and would be suitable for newer gamers. If you're on the hunt for a farming game that's suitable for younger players, I'd highly recommend checking out this one.
Visually, Hope's Farm is charming and cartoonish. The art style is polished, and the game itself plays very well on the Nintendo Switch. It's clearly been designed with handheld controls in mind, and runs very smoothly.
Hope's Farm is not the most groundbreaking farm game by any means, but it's a lot of fun and offers simple, accessible gameplay. The puzzles are fun, the visuals are lively and the farm management aspect is enjoyable, too.