The 13 Best Sci-Fi Games on Switch
Image credit: Askiisoft
Science fiction, also known as sci-fi, is a branch of speculative fiction that centers around fictional scientific elements for entertainment. The sci-fi genre showcases science topics such as space discoveries and futuristic settings.
Undoubtedly, the best way to experience sci-fi amusement is through gaming.
There are so many sci-fi games on the market today, but none of them tops the games that are included in this article. These games can erase your boredom as each grasps different exciting gameplay mechanics and plots for you to discover.
From light-hearted sceneries to terrifying aliens, these games are a must-have for your sci-fi cravings. Here are, in my opinion, the 13 best sci-fi games on Switch:
The Artful Escape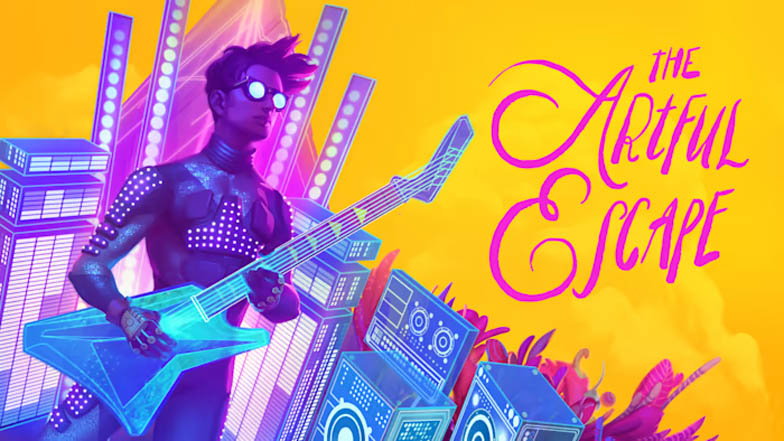 The Artful Escape is Annapurna's rocking sci-fi game that takes you on a cosmic level of gaming experience. The game is a mix of 2D platforming and rhythm elements that showcases a vibrant and colorful design that matches the game's glam rock soundtrack.
The game tackles a heartwarming self-discovery as you find what the true meaning of being an artist through the use of music is. In addition, the game touches you with its excellent storytelling delivery as it immerses you in the game's narrative.
Artful Escape has a simple approach to the gameplay mechanics that adapts platforming mechanics but with an interactive twist. The game allows you to do double jumps between platforms and glide through the air using shreds of your guitar.
Also, the game's center of attraction is its interactive gameplay as the environment responds to your music. When you make music using the protagonist's guitar, your surroundings interact with you.
Another game highlight is that you can have a jam session with the bosses on a rhythm segment. Here, you copy the sounds produced by bosses so you can make great music together.
Overall, The Artful Escape is a pleasant pastime and an excellent way to escape a stressful day. This game is truly one of the best sci-fi Switch games.
Into the Breach
If you love some tactical gaming approach, Into the Breach is the one for you. This game is a mecha tactical sci-fi game that showcases a 16-bit design that takes you back to the era of GBA.
Into the Breach's gameplay mechanic adapted a traditional tactical tile combat system but with a modern take. It also adopts a turn-based mechanic, which matches the game's combat system well.
In addition, the game offers a ton of exciting yet challenging objectives, such as saving citizens in the middle of battle. Not to mention, you need to maintain your power grid by capturing buildings around.
The game has a knack for making players plan and strategizes their actions, which you will use your mind most of the time. For example, using what mechs are effective in certain situations and which positions are good for them.
Furthermore, the game has several kinds of mechs, each of which has its characteristics and specialty. For instance, the artillery mech is a mech that can shoot projectiles over terrain or building.
Overall, Into the Breach is the best of both worlds if you have an eye for sci-fi and strategy games.
Gravitar: Recharged
Imagine an arcade cabinet in the palm of your hands, then Gravitar: Recharged is the game for that. It is a space shooter game that displays a modern vector design but gives players a retro vibe because of its gameplay.
This game is the revamped version of the original game called Gravitar from the arcades in the 80s. The game lets you go over space and travel to each planet in the system for you to destroy.
Not to mention, the objectives you need to finish in the game are simple and easy to complete. You can also obtain power-ups from the planets you've been to.
Recharged retains its rotate and thrust gameplay mechanic that performs well in modern controls from the Switch. There, you can grasp the motions of the game as you can test them in the free space of your exploration.
Moreover, it would be best if you had some time to practice and embrace the motions of the game as it gets slippery at times. However, once you've already got the momentum, you can shoot down enemy spaceships and reactors in no time.
All in all, this game is an excellent addition to your sci-fi adventure in gaming.
Hyper Echelon
If you love some old-school space action, then Hyper Echelon is the game for you. This game is an indie space shooter that gives players a nostalgic feel because of its 16-bit retro design and soundtrack.
The game highlights fun gameplay as it embraces traditional vertical shooter mechanics that remind you of arcades back in the day. On top of that, the game also offers challenging boss fights and objectives to accomplish.
What makes this game so impressive is its addictive gameplay loop that almost you can't get your hands off your Switch. The game allows you to shoot enemies with significant tasks to finish the job.
Echelon's game progression has a unique approach to what we know about today. Instead of start-to-finish progression, the game allows you to travel different planets as long as you finish a particular objective.
For instance, there are levels in the game where you need to save creatures from advancing to the next planet. Also, it would help if you shot down certain monsters or defeat bosses.
With that being said, this unique take on a classic space shooter is one of the best sci-fi games on Switch today.
Void Bastards
Another title added to this list is this impressive and unique sci-fi game called Void Bastards. It is a roguelike first-person shooter game that captures the charm of a sci-fi game from head to toe.
Void Bastards is an unusual yet amusing game to experience as it embraces rouge-like elements that complement the game's first-person view. Also, the game feels like straight out of a sci-fi comic book as the game also adapted a cell-shaded rendering.
The game is a sure hit for players that loves surprises and unexpected scenarios as the game highlights challenging gameplay. Additionally, countless rooms are designed with unknown items and prisoners.
Although the game has adapted rouge-like mechanics, expect the game will get tough and challenging gradually. However, dying in the game is not a burden as you can retain the items you looted from your previous run.
Moreover, the game displays all-action gameplay as you can shoot down enemies in different ways to neutralize them. For instance, it will save you some bullets as they blow up by shooting objects near the Tourists.
That said, if you're looking for a game that takes you on a different sci-fi gaming experience, then Void Bastards is the game for you.
The Outer Worlds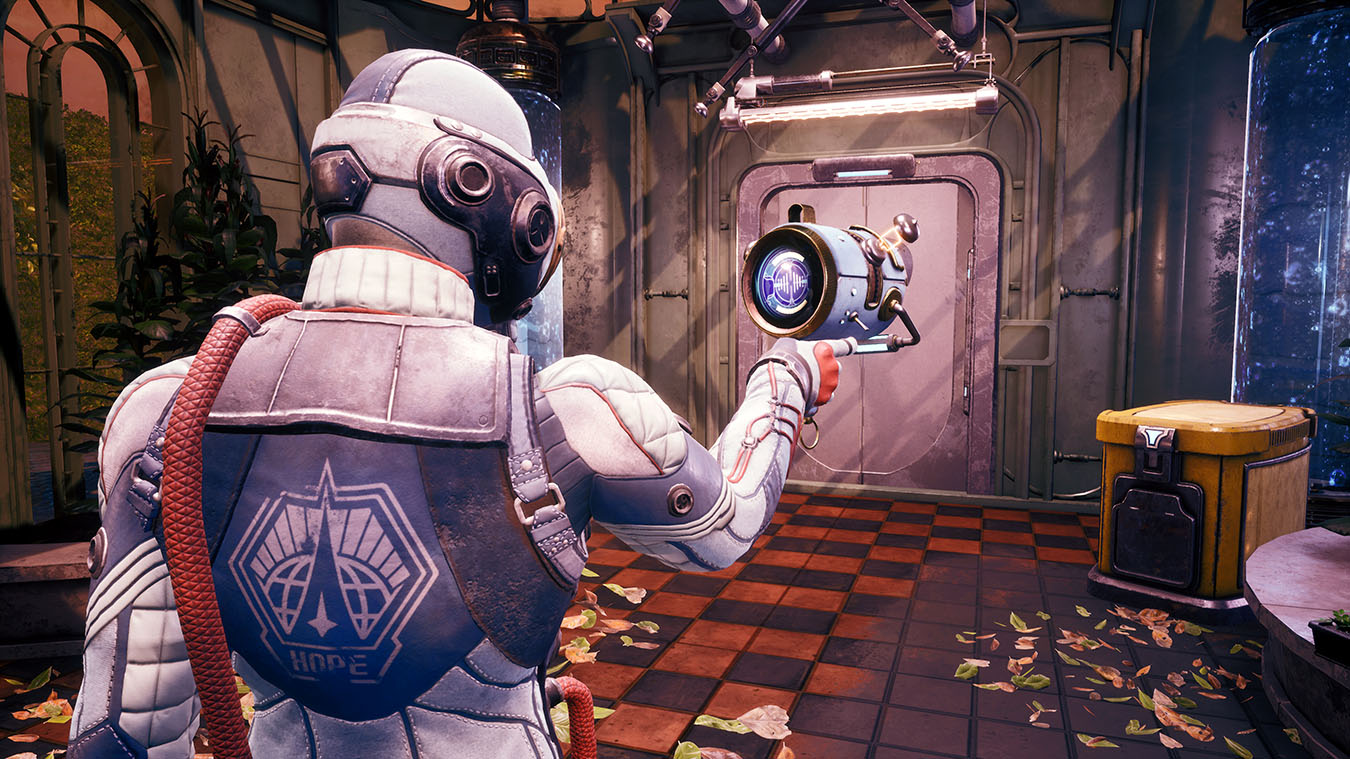 The Outer Worlds is a game for players that are hardcore fans of the sci-fi genre. It is a first-person ARPG exhibiting an action-packed game splashed with scientific discoveries.
The Outer Worlds gameplay reminisces players with Fallout New Vegas as both are developed by the same studio. In addition, the studio highlights an adventure galore that complements the game's minimal looter shooter system.
Also, the game's combat is interesting as you can have companions to aid you in battle. For instance, you can recruit NPCs in the game by conversing with them or completing their quests.
On top of that, you can also use the companion abilities when the fight gets more serious. Each companion's diverse playstyle and abilities significantly affect each duel's outcome.
The game also has an interactive touch to the mechanics as you can upgrade your Dialogue skills by selecting which replies you want to tell. You can be either intimidating or persuasive based on the dialogues you can select on the conversation tab.
Overall, this game is a magnificent addition to library. The Outer World is considered by many to be one of the best sci-fi games on Nintendo Switch. 
Hyper Light Drifter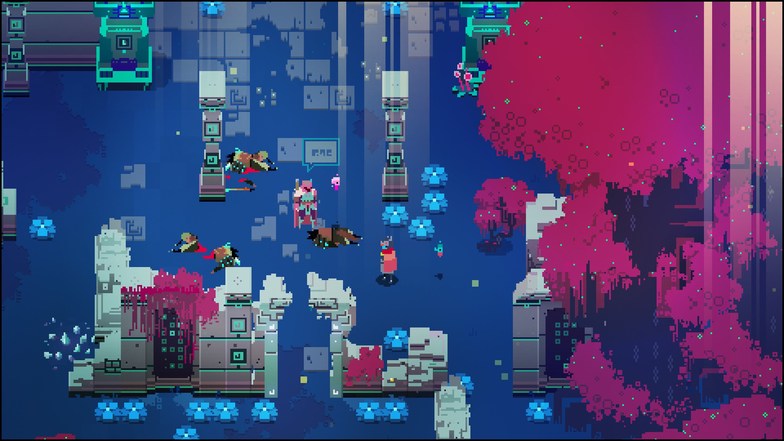 Hyper Light Drifter is where A Link to the Past meets Diablo, which brings a fiesta of fantasy and sci-fi elements in one package. In addition, the game showcases a magnificent delivery of the story and gameplay mechanic.
HLD will give you a nostalgic feeling as the game embraces a smooth pixelized approach to the graphics that complement the story's direction. Also, the game's synthesized soundtrack truly brings out the serene atmosphere of the game.
The game's exploration makes it shine, allowing players to wander around to discover what lies beneath the game. In addition, players can freely explore to witness the game's world-building and lore.
The combat is also worth noticing as the game embraced hack and slash elements in which you can simultaneously perform melee and range attacks. Additionally, you can upgrade the protagonist's stats and weapons to deal massive damage to enemies.
You can also switch melee weapons to your firearm in an instant. There, you can zone your enemies when the fight overwhelms you.
With that being said, this game is the one if you're in the mood for an indie sci-fi experience. So, get this game in your library to witness a game like any other.
Warframe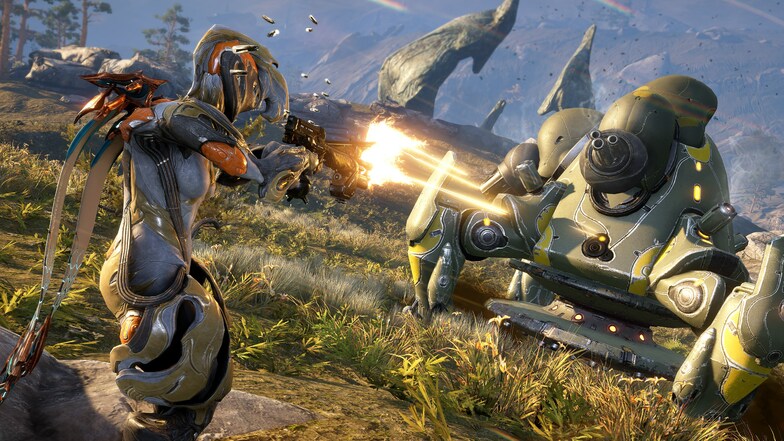 It is not a good sci-fi list without having this fantastic sci-fi action game called Warframe. This free-to-play MMORPG game showcases fast-paced action and a smooth mobility system that drives you in every time.
The game also offers a vast amount of content that sometimes feels overwhelming. However, it is rewarding after several attempts to obtain the items you like. Also, what makes this game fun is the grinding process.
Although Warframe's core gameplay loop is a bit simple and repetitive, the game is still playable as it offers many modes for you to play and enjoy. Additionally, there are missions in the game that come in different objectives, such as survival and the disruption mode.
In addition, the combat system is one of the best features in the game, which displays a good amount of all-action experience. The game embraced hack and slash and run-and-gun combat elements to bring a much quicker action performance.
Furthermore, the game allows you to equip different kinds of Warframe, the staple armament that comes in different shapes and sizes. For example, the Rhino Warframe is a big, bulky tank Warframe specializing in defense capable of sustaining damage from enemies.
That said, Warframe is a good game if you want to reach new levels of sci-fi experience in gaming.
Subnautica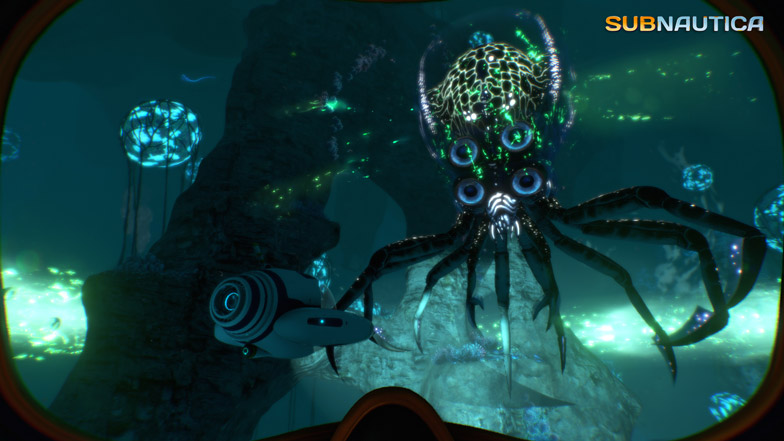 If you like survival set in an underwater world full of dangerous nautical monsters that try to devour you, then Subnautica is your game. It is a first-person survival game that boggles our minds about what it feels like to be stranded in an unknown place.
Subanautica is also a great open-world game if you're in the mood for one. The game allows you to explore and survive in the depths with the risk of you being attacked or eaten alive by the creatures of the sea.
In addition, the game is depicted as a deep-sea diver simulation but with deadly underwater animals and restrictions available. However, Subnautica gives players freedom of adventure as you can scour and witness the beautiful sceneries presented in the game.
In addition, you can scavenge for valuable resources to attain survival underneath the water. For example, you can gather raw materials such as coppers and golds for crafting other items for specific purposes.
Watching the creatures do their mundane life underwater gives players a tranquil and peaceful atmosphere perfect for relaxation.
With that being said, Subnautica is a nice pick for a maritime survival gaming experience.
Katana Zero
Indie games tend to surprise us, especially this innovative and immersive game called Katana Zero, which packs laborious gameplay and astonishing action. This game is a great indie 2D action platformer set in a dystopian future with cyberpunk and samurai themes.
Katana Zero's visual design is an excellent example of a modernish retro aesthetic that embraces vibrant pixel graphics, smooth sprite work, and a fantastic soundtrack. As a result, the game gives off an 80s sci-fi flick feel like the famous Blade Runner series.
The game's combat system embraced simple hack and slash elements which complement its complex platforming mechanics. In addition, enemies and level designs increase their difficulty when you progress gradually, making it more challenging than the last.
To supplement that, you can neutralize enemies with a single hit; this also applies to Zero. It includes deadly traps scattered at each stage in the game.
But of course, the best feature of the game is the precognition ability of Zero, which makes players learn from their mistakes by going back to the start after the moment they die. Also, you can use his time slowing ability to avoid such traps and deflect projectiles.
Moreover, Katana Zero is rich with exciting dialogue.
Metroid Dread
Metroid Dread is the newest addition to the classic Metroid franchise, which created a whole new genre because of its unique take on the gameplay. It is a sci-fi Metroidvania game that follows a brand-new story and approach that captivates both old-timers and newcomers.
This beloved franchise is an instant hit for players in the mood for some spectacular sci-fi experience. That is why this excellent Metroidvania game is considered one of the best sci-fi games on Switch that you can have today.
Dread features a new planet and enemies, which retains its classic gameplay mechanic full of discoveries and surprises that you can encounter. Additionally, players can experience the game's signature progression as you need to locate pathways around the area.
What also shines the most is the game's fluidity in combat and mobility, as each movement and battle are smoothly performed as the game is responsive as ever. In addition, the boss fights are a magnificent catch to players as they are designed to be diverse and complicated as you progress.
Also, there are tense moments in the game, which this game feels like a sci-fi thriller at times because of the EMMI. The game also still adds a hunter, which this tenacious robot is pursuing you.
Overall, Metroid Dread is the cherry on top of your sci-fi cravings. So, you are missing out if you don't have this game already in your library.
XCOM 2 Collection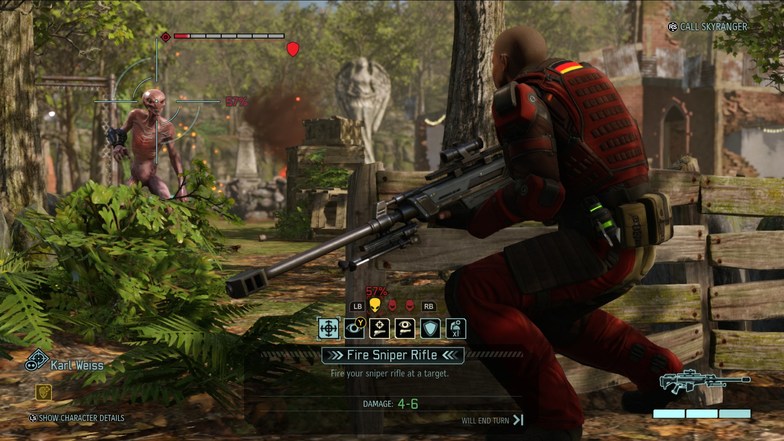 If you are into some tactical sense of gameplay that centers around aliens and galactic action, then XCOM2 Collection is the one suited for you. This game explicitly delivers the sci-fi genre by sending players to the strategic gaming field.
XCOM 2 Collection is an award-winning game that contains a collective of exciting content, such as the War of the Chosen expansion pack and 4 DLCs. On top of that, the game has been around since 2016 and still holds up until today.
This game is interesting because it is the only strategy game that brings hype to players with its premise, full of badassery and action. Battling against or with aliens will sure bring the sci-fi enthusiasm within you.
XCOM 2 also offers a squad and character customization in which you can build your desired squad. Not to mention, you can create each recruit with their playstyle to synergize with another.
The game embraced its turn-based tactical combat system from its predecessor yet brought new exciting features into the mix. For example, the addition of the Concealment mechanic lets you sneak behind enemies to initialize an ambush.
Overall, this sci-fi Switch game puts players' minds into thinking, which requires you to strategize each mission you face.
Bioshock: The Collection
Bioshock: The Collection is a collective of games that comprise the Bioshock trilogy. It is an action sci-fi game with a first-person perspective to give players an immersive and cinematic experience.
This critically acclaimed game is famous for its captivating story in which it tackles conspiracy and mystery. Not to mention the amount of action delivered from this game captures you with an instant with a degree of driving you in.
Exploration is also a must in this game, as you can freely roam and backtrack around the city of Rapture to collect items, money, and ammo. In addition, the game is genuinely story-driven, as you can acquire audio logs that supplement the game's overall plot.
Bioshock's gameplay mechanic grasps first-person shooter mechanics, which supports the perspective of the game. On top of that, you can acquire weapons and abilities that you can use to shoot and bash infected beings.
Upgrading your weapons is sometimes a mindful thing; however, in Bioshock, you can upgrade weapons and abilities without overthinking them. There are enough weapon upgrade stations positioned throughout the game, and you can upgrade twice with the weapon of your choice.
All in all, Bioshock: The Collection is a thrill ride experience that offers an unbelievable combination of a handful of contrasting genres.