Horror games can be quite divisive.
For some, there's nothing worse than the idea of a killer chasing them down narrow hallways or hiding from an alien on a torn-apart spaceship. For others, though, it's an ideal Friday night.
To help you find the spookiest picks, I've pulled together the best scary games on Switch. As horror games can cover some intense subjects, please do make sure to research trigger warnings where needed.
Here are the 13 best Nintendo Switch horror games to check out today, covering everything from sci-fi and haunting RPGs, to folklore horror and eerie puzzle games.
Detention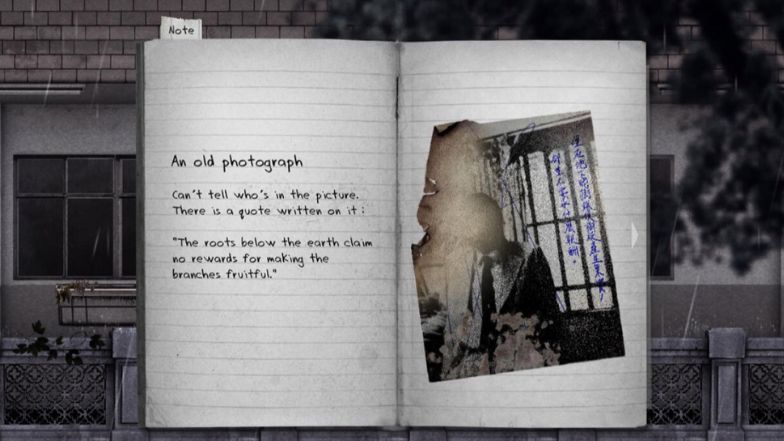 Indie developers have made the horror niche their own in recent years, and Detention is one of the best spooky games on the Nintendo Switch right now. It's incredibly well made.
Covering some intense topics like natural disasters and martial law, Detention is set in 1960's Taiwan and presents a bleak, unsettling storyline.
It begins with the protagonist falling asleep in class and waking up to find a deserted, destroyed town and a parade of unsavory ghosts who feast on the flesh of the innocent.
Detention is, at its heart, a puzzle game. There's a large number of great puzzle titles on the Switch, so it's great to see the developers pushing the genre and approaching it from another angle.
The puzzles in this game aren't too tricky, but still offer a nice level of challenge to keep you busy. There's a survival aspect to this game too, as you must time your movements around the bleak landscape to avoid the flesh-eating ghouls.
Unlike a lot of big horror titles that rely upon loud noises and jump scares to build tension, Detention uses a masterful soundtrack and visual cues to slowly create an atmosphere of dread.
2D horror point-and-click games aren't exactly known for this style of horror, so this was a refreshing sight. It's a gem of a game and certainly worth checking out.
Alien: Isolation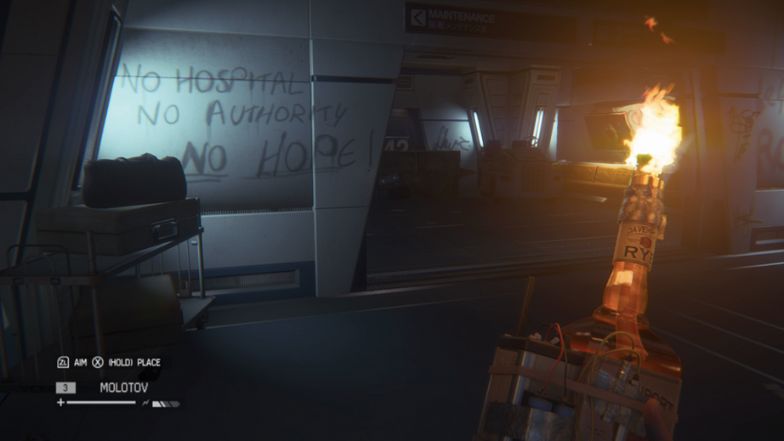 Moving on from indie games to industry names, Alien: Isolation is a stellar example of how to nail a port for the Nintendo Switch.
If you've ever seen an Alien film, you'll know the general gist of this game already. You need to work your way through the Sevastopol space station (which has been recreated perfectly, I might add) and complete quests and challenges, while being stalked by the Xenomorph alien.
The alien is really the star of the show here. The Xenomorph works with a startlingly lifelike AI that knows exactly how to create tense and worrying situations onboard the ship, chasing you around and building a genuine sense of dread.
The game itself plays like a dream (or fever nightmare) with smooth controls, flawless graphics and an overall stellar user experience. There are hardly any performance issues recorded, and it plays well in both handheld and docked mode.
Alien: Isolation is a household name in horror video games for a very good reason.
If you're looking for a genuinely scary Switch game with a decent story and an immersive sci-fi world to lose yourself in, this is a fantastic game to pick.
Stories Untold
If you ever read any of the choose your own adventure books growing up, this is a title that's sure to take your fancy. Stories Untold is a text adventure style game with an eerie vibe.
Stories Untold is actually a series of 4 shorter games packed into one title, with each one presenting a different vibe and aesthetic. My personal favorite is The House Abandon, but each and every aspect of the story is polished and incredibly enjoyable.
It would be a crime to write about this game without acknowledging how perfectly the developers nailed the 1980s aesthetic and pop culture references. If you like games with an 80s flair, this will be one of the best horror games on Nintendo Switch for you.
A lot of love and attention to detail went into this game, and one of the best examples of this is in the way that you're expected to interact with the environment. The solutions to each puzzle or challenge that you're presented with require a healthy dose of creative thinking, and finishing each stage feels very satisfying.
Stories Untold plays very well, with intuitive controls and a pleasant user experience. It is quite a short game, but it still offers an immense amount of variety with the four stories that it encapsulates.
Corpse Party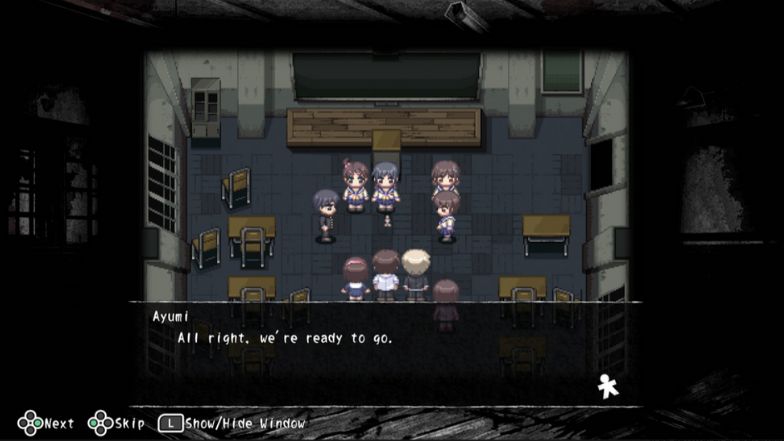 Out of all the games here, I'd say Corpse Party is one of the ones with the biggest cult followings. This game creates an immensely tense, unsettling atmosphere with a memorable story and plenty of genuine scares dotted throughout.
It takes the format of an RPG with visual novel elements, with the main location being a school that's been transported to an alternate realm.
The host of students that you meet throughout the game have either faced hungry ghouls, battles with other students or the elements. Each character has a rich backstory, and you'll jump from person to person as you try to figure out a way to escape the school.
As this is a very story-centric game, the majority of the gameplay is you walking throughout the school, navigating hazards and triggering the next part of the dialogue. It can feel frustrating for those inexperienced with the genre, as each chapter has multiple bad endings and you'll need to complete each one successfully to move on.
Corpse Party looks and sounds great, with a highly unsettling soundtrack (it's a little heavy on the scream sound effects) and detailed images to go alongside the charmingly eerie pixel art.
If you're a fan of pixel art games and you're looking for the next best addition to your library, this is the pick for you.
Fatal Frame: Maiden of Black Water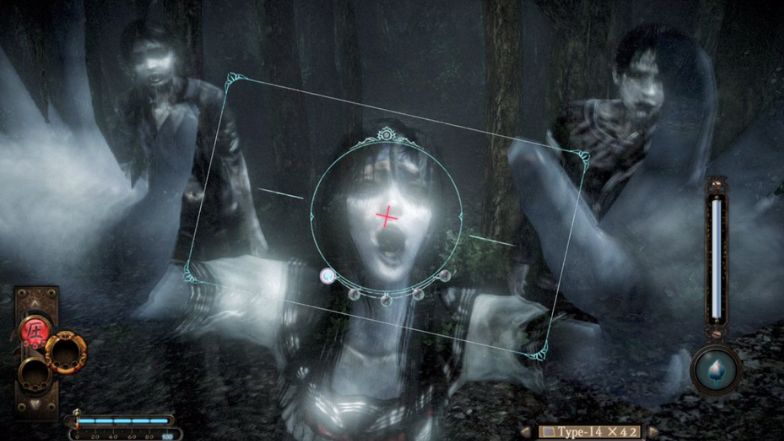 The Fatal Frame series is extensive, and can be somewhat divisive with horror fans. If you can get over the fact that you're polaroid-ing ghosts to death (undeath?) then the series offers a rich survival horror experience, and this addition to the franchise is no different.
Fatal Frame: Maiden of Black Water, also known as Project Zero: Maiden of Black Water, is a great addition to the crowds of horror games on Switch, with some dark themes, unique gameplay features and memorable monsters.
There are multiple protagonists that you'll be following, each of which is trying to solve a mystery involving shrine maidens and a curse.
Something that I like about this game is the fact that you can play through it in episodes, and replay them whenever you like in order to get a higher rank. If you get a higher rank on episodes, you'll be able to unlock rewards like currency to buy new character costumes.
The aesthetic side of this game is incredible, with dark and eerie environments that add to the tense atmosphere perfectly.
It runs decently on the Nintendo Switch, but it's worth noting that there are some performance issues. Nothing game-breaking, but it can be a little choppy in places.
Fatal Frame: Maiden of Black Water brings something unique to the list of horror and survival games. It's an enjoyably odd title that's worth checking out for both seasoned and new horror fans alike.
Resident Evil Revelations Collection
If you're even remotely familiar with horror games, you're sure to have heard of Resident Evil. It's one of the biggest horror franchises in the world, with everything from video games and movies, to animated films and comics.
The Resident Evil Revelations Collection is a brilliant package of spooky games for the Nintendo Switch, combining both Resident Evil Revelations and Resident Evil Revelations 2 into one game.
The general premise for the first game is that you're playing as fan favorite Jill Valentine, exploring an abandoned cruise ship that has been infested with the undead. When you're not playing as Jill and her partner Parker Luciani, you'll be playing through in a different spot as Chris Redfield and Jessica.
In the second game, you'll play through as Claire Redfield with Moira Burton, stranded on a disturbing and remote island. The counterpart to this story line is Barry Burton, playing through with a young girl named Natalia who has strange and unusual powers.
These titles both offer qualities that classic Resident Evil fans are sure to love. There's heaps of creative and sometimes silly monsters (zombie fish, anyone?) and claustrophobic corridors with creepy camera angles.
There's a truly tense atmosphere in both titles, with some genuine frights and unsettling moments.
There's a lot of value for money here. When you buy this collection you also gain access to the Raid mode for both games, which is a multiplayer free-for-all. You also gain access to extra unlockable content and character costumes, too.
I'm a massive Resident Evil fan so I am somewhat biased when it comes to this game collection, but I heavily encourage you to check it out. It offers a lot of value and content to explore, with two games that play well and look great on the Nintendo Switch.
Oxenfree
Out of all the games in this list, Oxenfree is one of the most captivating and memorable. This ghost story looks beautiful, and plays like a dream on the Nintendo Switch.
The general premise here is that you're playing through the game as Alex, a member of a group of teenagers who get stranded on a 'deserted' island and are trying to survive the night.
This is a very story-driven game where multiple playthroughs are arguably a necessity, so avoid this title if that's not your bag.
The atmosphere in this game is tense and eerie. One of my favorite things is the handheld radio that Alex uses throughout the game. It picks up everything from otherworldly songs and conversations, to ear-splitting howls and crackling static.
Despite this being a shorter game, I think it offers great replay value. There's so much to explore and unpack in Oxenfree that you're almost certain to not find it all the first time around. This is a game that you can pick up over and over again, without feeling bored or stuck in a loop.
From a technical POV, this game plays well and looks great on the Nintendo Switch. It's a visually charming game, with smooth controls that you can switch over to touchscreen controls if you desire.
With a soundtrack to die for, plenty to uncover and bite-sized gameplay sessions, this game is one of the most interesting spooky games on the Nintendo Switch. If you like story-driven games that require a little digging and exploration, this is perfect for you.
Layers of Fear: Legacy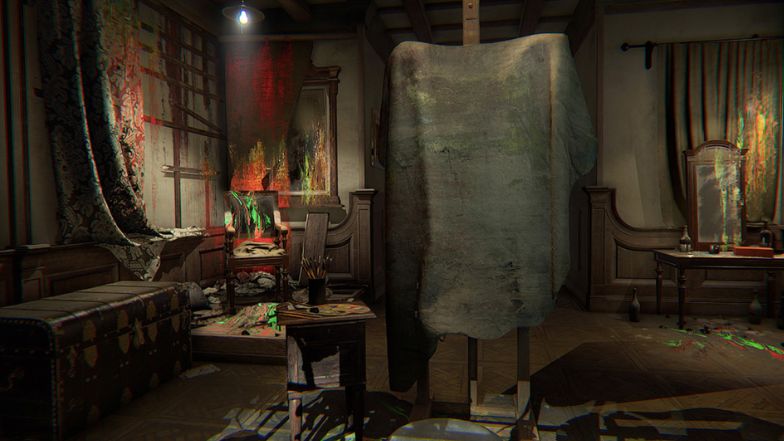 As a horror fan, I find that it takes a lot for a horror game to truly unnerve me nowadays. I like to think I'm hard to scare but Layers of Fear: Legacy gave me a run for my money. This game is tense, unsettling and immensely dark.
Arriving on the Nintendo Switch as a port of a 2016 game, it's fair to say fans were hesitant to sink their teeth into this title. Thankfully, this port is incredibly well made and it plays fantastically on the Switch.
The controls make sense, the visuals are immense and the soundtrack is great, too.
The main storyline here follows a painter and his slow, painful descent into utter madness. The game starts with him coming home to his creepily deserted mansion, beginning work on a massive painting that is sure to cement his artistic legacy. It spirals from there, with plenty of gory twists and turns.
The visual element of this game is important to highlight, as the entire story takes place in the mansion and it has been designed beautifully. As you progress through the story and learn more about the world around you, it morphs, warps and twists to fit the narrative.
If you're looking for a horror game that is more action-oriented, this isn't the pick for you. The pace is slow and there's more of a focus on puzzles and lore. If that sounds like your vibe, though, this is one of the best picks on this list for you.
Darkwood
Survival horror is one of the staple subgenres in the world of horror gaming, and Darkwood is a shining example of how to pull together a brilliant title.
In Darkwood, you'll be fortifying a small hideout in the middle of the woods and trying to survive night after night while all manner of monsters try to get inside to feast on your kidneys.
If you're only just starting out with survival titles and you're still finding your feet, this might be a title to miss for now. If you're looking for something deeply challenging and want to test your skills, pick up Darkwood. You'll love it.
Darkwood plays well on the Nintendo Switch, with an interesting top-down style of play and a creepy aesthetic. It's worth noting that there are a few glitches here and there, with the physics system seeming to have a mind of its own in places. There's nothing game-breaking though, and it performs well on the whole.
I was pleasantly surprised to see that Darkwood has interesting narrative elements sprinkled throughout it. I think it's fair to say that survival horror isn't known for being the most story-driven genre in most cases, so the vibrant characters and interesting nuggets of information really added to the experience.
Darkwood is intense and demanding, yet ultimately rewarding for survival horror enthusiasts. The world feels threatening at all times, and there's a real level of challenge here for experienced gamers.
Yomawari: The Long Night Collection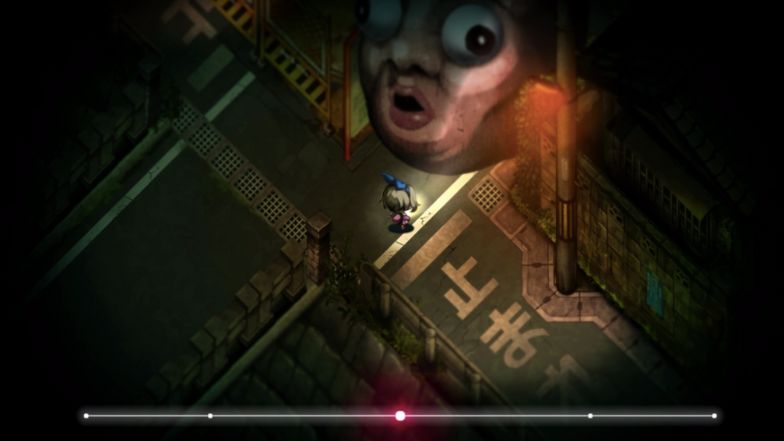 A lot of horror games on the Nintendo Switch rely on loud scares, dramatically gory monsters and constant pressure to create a sense of fear. While games like this can be a lot of fun, it's nice to see a horror game that is a lot more subtle and nuanced in nature.
Yomawari: The Long Night Collection is a duo of unsettlingly simple horror games.
Both Yomawari: Night Alone and Yomawari: Midnight Shadows have disarmingly sweet main characters that contrast heavily against the dark, ghost-filled worlds that the stories take part in.
I won't dive too heavily into the stories for both games, as it would be very easy to spoil them and they're worth experiencing first hand. They're both full of creatures from Japanese folklore, and there are some really unsettling moments that will put you on edge.
As with the last game in this list, this is really a game that I'd recommend for more experienced gamers as it's quite unforgiving.
The majority of the gameplay is stealth based, and almost all of the monsters are too strong to fight or distract. It's very easy to get instantly killed, forcing an immediate respawn. It's very satisfying to work your way through a level, but it's worth noting that this game can be frustrating if you're not used to this kind of gameplay.
Both Yomawari games are scary and unsettling, with memorable scenes that will give you shivers. If you're on the hunt for a melancholic survival game with a folklore theme, this is one of the best games for you to check out today.
Outlast: Bundle of Terror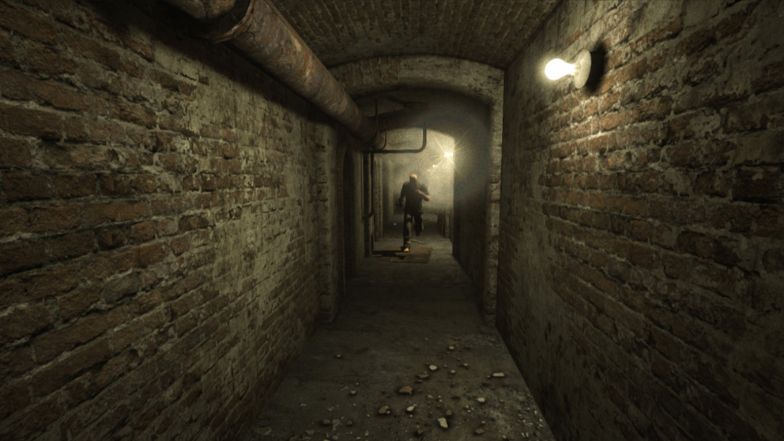 Outlast: Bundle of Terror is another incredible example of a horror game collection that doesn't allow you to fight back against the monsters. It's a survival horror game, with elements of mystery and stealth thrown in for good measure.
Outlast: Bundle of Terror consists of the main Outlast game, combined with all of the extra DLC. There's heaps of content to work through, and it all performs brilliantly on the Nintendo Switch with no notable issues or quirks.
The general premise in Outlast is that you're an investigative reporter named Miles, who is investigating the Mount Massive asylum. The asylum is under the control of the Murkoff Corporation, and you end up there as a result of a whistleblower.
This is a truly terrifying game, with all manner of disturbing elements like gore and human experiments, cults and supernatural beings. The hide-and-seek style of gameplay can get a little repetitive in places if stealth survival horror isn't your vibe, but if you enjoy this game style, it's absolutely worth trying.
Outlast: Bundle of Terror combines a stellar survival horror game with solid DLC, offering immense value for money. It looks and plays well, with a great soundtrack and crisp graphics too. There's a brilliant story to follow along with, and it's a must-play for any horror fans.
Spirit Hunter: Death Mark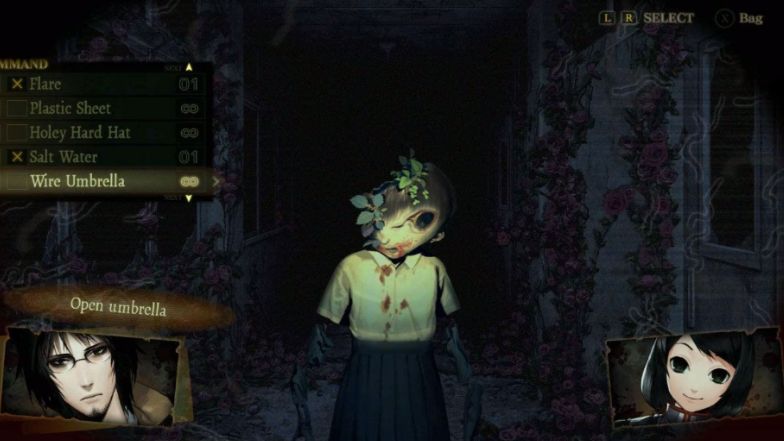 Are you a fan of text adventure games and visual novels? If so, Spirit Hunter: Death Mark is a great pick for you. This is arguably one of the best visual novel games on Nintendo Switch, with a compelling story and a deeply disturbing, immersive world.
The general premise in Spirit Hunter: Death Mark is that you're an amnesiac who has a mysterious mark on their arm. Everyone else who has had the mark so far has died, so you're on the hunt for answers in a mansion that is meant to protect those with the mark.
Upon setting foot in the mansion, things escalate quickly and you'll be tasked with battling ghosts, solving riddles and uncovering the truth about the mark. It's a dark and eerie game, and your choices throughout it affect the end result.
The point and click puzzle aspects are very satisfying to solve, with mechanics that remove potential frustration yet require you to think on your feet. As a whole, the controls make a lot of sense and the game performs very well on the Nintendo Switch.
If you're looking to pad out your library of spooky games on Nintendo Switch, this is a wonderful title to check out. It offers a unique perspective on modern horror, and would be ideal for both experienced gamers and new horror fans alike.
Little Nightmares 2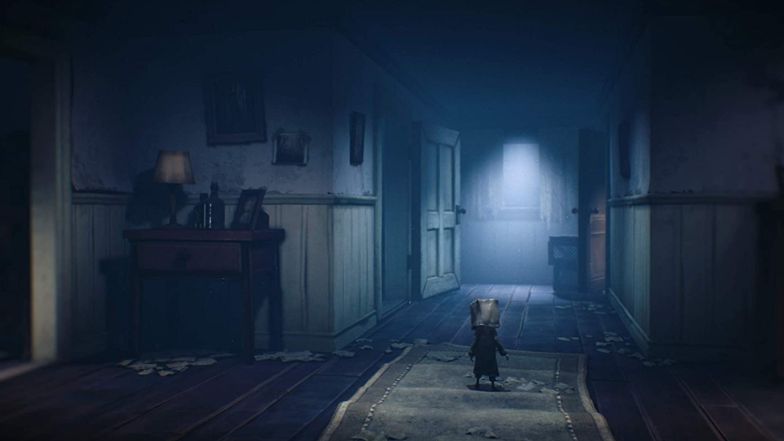 The final game on this list of the best horror games on Switch, Little Nightmares 2 is a premium example of how to blend puzzle-platformer gameplay with elevated horror.
The world in Little Nightmares 2 is visually stunning and skin-crawling in equal measures.
It's described by some as a cinematic horror game, and I'd have to agree. With a solid performance on the console, this is certainly one of the best looking spooky games on Nintendo Switch.
Unlike the original game where you played through as one character, there are two characters that you'll follow throughout the world here. The original character, Mono, works alongside the character Six from Little Nightmares: Complete Edition.
Sadly, there is no multiplayer but the addition of the second character is unique nonetheless.
I'm a huge fan of Little Nightmares 2. It's clear that the developers put a lot of love and attention to detail into this game, and the world feels alive when you're moving through it. This is a game that puzzle fans and horror fans will be able to meet in the middle on – it's not overtly scary, the puzzles are challenging and it has a beautifully eerie atmosphere.