Fishing is a pastime that's enjoyed by many people all around the world, whether they do it for fun, to compete or simply to get a tasty meal for dinner.
This variety of reasons for fishing applies to the world of fishing games, too. Some of them are fun and laid back, some of them are fiercely competitive and some of them are in-depth simulation games where you have to pick the right lure for the right situation.
To help you find a great catch for your eShop adventures, I've picked out the 7 best fishing games for Nintendo Switch in this article.
Fishing Star: World Tour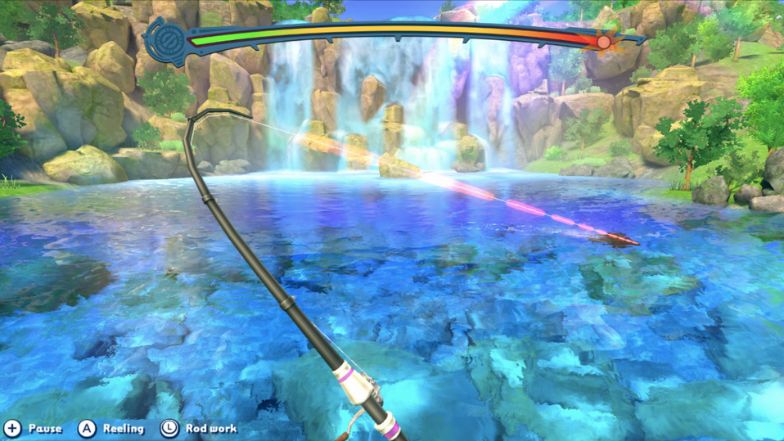 Fishing Star: World Tour is one of the best fishing games on Switch for new fishing fans and people looking for a lighthearted experience.
This arcade style fishing game is a lot of fun, with lots of rods and lures to choose from in order to catch the desired fish. There's plenty of beautiful areas in the game to unlock via missions, where you'll need to catch specific quantities and types of fish.
While this certainly isn't the most competitive or realistic game, it is a lot of fun to play.
The game looks lovely, with charming environments and a decent soundtrack to match. The arcade style controls can be a little finicky at first, but they work well and there are no notable performance issues.
There isn't much of a narrative here, except an introductory segment which has been translated and written in a somewhat clunky manner. If that doesn't deter you, then this is a wonderfully calming game to pick up for your Nintendo Switch today.
Reel Fishing: Road Trip Adventure
There are plenty of simulation and farm-heavy games on Switch that offer great fishing content, like Stardew Valley and Animal Crossing.
Fishing tends to go hand in hand with RPG and sim games, but I'll admit that Reel Fishing: Road Trip Adventure is my first time seeing an RPG exclusively based on fishing.
The story follows a group of students who are members of their university's Fishing Club. They stumble upon a fish-related piece of artwork in a museum, and learn about a local legend from a stranger nearby. The story unfolds from there, with plenty of fishing and missions to keep you occupied.
This game has an RPG levelling system built in, where the characters will get fishing missions for the day and receive boosts to stats like level and stamina.
The fishing experience itself is somewhat paired back, but the controls make sense and it feels like a great match for the RPG content. As a whole, the game performs well on the console.
The graphics are somewhat simplistic for the genre, though, as fishing games tend to focus on creating beautiful scenery.
This isn't the most expansive fishing game on the market, and definitely focuses more on the story than the fishing. If you're looking for something unique to add to your library of fishing games, though, this is a game that I'd absolutely recommend checking out.
Rapala Fishing: Pro Series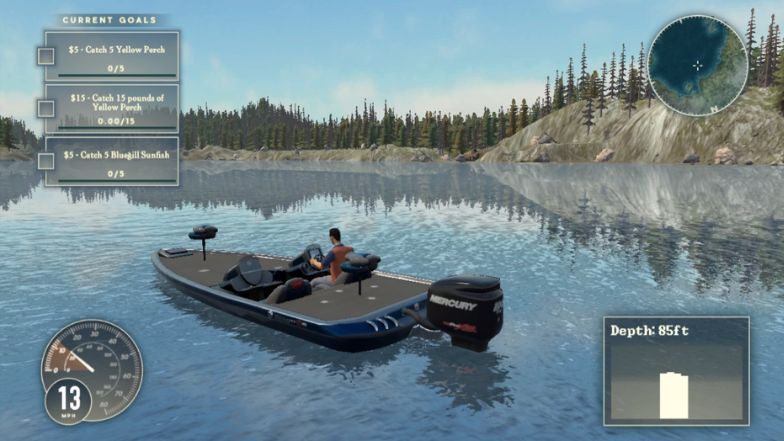 Rapala Fishing: Pro Series is another example of how fishing games work perfectly with arcade style controls and content. This is a fun, fast-paced game that is somewhat reminiscent of a mobile game in places.
The aim of the game here is to become the best angler possible, competing in lots of solo challenges where you'll need to catch specific fish and quantities of fish in order to win money. You'll need to upgrade your equipment in order to find new and interesting fish, and to compete in the more difficult challenges.
It's not just solo challenges that this game offers, either. There's a tournament mode where you'll battle against an AI foe to catch the three biggest fish. There are monster fish in this game, which are exceptionally difficult to catch.
There's also an online daily challenge mode where you can compete against players around the world for spots on a leaderboard.
This game looks alright, but it performs well and has intuitive controls. Out of all the games in this list, this game has some of the best controls, with a simple combination of the D-pad and R2. It plays well overall, and I would encourage you to check it out if you're a fan of fishing or arcade games in general.
Fishing Paradiso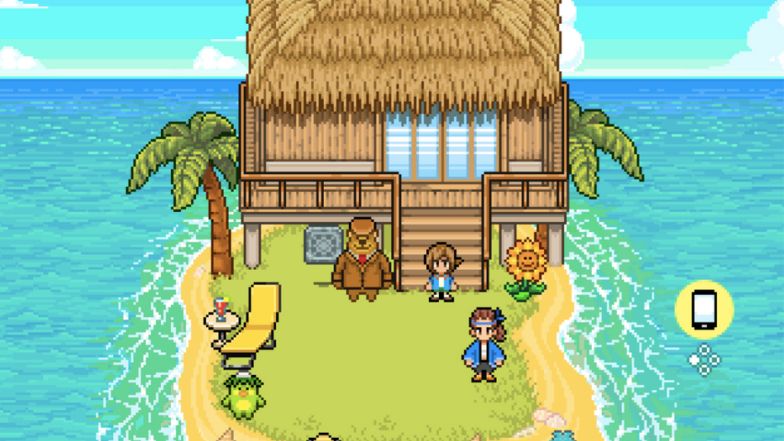 If you're a fan of fishing in Stardew Valley, this is a fantastic pick for you. Fishing Paradiso is a melancholic yet soothing fishing RPG where you're a new arrival in the afterlife trying to find your place.
This title began life as a mobile game, and it's been brought over to the Nintendo Switch in a thoughtful and polished manner. This game looks great, with a pixellated graphics style and charming characters dotted throughout the world.
As your character makes their way through the afterlife, you'll stumble upon many side quests and little challenges to distract you from the main storyline. I was pleasantly surprised to see how much content there is in this game, as there's lots of areas to unlock and bits of the story to uncover as you go.
There's plenty of fishing gameplay to explore, with mechanics that offer just enough challenge to keep it interesting but still maintain the calm nature of the game.
This is truly my favorite title in this list. It's whimsical and charming, yet still hits all the right marks for a solid Nintendo Switch fishing game. This is a game that's suitable for experienced fishing fans and new players alike.
Fishing Fighters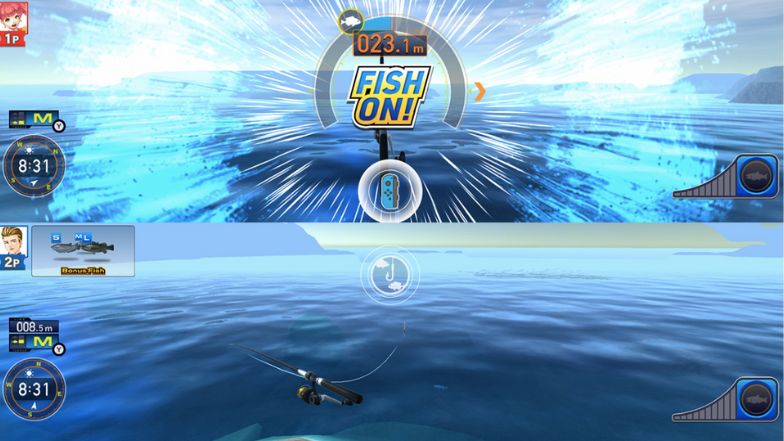 There's heaps of great anime games on Switch, and Fishing Fighters stands out from the bunch as one of the most unique to me. It's a lot of fun to play through, and ideal for fishing fans who are looking to switch up their usual game picks.
You play through the game as Kaito, who is entering a legendary fishing tournament on Mizugami Island after receiving a letter about it from his father. From there, you'll encounter heaps of colorful characters and challenges as competitors battle it out.
In terms of the actual game performance, the visual novel aspects look great and the fishing aspects look fine. The game is not groundbreaking, but it fits the console well. The controls can take a while to master and can be clunky in places, so it's worth keeping this in mind.
There's a great multiplayer option with this game too, so if you're looking for a fishing game to play at your next games night then this is the ideal title for you.
There is a lot to learn with Fishing Fighters, as there are heaps of fish, rods and lures to learn about as you progress throughout the story. I was happy to see how in-depth the story goes, and would say that there's a decent difficulty spike.
Fishing themed anime games might not be everyone's bag, but this title certainly adds a unique spin on the classic fishing simulator games that the eShop is full up with. If you're looking for something new and interesting, why not give this title a go?
Luna's Fishing Garden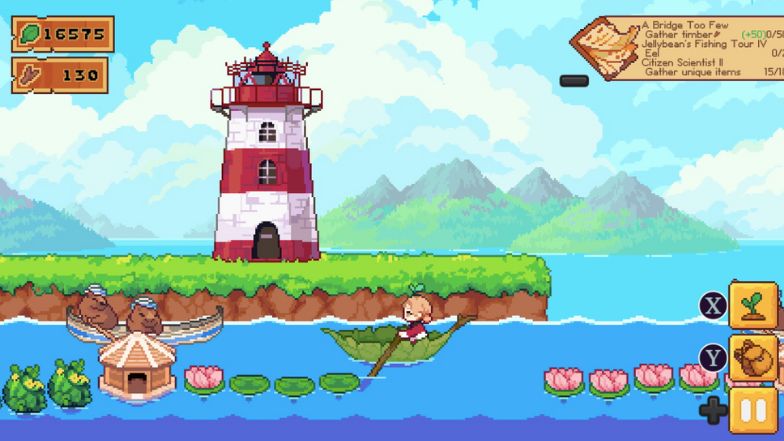 I've spent a lot of time looking through fishing game reviews and eShop listings while researching for this article, and I've come to the conclusion that the world of fishing games is almost a 50/50 split between fishing simulators and charming fishing RPG titles.
This game fits into the second category. Luna's Fishing Garden is a relaxing, laidback game that offers a split between fishing content and gardening content.
You'll play through the game as Cassie, a character who ends up in a dramatic storm and wakes up in the spirit world. Upon waking, she realizes that she has a sprout on her head and gets the task of creating a beautiful garden from the kindly fox spirit, Luna.
It's a gentle and laidback game, with a beautiful art style and easy, sensible controls. It performs very well on the Nintendo Switch, with no notable glitches or quirks. As the style of the game might suggest, the fishing mechanics aren't that realistic, but they're enjoyable.
This game is an utter delight, and I'm sure that you'll love it. It's a very short game, sadly, but don't let that put you off. It's one of the best fishing games on the Nintendo Switch, and it's worth snapping up a copy for yourself today.
Ultimate Fishing Simulator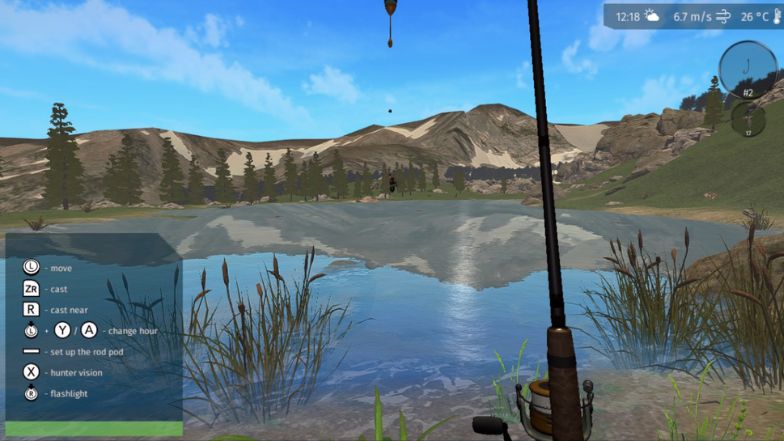 This is a game that's ideal for people who enjoy fishing in real life and are on the hunt for a simulation game that comes somewhat close to mimicking the actual pastime.
Ultimate Fishing Simulator is one of the only fishing sandbox games on Nintendo Switch, and it offers a lot of variety for players to enjoy. There's a solid levelling system to add a sense of progression to the game, and heaps of fish, locations and equipment to get to grips with.
Something that I love about this game is that there are multiple types of fishing to get to grips with. Aside from regular fishing, you can try your hand at other styles like fly-fishing or even ice fishing. It's a great feature that adds a lot more depth.
While I wanted to recommend this game on the basis that there's lots of interesting content and various fishing styles to enjoy, it's only fair that I mention that this game can be clunky in places. The graphics aren't spectacular, and it can take a while to get to grips with the controls.
If you can overlook the blocky textures and environments, though, this is a simulator game that's worth reeling in. There's a genuine sense of progression to the game with the levelling system and in-game economy, and plenty of types of fish to track down and catch.
That brings an end to this list of the best fishing games on Switch, I hope you found one that you can enjoy for hours on end!