To keep DiamondLobby free to read, this post may contain affiliate links. Learn more
The original ASUS ROG Pugio mouse was a wired version of this one. Like the Pugio 2, the original was an attempt by ASUS to build an ambidextrous mouse that would appeal to a larger pool of gamers than decidedly right-handed alternatives.
There's much more to these mice than the hand you use to control them though. The Pugio 2, in particular, comes with more buttons and generally more features and customization options. Overall, it looks like an improvement on the original – at least on paper.
I got a unit to test for myself, as it's my job to make your purchasing decision that much easier. I've given the mouse a thorough examination, so by the end of this ASUS ROG Pugio 2 review, you'll know exactly if it's for you or not.
Specs
The key specs of the mouse are as follows:
| Size (mm) | Weight | Sensor | DPI | Polling Rate |
| --- | --- | --- | --- | --- |
| 126 × 57 × 40 | 102 grams | Pixart 3335 | up to 16000 | up to 1000hz |
As far as specs go, nothing really stands out here. It's a fairly heavy mouse at 102 grams, but it's not a lot more than we've seen with other mice such as Razer's DeathAdder Essential (96 grams) or the Basilisk X Hyperspeed (105 grams).
Now that I think about it – do Razer have a thing for building heavy mice?
The Pixart 3335 sensor shows already gives us an idea of what tier to categorize this mouse into, and I say mid-range. It's far from the best one out there, but we've also seen it used on a supposed flagship mouse (the SteelSeries Prime Wireless) so I guess I should let it slide.
Moving on to the design of the ASUS ROG Pugio 2 mouse – I have mixed feelings.
Design
There is one color option for this mouse – black. Yeah, I know, it's getting boring but I don't particularly mind. I'd rather they keep it simple and safe than build a flashy multi-colored monster.
Following the trend of simple and safe coloring, the rest of the mouse is pretty simple too, design-wise. The plastic on the sides has some engraved bits that I assume were made to aid better grip, and there's a ROG logo singing with RGB lighting at the base of the plastic body.
You can spice things up a little bit by customizing the RGB lighting in the Asus ROG Armory software, but I'll expatiate on that later on.
Shape
In my experience, manufacturers that attempt to build an ambidextrous mouse often have to sacrifice something in the design. But I really like ASUS's take here.
The mouse has very few prominent bumps or curves, and where there is a curve, it's strategically located such that it fits right into the middle of my palm with my palm grip. Ever so subtly too.
Holding the mouse like that for a long time, I experienced no discomfort as my hand remained in a very natural position. Alongside catering to the often-forgotten left-handed users as well as the right, ASUS seems to have also cracked the code for making a mouse comfortable for as many grip types as possible.
Coating
The coating is unique, I must say. It's a matte finish, but a frosted type of matte. The top is a bit glossy, but not so much that it reflects too much light or gets uncomfortable to hold.
I mentioned the engraved plastic on each side earlier, and while they're supposed to help you to have a better grip on the mouse, I found them to be very distracting. They constantly rub against my thumbs and I really think ASUS could have done without it.
Also, it's a dirt trap that could have been avoided. However, you probably don't have to worry too much about dirt traps because the mouse is pretty easy to clean. You can remove most of its parts, so giving each one a proper wipe down should not be an issue.
Feet
Again, I don't like the approach that ASUS has taken here. The feet are plastic, but that's not enough reason for them to be as dreadful as they are. The DeathAdder Essential mouse had plastic feet too, and they were decent enough despite the fact that it was a budget mouse and this isn't.
I tested this ASUS ROG Pugio 2's feet on my MPC450 mouse pad and it makes it feel a bit better, but that's more because of the quality of the pad than anything else. It was dreadful on many other pads that I tried.
I think the thickness of the feet has a lot to do with how it's turned out. It's pretty thin in that regard, so if you're using a soft pad, there's a chance the mouse shell will press through the feet and scrape against your pad, causing the mouse to drag.
It would also explain why it felt better on my MPC450 pad because it's made of a tougher material that makes it hard for the shell to press downward.
Buttons and Switches
The ASUS ROG Pugio 2 uses Omron switches, rated for 50 million clicks. I've tested them across multiple mice in the past and they work just fine here too. However, I believe they're getting less popular by the day and it's a little strange that ASUS hasn't gone for one of the more popular choices.
Thankfully, you can hot-swap the switches here so you have alternatives if it means that much to you. Just take off the lower cover above the logo and it's pretty easy from there. Click play on my video review below to see what I mean.
The mouse one and two buttons work just fine too, with no pre- or post-travel despite the removable parts.
I mentioned earlier that the ASUS ROG Pugio 2 has more buttons than the original Pugio – it's got 7! This means that you get side buttons on both sides, and it's clearly done this way to improve the "ambidextrous" appeal of the mouse.
If you have no need for the buttons on either side, it's advisable to remove or replace them with something else that makes them unusable so they don't get in the way while you're using the mouse. I noticed that the right-side buttons do get in the way, so it's something to note.
The scroll wheel notches are nice, easy to use, and consistent. The click is solid and requires little force to trigger.
Performance
Wireless performance is nice and responsive. The cable is rubberized, so it might be inconvenient to use the mouse while charging it. However, you can just use a different cable or buy one even.
In-game, the performance of Pugio 2 was just okay. I couldn't get over those horrid feet, despite the fact that it got a bit better when I started using my MPC450 pad.
Software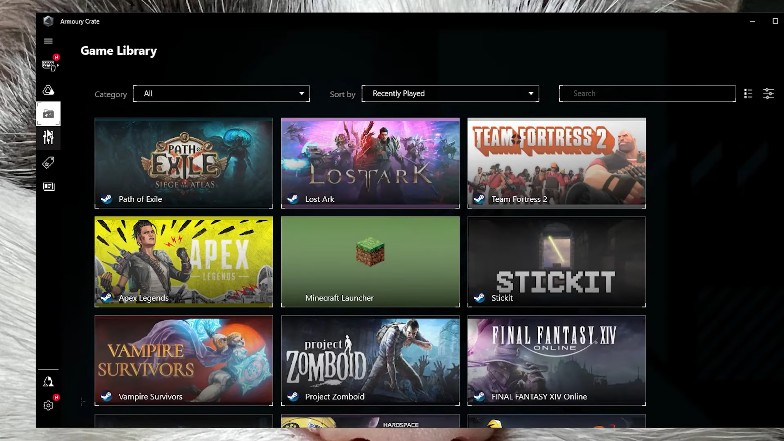 The ASUS ROG Armory software needs quite a bit of work. The UI is not intuitive, and the user experience leaves a lot to be desired.
It's more than just a channel to change your mouse settings, and I found all the other stuff very unnecessary. If you're going to include a hub for your products, at least give me the option of removing it while setting it up.
It's another area where the Pugio 2 is similar to the SteelSeries Prime Wireless. I mean, they had a whole giveaway section on their mouse software!
Anyway, when you eventually find your way to the mouse settings, you'll see that you can change all the basic stuff such as RGB settings, sleep timer, lift-off distance, etc. The wake-up time on the sleep timer is instant, so that's one area that the Prime Wireless can pick pointers from.
Battery
The advertised battery life for the ASUS ROG Pugio 2 is 80 hours. It's a good figure, but I'm not sure about how it is measured.
I noticed when I was charging the mouse that the battery level information was very inconsistent. It went up from 10% to 25% after an hour of charging, and then to 50% from 25% after only a few minutes.
I'm not sure if that was a defect with my unit or something that ASUS needs to look into generally, but it's something else to note.
Cost
Now, I have a real problem with the price of the ASUS ROG Pugio 2. At the time of writing, you can only pick one up for around $99 which is simply outrageous for a mouse of this quality.
Verdict
If I decided to overlook the price and give my verdict of the Pugio 2 on its quality alone, I would still find it hard to recommend.
Now, for that price? You're definitely better off looking elsewhere. It just has nothing going for it to justify spending a hundred dollars, which is around the same price you'd pay to have the Fnatic Bolt – a superior product.
There's a lot of stuff that had me thinking "why was this necessary" too, such as the swappable logo cover and the thin plastic feet.
I think ASUS could still go back, make some adjustments to the feet, the engraved plastic on the sides, the cable, the sensor, the software, the price, and all the other stuff I've talked about. If they do, they could yet salvage the Pugio line with their next attempt. For now, it's a no-go.
ASUS ROG Pugio 2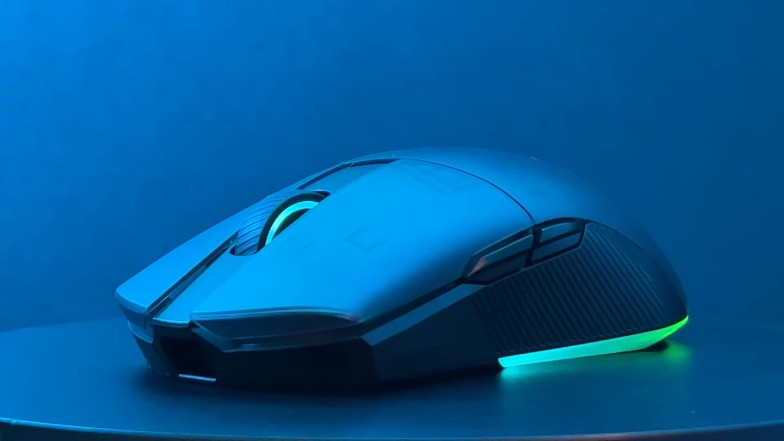 The ASUS ROG Pugio 2 has a variety of quality issues and a price that makes it impossible to recommend.
Pros
Nice scroll wheel notches and clicks
Ambidextrous design
Cons
Overpriced
Poor quality
Inconsistent battery indicator
Poor software
Rubber cable
Outdated switches
Plastic feet
Heavy