To keep DiamondLobby free to read, this post may contain affiliate links. Learn more
Since Vaxee was founded in 2019 by a group of former Zowie employees, the company has made a handful of tentative forays into the gaming gear market.
The Vaxee Outset AX was a decent gaming mouse for its price point, and they've got other interesting mice alternatives as well as mousepads, keyboards, and accessories.
Generally, manufacturers in the higher echelons of gaming gear production like to specify the intended use for their products. If it's a gaming mouse, they focus on including specific features that make for an excellent gaming experience and if it's for work, they build the mouse for that.
However, there are several mice in the market that are advertised as being effective for both use cases, and this Vaxee offering is one of them.
In this Vaxee XE mouse review, we carefully put the product to the test to see if it ticks all the important boxes that make a good gaming and work mouse.
Specs
Vaxee's packaging is, more often than not, quite bland. This case is no different as the packaging is a plain white box that contains the mouse and nothing else.
The specs of the mouse are as follows:
| Size | Weight | Sensor | DPI | Polling Rate | Switches | Connection |
| --- | --- | --- | --- | --- | --- | --- |
| 122 × 61 × 38 | 67g | Pixart 3389 | up to 3200 | 1000Hz | Huano | Wired |
The Vaxee XE is pretty similar in key areas to Vaxee's older offerings (such as the aforementioned OUTSET AX) in terms of the DPI, sensor, and switches, but there are a couple of significant changes as well.
Apparently, there's a rationale behind cutting down on the weight of the mouse. Usually, their mice fall within 70-80g, but they've cut it down to 67g because they believe that a smaller size makes for a better work mouse. I don't quite get that, but that's what they said.
Design
Seeing as this is a wired mouse, there is a cable attached to it. However, the cable is detachable so you can swap it out for another if anything happens to it. It has a buckle too to keep it sturdy, which is nice.
Shape
This is an ambidextrous mouse. We've seen more right-handed mice than ambidextrous ones from Vaxee in the past, so it's a welcome addition to that lineup.
If you've seen the Logitech G Pro Superlight mouse, then this looks like a smaller version of it in some ways. The Vaxee XE is 3mm shorter, 2.5mm slimmer, and 2mm shorter, but it has a similar shape to the Logitech. It does weigh 4 grams more though – beating that "Superlight" weight class is clearly not light work.
I would say that the Vaxee XE's hump gets engulfed by my palm much more easily due to that smaller physical footprint, and it does not feel as comfortable as the Logitech Superlight did (although it is comfortable), but both mice are generally visually similar in terms of shape.
Coating
The coating of the Vaxee XE is a pretty nice matte one that's also quite similar to Logitech's preferred approach.
It represents a detachment from the norm for Vaxee who have leaned towards glossy finishes in the past. Those gloss-coated mice were fingerprint magnets, but that is no longer the case here. The Vaxee XE's coating is grippier and definitely an improvement on what they previously used.
Feet
Another significant change has been made in this department. The smaller feet that we've seen with some previous models have been swapped for two large ones.
They're 100% PTFE, complete with a sensor ring and they feel super smooth on all the mousepads that I tested the mouse on. They're nice and chunky in size as well, which helps with consistency.
Buttons and Switches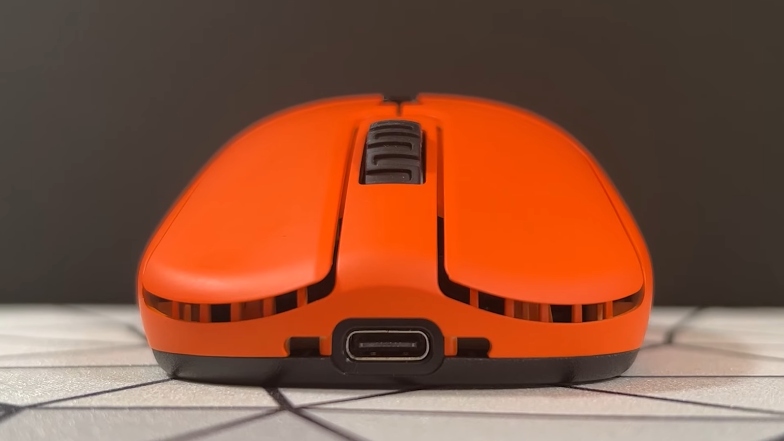 Vaxee advertised this mouse as fit for work and gaming, so I expected certain features that would reflect that versatility going into this review. I was not disappointed.
There's a button on top of the mouse that you can set for work-related functions such as page down, screenshot, or the emoji menu. It might sound gimmicky but I can actually see use cases for it that would save time.
The shape of the mouse makes it easy to reach the side buttons with a roll of the thumb, and the buttons themselves generally feel very nice.
Vaxee's preference for Huano switches is not exactly mainstream, but these switches are rated for 70 million clicks and are not a downgrade to most of the more popular alternatives that you'll get on other gaming mice.
They're crisp, consistent, and will not give you any issues, which is all you should expect from switches.
You should also expect your gaming mouse to have an excellent scroll wheel. While the scrolling function on the Vaxee XE is great (possibly the best out of all Vaxee and Zowie mice), it makes a really annoying "rusty spring-type" sound when you click the mouse3 button.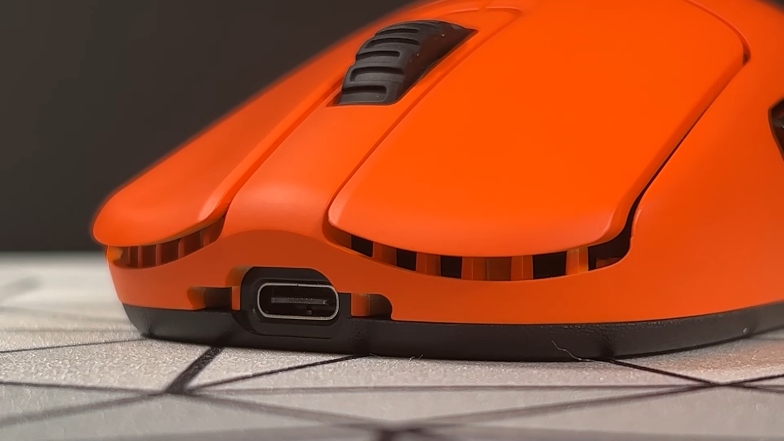 It sounded much worse on other Vaxee mice that I tested in the past, so it does seem like they've improved it. But, it is still annoying as I use the mouse3 button very often when playing DOTA2 and Apex.
The "work" button beneath the scroll wheel that I mentioned earlier can also be used as an extra bind for an in-game function if you want. It's easy to reach, so I can imagine that it would be useful for many people.
Performance
The Pixart 3389 sensor used here is the same as the sensor in the Vaxee OUTSET AX. That mouse was a solid performer in-game, and the same is the case with the Vaxee XE.
The default DPI choices are 400, 800, 1600, and 3200, which is perfect especially since there is no software for adjusting the settings. I've always felt like anything more than these four default choices is usually unnecessary anyway.
When gaming, the paracord cable does not get in the way, and the smooth PTFE feet contribute to the overall brilliant experience. The shape is also pretty comfortable, so extended gaming sessions should not be an issue for most people as long as the mouse fits properly inside your hand.
Still, I can't get over that god-awful scroll wheel sound, and it is the only reason why I would not tag my overall experience with the mouse for gaming as perfect. It is really off-putting.
Cost
You can get the Vaxee XE mouse on the manufacturer's website for $69.99. Additional accessories such as the Vaxee PA Mousepad (OUTSET or ZYGEN) can also be added to the package for an extra $29.99.
Verdict
Seventy bucks is a steep price for a wired mouse of this quality, especially with that garbage scroll wheel. However, I'm willing to give Vaxee the benefit of doubt and consider the possibility that my review unit has quality control issues.
If it turns out that this scroll wheel issue is the same across all their units, then it would make it really hard for me to recommend the Vaxee XE. However, I also recognize the fact that not everyone would be as bothered as I am about that "tiny" bit of detail, and they would pick it up regardless.
With that in mind, everything else about the mouse makes it a safe bet. It's simple, efficient, and comfortable. There is the question about the suitability of its ambidextrous shape for many people compared to specialized left-handed or right-handed mice, but if it suits you, then you'll love it.
Vaxee advertised the Vaxee XE as a mouse built for work and gaming, and I can confirm that it works great for both.
VAXEE XE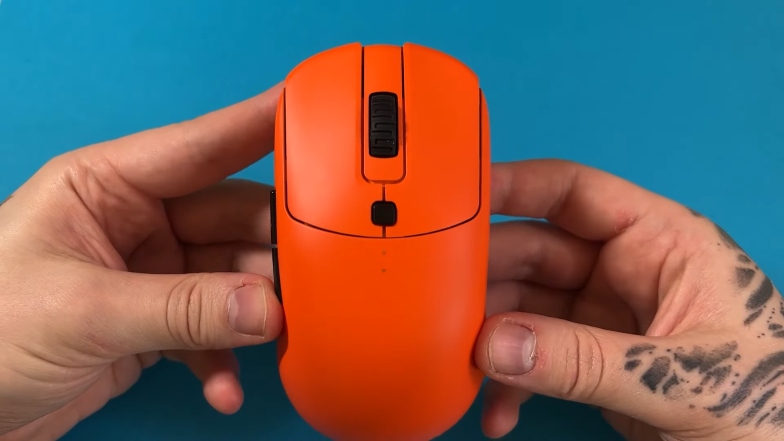 The VAXEE XE is a pricey wired mouse with a poor scroll wheel but is highly-rated by professional esports players.
Pros
Good for work and gaming
Comfortable to hold
Reliable performance
Cons
Expensive for the quality
Poor scroll wheel