To keep DiamondLobby free to read, this post may contain affiliate links. Learn more
"Glorious" is certainly an interesting name to dub a company that produces any form of equipment. I mean, it is an attention grabber, for one, and it is also a bold claim that puts a certain level of expectation on anything that you produce.
Glorious has only been around for a few years, but they made a decent amount of impact when they launched the wired mice, models D and O to target the affordable but high-performing gaming market.
Those products did okay, at least well enough to encourage the company to press on with wireless alternatives.
One such wireless alternative has been with me for a bit now, and I've put it through fairly rigorous testing to see if it holds up well against the competition.
They are certainly on to something with branding, but does this mouse live up to its name? Is it…glorious?
Read to the end to find out – this is my Glorious Model O Wireless Mouse review.
Price
At the time of writing this review, the Glorious Model O is priced at around $80, £80, or €90 on their official store. It's always worth checking Amazon for their latest price, in the likely event that you might pick up a deal.
Specs
So, out of the box, you get the mouse itself, a paracord Type-C cable, a USB receiver, and an adapter.
The key specs of the mouse are as follows:
| Size (mm) | Weight | Polling Rate | Sensor | DPI | Switches | USB Type |
| --- | --- | --- | --- | --- | --- | --- |
| 128×59×38 | 69 grams | up to 1000hz | PixArt 3370 | up to 19000 | Kailh gm8.0s | USB-C |
I should mention that if you go on the official product page for this mouse, you will see that there are two size options to pick from.
There is the regular Model O Wireless mouse that weighs 69 grams, and there is a Model O- Wireless mouse that weighs 65 grams and has slightly different dimensions.
This review was done with the Model O, but that bit of information is worthy of noting.
As you can tell from the dimensions and weight of the Glorious Model O wireless mouse, this is a compact and lightweight build.
I mean, it's not in the weight class as the impossibly light ASUS TUF Gaming M4 Air mouse, but it's still pretty light nonetheless.
Design
You get two color options here – matte black or white. The design is built to be ambidextrous (groan) and its shell is plastic with honeycomb cutouts (longer groan).
There is RGB lighting here, and it's not the overdone flashy type. It gives off some nice, soft color combinations with lighting zones that run across either side of the mouse and in the scroll wheel. No complaints.
Build Quality
As I said, the mouse feels compact in the hand and well built. However, it is still plastic so you may expect slight creaking sounds if you squeeze too hard.
The included paracord cable is excellent too. It is lightweight and stays out of the way when you have to leave it plugged in to charge the mouse while using it.
However, it does come with a pronged cable port which means that it may not be compatible with other devices.
Shape
The ambidextrous shape feels a bit flat for me. It feels like there's not enough real estate for my hand to grab on to, but I do have a fairly spread-out grip so there's that.
Also, I personally like to use mice that provide support for my pinky. If it's just dangling away from the body of the mouse all by itself, the mouse loses points for that.
Unfortunately, that was the case for me here. Despite all of that, I still found the mouse's shape usable, especially for fingertip and claw grips. My preferred palm grip does not work as well because the side buttons get in the way.
That was the point where I started to think that maybe this mouse just was not built for someone like me, but I digress.
Coating
Mice like the Glorious Model O Wireless with honeycomb shells typically have less going for them in the coating department, and that is still the case here.
However, from what is actually available to feel of the rest of the body, the coating is decent. In fact, I think the holes provide airflow that reduces the chances of getting the coat slick or sticky with sweat.
However, you should consider the fact that these holes also increase the chances of gathering dirt inside the mouse, although I didn't notice that much dirt in my time with it.
Feet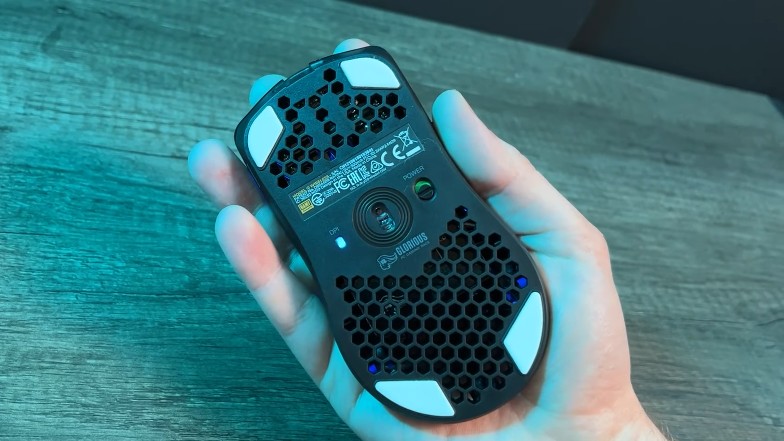 There are four standard PTFE feet beneath the Glorious Model O wireless mouse, and I like the thickness that they have to them. It reduces the chances of scraping across the desk or mousepad, so that's a point in the mouse's favor.
Buttons and Switches
In my experience with other Glorious mice that were released before this one, the mouse one and two buttons always had mushy clicks.
It was nice to find out that it's reduced significantly here. There is a bit of post-travel but overall, the buttons feel okay.
The side buttons, on the other hand, are a different case altogether. They are also built fairly well, but there's no explanation for the poor position that they've been placed in.
I mentioned earlier how they tend to get in the way when I use the mouse with my preferred palm grip, and if that's what you use too, then you should know that the side buttons will annoy you.
They are placed quite low on the body of the mouse, which makes them pretty close to my thumb and results in accidental clicks more often than I can manage. I think it could be a potential dealbreaker for some, or maybe I'm just overreacting.
There's a DPI toggle at the top, just below the scroll wheel. The scroll wheel itself is pretty great, and the mouse 3 click works perfectly too. It's my favorite part of the buttons and switches on the Glorious Model O mouse by far.
Software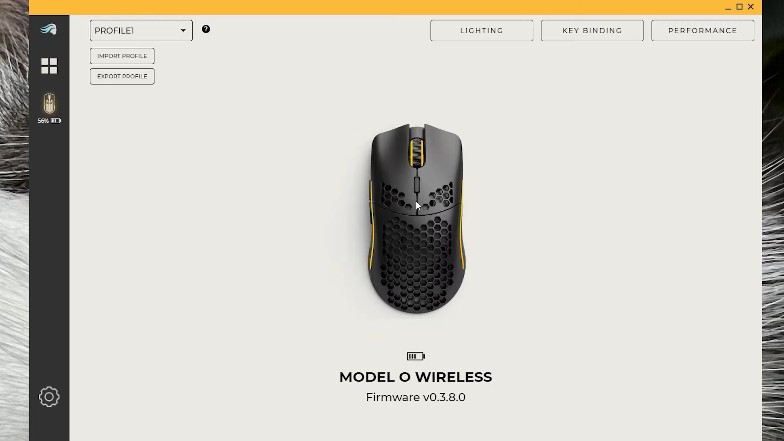 I'm not a huge fan of software when it comes to mice. In my defense, more often than not, the software that many manufacturers attach with their mice rarely offers anything significant.
In fact, in some cases, software is only used as an additional marketing tool to promote a manufacturer's other products, and they practically force you to install it if you want to use basic features on the mouse. It's annoying.
The one built for the Glorious Model O mouse is pretty simple, and the UI is nicely laid out such that everything is clear and unobtrusive.
Glorious has clearly put some effort into creating a clean experience, adding all the basic features that you can do with the typical mouse software, but I'm still unlikely to use this one anyway.
Performance
The Glorious Model O Wireless Mouse uses a Pixart 3370 sensor, but the manufacturer claims to have worked directly with Pixart for the version built into the mouse.
I can't confirm or deny that claim, but it's a fun fact at least.
The 3370 sensor is one of the best ones around, and it is really power efficient too. With this mouse, it was reliable and consistent and I expected no less.
In-game, the mouse performs impressively. It's pretty consistent and comfortable for long gaming sessions, as long as you don't use the palm grip.
Battery Life
You get 70 hours of battery life, but that's with the RGB disco turned off. I imagine that the polling rate you adjust the mouse to will also impact battery life, so you could potentially get more than 70 hours.
Verdict
As a whole package, it is easy to recommend the Glorious Model O Wireless mouse.
Yeah, I know I mentioned a couple of negatives, including something that could potentially be a dealbreaker for some people, but they are mostly inconveniences that you can find solutions for.
I think my judgment is also partly affected by the fact that I went into this review genuinely worried about what I would discover, based on my previous experience with quality control in older Glorious mice.
However, I am quietly impressed by the overall package and it shows that the company is serious about improving and making better products.
If you're comparing the Glorious Model O with competition such as the Fnatic Bolt or the Pulsar Xlite Wireless mice which are similarly priced, it does fall short.
However, this is a solid mouse in its own right, and it is absolutely worth picking up.
Glorious Model O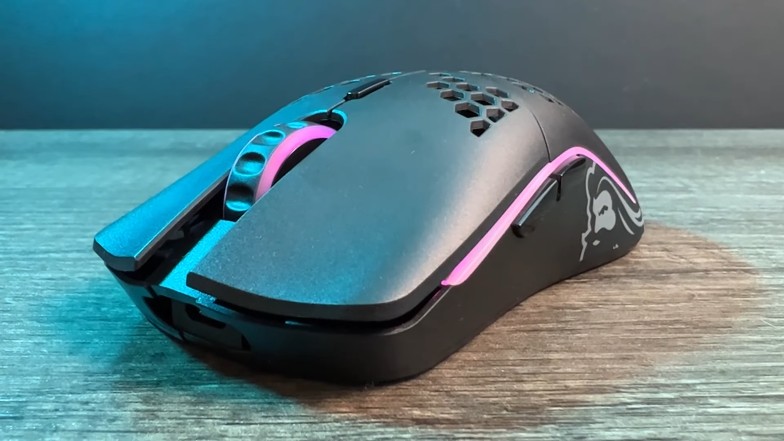 The Glorious Model O is an impressive mouse but falls short compared to some of similarly-priced competitors.
Pros
Good sensor
Clean software
Nice 69g weight
Cons
Not as good as competitors
Uncomfortable honeycomb holes
Small post-travel on buttons