To keep DiamondLobby free to read, this post may contain affiliate links. Learn more
Glorious may not have the longevity that a brand such as Logitech may have, but they definitely made an impression when they launched their first set of mice – the Model D and O.
This Glorious Model I wired mouse arrives a few years after that, so I imagine that the manufacturer has had some time to take feedback from users and build a product that is a much-improved version of the first set that they released.
They certainly need improvement, as the previous mice had a few important missing qualities. So, did they finally earn their name with this one? Read on to get my opinions and full review of the Glorious Model I Wired Mouse.
Cost
At $60, £70 and €75 at the time of writing, the Glorious Model I is not the cheapest mouse, but the price is okay. There are certainly much more expensive competitors on the market.
You can grab one on the Glorious PC Gaming Race site or check the latest availability on Amazon.
Specs
The unboxing experience is fairly basic. In the box, you get the mouse itself, as well as 6 swappable buttons.
For some reason, the dimensions of the Glorious Model I are not listed on the official product page, so I had to measure it myself. I used an unconventional measuring method, so please treat these numbers as estimates and not definite figures.
The rest of the key specs are also included in the table below:
Size (mm)
Weight
Polling Rate
Sensor
DPI
Switches
130×60×50
69g
(minus cable)
up to 1000hz
Glorious
BAMF sensor
up to 19000
Kailh gm 8.0
As you can see from the specs, this is a lightweight mouse. I should also mention that my estimated width does not include the thumb rest that sits on the left side of the mouse.
One thing that immediately stands out is the sensor used here. Glorious call it the "BAMF sensor", with absolutely no context to the name. I'll look past that for now.
Design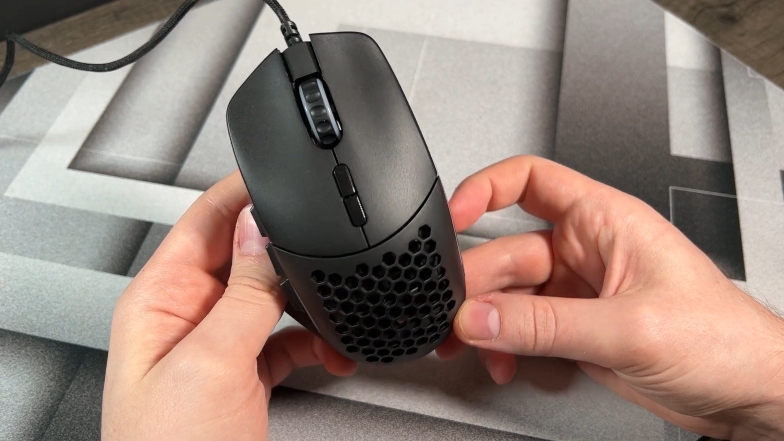 Handling the Glorious Model I mouse for the first time, my immediate thoughts were that this was a mouse designed for people with regular hands – not small, but not big either.
The black coating with RGB lighting is a bit of a dated concept, but it actually works fairly well here and strikes a nice balance between "gamer" and "simple".
The honeycomb design is likely to increase the chances of gathering dirt and other gunk in and around the mouse, but it should be easy to clean if you don't wait too long to do so.
Shape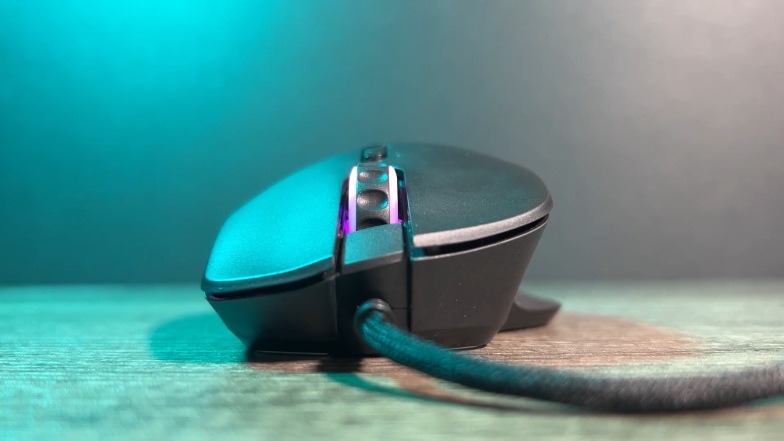 The Glorious Model I mouse has a pretty familiar shape. It is clearly built with the palm grip in mind, which is good news for me but may not be for some people.
This is not to say that it is uncomfortable for other grip types though, it just suits the palm grip best. It's an ergonomic shape, and it fits pretty snugly inside my palm.
Coating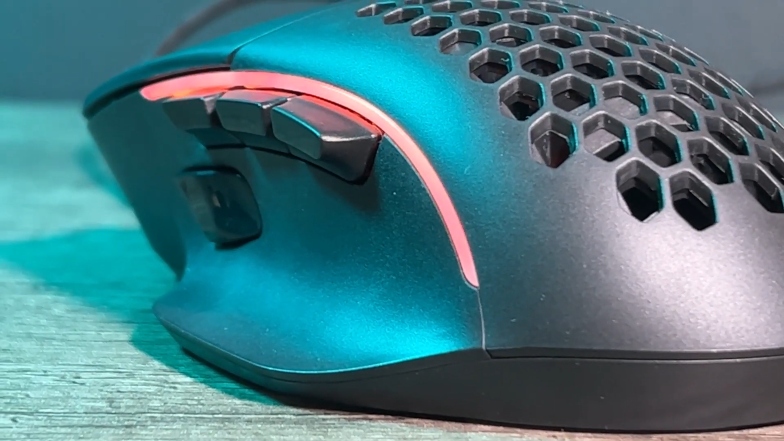 The coating is soft matte and feels a bit soft. In my experience, soft-coating mice tend to get sticky more easily than others, especially during hot weather. However, the holes around and at the base of the mouse should provide some much-needed flow of air to manage that.
Feet
Another interesting twist here is the presence of six PTFE feet spread around the mouse. Sometimes, you'll get four on the standard mouse, and other times you get two, so six is not exactly the norm.
They do a solid job though, providing a nice and consistent glide with no drag on the mousepad. A sensor ring would've been nice but there's none here.
Build Quality
I'll start with the cable. In the same pattern as the mouse itself, this is a lightweight, paracord cable. It doesn't curl up and get tangled, and it stays well out of the way during use, which is nice.
Moving on to the mouse, that thumb rest that I mentioned earlier sits on the left side, just below the side buttons. The distance between the thumb rest and the buttons is perfect for my thumb to just sit in without accidentally triggering any of the side buttons.
However, I think that means if you have thicker thumbs than I do, the space between the thumb rest and the side buttons may be a little too snug for you.
Despite its lightweight and honeycomb design, the Glorious Model I mouse actually feels durable, but only time will tell if that translates into reality.
Buttons and Switches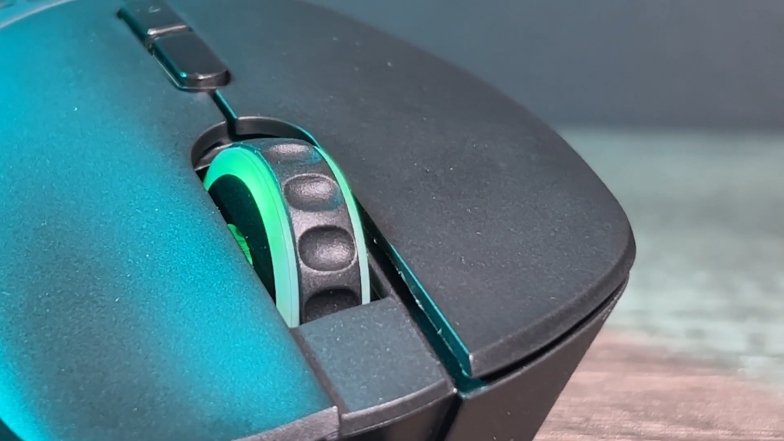 The hugely popular Kailh gm 8.0s used on the mouse one and two switches are as solid as ever. They're the same set that were used for the Glorious Model O mouse, and they felt pretty great on that one too.
I mentioned earlier when discussing the unboxing experience that the package contained 6 swappable buttons.
You can remove buttons and replace them with the little ones that can hide the existence of extra buttons, so the feature is actually not a gimmick in this case. There are potential real-life use cases for it, which is more than I can say for some other mice with swappable buttons that I've reviewed.
If you click "play" on my video review attached below, you'll get a better sense of how these buttons work and what difference they could make to the way you use the mouse.
The TL; DR is that Glorious really went out of their way to make these swappable buttons come in different shapes and sizes so you have options to pick from depending on what you need to swap buttons out for.
It's a pretty nifty feature that I remember seeing on the Logitech G Pro Wireless mouse too, probably to better effect, as a matter of fact.
With the Glorious Model I mouse, I found that some of the buttons were tricky to remove after I'd placed them in, and it can also be difficult to line them up appropriately when fixing them in. However, it is still a useful addition.
If you're familiar with my reviews, then you know I'm very particular about the quality of the scroll wheel, and any mouse with a great scroll wheel already wins major points from me.
Glorious obviously got the memo, as the scroll wheel here is pretty good quality. The notches are nice and the switch itself is consistent. It's one of the major improvements from the previous Glorious mice models which had subpar wheels in my opinion.
Software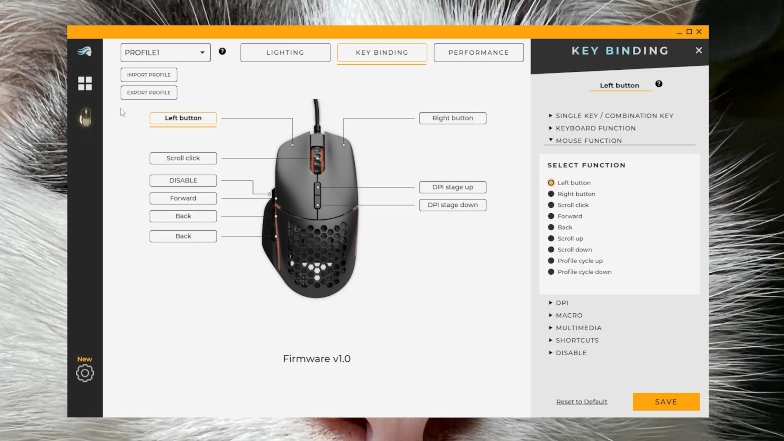 Glorious have hacked the skill of creating software for mouse that is not completely rubbish, and I think many manufacturers could take a leaf from their book in this department.
The software contains all the basic stuff you might need to adjust, and there is also a "binds" area where you can add functions to the extra side buttons if you want.
Performance
As I said, I have no context to the meaning behind the "BAMF" sensor, but it does perform up to standard. I had absolutely no issues using it.
In-game, the Glorious Model I felt fantastic. Obviously, it helps that the mouse is practically built for my preferred palm grip, but it's just so comfortable to use.
Verdict
I think you can probably guess correctly what my verdict is if you've actually read the review.
Would I recommend this mouse? Yes, I would. Every day of the week and twice on Sundays.
For the price, you want something that is well-rounded and does well in pretty much every department. That's the Glorious Model I mouse, and they've even thrown in genuinely useful swappable buttons and a high-than-average number of PTFE feet to sweeten the deal.
It's a fantastic mouse with a fantastic shape at a fantastic price. What could go wrong?
Glorious Model I
The Glorious Model I is a really good mouse. Surprisingly good, in fact.
Pros
Top quality switches
Good sensor
Useful button swapping
Good PTFE coverage