To keep DiamondLobby free to read, this post may contain affiliate links. Learn more
The Roccat Burst Pro Air mouse is another one from Roccat's "Burst" line of ambidextrous mice. There was a wired Burst Pro variant released earlier which I really enjoyed, so I had high hopes for this wireless alternative, considering it should be an improvement.
The "Air" in that name already suggested that this would be a very lightweight mouse, which is good because I like lightweight mice. However, there is a lot more to this mouse than the fact that you can use it almost without noticing it's there.
In my Roccat Burst Pro Air review, I cover all the basics and need-to-knows to help you hopefully make a purchase decision. Stuff like the key specs, design, durability, value, and overall functionality is in there, so stay with me to the end!
Specs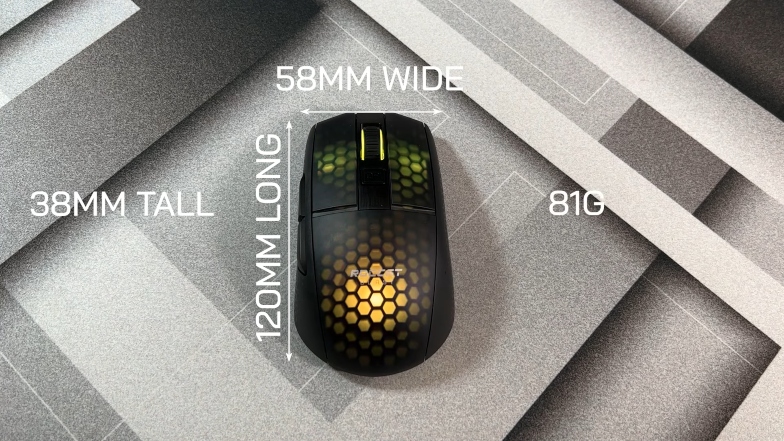 Straight into the key specs, they are detailed in the table below:
| Size (mm) | Weight | Polling Rate | Sensor | DPI | Cable Type |
| --- | --- | --- | --- | --- | --- |
| 120 × 58 × 38 | 81g (minus cable) | up to 1000 Hz | Roccat Owl Eye optical sensor | up to 19000 | USB-C |
So, first of all, 81 grams? Don't get me wrong, it's still a good weight category, but when you put "Air" behind the name, I'm honestly expecting the mouse to be just a little bit lighter.
I mean, at least definitely lighter than Roccat's other mouse – the Roccat Burst Core which weighed 68 grams without the cable.
ASUS also named their ultralightweight mouse the ASUS TUF Gaming M4 Air, and it's clearly more deserving of the name as it only weighs a ridiculous 47 grams – 34 less than Roccat's effort here. Anyway, I'm moving on.
Roccat's Owl Eye optical sensor here is actually just a modified version of the popular Pixart 3370. You'll find that many high-level gaming mice use that sensor, so I guess Roccat just tried to customize it a bit.
The rest of the specs are fairly basic – it's nice to see a USB-C cable.
Design & Build Quality
About that size, despite the fact that the Roccat Burst Pro Air weighs more than the Burst Core, the Kone Pro Air, and the Burst Pro mice, it's not necessarily bigger.
When you compare the mouse to the Kone Pro Air, you'll see that the Burst Pro Air actually has a smaller physical footprint despite weighing 6 grams more. It's not immediately obvious where the weight is coming from, but the mouse does feel well-built.
I like the concept of putting a transparent cover on top of the honeycomb pattern to prevent dust from settling into the mouse and clogging its internals. I think it's an idea that other manufacturers that build mice with similar shells could take on.
It generally makes the prospect of maintenance much less daunting, as the mouse does not collect as much dirt. When it does get dirty or dusty, a simple swipe through with a suitable brush should clean most of it out.
Shape
The Roccat Burst Pro Air is advertised as an ambidextrous mouse, and you'll see from the symmetrical design that Roccat has really tried to make it as comfortable to use for both hands as possible.
They've also tried to build something that's suitable for all grip types, but the result of that is that it doesn't exactly feel excellent for any of them. With my favored palm grip, it feels okay but there's a slight lack of support on the right side which causes my pinky to hang loose sometimes.
Coating
The coating is a soft matte, not as soft as the Glorious Model I mouse, but quite similar to what I've seen in previous Roccat mice.
The difference is that, while mice such as the Roccat Kone Air would get sticky after a while, especially in hotter climates, that problem does not seem to apply here because my hand does not sit as tight to the body of the mouse.
Feet
The PTFE feet on the Roccat Burst Pro Air mouse are nice and large. They feel smooth across the mousepads that I tested them with, including the Logitech G640 and Endgame Gear's MPC450 Cordura.
Buttons & Switches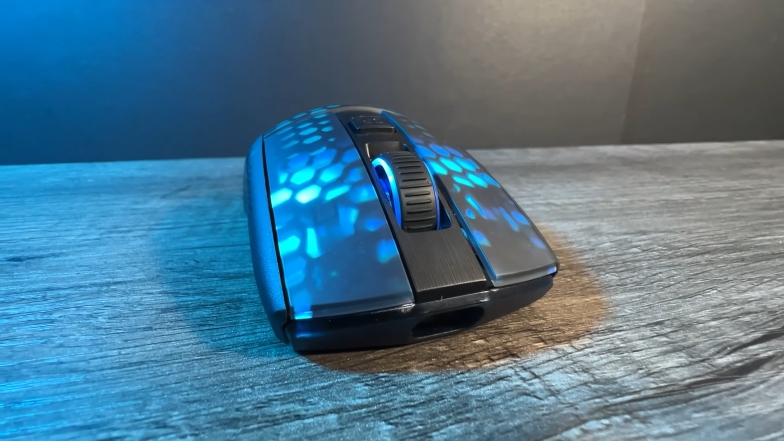 The Burst Pro Air mouse uses the titan optical switch that Roccat has been using for most of their high-end mice. They are rated for 80 million clicks which is plenty as far as durability goes.
Now, unlike the modification of the sensor, Roccat's efforts with these optical switches are actually more deliberate. These ones are designed such that they pick up actuation by using light instead of mechanical response.
It's one thing to do things your own way, but it's another to do it well. I respect the effort, but I just feel like these switches sound noticeably cheap.
It does not exactly affect usability, and you probably won't hear it over the sound of your game if the sound is turned up loud enough, but it just pokes endlessly at the back of my brain that that's what it sounds like.
The Kailh GM 8.0s are hugely popular in high-end mice, and it's easy to see why when you compare them side by side with these Roccat switches.
There's not a lot to say about the side buttons – they work as they should and are well-placed to avoid getting accidentally triggered. They also feel quite sturdy and well-built in the same pattern as the rest of the mouse.
The scroll wheel is excellent. It has great notches, and the mouse 3 click works just fine. Beneath it is the DPi button that you can use to adjust DPI values without having to go into the software.
On the underside of the mouse, along with the PTFE feet, there are a couple more buttons. There's a Bluetooth switch that works alongside the 2.4ghz wireless and off switch, and a slot for the USB dongle.
Performance
The modified Pixart 3370 sensor here works great as expected. Whatever Roccat did to it, they obviously wouldn't have made it worse than the original.
The wireless performance of the mouse is excellent and I had no issues with signal or anything else. The mouse does not come with a USB dongle adapter though, so you have to plug it directly into the PC.
I was happy about the use of USB-C here, but after actually trying to use it, I have reservations. It's not universal, so a lot of USB-C cables that I had lying around did not fit properly into it. It means if for any reason, you can't use the one that comes with the mouse, you may only be able to get a new one from the manufacturer.
In-game, the Roccat Burst Pro Air performs up to standard too. The extra bit of weight does not impact performance negatively because the body is still compact enough to move around easily.
The advertised battery life is 100 hours, which is a lot but Roccat does not really provide context about which activities may improve or reduce that number.
However, if you ever need to charge the mouse in an emergency situation, the rapid charging technology ensures that you can get up to 5 hours of juice from a 10-minute charge.
Software
I've always been an advocate of the fact that if you have to include software with a mouse, make it optional or at least make it extremely straightforward and intuitive.
Roccat's software for the Burst Pro Air mouse is called Roccat Swarm, and while it does have a lot of features, the UI is clean enough that it doesn't look cluttered with too much information.
You can adjust the basic stuff such as lift-off distance, DPI values, angle snapping, RGB lighting, etc. But the best part is, that you can adjust any changes you want the first time and uninstall the software if you don't need it anymore.
One thing that I should mention is that f you update the firmware on this mouse, you may struggle to connect via 2.4ghz wireless.
The fix that I found for this (thank you, Reddit) was to go into the software and recover the correct version of my Burst Pro Air from the two versions that I find there.
With another mouse plugged in, I had to update the second version of the mouse within the software and then plug my normal Burst Pro Air back in to get it up and running normally again.
However, I think it's an unnecessary inconvenience that Roccat should be looking to get rid of ASAP. If I lived under a rock someplace where my only access to civilization was this Roccat Burst Pro Air mouse and a beat-up, ancient PC, I might not even know what Reddit is!
Cost
At the time of writing this review, the Roccat Burst Pro Air wireless mouse will set you back around $100, £90, or €99 on the official ROCCAT store, though you might get it for less on Amazon.
It's a bit higher than what you'd pay for some other mice that offer a similar quality, but Roccat is one of the bigger brands so I guess they're charging extra for the peace of mind that comes with that.
Verdict
Despite the extra weight that puts a question mark behind the "Air" in its name, I think the Roccat Burst Pro Air wireless mouse is a good mouse overall.
The biggest potential issue for me is probably the cheap-sounding switches that make the mouse feel less premium, but I imagine that won't be a deal breaker for many people.
Regardless, I think a 2-year warranty, solid build quality, a great scroll wheel, a best-in-class sensor, and excellent overall performance are good enough reasons to overlook whatever minor issue the mouse has.
So, without a doubt, I would recommend the Roccat Burst Pro Air to casual gamers and enthusiasts alike.
Roccat Burst Pro Air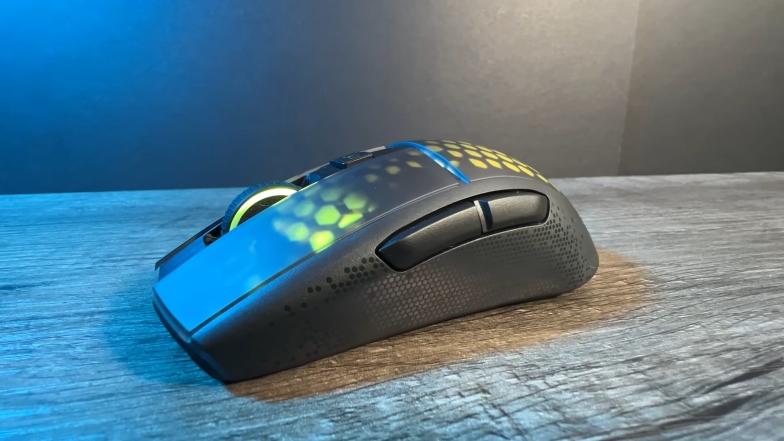 The Roccat Burst Pro Air is a good mouse with great specs but comes unstuck with poor quality switches.
Pros
Solid build quality
Great scroll wheel
Amazing sensor
Cons
Switches feel and sound cheap