To keep DiamondLobby free to read, this post may contain affiliate links. Learn more
Ninjutso already released a wired version of the Katana Superlight mouse, and now it's time for the wireless version.
Since the company was founded in 2019, they've made a solid impact in the gaming industry with its line of lightweight, hole-free and affordable gaming mice.
One of my personal favorites, the Ninjutso Origin One X, was released in April 2021 and was very well received by the market. Naturally, I expected further improvements when this newer version was announced, and I was fairly excited about reviewing it.
So, at the end of this Ninjutso Katana Superlight review, what do you think my verdict will be? Does it live up to expectations, or does it fall short of the value that Origin One X offers? Read on to find out.
Specs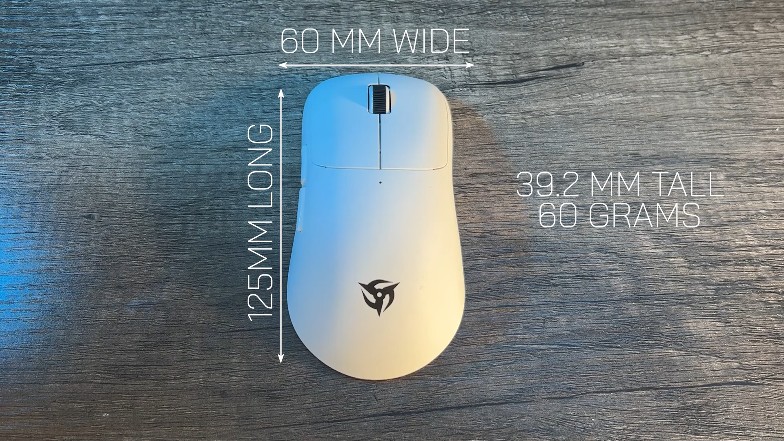 The packaging is nice and tidy, with charging cables tucked neatly inside a small box that is within the main box.
Inside the package, you get the mouse, a USB receiver, a MagEase magnetic charging cable, a USB extension cable, and the information guide.
When you take out the mouse, you'll see the familiar, classic shape of the Microsoft Intellimouse Optical. It is immediately obvious that this is one of the lightest wireless mice on the market – it follows the same trend as the Ninjutso Origin One X in this regard.
Even though the One X had no "light" in its name, it weighed only 66 grams, and the Katana Superlight weighs even less.
The key specs of the mouse are as follows:
| Size (mm) | Weight | Sensor | Polling Rate | DPI | Cord Type | Port Type |
| --- | --- | --- | --- | --- | --- | --- |
| 125 × 60 × 39.2 | 60g | Pixart PAW3370 | 1000hz | up to 19000 | Magnetic | Magnetic |
The Katana Superlight Wireless mouse has a slightly wider form factor than the Origin One X.
However, what really stands out in this specs sheet is the presence of a magnetic charging cable and port instead of a standard USB type-C or even USB-A. I'll expatiate on this in the next section.
Build Quality
The shell of the Ninjutso Katana Superlight mouse is plastic, but it feels sturdy and barely gave up any creaks or other signs of weakness. There's no rattle, although I'm a bit suspicious of the mouse one and two buttons.
About that magnetic cable, I honestly am not a fan. I mean, it's pretty easy to use, but I'm not sure if that tiny bit of extra convenience is enough to justify the fact that replacing it won't be easy if it breaks.
In fact, I think your only option would be to contact the manufacturer. For something as simple as changing a USB cable, it just feels like unnecessary stress that could have been avoided by using a simple Type-C port and cable.
Design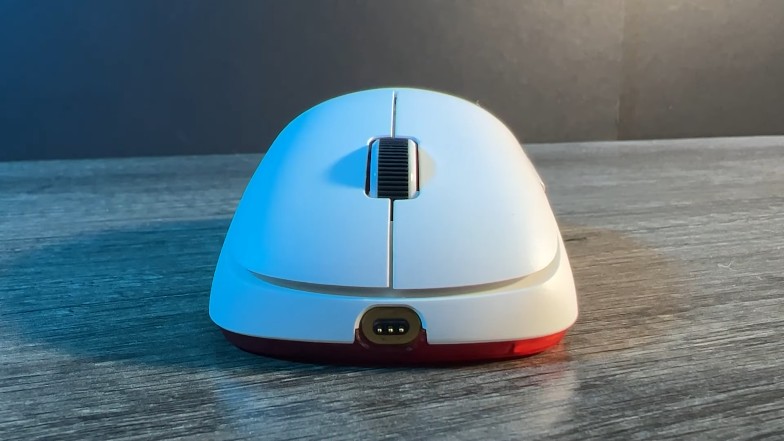 In case you're not familiar with my reference to the Microsoft Intellimouse optical, you should know that the Katana Superlight has a neutral symmetrical design.
As you can see from the pictures, this is a pretty minimalist approach, so the body of the mouse is smooth and mostly undisturbed by any flashy branding bar the Ninjutso logo at the base.
Part of the whole shtick with Ninjutso is that they do not make mice that have holes in them, so this helps with the gathering of dust or dirt in small openings and crevices.
When you do get dirt on the mouse, it shouldn't be too difficult to clean because of the absence of holes.
Shape
I have to admit the Katana Superlight mouse felt a bit strange to hold in my hand. I like to feel like I'm grabbing something when I use mice, and that feeling is just not here.
However, I think that has more to do with the sort of mice that I typically use long-term because after testing this for a few days, I adjusted to the way it feels in the hand.
It feels great for my preferred palm grip, and it was okay for other grip types that I tested for the sake of it too. If you have smaller hands and you use a claw grip, you might struggle a bit to get a good grip over the body of the mouse because of its larger size.
Generally, the shape of the Ninjutso Katana Superlight is comfortable and easy to adjust to.
Coating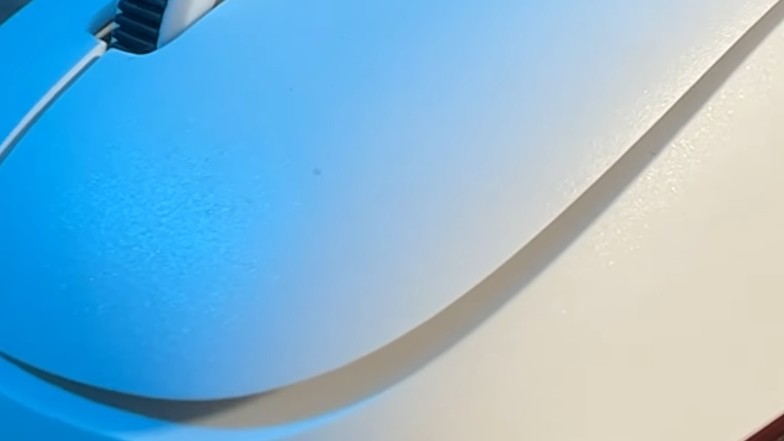 There are more similarities here with the Ninjutso Origin One X. The Katana Superlight's coating is a bit less coarse, but still very nice overall.
Feet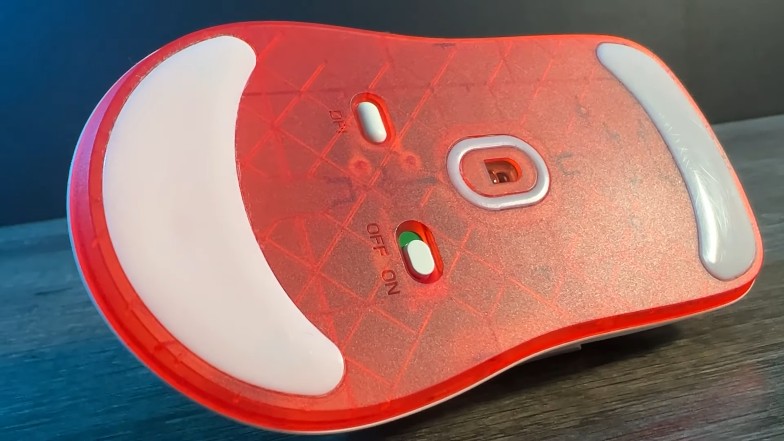 The mouse feet are 100% PTFE. They are fairly thick which is a good thing, and there is a sensor ring also for balance.
I used the mouse on my Endgame Gear MPC 450 and Zowie G-SR mousepads, and the feet felt snappy and generally nice on both.
Buttons and Switches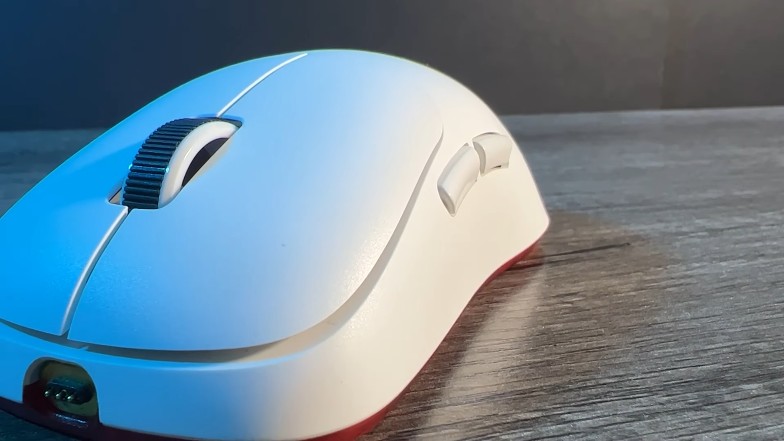 I have an issue with the endurance rating of the Katana Superlight Wireless mouse. The Huando Pink Dot switches are rated for only 10 million clicks, which is a really low number compared to what the competition offers.
In practice, they feel completely fine, but that rating is something to be cautious about.
The buttons are okay, but they would sometimes bottom out when I pressed them. Both the mouse one and two buttons.
To be fair, I have quite an… unconventional grip on mice when I'm gaming, so maybe that has something to do with it. However, it's not something that I always have an issue with when using other mice so I'm not sure what to think really.
The side buttons are well-placed and easy to reach. They're pretty consistent and reliable and they don't get in the way.
I have a weakness for mice that have well-built scroll wheels, and this is where the Ninjutso Katana Superlight won back some points that it had lost in other areas.
The switch withstands pressure excellently, and the scroll itself feels great with notches that are firm enough but still easy to move. This is the closest thing to a perfect scroll wheel if there is such a thing.
Performance
Wireless performance with Ninjutso's Snappyfire technology is great, but that's kind of the bare minimum nowadays. It is an improvement on my experience with the Origin One X though, so Ninjutso gets points for that.
The Pixart PAW3370 sensor used here is one of the best that you can get. I've used a number of high-end mice that use the same sensor and were priced much higher than this one is. Unsurprisingly, I had absolutely no issues with the sensor's performance on the Katana Superlight mouse.
As I suggested, once I got used to the shape, using the mouse to game was a pleasant experience. Occasionally, the bottoming out of the main buttons was an issue, but I already explained that away.
Battery
The advertised battery life for this mouse is 96 hours. There is no mention on Ninjutso's product page about any factors that may affect this figure, so I would take it at face value.
In practice, I expect that the polling rate that you choose would make a difference to battery life. If it's set at 1000hz all the time, you may not get 96 hours.
Software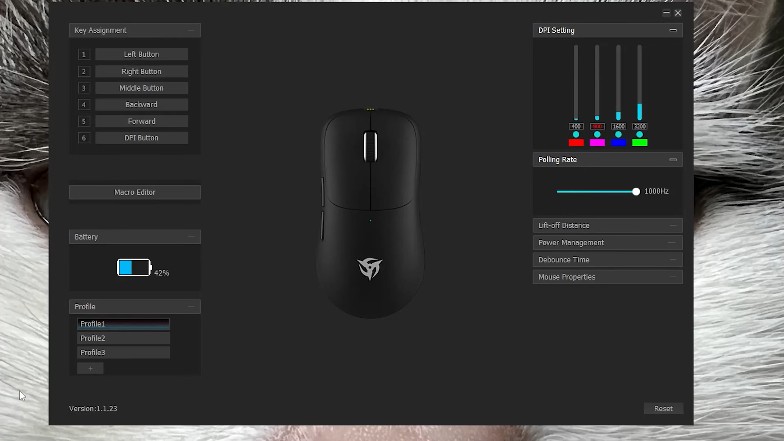 The software is light and responsive, as all mice software should be. There's no clunky performance, clogged-up UI, or obtrusive marketing.
You can change all the basic stuff in there – DPI values, key assignments, polling rate, debounce times, and lift-off distance. It's all on one page and pretty easy to sort through.
There's also an indicator near the top that shows the current DPI value of the mouse, and the battery life. When I reviewed the Origin One X, I found that the battery life indicator was pretty much useless as it did not show real-time values.
It's hard to tell if the same is the case with the Katana Superlight mouse because I did not manage to run the battery flat throughout the time that I spent testing it.
Cost
At the time of writing this review, the Ninjutso Katana Superlight Wireless mouse is available for $89.99, £70, or €90 on the official Ninjutso store. It's also available on Amazon, and occasionally discounted.
Verdict
I'll just come right out and say it, I prefer the Origin One X to the Katana Superlight Wireless mouse.
This is not a bad thing, because I really liked the Origin One X, and the Katana Superlight is still a good product. It just means, all things considered, I don't think Ninjutso has managed to improve on the overall package.
My main issues with the mouse are the buttons that bottom out, the magnetic charging cable + port, and the low endurance rating of the switches.
The magnetic thing is a feature that some people might enjoy, so it's not as important. However, I really hope that Ninjutso can improve on the other two issues with their next product.
On the flip side, the mouse also has a couple of good things going in key areas. There's the excellent scroll wheel, a top-tier sensor, great in-game performance, and fantastic battery life.
At the end of the day, it may come down to what features are most important to you.
But, would I recommend this mouse? Yes, I would. It's good, not great, but sometimes that's enough.
Ninjutso Katana Superlight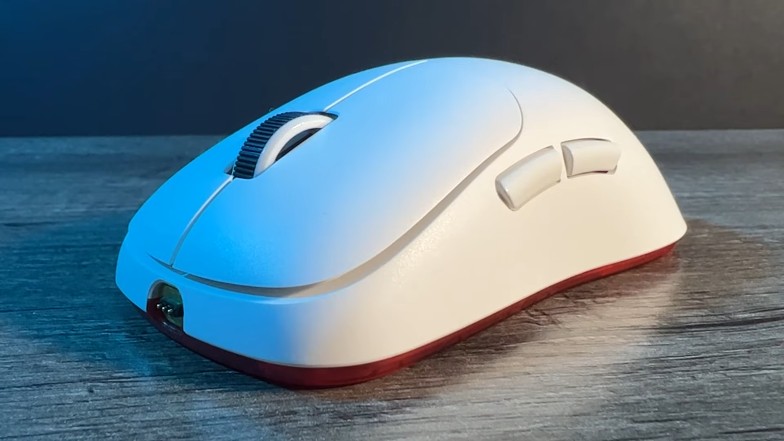 The Ninjutso Katana Superlight is a good mouse but isn't quite great, and doesn't live up to the Origin One X.
Pros
Excellent scroll wheel
Great in-game performance
Fantastic battery life
Cons
Buttons bottom out
Magnetic charging cable