To keep DiamondLobby free to read, this post may contain affiliate links. Learn more
SteelSeries' Aerox 5 wireless mouse is the successor to the Aerox 3 wireless mouse. The Aerox line contains SteelSeries' merry band of lightweight mice, and with the underwhelming performance of the Aerox 3, I had my fingers crossed for this one.
SteelSeries only added on more pressure by advertising the Aerox 5 mouse as "perfect" for all fast-paced games. I'm talking about battle royales, FPS games, and MOBAs. Still, they've made my job a tad easier because I already knew what to judge the mouse by before I even started testing.
Speaking of testing, I put the Aerox 5 through a serious grind to see if it can reach my high standards. The results are interesting, and all the juicy info is laid bare in this SteelSeries Aerox 5 review.
Price
At the time of writing this review, the SteelSeries Aerox 5 Wireless mouse will set you back about $99.99. It's a significant drop in price compared to the original €149,99 retail price, and it should help the mouse compete favorably against some of its biggest competitors, especially when on sale on Amazon.
Specs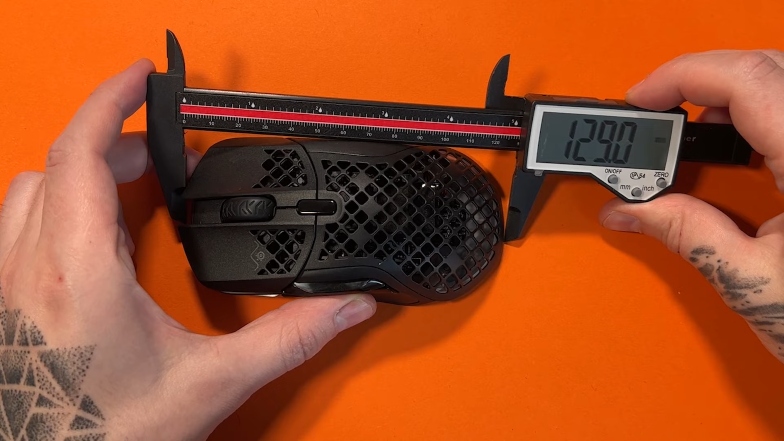 In the box, we have the mouse, a USB-C dongle, a USB-C to USB-A super mesh data/charging cable, an extension adapter, and user documentation.
The key specs of the mouse are as follows:
| Size (mm) | Weight | Sensor | DPI | Polling Rate | Switches | Software |
| --- | --- | --- | --- | --- | --- | --- |
| 128.8 x 62.8 x 26.7 | 74g | SteelSeries TrueMove Air | up to 18000 | 1000Hz | Golden Micro (Mechanical) | Yes |
For its relatively large size, the Aerox 5 mouse manages to stay within a respectably lightweight category. It is clearly bigger than the Aerox 3 mouse, but only weighs 6 grams more.
Obviously, one of the reasons why manufacturers carve holes into their mice is to make them lighter, and SteelSeries have adopted that trick here. However, the Aerox 3 also had holes in it, so the small disparity in its weight compared to the Aerox 5 is still respectable.
The switches used in the Aerox 5 are the same as the ones in the HyperX Pulsefire Haste mouse. For some reason, if you go on the product page on SteelSeries's website, it says they are "SteelSeries mechanical switches" – I'm not sure why.
Design
The differences between the Aerox 5 and its predecessor are immediately clear right from the moment you pick up the mouse. Unlike the Aerox 3, this update has an ergonomic design, and there's that larger physical footprint as well.
While reviewing the Razer DeathAdder v3 Pro, there were questions about the structural integrity of the mouse. This was mostly because of its larger size + lightweight. It felt like the mouse was hollow in some areas, and those questions apply to StellSeries' Aerox 5 too.
However, despite being bigger than most ergonomic mice and weighing only 74 grams, the Aerox 5's build feels relatively solid.
Shape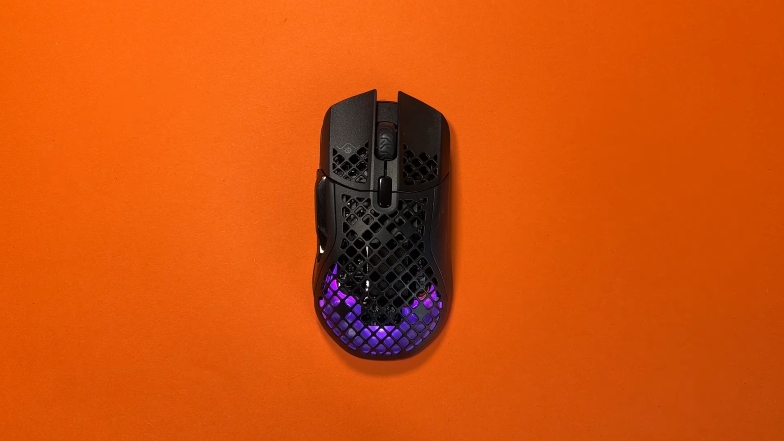 Ergonomic mice are usually fairly aggressive with curves, but the Aerox 5 is less so. It does have curves, but they are more similar in style to ambidextrous mice such as the Razer Viper. In fact, the curves look quite flat for an ergonomic mouse if you're looking from the front and back of the mouse.
The shape is comfortable for my preferred palm grip, and it would be for most grip types. With the amount of real estate on its surface, this mouse should be a good option if you have large hands.
One thing to note is that while the large size offers a lot of room for your fingers to sit, the buttons still hang over the sides. However, there's plenty of room left on the right side of the mouse for the remaining fingers, and you won't even have to touch the mousepad.
There is a subtle curve on the left side of the mouse as well where your thumb can settle comfortably.
Coating
With all the holes on the Aerox 5 mouse (even extending to the main buttons) and the small amount of space between each one, there's not a lot to look at in terms of coating.
What's left of the coating is a coarse finish that would, in my opinion, make the mouse even more comfortable if it wasn't interrupted by all those holes.
I've had some issues with overly coarse coating on some Razer mice in the past, but SteelSeries' approach on this mouse feels like they know what qualifies as the right amount of coarse.
The addition of the "Aqua Barrier Protection" is also a nice touch. It is intended to protect the mouse from splashes, dirt, oil, and debris so you don't have to worry about the exposure caused by the hole-y shell.
Feet
The feet are two large rounded PTFE pads on the top and bottom of the mouse's underside. They glide nicely on mousepads and desks, and there's a sensor ring that provides more balance. They're smooth, consistent, and definitely an upgrade if you're used to cheap, plastic feet.
Buttons and Switches
As I said, I already had some experience with the Golden Micro switches while testing the HyperX Pulsefire Haste mouse. This set is rated for 80 million clicks, and I think they're really good.
The mouse one and two are nice and consistent, and the side buttons are easy to reach.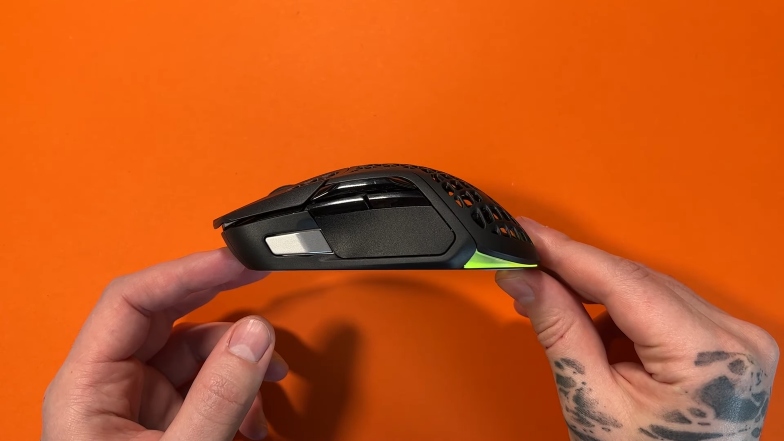 There's a DPI button, and the scroll wheel is pretty consistent. Scrolling with it feels nice, and the mouse3 click is sharp.
I would say that the scroll wheel is stiffer than most of the wheels I've used recently, and I did notice some feedback while going through the notches, but nothing too bad.
The extra thumb space on the left side of the mouse should prevent accidental misclicks, but there are more exciting features on the Aerox 5 wireless when it comes to the buttons.
The real draw is a thumb button that is tucked away but could be useful. I think it's a bit further out of reach than many people will be comfortable with, especially people that use a claw grip or people that have shorter thumbs,
Next, there's a "guitar hero" flappy paddle that sits above the side buttons and you can move it up or down – pressing it does nothing. It is easier to access than the thumb button, and it has a nice feel to it as well.
However, this feature isn't a big hit either in my opinion. If I was in charge of design, I would make the button with matte coating instead of a glossy one, or I would slap mini grip tapes on top of it.
I'd do that because, in situations where I wanted to use the paddle for something important, the coating would make it a bit difficult to get enough purchase on it. It also felt a bit stiff, so triggering it when you need to can be a hit or miss.
Generally, I think these new features are good ideas. They just need a bit more polishing to be more usable.
Performance
As far as I know, the SteelSeries TrueMove Air sensor is a Pixart 3335 sensor. Again, it is the same as what was in the HyperX Pulsefire Haste, and SteelSeries also used it for the Prime Wireless mouse.
It's not going to be the exact same performance as those mice as they've modified a few things, but it is similar.
This variation of the Pixart 3335 is not considered to be one of the top-tier sensors out there for gaming mice, but the average user won't notice that. Bar a brief wake-up time and the default lift-off distance, this sensor performs just fine.
I put the Aerox 5 through intense sessions of Overwatch, and I really enjoyed playing with it. The shape is really comfortable and I don't have to adjust my grip at all. It did pretty well with dota2 and Path of Exile as well, so it's not a one-trick pony.
The one thing that might be an issue is the distraction from all those holes, especially if you're a claw grip user. There's just not enough room on the main buttons for your fingers without placing them on the holes, and I can see how that can be annoying for some people.
Software
I've only started to warm up slightly to the idea of including software for gaming mice, but the way SteelSeries have gone about it only reminds me why I couldn't stand them in the first place.
The included software, SteelSeries GG is incredibly cluttered. You have to create an account, and there are sections and bloat within the software that you'll most likely never use.
The actual engine for the mouse settings is decent and easy to navigate. You can adjust all the typical settings such as DPI, polling rates, etc.
There's a neat feature called "Smart mode illumination" that turns off all the lights on the mouse while it is moving. Realistically, nobody is going to be admiring RGB while in the middle of a competitive FPS, so it's a useful way to save battery life.
Battery
The advertised battery life is 180 hours of playtime. However, this applies to Bluetooth mode which only supports 125 Hz polling rate. If you want the 2.4 GHz connection, you'll have to settle for 80 hours.
I imagine that those numbers would be affected by the state of RGB and the polling rate that the mouse is set to, but SteelSeries did not specify. I used the mouse for about a week and it went flat once.
When you do run out of juice, the included type-C cable will save the day. It charges pretty quickly, so you shouldn't have any issues with battery performance.
Verdict
At its original price, the SteelSeries Aerox 5 mouse was really hard to recommend. That price was quite steep, especially considering the fact that the mouse uses an outdated sensor.
However, a maximum of $100 seems like a much better deal. It is no longer directly competing with the likes of the Razer DeathAdder v3 Pro and the Logitech G502 Lightspeed, which makes the prospect of buying it more sensible.
This is a comfortable mouse that performs great for gaming, and also includes some interesting features that just need a bit of polishing. If you're in the market for a multi-button, lightweight gaming mouse under $100, you can't go wrong with it.