To keep DiamondLobby free to read, this post may contain affiliate links. Learn more
In the world of gaming and gaming tech, there seems to be a school of thought that low-priced devices are of inferior quality. However, as the industry grows, this opinion is constantly being put to the test.
More manufacturers are entering the playing field, consistently producing a series of competitively priced tech in an attempt to gain the trust and loyalty of customers.
As a die-hard gamer that spends a lot of resources and time on trying out new gaming tech as they are released, this is a welcome development for me. I like the idea of paying a budget price for a quality product, and I think it's a great way to keep the so-called "big" manufacturers on their toes.
That said, it's harder to get excellent quality for budget devices in specific categories. One of such categories is gaming mice. In my experience, budget gaming mice usually come with one or more major issues. Manufacturers have to cut costs somewhere to keep the price low, and more often than not, the cuts affect overall build quality or performance (or both).
However, it appears that Roccat is seriously threatening this pattern with the release of the lowest-priced version yet of the Roccat Burst range of mice. As always, I took the liberty to test the product and share my thoughts in this Roccat Burst Core mouse review. Let's get into it!
Specs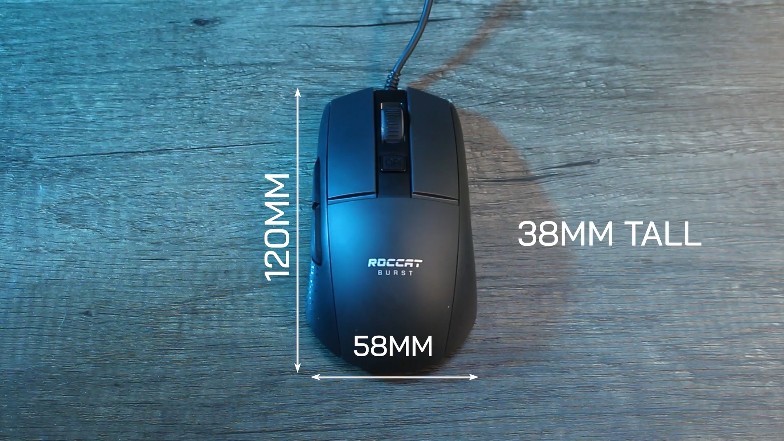 The key specs of the Roccat Burst Core mouse are as follows:
| Size (mm) | Weight | Polling Rate | Sensor | DPI | Cable Type |
| --- | --- | --- | --- | --- | --- |
| 120 × 58 × 38 | 68 grams (minus cable) | up to 1000 Hz | PMW 3331 | Up to 8500 | Rubber |
At this price point, you can't expect too much spec-wise. All the basics are covered though, and I particularly like the fact that it is a lightweight mouse. Those 69 grams put it on the same level as the equally lightweight, 68-gram Corsair Sabre Pro Champion Series mouse.
The DPI "only" goes up to 8,500, which is lower than the average with most of the alternatives out there. However, I personally don't think it's a big deal because the difference is not noticeable.
The mouse has 6 buttons, and it uses the same optical switches as some of the higher tier mice from Roccat – rated for 100 million clicks.
The cable is 1.8 meters long (or nearly 6 feet) which is a decent length for people that like to have some distance between themselves and the PC while using the mouse.
Design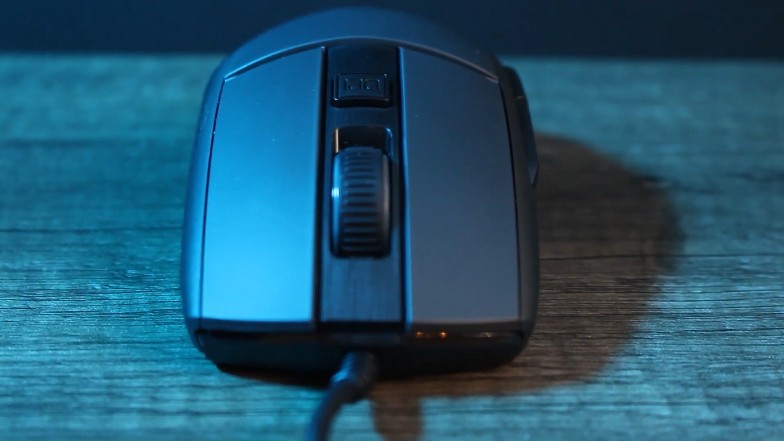 Build Quality
The build quality is solid. The mouse itself feels sturdy, which is nice because lightweight mice always run the risk of a bit of fragility.
However, the cable attached to it is a slightly different story. It's very rigid and hard to straighten out, which partly defeats the purpose of its 6-feet length. When I tried to straighten it out, it just curled back into itself almost immediately.
It can be annoying when you're gaming and the cable gets in the way of your hand, but you can probably find a way around it so it shouldn't be too big of a deal.
Shape
Roccat has gone with an ergonomic, honeycomb shell here. At first glance, you wouldn't notice the holes because they're carved underneath the top panel, leaving a translucent outer shell that displays the RGB lighting.
In practical use, the shape feels nice for all the grip types that I tried, although I think palm grip gamers will particularly enjoy it even more than others. I like the fact that Roccat has clearly paid attention to trying to make this mouse as versatile for grip types as possible.
Finally, the Roccat Burst Core has an ambidextrous shape that attempts to make it as comfortable to hold for left-handed users as it is for right-handed users. Personally, I think it's a bit gimmicky.
I think the arrangement of the side buttons and the possibility of swapping them to either side of the mouse should take more prevalence if the manufacturer was really looking to make this an ambidextrous mouse. But, I'm not complaining.
Coating
The coating is quite nice. I like it better than that of the Kone Pro Air from the same manufacturer. It's just a lot simpler and less prone to gathering dust and dirt. You can see what I mean if you click play on my video review below:
Feet
At the bottom of the mouse, you get large PTFE feet with a lot of surface area covered to aid smooth gliding on most surfaces. I'm a fan of bigger PTFE feet, so this was a nice touch.
Buttons and Switches
The mouse one and two switches are optical, designed to be faster and more reliable. They work pretty well and I did not notice any pre or post-travel when using them.
The side buttons are large, so they are easy to reach and click with a roll of the thumb.
The scroll wheel illuminates one or all of the 16.8 million color options, and it feels smooth and great to use.
While using the buttons and switches during my gaming session, I was hell-bent on finding the performance cut that I've come to expect from a mouse of this price. A tiny malfunction, jitter, or stutter maybe.
I tried it on my GP4 pad and even on my bare desk, but it still worked great. It obviously won't be the best performer out there, especially when compared with actual premium mice, but I had zero genuine complaints.
Software
You get the same software that is packed with other Roccat mice. It has a bunch of options to change things such as button assignments, lights, polling rate, etc.
Cost
Usually, you can find the Roccat Burst Core mouse for around $29.99, £25, or €27.99, depending on where you make the purchase from.
You can check the current price on the official Roccat store or on Amazon.
Verdict
If you've read up to this point, then this section is probably an unnecessary addition for you. My opinion about the Roccat Burst Core mouse so far has been clear; for the price, you simply cannot go wrong.
It's simply incredible value and could easily cost twice what it does now and still be a good deal. Certain sacrifices have been made by Roccat to help keep the price low, but if a rigid cable is the price I have to pay for salvation, sign me up!
If you like what you see, but the small issue with the wired connection is a dealbreaker for you, then you can consider the Pulsar Xlite Wireless mouse as an alternative.
However, if you don't mind a wired gaming mouse and you're on a budget, or you're looking for a small gift for a gamer, or just looking for a gaming mouse that works, then go for the Roccat Burst Core mouse.