To keep DiamondLobby free to read, this post may contain affiliate links. Learn more
SteelSeries is a legendary manufacturer in the gaming industry. However, that "legendary" status has not particularly helped the mixed responses that some of the company's previous mice have received from critics and gamers.
A major part of the criticism that these mice face is the price brackets in which they feature. SteelSeries seems to believe that its reputation is enough to charge as it pleases with little consideration for the value that the competition is offering at the same price point.
Needless to say, that approach has backfired a few times, in terms of sales and/or feedback from the end user.
All of this provides an interesting backstory for the review that I'm about to present to you. Has the company managed to match quality with their pricing model this time? Is it more of the same?
Everything you need to know to make an informed decision before buying the product is discussed in my SteelSeries Aerox 3 Wireless Mouse review. So, let's get into it!
Specs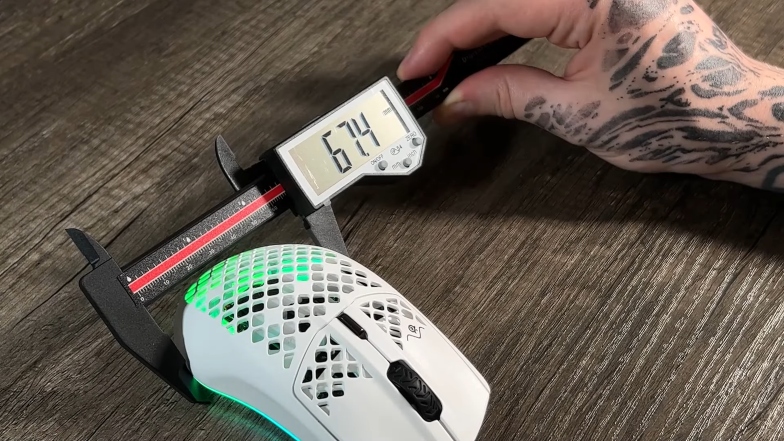 As you'll see in the specs table below, this is a lightweight mouse. The package itself ships with the Aerox 3 wireless mouse, the product information guide, a USB-C dongle, a USB-C to USB-A Super Mesh Data/Charging Cable, and an extension adapter.
| Size (mm) | Weight | Polling Rate | Sensor |
| --- | --- | --- | --- |
| 120.55 × 57.91 × 21.53 | 68 grams | up to 1000 Hz | Pixart 3335 |
Nothing really stands out in the spec sheet, which is not a bad thing. The Pixart 3335 sensor is an energy-efficient sensor, so it's a great fit for a wireless mouse such as this one.
It's on the lower end of the quality sensors scale, so you're more likely to see it in mid-range mice than higher-end options, but it does the job with little fuss.
Design
The mouse is plastic, and its design suggests that it was made with right-handed users in mind. There are six buttons in total across it, and specific points across the base are lined with RGB lighting.
There's a black matte finish on the Onyx version of the mouse, but the white Snow version that I got as a review unit has a white matte finish instead.
Shape
Personally, I'm not a fan of the Aerox 3 mouse's shape. During testing, my thumb and the leftmost part of my hand started to feel very sore and stiff, which was not a pleasant experience to have.
It's a potential worry because if you experience the same issue, it's going to be damning for gamers that go through long sessions in one sitting. This is not the mouse you want for that.
I think this discomfort is caused by the "bucket-like" curve in the sides. I'm a squeezer during intense gaming sessions, so this curve causes my thumb to turn inside itself when I squeeze too hard.
If like me, you also grip your mouse on the sides tightly, you'll see where the discomfort comes from when you do that for long enough.
On the other hand, gamers with lighter grips and more stable emotions should be just fine.
Coating
The SteelSeries Aerox 3 Wireless mouse has an IP54 rating! This means that it has a certain level of protection from dust and splashes of water.
This is not a recommendation to go for a dive in the pool with it though. Although, if you do, let me know how that works out so I can laugh at you.
It's a good thing for maintenance of the original coating though. There are square holes around the mouse, so there's not too much to discuss in that department, but the visible coating is a nice matte white, as I mentioned earlier.
You'll find in this SteelSeries Prime Wireless mouse review that matte coating is a concept that the manufacturer likes to run with, but the matte on the Aerox 3 mouse actually feels different from that of the Prime Wireless.
Feet
You get a pair of well-sized PTFE feet here. A bit disappointingly, there's no sensor ring, but it still feels pretty nice on all the pads I tested it with.
I recommend checking out the SteelSeries QCK Heavy mousepad if you're a brand loyalist that likes to match their gaming gear with products from the same manufacturer.
Buttons and Switches
SteelSeries has its own magnetic optical switches, but they've opted for the TTC Gold Micro switches for the Aerox 3 Wireless mouse. These also have an IP54 rating, so I'd say that's the explanation for the choice.
The switches feel closer to Omron switches than the more popular Kailh gm 8.0s, but they're decent as well.
The side buttons are just a tad too low on the sides for me, and it affected how easily I triggered them by mistake. They are also quite thin for some reason, which is not a dealbreaker but something to note.
If you know anything about my mice reviews, then you'll know that I'm a stickler for quality scroll wheels and, well, this one is just disappointing.
The notches are too soft which makes scrolling inconsistent, and the switch itself feels mushy and just generally poorly made. That, in my book, is a major turn-off.
There's a DPI toggle just below the scroll wheel – not much to see or say about that – and there's a slider beneath the mouse that you can use to move from Bluetooth to 2.4ghz and off.
Software
Next to poorly made scroll wheels, something else that grinds my gears when reviewing gaming mice is the software. I already prefer mice that don't even bother with them, but if you have to have one, then make it simple and intuitive.
Unfortunately, the SteelSeries Aerox Wireless mouse does neither of the two. The included software is bloated and filled with ads, blogs, and product catalogs that you're likely never going to use or need.
There are 6(!) sections in the software, and only one of them actually has anything to do with adjusting the mouse's settings. It's just…unnecessary.
Now, when you do get into the engine where all the settings are laid out, it's straightforward from there. The configurations are well laid out and easy to use. But, SO MUCH BLOAT.
Performance
As I mentioned earlier on, I did not get as much gaming use out of the mouse as I normally would because it just got so uncomfortable with the shape and my preferred grip.
In-game performance is as good as you'll get from a higher-tier gaming mouse, but I struggled to get past the discomfort and that terrible scroll wheel.
Battery Life
I feel like SteelSeries is walking a thin line between "smart marketing" and "false advertising" here. Maybe suggesting false advertising is a stretch, but hear me out.
If you go on the official product page, you'll see a claim for 200 hours of battery life which is just…incredible. It's almost too good to be true, and you know the saying…
There's a catch that explains it though, and that catch is that the aggressively-advertised 200-hour battery life only applies when the mouse is set to Bluetooth which is an inferior connection that's also limited to 125hz.
Basically, if all wireless mice manufacturers adopted this marketing technique, they'd all be claiming huge figures for battery life too. If you're going to do that, then you should also be clear about the fact that one can only get that length in Bluetooth mode.
The "real" battery life when the mouse is set to 2.4ghz wireless is about 80 hours. It's still a good number, which just makes me question the 200-hour idea even more. There was just no real need for it.
If you manage to drain the battery, you can charge it up pretty quickly as the mouse supports fast charging, which is also nice.
I did notice however that the wake-up time is longer than it should be. The Prime Wireless mouse already took too long with a full second before responding, but the Aerox 3 stretches that number even further to 3-5 seconds. Poor.
Cost
I picked up my unit for a discount price of $55 on Amazon, but the Aerox 3 Wireless Mouse would normally set you back about $100 if buying at full retail price from the official store.
Verdict
The SteelSeries Aerox 3 Wireless mouse is a poser. It's an average mouse stuck in the price bracket of a higher-quality mouse. That alone is enough reason for me not to recommend it.
Apart from pricing, there are just so many little (and not so little) things wrong with the product. The bad scroll wheel, the misleading battery life, and the discomfort are just three of those things.
Even the IP54 rating feels like a gimmick because I can't really think of many situations where you'd go "Oh, if only it had an IP54 rating", but that's just me.
At this point, it feels like SteelSeries is riding on past glory, which is not sustainable. The Aerox 3 Wireless Gaming Mouse is a poor excuse for a high-end gaming mouse, and that's all there is to say about that.