To keep DiamondLobby free to read, this post may contain affiliate links. Learn more
Roccat is an ambitious manufacturer that has built some pretty decent gear for gamers over the years. In the budget and mid-range gaming mice category, the likes of the Roccat Burst Core and the Burst Pro Air were really good additions.
This mouse I'm talking about this time takes on a very different look though. There's no attempt to be modest and play in the lower leagues. Roccat has fully gone after the big boys both in terms of the pricing of their product and the features that they've packed into it.
This review of the Roccat Kone XP Air takes an in-depth look at the company's attempt to compete with Logitech and Razer who own similar gaming mice, the G502 series and the Basilisk series respectively.
Price
The Roccat Kone XP Air costs a whopping $219.99 if you're buying it from Roccat's website, but you can sometimes get a deal on Amazon.
Specs
Inside the package, you get the Roccat Kone XP Air mouse, a USB receiver, a charging dock, a USB-C to USB-A charging cable, and user documentation.
The key specs of the mouse are as follows:
| Size (mm) | Weight | Sensor | DPI | Polling Rate | Switches | RGB | Software |
| --- | --- | --- | --- | --- | --- | --- | --- |
| 126 x 72 x 40 | 99g | ROCCAT® Owl-Eye 19K Optical | 19000 | 1000Hz | Titan Optical | Yes | Yes |
The Kone XP Air mouse uses the same Owl Eye sensor that the Roccat Burst Pro Air does. 99 grams of weight shows that this is not a lightweight mouse by any means, and it might be pushing the limit for people that don't fancy chunky mice.
Design
Roccat has designed a couple of really good mice over the years, but they've also made some questionable design choices. The Kone Pro Air, for instance, got mixed reviews, and that was due in part to the design of the mouse.
Generally, I would say that the design of the Kone XP Air is an improvement on the Kone Pro. It's not perfect, but it has a few good things going for it.
Shape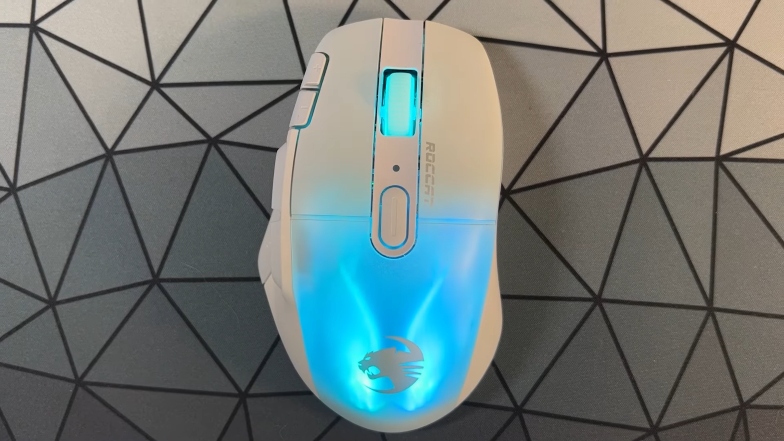 The shape of the Kone XP Air is similar to that of the Kone Pro, although the former is a bit bigger.
There are curves on the left side of the mouse that you can rest your thumb in if you're using a palm grip, and it helps the mouse to fit snugly within your hand. It's a familiar shape that Roccat has used for many of their mice, and it shows their inclination toward building palm-grip mice.
That is not to say that the shape would not work with other grips. The curves on the side, for instance, might not be useful for you if you use a claw grip, but they don't make the mouse less comfortable for that grip type either.
There's an extra side button that you can bind to a control that you use occasionally in-game – I set it to pinging enemies in Apex. It's pretty easy to trigger too and all I had to do was move my thumb slightly down to trigger it.
The Kone XP Air weighs about the same as the Logitech G502 X Lightspeed. The Lightspeed is the lightest mouse among the new G502 wireless models, which really puts things into perspective when considering the Kone XP's weight.
Coating
The coating is a soft matte finish similar to the one on the Kone Pro Air. Like that mouse, it also gets quite sticky and attracts dirt.
You can get the mouse in a black or white color, and Roccat has a translucent covering that gives it a soft glow with the RGB lights. It's more obvious with the white variant.
Speaking of RGB, I went into this review after being told that the RGB on it would be the best I've ever seen. Disclaimer – it's not.
I mean, it's fancy enough with bright colors on the scroll wheel, on the base of the mouse, and customization options. You can even sync it with other Roccat-branded gear, but I wouldn't say it's anything special in comparison to some other fancy RGB-lit mice that I've tested in the past.
Etched in the sides of the mouse are a few lines that I suppose should provide extra grip. It's a recurring theme for Roccat to have something happening on the sides of their mice, although it's usually some sort of patterned design.
These lines are pretty distracting for me. My fingers tend to move around when playing games, so they're constantly rubbing up against the lines and it was annoying.
The groves between them also serve as a hiding spot for dirt and gamer gunk, so I really can't say it's a good addition if I'm being honest.
Feet
The Roccat Kone XP Air's feet glide nicely across mousepads, but you may hear a slight scratching sound when using it on a desk or similar surfaces. The gliding is still smooth and the scratching sound is not that big of an issue.
Buttons and Switches
Roccat has used the Titan Optic switches for a few mice now. They're rated for 100 million clicks which is durable, and you'd expect them to be consistent as quality optical switches often are.
However, in practice, the main buttons on the Kone XP Air mouse are extremely mushy. The switches rub against the shell so much, and there is a significant amount of post-travel on the buttons. So much that they continue to move after the switch is triggered.
If you're the type to squeeze when you click, you might find that you just keep pressing down as there's no immediate stopping point. I should mention that the effect is lessened if you press the buttons from further up the mouse, but you shouldn't have to do that and you're still going to notice it unless you have very small hands.
The extra side buttons that I mentioned earlier include some DPI cycle buttons next to the mouse one button, similar to the ones on the G502 but smaller. They're useful, practical, and surprisingly of better quality than the main buttons.
It's curious how Roccat has managed to mess up the buttons that will be used most frequently but they've built decent extra buttons that won't see as much action. Talk about misplaced priorities.
At this point, the Titan switches are just far behind the times and Roccat needs to look elsewhere.
Moving on to the scroll wheel, a part of the mouse that is really important feature-wise for the Basilisk and G502 mice. Roccat's take on the scroll wheel is not unlockable like the other two, but it has something called the "4D Krystal wheel".
This feature enables up to 29 possible functions, but in my tests, it provided proof that quality supersedes quantity every time. The scroll wheel is such a complete mess to the point where I started to assume mine was broken.
When I press the wheel down to trigger the mouse3 switch, it clicks again and then stops working. Tilt-shift scrolling is too easy to trigger as well compared to the Basilisk and the G502, and it just feels like there is so much going on at once and nothing is getting done at the same time.
A review of the Razer Basilisk v3 Pro's features shows that building a feature-rich mouse can be done without sacrificing quality for quantity, and Roccat has simply not managed to hack the formula.
Performance
The Owl Eye optical sensor is a 3370 from Roccat, and it falls somewhere in the mid-range of gaming mice sensors. It's a very good and energy-efficient sensor, and it provides low wireless latency so you don't have to worry about input lag.
However, for all the reasons that I've discussed up till this point, using the Roccat Kone XP Air for gaming was a terrible experience.
When I'm doing these reviews, I usually test mice with different types of games, including FPS such as Apex, MOBA such as Dota2, and ARPG such as Path of Exile. It's not often that a gaming mouse fails performance tests across all these genres, but the Kone XP Air did so with ease.
The mushy switches are impossible to get used to, and the lines across the sides constantly get in the way as well.
To be fair, the mouse does have some redeeming features. The feet are alright, the RGB lighting is nice, the shape is comfortable, and the wireless performance is good.
There's also a charging dock too, for people that like that tech. Personally, I don't understand why anyone would rather use a charging method that stops you from using the mouse. USB-C cables charge quickly, and you can use the mouse while charging – it should be a no-brainer!
Software and Battery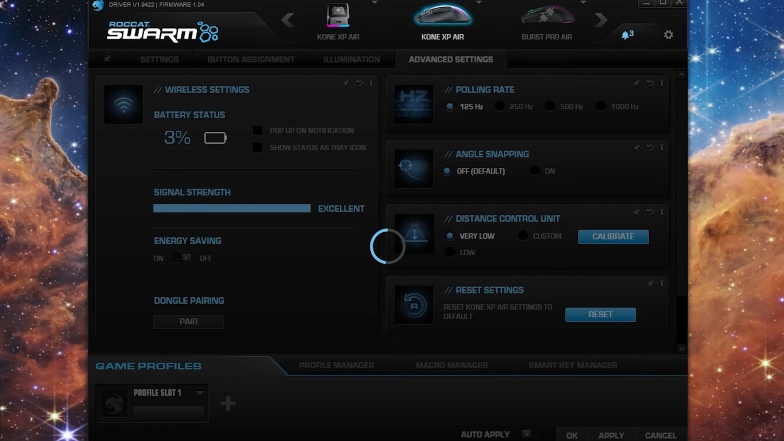 I'm lumping these two sections together because of a ridiculous thing that happened with my review unit of the Roccat Kone XP Air.
At some point, the mouse went dead with no warning signs at all. So, I boot up the "SWARM" software and update everything required. Initially, the software showed that the mouse only had 3% of charge which, to me, explained why it died.
But, when the software finished loading, it showed that the mouse had a full charge. A few seconds later, it goes dead again. This time, when I fired up the software, some settings that were previously in there were missing.
Needless to say, my experience with using the SWARM software was far from pleasant. I'm not sure if the issues I had were a result of bugs within the software, with the battery, or both, but I would be wary of both.
That said, Roccat advertised up to 100 hours of battery life on a full charge, with 10 minutes of charge providing 5 hours of battery life.
Obviously, this all depends on how you use the mouse – RGB on/off, polling rates, etc. But, with the experience that I had, I would take the 100-hour thing with a pinch of salt anyway.
Verdict
So, would I recommend the Roccat Kone XP Air? Let me put it this way – I'd pay a maximum of $50 for this mouse, and then I'd still return it anyway.
If you have an RGB fetish or think that included accessories equal value for money regardless of performance, then the XP Air is for you. If not, do not go near it with a 30-foot-long pole.
At the beginning of this review, I mentioned that Roccat was looking to compete with the Basilisk and the G502 with this model. In the end, I sorely regret that statement. There's no competition.