To keep DiamondLobby free to read, this post may contain affiliate links. Learn more
The gaming gear market is constantly expanding. New manufacturers are popping up every other day, shoving their products in gamers' faces to get some attention. Many of these products end up being sub-par, but we get the occasional hidden gem.
Lamzu is a new company in the gaming industry that released a new mouse called the Lamzu Atlantis. If for no other reason, that name was enough to pique my interest and see what the mouse is all about.
For this Lamzu Atlantis review, I pulled the trigger on a risky purchase so you don't have to. Buying a new product from a new manufacturer can be scary, but there's an irreplaceable feeling of pride that one gets if it turns out to be a good buy. Let's see if that's the case with this mouse.
Price
The recommended retail price of the Lamzu Atlantis is $97.99, but you can get the mouse for as low as $89.99 on third-party retailers such as Amazon. If you're lucky, you may stumble on an even better deal.
Considering the fact that this product is from a first-time manufacturer, there will be valid questions about quality control and long-term support, and that will make things a bit tricky when making a purchase decision.
Specs
In the package, you get the mouse, an adapter, a velvet bag, a 1.8m type-C paracord, extra PTFE feet, and a USB dongle.
The specs of the mouse are as follows:
| Size (mm) | Weight | Sensor | Switches | DPI | Polling Rate | Software |
| --- | --- | --- | --- | --- | --- | --- |
| 123 x 66 x 38 | 55g | PAW3395 | Huano Pink Dots | up to 26000 | 1000Hz | Yes |
55 grams of weight puts the Lamzu Atlantis in the lightweight mice category. It's almost exactly the same weight as the Pulsar X2 wireless mouse, and they generally share a similar physical profile. They even share the same sensor – Pixart's 3395.
If you're familiar with the Endgame Gear XM1r, that's another mouse that has a similar profile to the Lamzu Atlantis. There are a few differences in width and height, but nothing major.
Design
The Lamzu Atlantis comes in up to five colors – white, black, Miami blue, light green, and hot pink. Normally, I don't care about aesthetics when it comes to my gaming mice collection, but I'm actually a fan of the looks on this one.
The underside of the mouse is not as inviting. They've stuck all the holes down there, and there's a clear plastic covering that looks a bit cheap to me. I have small doubts about its structural integrity because of this.
For people that are not familiar with either one of the mice that I've compared the Atlantis to earlier on, it is a mouse that appears to be built for claw or fingertip grip users.
Shape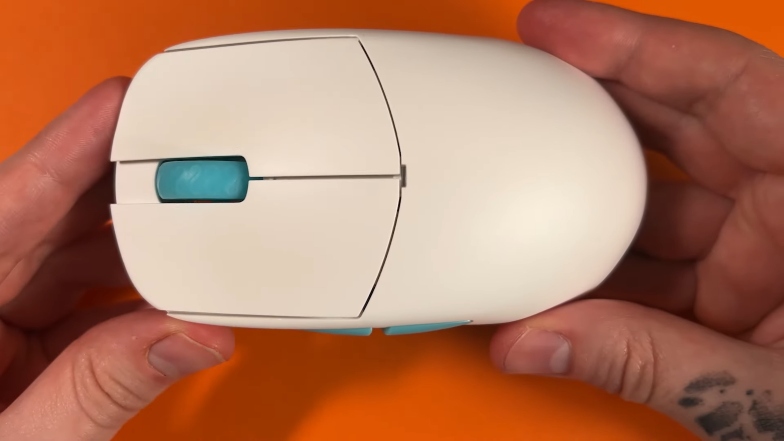 Compared to other claw grip mice that I've tested, the hump on the Lamzu Atlantis is located slightly more centrally. It pushes just a bit further up my palm, which makes it theoretically more comfortable for my preferred palm grip than other claw grip mice.
However, if you're a palm grip user like me, then you may also have a small problem with this mouse's shape.
If you prefer to have your pinky up against the shell on the right side for support, it would be much harder to do so with this mouse as the curve on that side goes much further inside than the Pulsar X2 and the XM1r.
This means that your pinky will spend a lot of time hanging free, and that can get uncomfortable after a while. It also means that if like me, you tend to squeeze your mouse in your hand while using it, the Atlantis' shape can be a bit of a gamble in terms of comfort.
However, as I've suggested, it should be great for fingertip or claw grip users. There's no hangover of the main mouse button on the sides so you have a perch for your ring finger if you want, and the light weight of the mouse only makes it more comfortable especially for long grinding sessions.
Coating
The coating of the Lamzu Atlantis mouse is a smooth matte texture that looks pretty nice and feels even better. Glossy mice tend to attract dirt, so the matte here is perfect as it gives little to no room for dirt to build up.
Even the seams and small lines across the shell where dirt would usually build up are so tiny that you need not worry about cleaning. Most of the dirt will remain on the surface, and you can easily get it off by wiping the mouse down.
Feet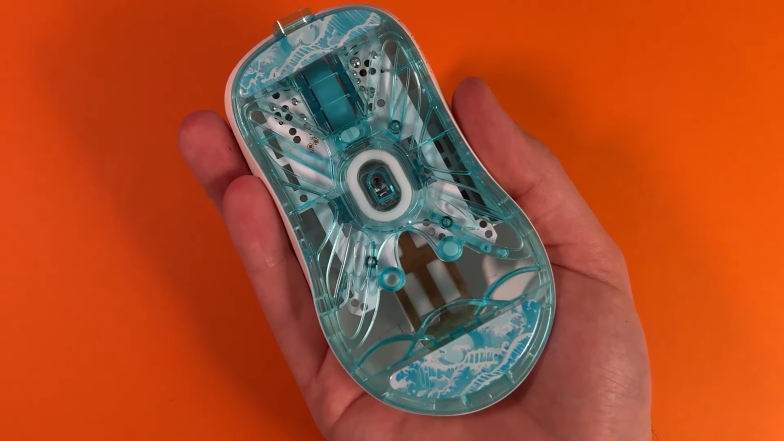 Apart from the spare PTFE feet included in the package, the first 1000 buyers of the Lamzu Atlantis mouse got free glass mouse feet to use (I'm assuming they've sold up to 1000 by now).
The glass feet look really good with the theme of the mouse's design, and they actually make a difference to the gaming experience too. They make the mouse extra responsive, and it's a bit of a shame that not everyone will have access to them by default.
Regardless, the standard PTFE feet are great as well. They feel super smooth and fly across the mouse pad freely.
Buttons and Switches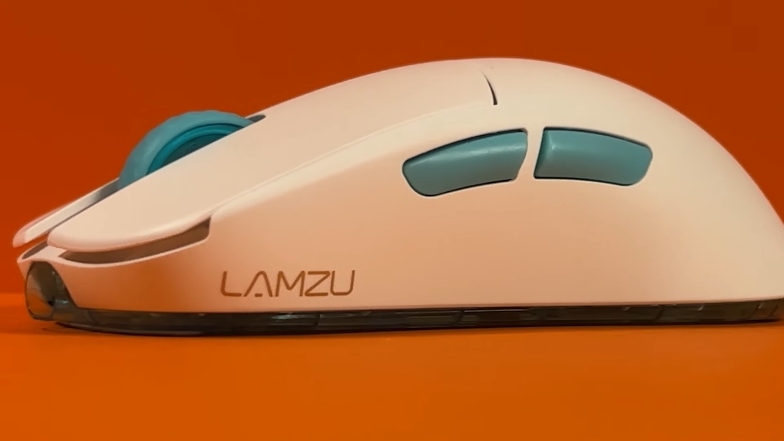 I haven't reviewed many mice that use the same Huano Pink Dot switches found in the Lamzu Atlantis mouse. In fact, I only recall testing these switches extensively in a review of the Ninjutso Katana Superlight mouse, and they were great.
Here, they're pretty nice too. I'd say they're on the same level as the popular Kailh gm8.0s. The buttons on top have no noticeable pre-travel and very little post-travel as well. The side buttons are a good size, easy to reach, and they feel nice and consistent.
Unfortunately, the scroll wheel leaves much to be desired. Games like Dota2 (and generally MOBAs and RTS) have quite a bit of clicking involved, so I tested the scroll wheel extensively while playing these games.
Right off the bat, I already noticed some stiffness to the wheel, but not so much that it was an immediate problem.
However, I noticed a bigger problem with a particular notch on the wheel. The mouse3 click on that notch feels incredibly mushy and it squeaks quite a bit.
This might be a quality control issue with my review unit and even if it wasn't, it's only one notch so it might not be a big deal for many people. However, I thought it was worth mentioning as I'm pitting this mouse against others that I hold to very high standards.
Performance
With the included USB dongle adapter, you can have the dongle closer to your mouse to reduce wireless interference.
The 3395 sensor supports up to 26,000 dpi, and it is one of the highest-tier sensors that you can get. It is energy efficient and supplies low-latency wireless performance.
You will hardly find any gaming mouse with poor sensor performance nowadays anyway, and the difference between even the "mid-tier" options and the "high-tier" ones is not as massive as one might think.
In-game performance is, in one word, amazing. I like to think that I have high standards when it comes to rating gaming mice, and this one blew it right out of the park.
Despite the fact that I prefer using the palm grip, and the Lamzu Atlantis was built with a "claw or fingertip grip" shape, everything felt fantastic apart from that notch.
Software & Battery
The mouse comes with software that, at first glance, looks stripped to the basics (which is good!). There are three tables with a variety of functions under each one, and the software's interface is straightforward enough to navigate without issues.
The first tab contains options for button remapping to mouse, media, keyboard, and macro functions. You can also adjust debounce time and manage profiles there.
The second tab contains polling rate and DPI adjustment settings, which is important due to the multiple levels in between the lowest 50 dpi and the highest 26000. There are increments of 50 in between each level, so imagine having to adjust that on the mouse! The third tab is a macro editor.
Lamzu advertised a battery life of 70 hours for the Atlantis mouse. You can view the amount of juice you have left inside the software, but it is mostly inaccurate. The battery capacity of the mouse is 300mAh which on paper is not fantastic, but it's not horrible either.
When you run out of juice, the included USB type-A to type-C charging cable will come in handy.
Verdict
I rate the Pulsar X2 mouse very highly, and the fact that I have made multiple references to it in comparison to the Lamzu Atlantis bodes well for the new guy on the block.
Based on my experience with the mouse, I think it is a great product from Lamzu. It consistently matches my high standards of quality, performance, and comfort, and I think that if the shape suits your needs, the mouse is well worth picking up.
It would be hard not to recommend the Lamzu Atlantis. Lamzu is relatively new and not fully trustworthy in terms of how proven their reliability is yet, but it's exceptional right now.
Update after 6 months: reliability continues to be exceptional.
If they continue to produce gaming gear that meets or exceeds the high standard of quality that the Lamzu Atlantis has set, then there is absolutely nothing stopping them from becoming a high-tier manufacturer.