To keep DiamondLobby free to read, this post may contain affiliate links. Learn more
Pulsar set up shop in Korea in 2020, and since then, they've made a reasonable impact in the gaming industry. They've got a nice blend of high-quality but reasonably priced products, which is pretty much the sweet spot for die-hard gamers that spend a lot of time and money checking out and buying their gear.
One of the products that caught my attention is a gaming mouse that on paper, looks like real value for money – the Pulsar XLite Wireless Mouse. By "on paper", I mean a nice spec sheet and efficient design – good externals and internals.
But, it's one thing to look good on paper, and it's another for functionality to match presentation. So, I thought I'd take a closer look at just how well this mouse performs in real-life tests. The results were…interesting.
Note: this is a review of the original Pulsar XLite. We have a separate review of the Pulsar XLite V2.
Specs
The package is pretty standard. You get a cable, a USB receiver, and a USB adapter in the box.
Other key measurements and specs are as follows:
| Size (mm) | Weight | Sensor | Polling Rate | DPI | Cable Type | Port Type |
| --- | --- | --- | --- | --- | --- | --- |
| 122.66 (L) × 66.17 (W) × 42 (H) | 59 grams | PAW3370 | 1000hz | up to 20000 | Paracord | USB-C |
Design
Shape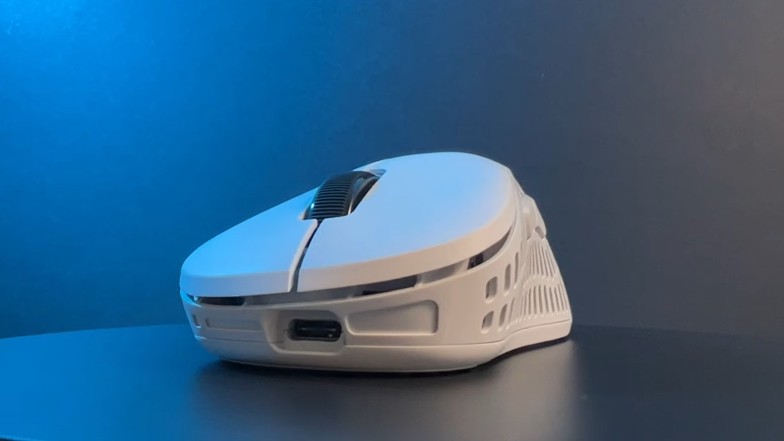 The XLite has an ergonomic design. If like me, you had to Google what the word means the first time you heard it – it means the mouse was built for efficiency and comfort (saved you a click, you're welcome!)
If you have some experience of what the model D or the Zowie EC2 looked like, then you have a rough idea of what to expect from the XLite. My hand fits nicely around the edges, with my pinky and ring finger tucked in against the shape such that they don't touch the mousepad.
One thing I noticed that's not so great is the fact that the curve on the bottom left side of the mouse can be too hard.
It was digging into my hand a little bit too much, so that's something to note. It did not affect how comfortable the upper part under the mouse's 4&5 buttons was though, which was nice. If you typically use your mice the fingertip or claw way, you should be fine.
Bottom Hole
I think I could be forgiven if I said that this is a hole with a mouse on top of it, instead of a mouse with a hole beneath it. The XLite has probably the highest hole-to-coating ratio of any mouse I've seen lately, and this might be a genuine worry for some.
For one, it raises questions about the structural integrity of the mouse. There's no doubt that a more solid-looking piece of engineering would feel more durable, but according to Pulsar, it's nothing to worry about.
The XLite has passed a MIL-STD-810G rating. If you're about to go find out what that means, prepare to be met by an 800-page document from the US Department of Defense. Let us know what you find out.
What I do know is, if it's really passed all the tests in that document, then the expectation is that there should be no worries about the durability of the product.
Another potential worry with the hole in this mouse is the fact that it can become a breeding ground for all sorts of dirt, dust, insects…(maybe mice, even?) You may have to pay extra attention to cleaning it out as often as possible.
While I had this unit, I found that there was a bit of dirt on the mouse one and two buttons, but nothing out of the ordinary.
Coating
Apart from the large hole, there are many other smaller holes that are more like slits, really. The coating is okay, and again, similar to that on the Model D which was occasionally uncomfortable and sticky at times.
With the XLite, I found that extended periods of use made the mouse 1 & 2 buttons a bit uncomfortable too, so that's something else to note.
Buttons and Switches
Mouse 1&2
These switches use the kailh gm8.0s, a pretty solid inclusion that guarantees 80 million clicks. The buttons feel nice and sturdy to the touch and hold their own even when extra pressure is applied.
The side buttons are a slightly different matter as they feel pretty chunky and generally less well-finished in comparison. They are positioned higher up than I'm used to, but still pretty easy to reach and use – no complaints here.
Scroll Wheel
The notches on the scroll wheel feel a bit soft to the touch, which is not my style but it may be yours. I just find that it doesn't provide the feedback that I like with each scroll. The wheel is well-made though, and the switch is nice and consistent, but it just isn't my style.
Feet
With the XLite, you get 100% PTFE, and you can pay more for extra superglides made from aluminosilicate glass. You don't NEED to, though, the PTFE feet are just fine. There's a small sensor ring for extra balance and they've got decent coverage.
Cable/Wireless
The XLite uses 2.4Ghz wireless tech which promises up to 70 hours of battery life. By my estimations, that figure will only be achievable if the mouse is used with a reduced polling rate and the lights off. However, you should not have to worry about charging it too often.
A nice little touch is the addition of the LED light that pretty much lets you know when the battery is going flat so you can plug a cable in with no surprise switch-offs.
The XLite uses a USB-C port, so if you have any USB type-C cables lying around, you can use that if the original cable is not around you for some reason.
Software
If you're into it, you have the option of software for the XLite. The mouse comes with four default DPI values – 400, 800, 1600, and 3200 – adjustable by pressing and holding the scroll, left mouse, and mouse 4 buttons.
If you're using the software, then you can view battery life, adjust DPI values, polling rates, lift-off distance, and macros/debounce times – pretty useful options, really.
In-game Performance
Of course, you want to know how it performs in-game – it is a gaming mouse, after all. Thankfully, it's all good news in this regard.
In-game performance with the XLite is reliable and comfortable. Remember what I said about the coating? That's the only potential issue here as it gets a bit sticky after a while, so if you regularly game for long stretches at a time, this is something you want to take note of.
The lightweight of the mouse really makes the overall experience much smoother here too. The PTFE feet feel super smooth, but to be fair, I was using the superglides so that makes a difference.
Cost
At around $74.95, £69, or €84.90 at the time of writing, the XLite is great value. It has some of the best hardware (that flagship sensor!) on the market, so it gets full marks here.
Verdict
So, judgment.
Earlier on, I compared the Pulsar XLite to the Model D Wireless which is also a good option, but I would say the XLite is an even better deal – especially at that price point. For all the holes in its sides, it won't burn too many in your pocket.
Additionally, unlike many other mice on the market, there does not seem to be any glaring issues with this model. It generally just feels like superior quality.
Pulsar has paid a lot of attention to detail with this one, and by all indications, it has resulted in a genuinely rock-solid performer.