To keep DiamondLobby free to read, this post may contain affiliate links. Learn more
2021 saw the introduction of some new players in the gaming industry, in categories such as gaming mice, keyboards, audio equipment, desks, etc. Vaxee was one of those new sets of manufacturers, even though their backroom is made up of people with a wealth of experience in the game already.
You see, some of the original founders of the brand were previously with Zowie. If you're familiar with Zowie, then you're most likely also familiar with what they're best known for, especially with gaming mice. They pride themselves on the variety of options that they can offer to consumers when it comes to comfortable mouse shapes that feel as personalized as possible.
Vaxee, on the other hand, is going down a different route here. According to what we've heard from the founders themselves, their focus is on building high-performing products where every feature is useful and intentional.
They've made it clear that Vaxee will shun gimmicks and flashy designs in favor of performance improvements every time, so I think it's fair to demand that they keep that energy with the release of each new product.
They've talked the talk, but can they walk the walk? Let's find out through my review of the Vaxee OUTSET AX mouse. Vaxee sent me a review unit, and I've played around with it for a bit, so it's only fair that I share my thoughts – honest as always – with my biggest fans, you (I hope!).
Specs
The packaging already suggests that this is a serious product that's not trying to win any contests for aesthetics. It's a plain box that contains the mouse with its cable. Nothing extraordinary – I like it.
The key specs of the mouse itself are as follows:
| Size (mm) | Weight | Polling Rate | Sensor | Cable Type | Buttons | DPI |
| --- | --- | --- | --- | --- | --- | --- |
| 117.43 × 59-65 × 43 | 76g | up to 1000 Hz | PixArt PMW3389 | Paracord | 5 | Up to 3200 |
Vaxee has stuck with the PMW3389 sensor from the Zygen NP-01. It's a quality sensor, so it's nice to see. The cable is about 2 meters long (or about 6.5 feet), so you can get some distance between yourself and the PC if you want.
The listed 76-gram weight does not take the cable into account, but that should be negligible.
Nothing really stands out with these specs, and real-life performance is what's important anyway so I'll just move on to the next section, design.
Design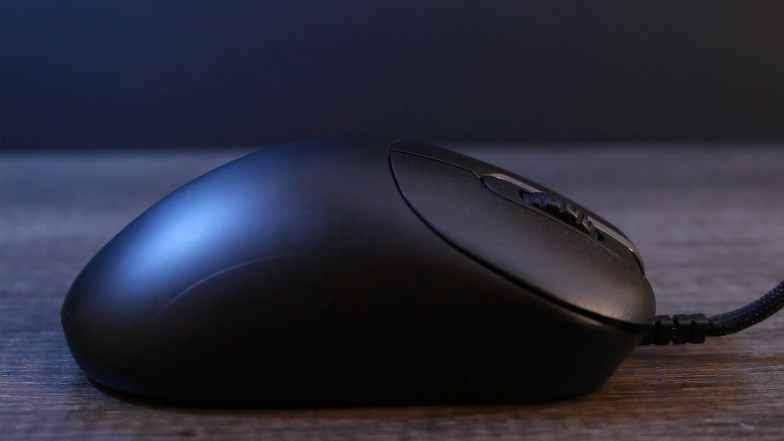 They may not be spending too much time worrying about how exciting their mice look, but Vaxee has still done a good job here.
Their first gaming mouse, the Zygen NP-01 was well-received among competitive gamers, and it had a simple, almost minimalistic design.
Vaxee has stuck with the trend in terms of design, so the OUTSET AX mouse is similar to the Zygen model in that aspect.
There's very little to see in terms of branding. "OUTSET" text on the side and "VAXEE" on the underside of the mouse are all you'll see, and I don't mind that.
Shape
In terms of shape, the OUTSET AX mouse is similar to its older brother when you look at the mouse from the middle to the base. However, there's a slight difference in how the curves run from the middle to the top.
The shape is unapologetically right-handed. It's asymmetrical, and the sloping back provides good support especially for palm grip users like me.
If you use a claw grip, you might not like it as much. You may prefer what mice with flatter backs such as the Logitech G305 Lightspeed have to offer. However, it should not be a dealbreaker either way.
Coating
You get two options of coating with the Vaxee OUSET AX mouse. There's one with a soft matte finish, and another with a glossy finish. Personally, I'm a matte finish type of guy, but it's nice to have options.
When the Zygen NP-01 model was first released, I thought it was a bit strange that the mouse one and two buttons had a different type of coating from the rest of the mouse. Vaxee has done the same thing here, so those two main buttons have a rubberized feel to them.
Generally, manufacturers explain rubberized coating with "better grip", but I can't really see how that would apply here. I don't think anyone has a real issue with fingers slipping off the mouse one and two buttons, but if I'm wrong, then let me know.
Feet
Two large PTFE feet sit at the top and base of the underside of the mouse. The feet are 0.6mm thick, and they glide relatively smoothly.
Buttons and Switches
Here's a part of the mouse that I really like. Once again, Vaxee is powering the mouse and two switches with Huano switches. I've seen talk from people that don't like them because they generally require more force to trigger, but I think they're great.
The side buttons are really nice too. Easy to reach with a roll of the thumb, good size, and they feel crisp in use. There's enough room for your thumb to sit in on that left side too, so you don't have to worry about triggering the side buttons by mistake.
There's a selection of buttons underneath the mouse too. There, you can adjust DPI values, the polling rate, click latency, and the lift-off distance. Personally, the only thing I may occasionally adjust is the DPI.
So, the elephant in the room – the scroll wheel. *cue deep sigh*
If you've seen my review of the ZOWIE S1-C mouse, then you already know where this is going. If you don't really care about the scroll wheel, you might as well skip the next couple of paragraphs because I'll take my time to rant until something changes.
The scroll wheel is annoyingly noisy, which was the case with that particular Zowie mouse and a few others that I've personally tested.
I mean, this is Vaxee, not Zowie, but somehow the problem remains. I guess you can take the team out of Zowie, but you can't take Zowie out of the team.
In all my time reviewing loads of gaming mice, the scroll wheel is often the component that I have the least complaints about. I think it's unacceptable that any manufacturer would mess up something that should be so easy to build so badly.
Like the Zowie S1-C, it's pretty easy to get the wheel stuck in between notches. Also, you need to apply more force than should be necessary to use the mouse 3 buttons. It's just bad engineering overall and needs to be fixed ASAP.
That's the only real problem I have with the Vaxee OUTSET AX mouse, but it's a really annoying one.
Cost
At the time of writing, you can grab a Vaxee OUTSET AX mouse for around $64.99 on the manufacturer's website.
Verdict
To be perfectly honest, this is a good mouse overall. It would have been great if the scroll wheel was better, especially for the price it's going for. However, I'm self-aware, and I realize that many people may not care as much about it as I do.
Also, feature-wise, it would be nice to see Vaxee make some progress to catch up with the industry standards. But I imagine as the brand continues to grow, we'll see those changes.
So, would I recommend the Vaxee OUTSET AX mouse? Yes, I would. It's simple, comfortable, and performs well in-game. Vaxee also seems to take after-sales services very seriously, so you can expect to get good customer support if you need it for any reason post-purchase.