To keep DiamondLobby free to read, this post may contain affiliate links. Learn more
I have tested gaming mice on YouTube for a number of years. I was on hands on with all products included in this review
in this video
.
Gaming using a mouse that is a little too large for your hands is not only likely to lead to wrist-related issues as a result of added stress but will also hamper your in-game performance to a great extent.
In this guide and review, we'll help you find the perfect gaming mouse if your hands are on the smaller side. To do that, we searched the entire gaming mouse market to look at:
Size
Shape
Connectivity
Sensor
DPI
RGB
Then, our job was to pick out the best gaming mouse for small hands from our shortlist.
Our number one pick is the Xtrfy M42, a premium mouse that's on the smaller side. If you're looking for something much smaller than the average mouse, the Razer Orochi v2 is an excellent budget-friendly option.
We bought and tested all products with photo and video evidence here.
Let's take a look at our selections in more detail below.
Top Pick: Xtrfy M42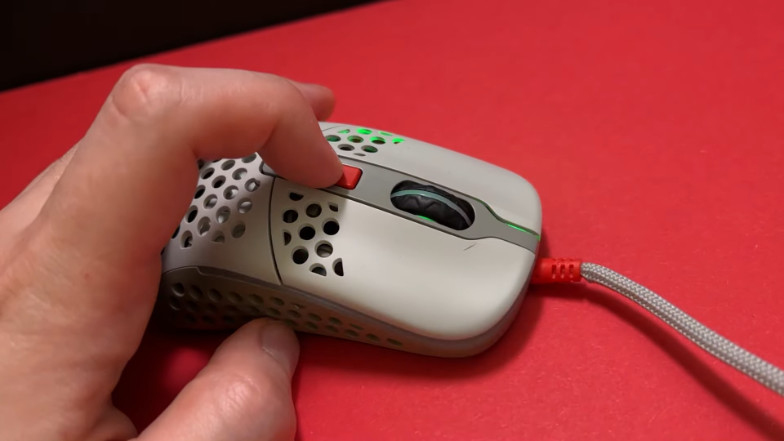 | | | | | |
| --- | --- | --- | --- | --- |
| Size (L/W/H in mm) | Connectivity | Sensor Type | DPI | RGB |
| 118 × 62 × 38 | Wired | 3389 | 16000 | Yes |
In our opinion, the Xtrfy M42 is the best performing gaming mouse for small hands.
Design
The Xtrfy M42 mouse is one of the bigger options on this list. The model measures 118 (L) x 62 (H) x 38mm (W) and weighs only 2.08 ounces without the cable.
Its shape is quite friendly for various types of grips, and it also helps that you can make more adjustments if required with the swappable back humps.
The coating of the mouse is soft matte, which looks good but can get sticky. The holes all around the mouse help with this a bit though, allowing the circulation of air to your palm when it gets sweaty.
A questionable design decision for me was the idea of putting the DPI cycle button at the bottom of the mouse. I would expect that the RGB light selection trigger button would be at the bottom with the DPI button on top. But the reverse is the case.
The side buttons are well-placed, easy to reach, and they're a good size too. Apart from the DPI button, you also have the polling rate adjuster and PTFE feet at the bottom of the mouse.
Performance
Performance-wise, the Xtrfy M42 holds up very well, which is no surprise as the manufacturer has released some other incredible mice in the past.
The included Omron switches are rated for 20 million clicks, and they feel nice and consistent to use.
The Pixart 3389 sensor is a high-range, high-performing sensor, and it functions as well as expected here too.
The paracord cable is lightweight and stays out of the way so you don't have to worry about distractions when you're in the middle of a session. You should know though that there is a wireless version of the mouse if you prefer that.
Overall, the Xtrfy M42 is a high-performing, comfortable small mouse. It's available on Xtrfy's official store, as well as Amazon.
Runner-Up: Razer Orochi v2
| | | | | |
| --- | --- | --- | --- | --- |
| Size (L/W/H in mm) | Connectivity | Sensor Type | DPI | RGB |
| 106 × 62 × 38 | Wireless | 3335 | 18000 | No |
The runner-up for the best gaming mouse for small hands is the Razer Orochi v2 wireless mouse.
Design
The first thing that stands out in the design of the Razer Orochi v2 mouse is its "egg-shaped" exterior. The mouse is designed to be suitable for all grip types, and it does manage that fairly well during testing.
There are grooves on the sides to make your fingers sit even more comfortably, and the hump at the top curves in the right places to allow your palm to sit nicely on it. Interestingly, the shell is removable.
The mouse's coating also has a nice little grip that helps it to stay tight to your grip even when things heat up.
A bit disappointingly, the side buttons are just a tad undersized which makes them hard to reach for me. I imagine that this contributes to the overall comfort of using the mouse, so I'll take it as a sacrifice Razer felt they had to make.
There's a DPI cycle button on top (as it should be) and the power, 2.4ghz. and Bluetooth toggles underneath the mouse. Three PTFE feet are spread out around this toggle, and they are of good quality too.
The mouse weighs about 2.6 ounces with the included lithium battery.
Performance
Razer has used its own mechanical switches, and they are rated for 60 million clicks, which is a good number. They feel great and responsive.
Although the mouse is generally very comfortable, the situation with the side buttons is something to note before making a purchase.
Personally, I think it's not a bad sacrifice to make when you look at the whole package, but it's important to have every bit of information.
The modified Pixart 3335 sensor is not the absolute best on the market, but it's good enough. It does have a higher lift-off distance compared to alternatives on this list, but that's not a huge deal.
One of the best things about the Razer Orochi mouse is its battery life. 420 hours with the included lithium battery is incredible, and the fact that you can get that with no cables involved makes it even better.
You can check out the Razer Orochi v2 on Amazon or the Razer website.
How We Picked
To pick the gaming mice you'll see today, we considered each model's:
Size
To find the most suitable mice for this guide and review, the first aspect of any mouse we came across that we considered was the size.
Mice that fell outside of the small and medium hand size ranges, as laid out in the aforementioned table, would be excluded.
Connectivity Type
As there is a pretty decent demand for both wireless and wired mice, we made sure to include a fair number of both. If a mouse was wireless then we made sure to go for 2.4Ghz options and if it was wired then we looked to prioritize those with a paracord cable where possible.
Sensor Type
Modern-day gaming mice host one of two types of sensors – optical or laser. From the in-depth research, we didn't manage to find any worthy laser gaming mice, and as a result, we didn't include any.
Many manufacturers make their own sensors or have exclusive sensors, so we've listed the sensor each mouse is using alongside their product description.
DPI
Dots-per-inch or DPI refers to the number of movement points the sensor can detect and act upon per inch. The higher the DPI, the more sensitivity the mouse can technically offer.
Most gamers don't actually play with a DPI of anything higher than 1,500 (and even that's on the very high side) but as it's something a lot of people are looking for, we included it anyway.
Don't put too much emphasis on how high the DPI number is though – if it's already in the thousands, you're good.
RGB Lights
Gamers tend to love RGB lights. Nearly every piece of gear on the market today has built-in RGB. As a result, we've highlighted whether these small mice have RGB or not – but it didn't play into our factoring when decided on which product was best.
Budget Pick: Logitech G203
| | | | | |
| --- | --- | --- | --- | --- |
| Size (L/W/H in mm) | Connectivity | Sensor Type | DPI | RGB |
| 117 × 62 × 38 | Wired | Optical | Up to 8,000 | Yes |
If you're looking for a great gaming mouse that can fit your hand size on a budget, then the Logitech G203 is one of the best picks on the market today.
The best price at the time of writing was $29.80.
Design
Visually speaking, the G203 hosts one of the simplest and most compact designs from the mice that we've seen over the last several days. Thanks to its small design, measuring just 4.5″ (L) x 2.4″ (W) x 1.5″ (H), this mouse is perfect for individuals with small hands.
Alongside the fully black exterior, there are plenty of opportunities for you to showcase your RGB creativity.
You need to download and access the G HUB software to control and customize the RGB lights. From there, you can customize your backlighting in up to 16.8 million different colors.
Performance
As far as performance is concerned, Logitech's G203 is equipped with a gaming-grade optical sensor, which can be customized to reach a DPI of up to 8,000. The mouse allows you a fair amount of flexibility when you need to adjust how precise and accurate you are; the perfect feature for FPS games.
Near the thumb area, you will find an additional two fully programmable buttons that are strategically placed for easy access. Aside from that, the mouse also hosts a built-in memory board, which allows you to save up to five different DPI profiles. You can change between the profiles using the DPI button.
As I currently use this mouse, I really don't recommend you to set different sensitivity profiles if you play FPS games that require a lot of quick action. In some cases, I accidentally press the DPI button, making me very vulnerable to the enemy.
The primary two buttons of this mouse are mechanical and are equipped with durable metal springs, which adds an extra level of performance, durability, and an excellent overall feel.
If you want to make use of the Logitech G203, you can buy it from Amazon, the official Logitech website, and Best Buy.
Alternative Budget Pick: Razer Viper Mini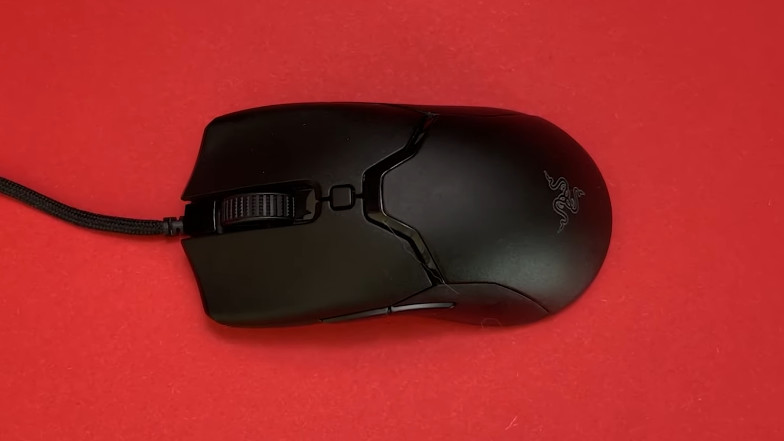 | | | | | |
| --- | --- | --- | --- | --- |
| Size (L/W/H in mm) | Connectivity | Sensor Type | DPI | RGB |
| 118 × 61 × 38 | Wired | Pixart 3359 | 8500 | Yes |
If you need a budget alternative to the Logitech G203 gaming mouse that also provides great value for money, then the Razer Viper Mini would be a great choice.
The best price at the time of writing was $23.74.
Design
In terms of size, the Razer Viper Mini measures exactly 118 (L) x 61 (W) x 38mm (H) with a weight of 2.2 ounces without the cable.
Like the Orochi v2 mouse from the same manufacturer, the Viper Mini was built to be comfortable for all grip types. It does feel great for my preferred grip, and I think most people will be able to say the same.
The coating is coarse as is the fashion of many Razer mice, and it contributes to the overall comfortable grip.
Performance
Razer's optical switches are used here, rated for 70 million clicks. They feel great and I'd say even better than the ones used on the v2 Pro mouse, especially in terms of consistency.
The Pixart 3359 is once again used here, and as I said, it is a mid-range sensor that does the job with no fuss and no disappointments. It also features a similarly high lift-off distance, the same as the Razer Orochi v2 mouse.
I should mention that I've had quality control issues with a couple of Razer Viper mice that I used in the past, so that is something to be wary of. However, it was a while ago and should all be sorted out by now.
Generally, this is a great little budget option for people looking for a gaming mouse for small hands. It's lightweight, has a small physical footprint, nice PTFE feet, comfortable shape, and nice coating.
If you're a fan of the Razer Viper Mini, you can buy this gaming mouse from Amazon, or on the official Razer website.
Other Great Gaming Mice for Small Hands
Logitech G305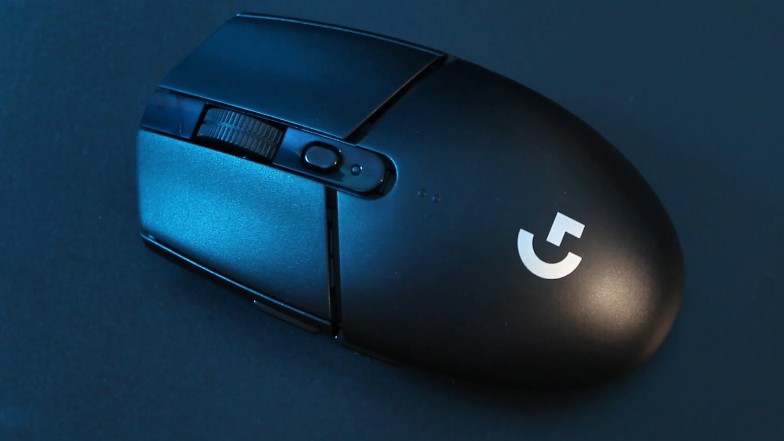 | | | | | |
| --- | --- | --- | --- | --- |
| Size (L/W/H in mm) | Connectivity | Sensor Type | DPI | RGB |
| 116 × 62 × 38 | Wireless | Logitech Hero | 12000 | No |
The Logitech G305 is another fantastic gaming mouse perfect for gamers with smaller-sized hands.
The best price at the time of writing was $44.89.
Design
Like the Razer Orochi v2 mouse, the Logitech G305 is also a wireless "egg" in terms of shape.
It has a similar physical footprint to the other mice that have been discussed so far, but it stands out in the weight category at 3.5 ounces (including the alkaline battery).
It is a bit longer than the Orochi v2, which is actually a good thing because my fingers have more room to rest across the top. However, the sides are curved all the way to the base and that occasionally causes my hands to get a bit stiff and uncomfortable after a while.
Logitech takes a different approach to coat compared to the Razer mice, opting for a softer matte texture. As a result, the G305 does not provide as good a grip as the Razer alternatives and can get a bit sticky especially if you have sweaty palms.
Performance
Firstly, the Logitech Hero sensor used here is different from the Pixart ones we've discussed so far, but it is an equally great sensor. That, in combination with the excellent 250-hour battery life of the mouse, are the biggest selling points.
However, testing did turn up a couple of worries. Apart from the uncomfortable design of the sides, you also don't get PTFE feet. The standard plastic ones that you do get are inferior and don't glide across mouse pads as well as PTFE feet do.
The weight of the mouse is a bit of an issue too because if you're getting a mouse mainly for its small footprint, you would expect that the mouse would be lightweight. However, this one feels a tad more cumbersome to use than the other options we've discussed so far.
You can pick up the G305 on Amazon or the official Logitech store.
Cooler Master MM720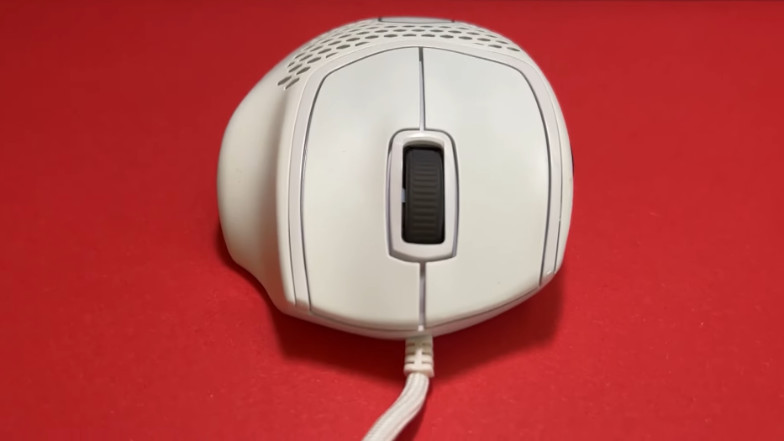 | | | | | |
| --- | --- | --- | --- | --- |
| Size (L/W/H in mm) | Connectivity | Sensor Type | DPI | RGB |
| 105 × 76 × 36 | Wired | PMW 3389 | 16000 | Yes |
The Cooler Master MM720 may not be from a manufacturer with a reputation as large as Razer's or Logitech's, but it is a great option if you want to try something different.
The best price at the time of writing was $55.01.
Design
Unlike most of the best gaming mice for small hands in this guide, the Cooler Master MM720 does not try to pander to everyone by creating a shape for all grips.
It is almost unapologetically best for people that use the claw grip, but it does feel decent for other grips as well. I prefer the palm grip and I had no issues using the mouse that way.
There are grooves on the right side that give your ring and pinky finger a nice bit of space to sit in, and it actually feels really comfortable.
You can choose from one of two coating options – glossy or matte. The matte white version is very soft, so you may want to consider stickiness if you're going to opt for that.
The design of the Cooler Master MM720 mouse certainly stands out from the rest of the group – in an odd way.
Performance
The LK Optical switches used here are rated for 70 million clicks, and they feel well-made. Interestingly, the scroll wheel is optical too, so it uses light to detect the trigger, which pretty much guarantees better accuracy and speed.
The mouse is IP58 rated, but I wouldn't advise deliberately putting that to the test. The sensor is also flawless, but that's become a standard requirement with modern mice.
You do get PTFE feet here – large ones – and they help maintain a nice balance and smoothness on the mousepad.
The included paracord cable is lightweight and stays out of the way when you're using the mouse, so it gets my seal of approval.
The Cooler Master MM720 mouse is a perfect example of function over form. If you're willing to give it a try, you can buy the mouse from Amazon or from the manufacturer's website.
Pulsar Xlite v2 Mini
| | | | | |
| --- | --- | --- | --- | --- |
| Size (L/W/H in mm) | Connectivity | Sensor Type | DPI | RGB |
| 117 × 64 × 40 | Wireless | PAW 3370 | 20000 | No |
If you don't care about RGB lights but want a mouse for small hands with a lot of attention to detail, then the Pulsar Xlite v2 Mini would be a great option to consider.
The original Pulsar Xlite mouse was great, and the Pulsar Xlite v2 is even better – even in mini form.
The best price at the time of writing was $80.
Design
The Pulsar Xlite v2 Mini mouse has an ergonomic design with a lot of holes in a lot of places.
This was done because of the type of coating used, to allow ventilation across various points on the mouse and prevent stickiness from sweaty palms. It works well, in my experience.
The mouse's shape is great for most grip types, although it leaves some space between my thumb and the shell of the mouse on its left side.
As far as measurements are concerned, this mouse measures 117 (L) x 64 (W) x 40mm (H) and weighs a total of 1.94 ounces, making it the lightest option in this guide.
Performance
70 hours of battery life is far from the best, even within the small sample size of wireless mice in this review, but the Xlite v2 mini has many other things going for it.
Firstly, the PAW3370 sensor is one of the best out there. It has great connectivity and its efficiency stands out, even with the fact that most sensors nowadays are great as well.
The balance provided by the excellent weight distribution of the mouse was fantastic for gaming, and it is probably my favorite upgrade from the previous version of the mouse.
The standard 100% PTFE feet are super smooth too. The main buttons felt fantastic with the same Kailh gm8.0s switches from the previous version, and the scroll wheel is pretty solid bar a slight issue with the soft-touch notches.
If you're interested in the Pulsar Xlite v2 Mini, you can buy it from Amazon, or from the official Pulsar website.
How to Measure Your Hands
Before you pick the right-sized mouse for your hands, you need to first know the size of your hands and what is considered small. According to Razer, hands up to 6.7″ in length and 3.3″ in width are considered small. Anything over that is considered either medium or large. Check the table below for reference.
| Size | Hand Length | Hand Width |
| --- | --- | --- |
| Small | Less than 17cm / 6.7″ | 7. 5cm – 8.5cm / 2.9″ – 3.3″ |
| Medium | 17cm – 20cm / 6.7″ – 7.9″ | 8.5cm – 10cm / 3.3″ – 3.9″ |
| Large | More than 20cm / 7.9″ | 10cm – 11cm / 3.9″ – 4.3″ |
If your hands happen to be a little bigger than you thought, you can check our guide on the best mice for gaming, which covers mice across all sizes.
Shopping Tips
As part of our research, we stumbled upon a couple of things that you need to consider before you buy your next gaming mouse.
Wired vs Wireless
There are two types of mice on the market – wired and wireless. Generally speaking, when it comes to the top-of-the-line mice, it doesn't really matter which one you go for. Just be a little warier if you are shopping on a budget as many gamers report connectivity issues with cheaper wireless models.
Do note that if a particular wireless mouse seems inexpensive, we've ensured that it performs to a high level before we decided to include it as part of our guide and review.
Higher DPI Doesn't Mean Better
Going for a mouse that can reach 25,000 DPI shouldn't be the deciding factor unless you obviously need it. In most cases, a mouse with a DPI of up to 1,600 (just to give you some flexibility) would do a perfect job 99% of the time.
In many cases, higher DPI sensors cost more, and for that reason, unless you need the mouse to reach such high DPI, chances are that you are paying more for nothing.
Consider Whether You Need More Buttons
When picking a gaming mouse, think about the games that you are most likely to play. This will easily help you determine what kind of a mouse you need to get.
For example, if you're into MMORPG games, you will benefit more from a mouse that has a number of side buttons as compared to a basic mouse with only a few buttons.
Which Should You Pick?
If you're unsure of which gaming mouse to go for, then below, we have provided you with three scenarios alongside our recommendation for each.
Scenario 1: If you're shopping on a tight budget but would still like to get your hands on a decent gaming mouse that is perfect for your small hands, then we'd recommend you to go for our budget-friendly pick, the Logitech G203.
Scenario 2: If you are not particularly bothered about the price point of the mouse but do want to extract as much value for your money, we'd suggest that you go for the Razer Orochi V2.
Scenario 3: If you're looking for the best possible gaming mouse for small hands on the market today, then you should take a look at the XTRFY M42.