Best Gaming Mouse for Small Hands in 2021 – Compared & Reviewed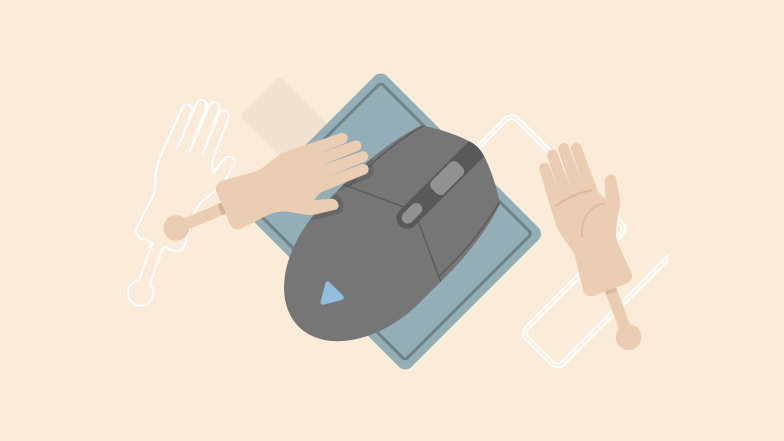 Photo: DiamondLobby
To keep DiamondLobby free to read, this post may contain affiliate links. Learn more
Gaming using a mouse that is a little too large for your hands is not only likely to lead to wrist-related issues as a result of added stress but will also hamper your in-game performance to a great extent.
In this guide and review, we'll help you find the perfect gaming mouse for your hand size. To do that, we searched the entire market while considering each of the products:
Size
Connectivity Type
Sensor Type
DPI
RGB Lights
Upon concluding our research, we'd accumulated a list of over 25 great contenders for the top six spots. Then, our job was to pick out the best gaming mice for small hands across the board.
Let's take a look at our findings.
Before you pick the right sized mouse for your hands, you need to first know the size of your hands and what is considered small. According to Razer, hands up to 6.7″ in length and 3.3″ in width are considered small. Anything over that is considered either medium or large. Check the table below for reference.
| Size | Hand Length | Hand Width |
| --- | --- | --- |
| Small | Less than 17cm / 6.7″ | 7. 5cm – 8.5cm / 2.9″ – 3.3″ |
| Medium | 17cm – 20cm / 6.7″ – 7.9″ | 8.5cm – 10cm / 3.3″ – 3.9″ |
| Large | More than 20cm / 7.9″ | 10cm – 11cm / 3.9″ – 4.3″ |
If your hands happen to be a little bigger than you thought, you can check our guide on the best mice for gaming, which covers mice across all sizes.
The goal of this guide and review is to confidently recommend you a range of hand-picked products that you can make part of your gaming setup to help you optimize your in-game performance and comfort.
Prior to including any given mouse as part of our list of recommendations, we thoroughly researched and analyzed each product to ensure that it meets our set of requirements in terms of size, performance, and overall design.
Do note that our product recommendations are solely a personal opinion based on prior knowledge, experience, in-depth research, and community feedback. There has been zero bias in picking the mice you'll see today.
To pick the gaming mice you'll see today, we considered each model's:
Size
As seen in the grid above, for a mouse to be considered suitable for small hands, it must be under 6.7″ in length and 3.3″ in width. Now, ideally, it is best for the mouse to be even smaller than the hand-size by a few points in order to be considered a "perfect" fit.
To find the most suitable mice for this guide and review, the first aspect of any mouse we came across that we considered was the size. Should the mouse be larger than the above parameters, it would automatically be excluded. Likewise, should the mouse be within the above parameters, it would be considered.
Connectivity Type
Though most gamers prefer wired mice, many don't like the cable aspect as it can get tangled and become annoying – causing a decent percentage of gamers to opt-in for using wireless mice.
As there is a pretty decent demand for both wireless and wired mice, we made sure to include a fair number of both.
Sensor Type
Modern-day gaming mice host one of two types of sensors – optical or laser. From the in-depth research, we didn't manage to find any worthy laser gaming mice, and as a result, we didn't include any.
DPI
Dots-per-inch or DPI refers to the number of movement points the sensor can detect and act upon per inch. The higher the DPI, the more sensitive the mouse is.
As there are many different types of games out there, each requiring a different set of skills and mouse motions, we concluded that it would make the most sense to include a vast range of mice that offer DPI from as low as 100 to as high as 25,600.
This will leave gamers with plenty of options to pick from.
RGB Lights
Gamers love RGB lights. Nearly every piece of gear on the market today has built-in RGB lights. As a result, we decided to put a heavy emphasis on ensuring there are plenty of RGB-enabled options to pick from.
And, should you happen to be one of the few people that don't like RGB lights, in some of the mice, you can choose to turn the RGB lights off.
| | | | | |
| --- | --- | --- | --- | --- |
| Size (L / W) | Connectivity | Sensor Type | DPI | RGB |
| 4.92″ x 2.5″ | Wireless | Optical | Up to 25,600 | Yes |
Upon concluding our market research, we figured that, at least in our opinion, the Logitech G Pro is the best performing gaming mouse for small hands.
The price at the time of writing was $111.23.
Design
The G Pro by Logitech hosts one of the cleanest looking designs across the board. The exterior of the mouse is wrapped up in a fine black color while the logo is transparent – allowing the RGB light color of your choice to shine through.
In regards to shape, the G Pro hosts an ambidextrous design, which makes it a suitable choice for both right and left-handed gamers. Thanks to the build quality of all the buttons, the mouse can last upwards of 50 million clicks.
One rather unique feature of this mouse is the fact that the side buttons can be removed. This allows for a very flexible level of customization. As for size, this model measures 4.92″ (L) x 1.57″ (H) x 2.5″ (W) and weighs only 2.88 ounces.
Performance
Despite the fact that this mouse is wireless, it is amongst the top choices for both casual and pro players thanks to its ultra-fast response time of just 1ms. The lack of cable also makes the G Pro a preferred option as there will be no cable drag, which will ensure an optimal environment for precision and accuracy.
One of the most impressive features of this mouse is its HERO 25K optical sensor, which to date is Logitech's most precise sensor. You can customize the DPI of the sensor from as low as 200 to as high as 25,600.
For an even higher level of customization, the G Pro is equipped with an additional two buttons on each side, which will ensure that both right and left-handed players can use the mouse just as well.
| | | | | |
| --- | --- | --- | --- | --- |
| Size (L / W) | Connectivity | Sensor Type | DPI | RGB |
| 4.5″ x 2.4″ | Wired | Optical | Up to 8,000 | Yes |
If you're looking for a great gaming mouse that can fit your hand size on a budget, then the Logitech G203 is easily one of the best picks on the market today.
The price at the time of writing was $29.91.
Design
Visually speaking, the G203 hosts one of the more simple and compact designs from the mice that we've seen over the last several days. Thanks to its small design, measuring at just 4.5″ (L) x 2.4″ (W) x 1.5″ (H), this mouse is perfect for individuals with small hands.
Alongside the fully black exterior, there are plenty of opportunities for you to showcase your RGB creativity. To control and customize the RGB lights, you need to download and access the G HUB software. From there, you can customize your backlighting in up to 16.8 million different colors.
Performance
As far as performance is concerned, Logitech's G203 is equipped with a gaming-grade optical sensor, which can be customized to reach a DPI of up to 8,000. The mouse allows you a fair amount of flexibility when you need to adust how precise and accurate you are; the perfect feature for FPS games.
Near the thumb area, you will find an additional two fully programmable buttons that are strategically placed for easy access. Aside from that, the mouse also hosts a built-in memory board, which allows you to save up to five different DPI profiles. You can change between the profiles using the DPI button.
As I currently use this mouse, I really don't recommend you to set different sensitivity profiles if you play FPS games that require a lot of quick action. In some cases, I accidentally press the DPI button, making me very vulnerable to the enemy.
The primary two buttons of this mouse are mechanical and are equipped with durable metal springs, which adds an extra level of performance, durability, and an excellent overall feel.
| | | | | |
| --- | --- | --- | --- | --- |
| Size (L / W) | Connectivity | Sensor Type | DPI | RGB |
| 4.96″ x 2.79″ | Wired | Optical | 16,000 | Yes |
If you're looking for a silent gaming mouse that also provides great value for money, then the Razer Lancehead Tournament Edition would be a great choice.
The price at the time of writing was $112.00.
Design
When it comes to design, Razer's Lancehead Tournament Edition hosts one of the best looking and comfortable designs in black. The surface of the mouse is super smooth while each of the sides is equipped with a multilayered rubber-like grip, which will ensure that your thumb remains in place for maximum control.
One of the most notable features of this mouse when it comes to design is its ambidextrous shape, which makes the mouse suitable for both right and left-handed gamers. The ambidextrous design is further supported by the symmetrical design and button layout on either side.
The frontal grills, which can be found on either side of the cable add a really nice touch to the overall aesthetic of the mouse.
In-between the top panel and the sides of the mouse, you can find an intense 16.8 million color RGB illumination, which goes from about the middle of the mouse all the way to the front and the scroll wheel.
In terms of size, the Lancehead Tournament Edition by Razer measures exactly 4.96″ (L) x 2.79″ (W) x 1.54″ (H) with a total added weight of 3.88 lbs.
Performance
In regards to performance, this model by Razer is equipped with a super-precise 16,000 DPI optical sensor. The great thing about this mouse is that the DPI is fully customizable so you can quite literally set it to whatever DPI works best for you.
You can also set a number of different DPI's and save them to your mouse, which will allow you to change the DPI settings in a fraction of a second by using the DPI button near the scroll wheel.
Throughout the mouse, you will find a total of eight buttons, which are all fully programmable. You have the complete freedom to set complex macro functionalities just by using the cloud-based Razer Synapse software.
In regards to lifespan, this mouse is designed to work for up to 50 million clicks. This is all thanks to the durable mechanical switches, which can be found in both the right and left mouse buttons. The mouse is also backed up by a 2-year manufacturer warranty.
Other Great Gaming Mice for Small Hands
BenQ Zowie EC2
| | | | | |
| --- | --- | --- | --- | --- |
| Size (L / W) | Connectivity | Sensor Type | DPI | RGB |
| 4.7″ x 2.4″ | Wired | 3360 Sensor | Up to 3,200 DPI | No |
Next up, we have the BenQ Zowie EC2, which is another fantastic gaming mouse perfect for gamers with smaller-sized hands. If you are an eSports competitor, then you should definitely pay attention to this model.
The price at the time of writing was $69.99.
Design
BenQ's Zowie EC2 hosts a very simple and minimalistic design shaped to perfection to suit and provide a great level of comfort for every right-handed gamer. As for actual size, the mouse itself measures 4.7″ (L) x 2.4″ (W) x 1.6″ (H) and weighs just 5.6 ounces, making it one of the larger choices today.
Aside from that, on the left-hand side, you'll find an additional two buttons, which can be reprogrammed to better benefit you for the games that you're playing.
If you suffer from sweaty hands, this mouse actually features a non-slip coating, which provides you with an added level of stability and grip during those intense gaming moments.
Performance
The Zowie EC2 is equipped with the 3360 optical sensor, which allows you to change your DPI between 400, 800, 1,600, and 3,200. To further improve the overall performance of this mouse, you can fine-tune the frequency of the mouse from just 125 Hz to as high as 1,000 Hz.
When it comes to compatibility, this gaming mouse can be used on Linux, Windows 10, and even Mac OS X 10.7 Lion. If your OS isn't listed, do check with the manufacturer to see if the mouse supports your OS.
Razer DeathAdder v2
| | | | | |
| --- | --- | --- | --- | --- |
| Size (L / W) | Connectivity | Sensor Type | DPI | RGB |
| 5″ x 2.87″ | Wired | Optical | Up to 20,000 | Yes |
The Razer DeathAdder v2 is an absolute classic in the gaming scene. I personally remember buying the DeathAdder v1, which also happened to be my first gaming mouse. Now that the v2 is available, I'd strongly recommend you to check it out.
The price at the time of writing was $44.99.
Design
In terms of design, the DeathAdder V2 is entirely wrapped in smooth black while the Razer logo and scroll wheel are made to showcase the intense RGB lighting that this mouse can emit. You can fully customize the lighting color and mode by making use of the Razer Chroma software.
As for size, the DeathAdder V2 measures 5″ (L) x 2.87″ (W) x 1.69″ (H) with a total added weight of 6.4 ounces. Compared to the rest, it is definitely a mouse that most closely bridges over to being suitable for medium-sized hands too. In regards to design, it is fully optimized for right-handed gamers.
Performance
The second generation of the DeathAdder is equipped with a Focus+ optical sensor, which can reach a DPI of over 20,000. One of the great things about this sensor is its ability to auto-calibrate across your mouse pad, which will reduce the cursor drift from lift-off and landing. This will immensely benefit your in-game performance by making you that much more precise with your aim.
The switches equipped in the DeathAdder V2 are three times faster than traditional mechanical switches. This is because they use light beam-based actuation, registering button presses at the speed of light. This will give you a huge advantage over your competition.
Across the DeathAdder V2, you will find a total of eight programmable buttons, which can be reassigned and programmed as you see fit for more complex macro functionality. To do that, you'll need to download the Razer Synapse 3 software.
One of the biggest reasons gamers choose wireless mice as opposed to their wired counterparts is due to the cable drag. The DeathAdder V2 has a drag-free cord allowing a wireless-like performance. You no longer need to buy the best mouse bungee to keep your cable secured and in place.
Logitech G300s
| | | | | |
| --- | --- | --- | --- | --- |
| Size (L / W) | Connectivity | Sensor Type | DPI | RGB |
| 4.5″ x 2.8″ | Wired | Optical | Up to 2,500 | Yes |
If you don't want RGB lights but want a lot of buttons to use for setting up a range of complex commands, then the Logitech G300s would be a great mouse to consider.
The price at the time of writing was $24.99.
Design
The G300s features a symmetrical and compact design that allows the mouse to feel comfortable in either hand. Near the front of the mouse, you will find all nine programmable buttons. The sides of the mouse are shaped in a very unique way to ensure that no matter what hand you use, your thumb will fit perfectly for that added level of control.
As far as measurements are concerned, this mouse measures 4.5″ (L) x 2.8″ (W) x 1.4″ (H) and weighs a total of 2.88 ounces, making it one of the smaller options in this guide and review.
Performance
In regards to performance, this gaming mouse is equipped with a gaming-grade optical sensor that can track accurately on a range of surfaces. As for DPI, this model can be set to one of the 5 settings ranging from as low as 200 to as high as 2,500 DPI.
The mouse is also equipped with nine programmable buttons, spread out evenly, allowing both left and right-handed gamers to set complex macros to their desired buttons as they see fit.
Using the Logitech software, you can drag and drop commands to the relevant buttons to set up and customize the mouse exactly the way you want it.
Shopping Tips – Mice for Small Hands
As part of our research, we stumbled upon a couple of things that you need to consider before you buy your next gaming mouse.
Wired vs Wireless
There are two types of mice on the market – wired and wireless. Generally speaking, when it comes to the top of the line mice, it doesn't really matter which one you go for. Just be a little warier if you are shopping on a budget as many gamers report connectivity issues with cheaper wireless models.
Do note that if a particular wireless mouse seems inexpensive, we've ensured that it performs to a high level before we decided to include it as part of our guide and review.
Higher DPI Doesn't Mean Better
Going for a mouse that can reach 25,000 DPI shouldn't be the deciding factor unless you obviously need it. In most cases, a mouse with a DPI of up to 1,600 (just to give you some flexibility) would do a perfect job 99% of the time.
In many cases, higher DPI sensors cost more, and for that reason, unless you need the mouse to reach such high DPI, chances are that you are paying more for nothing.
Consider Whether You Need More Buttons
When picking a gaming mouse, think about the games that you are most likely to play. This will easily help you determine what kind of a mouse you need to get.
For example, if you're into MMORPG games, you will benefit more from a mouse that has a number of side buttons as compared to a basic mouse with only a few buttons.
Picking the Right Gaming Mouse for Your Small Hands
If you're unsure of which gaming mouse to go for, then below, we have provided you with three scenarios alongside our recommendation for each.
Scenario 1: If you're shopping on a tight budget but would still like to get your hands on a decent gaming mouse that is perfect for your small hands, then we'd recommend you to go for our budget-friendly pick, the Logitech G203.
Scenario 2: If you are not particularly bothered about the price point of the mouse but do want to extract as much value for your money, we'd suggest that you go for the Razer Lancehead Tournament Edition.
Scenario 3: If you're looking for the best possible gaming mouse for small hands on the market today, then you should take a look at the Logitech G Pro.
Final Thought
This guide concluded that you don't need to use a mouse larger than your hands because there are plenty of great choices out there made just right for gamers with smaller hands.
As we mentioned above, our initial list of products totalled 25 mice. Narrowing down the selection to the top 6 was a very difficult job, especially since there were many great mice out there.
Despite having the top six mice from above, we believe that a couple of the ones that didn't make it at the very least deserve an honorable mention. Should our guide have reviewed a larger number of mice, we would have included the Logitech MX Anywhere 3, Logitech G305, and Razer Viper Mini.