To keep DiamondLobby free to read, this post may contain affiliate links. Learn more
The gaming industry prides itself on innovation, and we've seen multiple attempts from various manufacturers over the years to "improve" the experience of using gaming gear by coming up with new designs and features.
One such example of innovation is the introduction of vertical gaming mice, built to be more ergonomic than regular mice due to the fact that your wrist is positioned in a more natural position.
The mouse that I'm reviewing this time has a very interesting name, but even more interesting is the fact that it is a vertical gaming mouse.
This is my Trust GXT144 REXX mouse review, and you can trust that I'll do justice to it.
Why a Vertical Gaming Mouse?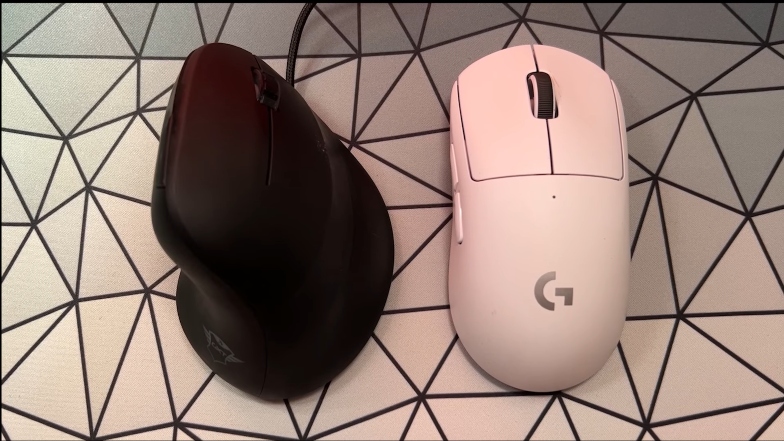 Although it has been that way for a pretty long time, the natural position that you hold a regular mouse puts a significant amount of strain on your wrist long-term, no matter how "ergonomic" it is advertised to be.
Vertical gaming mice correct that problem to an extent. These mice are held in a more natural "handshake" position, so the strain on your wrists is much less.
The difference in the comfortability of using vertical gaming mice versus regular mice will be most appreciated by people that suffer from RSI, carpal tunnel syndrome, and generally gamers that have been using regular mice for decades.
Even if you don't feel any strain on your wrist when you're gaming with regular mice at the moment, give it some time and be conscious of it. If you're a gamer that plays for extended periods often, the effects will start to show.
So, we've established the fact that vertical gaming mice give your wrists a much-needed break from the stretching and twisting they've become used to, but how do these mice hold up in terms of gaming performance? Do they function just as well as regular mice?
More specifically, how good is the Trust GTX144 REXX for gaming? Let's kick things off with specs.
Specs
The packaging of the mouse is a simple black cardboard box that has a picture of the product on its cover. Inside the box, there is a gaming sticker, a user guide, and the Trust GTX144 REXX mouse. Nothing fancy.
The key specs of the mouse are listed in the table below.
| Size (mm) | Weight | Polling Rate | Sensor | DPI | Bluetooth | RGB |
| --- | --- | --- | --- | --- | --- | --- |
| 72 x 78 x 121 | 98g | 1000Hz | Trust Brand optical sensor | up to 10000 | No | Yes |
Considering its form factor, 98g is a reasonable weight for this vertical mouse. We've reviewed heftier boys such as the Razer Basilisk X Hyperspeed gaming mouse which, despite being a regular mouse in terms of orientation, weighs 105g.
Still, the GTX144 is more than twice the size of the ASUS TUF Gaming M4 Air mouse, so it is not lightweight by any stretch of the imagination.
The sensor used here is a basic optical one, but we'll get into the details about its performance later on in the review.
Design
The mouse's design is obviously the biggest first impression. It looks very unorthodox, but not in a bad way.
As I suggested earlier on, you hold your wrists in a "handshake" orientation. It's a right-handed mouse, so the mouse one and two buttons (with the scroll wheel in-between) are on the right-hand side, and the side buttons are on the left-hand side.
There is a DPI button on top of the mouse (slightly oriented to the left) to make for 6 programmable buttons in total.
On the underside of the mouse, there are four plastic feet that are not the standard PTFE you get with most regular mice. They're not as smooth and you may notice some drag especially if you use a soft mousepad.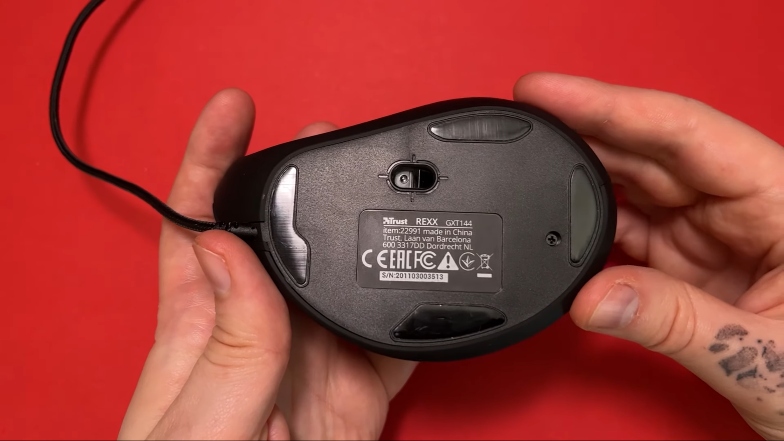 The cable is not included in the 98g weight of the mouse, which is probably a good thing because it would look even heftier.
It's not as light as a paracord cable, but it's braided and better than plastic. However, you may need a bungee because it is a bit stiff.
Buttons and Switches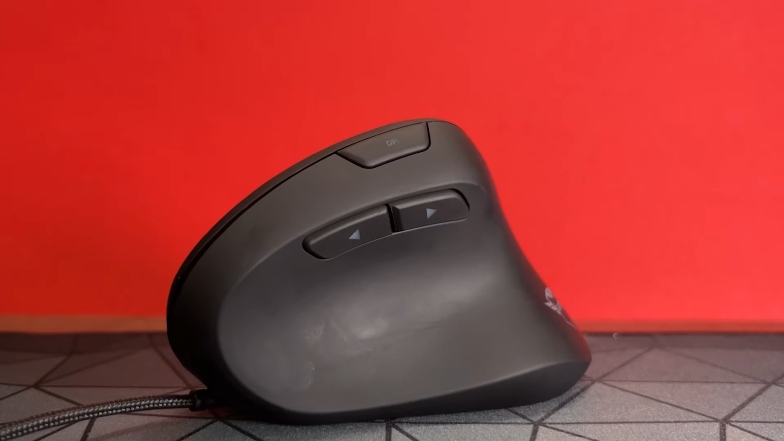 Using the main buttons is easier than you might think. It doesn't feel very different from using a mouse normally. In fact, it feels better because there is less stiffness in my hand after using some less-friendly mouse shapes recently.
A good way to know what it'll be like to use this mouse is to simply angle your regular mouse by 45 degrees and see how it feels.
The scroll wheel feels nice and consistent, and the side buttons do too. However, the side buttons are a bit farther away than I'm used to, but not to the point where I have to constantly adjust my grip to reach them.
With the arrangement of buttons and shape of this mouse, it is most suitable for palm grip users. Still, there is the potential to use variations of the claw and fingertip grips as well.
Performance
The standout thing about the GXT144 mouse is how comfortable it is. Aiming and movement in-game were pretty smooth, and I found that using the scroll wheel to jump and strafe jump was also easy.
However, it's not all sunshine and rainbows with the vertical design in practice. Firstly, I think the mouse really struggles with weight distribution. Sometimes when I move it to the left side, it tilts a little bit and that's something you don't have to worry about with a regular mouse.
There are also hard-to-reach side buttons, but that's a more personal issue that other people may not have.
The cheap-feeling feet, on the other hand, might be a bigger issue even if you're using a mousepad. I recommend sliding PTFE feet on to make movement smoother.
Summarily, using this mouse for gaming was great. The optical sensor is pretty average, but the general lack of top-of-the-line hardware does not translate into poor performance.
Software
The Trust GXT144 REXX comes with standard mouse software that allows you to change DPI profiles, adjust lighting settings, polling rates, and programmable buttons. It looks archaic, but it does the job.
Cost
The GXT144 costs $67.48 on Amazon at the time of writing, though it might be available for less if you're lucky enough to catch it on sale.
For that price, it is competing with the likes of the Glorious Model O wireless which is a good mouse but doesn't have the vertical thing going for it.
Verdict
There are a few cons to note here, but nothing rivals the comfort that the vertical design of the Trust REXX GXT144 offers. It might not be a high-performance gaming mouse, but it certainly has something that many pricier mice don't.
Considering the fact that this manufacturer is not among the big players in the gaming gear market, it should be interesting to see how much improvement can be made if a company with a larger budget decides to make a vertical gaming mouse with top-notch hardware.
If you're going to be playing intense first-person shooter games, then you might want to ease into using the mouse slowly. However, if you're playing something that is more relaxed and doesn't require many fast-paced mouse movements, then it is much easier to recommend the GXT144.
It's not the only vertical mouse on the market, but it is the only one that I found advertised specifically as a "gaming mouse". If comfort is the most important thing to you, then you can't go wrong.