To keep DiamondLobby free to read, this post may contain affiliate links. Learn more
Razer's Basilisk line of gaming mice is known for high performance, right from the original wired version.
It is the blueprint of that original version that Razer has drawn from to create this wireless, less-pricey option – the Basilisk X Hyperspeed mouse. They've taken some cues from the original design, and apparently also found a way to cut costs in some areas to keep the price low.
On paper, it all looks promising, but real-world tests sometimes reveal otherwise. So, I took a test model for a spin and penned my thoughts. The pros, the cons, and everything else I consider to be important or at least worth noting.
Now let's get into my review of the Razer Basilisk X Hyperspeed mouse.
Specs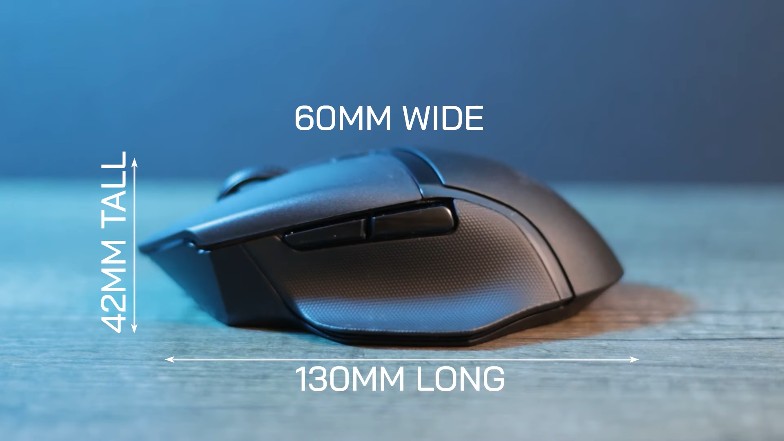 Spec-wise, here's the key information that you should know about the Razer Basilisk X Hyperspeed mouse:
| Size (mm) | Weight | Polling Rate | Buttons | DPI |
| --- | --- | --- | --- | --- |
| 130 × 60 × 42 | 105 grams | up to 1000 Hz | 6 | Up to 16000 |
The weight of this thing! It's almost twice the size of the Pulsar XLite Wireless, which, to be fair, is one of the lightest mice I've ever tested.
Strangely, if you go on Razer's website to check the product page, it says the mouse weighs 83 grams. 83g is still not in the "lightweight" category, but the figure doesn't reflect the true size of the Basilisk X Hyperspeed.
On further investigation, I discovered that Razer's listing refers to the weight of the mouse without the removable battery that's included. Still, it's odd and a bit misleading that they would do that.
This means that the included battery alone weighs up to 22g, so the overall weight of the mouse would depend on the size of whichever battery you decide to use with it. If 105g is just too much for you, you can use a battery that weighs less.
The rest of the specs at a glance are pretty standard, although I did not like the fact that 400 is excluded from the DPI levels that you can switch between. It goes from 800 to 1800, 3600, 7200 and 16000. In my experience, people use 400 more than 16000, so it should have been included.
Design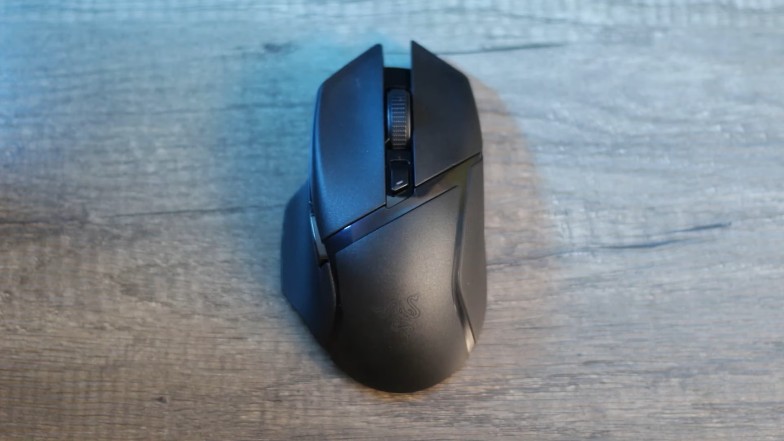 Build Quality
If you're familiar with the Logitech G502, then you already have a pretty good idea of what to expect from the Razer Basilisk X Hyperspeed design-wise. Both mice have a similar physical footprint, and the G502 weighs even more.
The design language is the same as Razer's original Basilisk, so you'll see similarities in the angular front design, the sweeping thumb grip, and the sloping surface.
Thankfully, Razer has not tried to do too much with "glamming" up the mouse. It's a relatively simple-looking mouse, especially compared to some of the other stuff they've released in the past. You don't even get RGB.
The build quality is great – everything feels well tightened and screwed into place. There is a little wobble from the battery compartment when you pick the mouse up and give it a shake, but that's not something you'll notice during regular use.
Shape
My favorite thing about the shape of the Basilisk X Hyperspeed is the thumbrest on the left side. When I'm not clicking the side buttons, my thumb can just sit on top of that comfortably.
Generally, the shape suits my preferred palm grip. The mouse feels snug in my palm and it feels like every finger has a place to sit in. If you prefer other grip types, you should still have a decent experience, but I strongly believe that the length of the mouse and its overall shape make it best for the palm grip.
Coating
As is the norm with Razer mice, the coating here is coarse matte texture. It's not the safest option, but Razer somehow usually manages to make it work. I think it helps with grip too, especially the rubberized section on the right side of the mouse.
Feet
This is clearly one of the areas where Razer has decided to make cuts. Instead of the preferred PTFE feet, they've gone with plastic ones. It reminds me of the Razer DeathAdder Essential mouse, which is another nice budget option from Razer with plastic feet.
I think it's a "love it or hate it" situation because while PTFE feet glide better and move faster, some people prefer the controlled speed of plastic feet that move a bit slower on mousepads.
Personally, I didn't miss PTFE feet while testing this mouse. I mean, if I had to choose, I'd still go with PTFE, but these plastic ones worked great too.
Considering the fact that plastic feet is the key difference between this Razer Basilisk variant and the Razer Basilisk Ultimate, I found myself thinking "If this is all it cost to make the price of the mouse lower, then it's definitely worth it".
Buttons and Switches
Apart from ease of movement, another key component of any gaming mouse that is worth its salt is the quality of the buttons and switches.
I mean, you're going to be engaging those components almost 100% of the time that you're using the mouse, so any flaws there affect your overall perception of its quality. Thankfully, Razer did not disappoint here.
There are six programmable buttons, and they work pretty well. The mouse and two switches seem to be Omron switches, which means they should last around 50 million clicks.
The pricier Razer mice use Razer's optical switches rated for around 70 million clicks, but again, this is hardly anything to moan about with a budget mouse.
The buttons do require a bit more force than many other mice that I've tested, but there's no pre or post-travel so they're not bad at all.
The side buttons are easy to reach and strategically placed such that they don't get mishit during those heated gaming moments.
The scroll wheel was nice too, but it's not unlockable like the one on the G502. Shouldn't be an issue but good to know. The switch is nice and consistent, and the notches are very responsive.
Finally, there's a dedicated button for switching between DPI values. I've mentioned the issue I have with the DPI topic so I'll leave that as it is. The button does light up red when you're running low on battery, so that's nice at least.
Software
You get Razer Synapse if you decide to install the software. I like the fact that it is an option rather than a requirement, and I can just pretend it doesn't exist.
I did test it though – just to let you know what I think. There's not much really, just basic features that let you change DPI values, swap around various binds, configure mouse mats, etc.
There's also a smart feature that lets you adjust the lift-off distance (the amount of distance that the mouse starts registering movements from the mouse mat) between 1mm and 2mm. Razer says it brings the experience of a higher level of precision, but I say "NERD"!
Finally, you can set a sleep timer for when the mouse is idle. It's set to 5 minutes by default, so you can adjust it accordingly. Helps to save battery, I guess, not that you should have any issues with the number of hours this thing is supposed to last for.
Battery
Might as well dedicate a whole section to it since it's literally a big, 22-gram part of the mouse.
Razers says the battery should last up to 285 hours (about 11 days) of playtime, which is a nice and generous amount of time. If you're using Bluetooth, it should last even longer, but I wouldn't know because I never use Bluetooth. Don't ask me why, amateur.
It's easy to forget that you're running on batteries so that red light from the DPI button is a big help. It'll flash when the battery runs down to 5%, so you should have enough time to pause what you're doing and replace the battery. At least it won't suddenly die on you.
Cost
The RRP for the Basilisk X Hyperspeed is $59.99 in the US and £59.99 in the UK (sorry UK folks, you're getting the bad end of the bargain here).
You can find the latest price and availability on Amazon here.
Verdict
For the price it's going for, this mouse is a steal. I mean, Razer has pretty much only stuck to the basics, but it does them very well and that's all you can ask for.
I really like the design language, the fit of the mouse in my grip, the simplicity of the software, and the overall in-game performance. Yes, despite the plastic feet.
So, if "simple", "effective" and "value for money" sound like the buzzwords you like to hear when shopping for gaming mice, then you can't go wrong with the Razer Basilisk X Hyperspeed mouse.
Razer Basilisk X Hyperspeed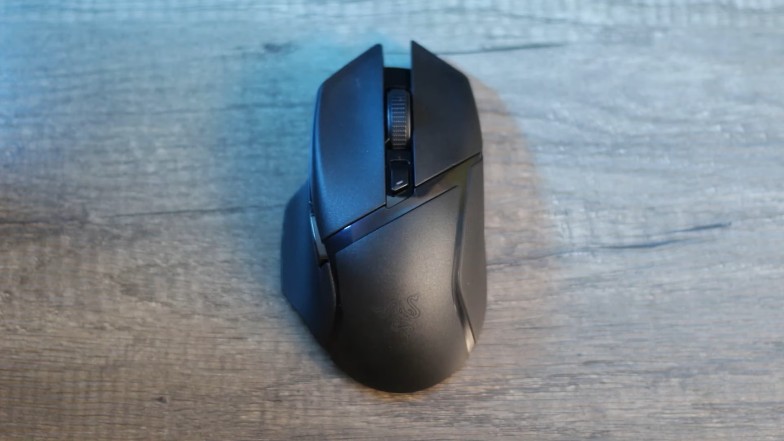 The Razer Basilisk is a simple and cost-effective gaming mouse with plenty of downsides, but retails at a price that's too good to complain about.
Pros
Great value for money
Comfortable
Cons
Battery powered
Plastic feet
Heavier than Razer say