To keep DiamondLobby free to read, this post may contain affiliate links. Learn more
Xtrfy's reputation in gaming changed with the launch of the Xtrfy mouse line, which was hugely successful in comparison to their previous projects.
The company launched models such as the M4, the M42, and the MZ1. All three did well in the market, and it was expected that Xtrfy would soon dip a foot in the pool of wireless gaming mice.
So, it was not exactly a surprise when they announced the launch of the model I'm reviewing today – the M4 Wireless.
The wired Xtrfy M4 mouse was a solid product for professionals and casual users alike, but I was really curious to see if the wireless variant would take that efficiency to the next level (or at least retain it).
Full disclaimer, this M4 Wireless review unit was sent to me by Xtrfy, but as always, my opinions are 100% honest and unbiased.
Specs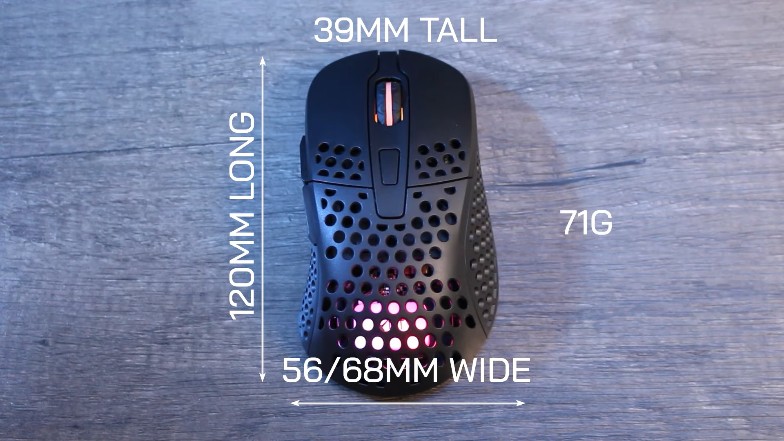 In the package, you get a USB dongle, an adapter, a Type-C cable made by Xtrfy, a spare pack of PTFE feet, and the mouse itself.
The key specs of the mouse are as follows:
| Size (mm) | Weight | Polling Rate | Sensor | DPI | Switches | USB Type |
| --- | --- | --- | --- | --- | --- | --- |
| 120×56-88×39 | 71 grams | 1000hz | Pixart 3370 | Up to 19000 | Kailh GM 8.0 | USB-C |
The specs here are solid, pretty much what you'd expect from a wireless mouse at this price point. The sensor is of great quality, and those Kailh GM 8.0 switches for the mouse one and two buttons are a nice touch too.
The mouse is also fairly lightweight at 71 grams, which is a point in its favor in terms of build quality. But how does it fare overall in the design department?
Design
Xtrfy has gone with an ergonomic design here. Every button and switch is intentionally placed for comfort and efficiency. It undeniably looks cool.
The mouse's relatively light weight does not take anything away from its sturdiness. It is well-built and doesn't feel like it would break in half with the slightest squeeze.
It's a right-handed mouse, as is the case more often than not with mice, and it's got a honeycomb body with several holes around it. That's all fine and dandy, but I do have reservations about the shape.
Before we talk about my reservations, I should mention that they've also added RGB lighting in various places – the scroll wheel, along the front end, and inside the body. Don't punch the air yet though, customization is pretty limited with this one.
There's no software support, so you're only working with what's been made available through preset lighting options.
Shape
The shape of the Xtrfy M4 just does not work for me. It's a purely personal issue, so I recognize the fact that many people may not share the same experience. However, I think it's worth mentioning as I usually don't struggle as I did with this one.
For the record, I typically use a palm grip when using my mice. With the m4, that grip leaves a gap between my lower thumb and the mouse which is just uncomfortable because there's no natural support and my finger starts to feel stiff after a while.
Apart from that minor issue (I call it minor because I found a way around it), the overall shape of the mouse is pretty nice. I've never really been a fan of all the holes but they're not so intrusive here, and I'd go as far as saying they're a blessing in disguise because of sweat during the hotter days.
Coating
There's not much to say about the coating due to all of the literal holes in the design, but the rest of the coating is a soft matte finish. I'd say it's similar to what Logitech is currently making, and is pretty much the same as what you'll get from the wired M4.
Buttons and Switches
As I mentioned earlier, the mouse one and two buttons here are using Kailh GM 8.0s. It's a nice change of pace from the Omrons of the wired M4 which is fast falling out of favor with mice enthusiasts.
They're nice and consistent, and there's no pre/post-travel. Most people should have zero issues with this one.
The side buttons are of similar quality – they're pretty crisp and work great. They're pretty large and they stick out so I had no issues reaching them by simply rolling my thumb across.
The scroll wheel is great too – solid notches, nice scrolling, and clicking and it stays quiet in use. I like the subtle touch of the RGB lighting on either side, it's a bit reminiscent of a similar execution on the Razer DeathAdder Essential.
There's an interesting twist here though. A multipurpose button has been added underneath the scroll wheel to change DPI or cycle through the preset options for RGB. I imagine this is Xtrfy's way of making up for the lack of software, and to be fair to them, it works.
Speaking of making up for no software, there's a bunch of other stuff that you can do with the buttons and switches underneath the mouse. There, you can change the debounce time, the lift-off distance, and also factory reset the mouse.
It's easy to get overwhelmed initially but you'll get used to it quickly I imagine.
Apart from the sliders and buttons at the bottom, you also have the standard PTFE feet – a bit small in this case but they're there. There's a spare set in the package too, in case you ever need to swap the original ones out.
Battery
Xtrfy claims that this mouse lasts up to 75 hours, depending on Hz, lighting on/off, and playstyle. I didn't exactly count the hours to make sure of that claim, but I've only charged the mouse once in two weeks so that's good enough for me.
If you do end up needing a charge while using the mouse, the cord does not get in the way while it's plugged in, so you should still be good.
There's an interesting feature with the placement of the battery in the mouse. You can move the battery closer to the top or to the bottom to change the weight distribution.
It doesn't do much for me, but it's a useful addition for people that prefer a top-heavy to a bottom-heavy mouse and vice versa in terms of weight distribution and how it affects their grip/use of the mouse.
Cost
Compared to other mice of similar quality, I think the Xtrfy M4 Wireless mouse is more than fairly priced. It costs $99.00 or £90 at full retail price, but you can grab a deal on Amazon for less at times.
Verdict
Xtrfy has paid a lot of attention to detail here, and more than anything else, I'd like to commend them for that. They've made a solid mouse with a sturdy build and a decent design.
However, it also feels like they are trying to do too much in some areas. That weight distribution thing, for one, feels unnecessary.
Then, there's the lack of software. Ordinarily, I have no issues with mice that have no software support. However, the case here is a bit different.
Xtrfy has added a bunch of features that involve customization. All that customization would have been made simpler with software instead of a need to tweak buttons and switches underneath the mouse.
It's never a bad idea to try something new, so I'm still going to give them a pass for the effort. It's still a pretty good mouse after all, and I'd definitely recommend it at that price point.
Xtrfy M4 Wireless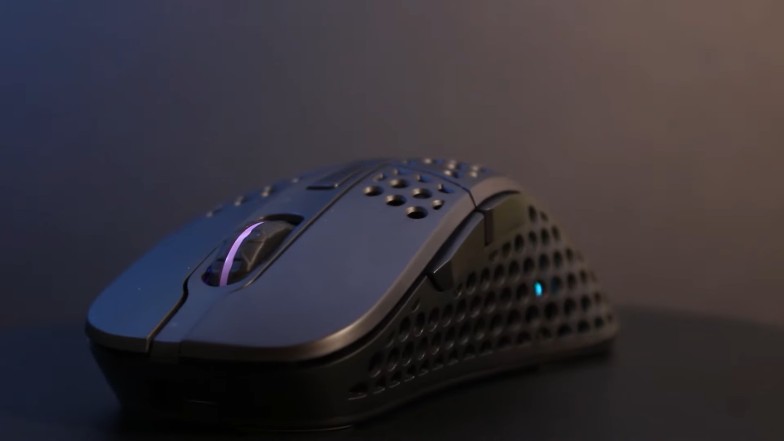 Xtrfy tried lots of new things with the M4 Wireless and I commend them for it, but the end result is not quite right for me.
Pros
Excellent switches
Top quality sensor
Innovative features
Sturdy build
Cons
Confusing customization
Holes make it uncomfortable